1.3K Flares
1.3K Flares
×
Taco seasoned chicken and refried beans make up the filling in this Rio Grande Chicken Quesadilla Recipe that is family friendly and filling.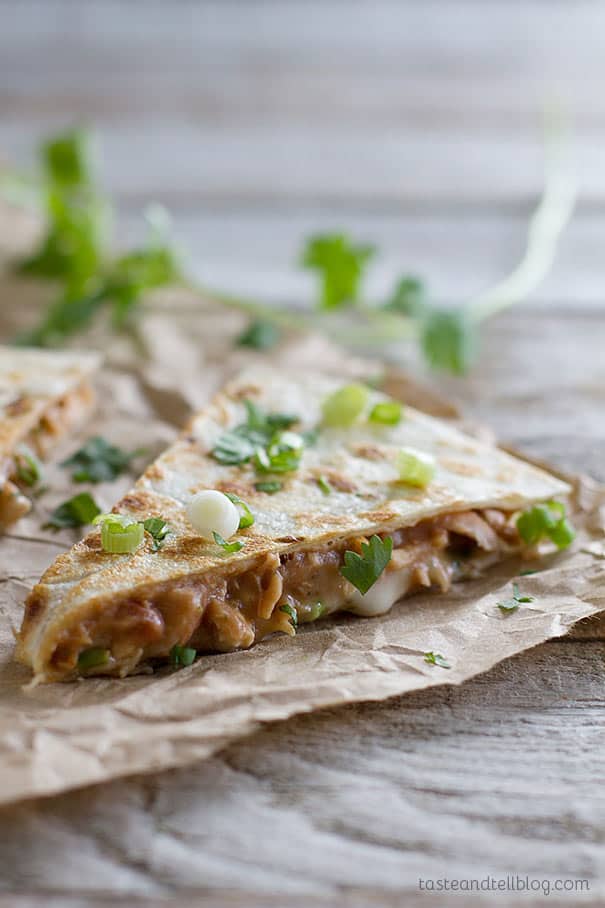 Originally posted June 1, 2008 – As I go back and remake recipes from the archives here on Taste and Tell, I will sometimes look for favorite recipes that I think need a new chance in the spotlight. Other times, I'll look for the really, really bad photos that need retaken asap. This chicken quesadilla recipe falls into both of those categories. Not only has it been a family favorite for many, many years, but the original photo was so bad that it's not surprising that it's been lost in the archives. I've seriously made these quesadillas more times that I could count. They are a little different from your typical quesadillas because of the refried beans. They make these substantial enough for a filling dinner that my family loves!

I just think that quesadillas are a very un-photogenic food. And it's too bad, because this recipe is my all-time favorite chicken quesadilla recipe. I say that I rarely make the same thing twice – and that really is true – but I've made these probably a dozen times in the last few years. That really says a lot!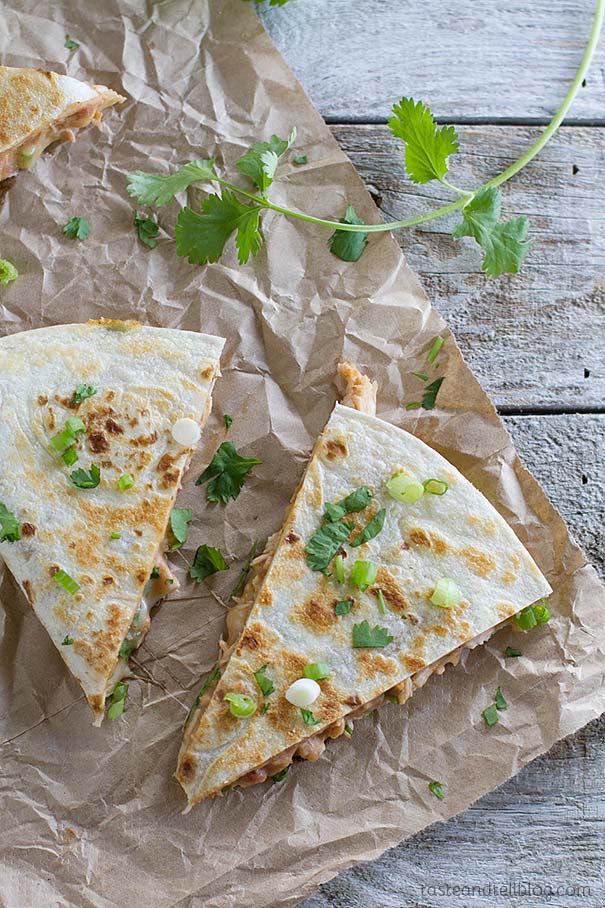 The recipe calls for cooked, shredded chicken. I've done this a few different ways in the past – the easiest is if you have some chicken left over. This particular time, I used leftover roasted chicken and it was delicious. But if you don't have any chicken leftover, the easiest thing to do is throw some chicken breasts in some boiling water, and once it's cooked and cooled, the chicken shreds quite easily.
And you might notice that the recipe calls for Monterey Jack, but in the picture below, I used cheddar because I had it on hand. They both work equally as well.
This is a very filling quesadilla, so although it could work as an appetizer, they work even better as a main meal. I like to serve them with salsa, sour cream, and guacamole (if I have some avocados on hand). This one is highly recommended!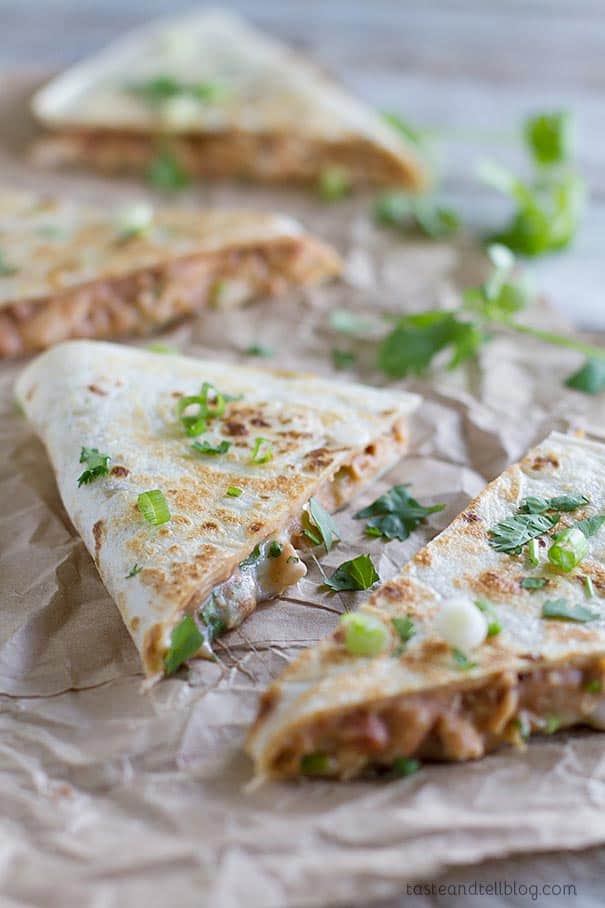 Like what you see here? Make sure you are following Taste and Tell for more great recipes and ideas!!

Facebook ** Pinterest ** Twitter ** Instagram ** Google+
or you can subscribe to my newsletter or Feedly or Bloglovin



Rio Grande Chicken Quesadilla Recipe
Taco seasoned chicken and refried beans make up the filling in this Rio Grande Chicken Quesadilla Recipe that is family friendly and filling.
Ingredients
2 cups cooked, shredded chicken
¾ cup water
2-4 teaspoons taco seasoning (depending on preference)
1 can (16 oz) refried beans
6 large flour tortillas
1½ cups (6 ounces) shredded Monterey Jack cheese
¼ cup chopped green onions
¼ cup chopped fresh cilantro
Vegetable oil
Instructions
Combine chicken, water and taco seasoning in a medium skillet over medium-high heat. Bring to a boil. Reduce heat and simmer (uncovered) for 15 minutes. Stir in retried beans.
Spread approximately ⅓ cup of the chicken mixture over half of each tortilla. Layer cheese, green onions and cilantro evenly over the chicken mixture. Fold each tortilla in half.
In a large skillet, heat a small amount of vegetable oil over medium-high heat until hot. Quickly fry each quesadilla until slightly crisp, turning once. Cut each quesadilla into quarters.
1.3K Flares
1.3K Flares
×