Chicken, corn, cheese and an easy cream sauce are enclosed in puff pastry triangles to make this Creamy Chicken and Corn Turnover Recipe that will be a hit with the family.
As a food blogger, I often get asked what I like more – cooking or baking. The answer used to be easy. I would choose baking. I think looking though dessert cookbooks was what first got me excited about being in the kitchen.
But these days, things have changed. While I still love to bake, I think that cooking is what is really the most enjoyable for me.
I used to be a follow a recipe to a t kind of person. I didn't trust myself to do substitutions or to change things up. But after cooking thousands of different recipes over the years, I've become a lot more comfortable. I know what basic flavors taste well together, and I know that if I don't have this ingredient on hand, I could easily substitute it for that ingredient. I may not feel confident enough to participate in Chopped with all kinds of crazy ingredients, but for everyday cooking? It's a lot easier for me.
And I think that is why I now enjoy cooking more than baking. I don't always have to measure, I can do a little of this and a little of that. It's a lot more relaxing to just go with it and see what I can come up with sometimes. I still love to bake, but you have to be a lot more calculated when you are baking.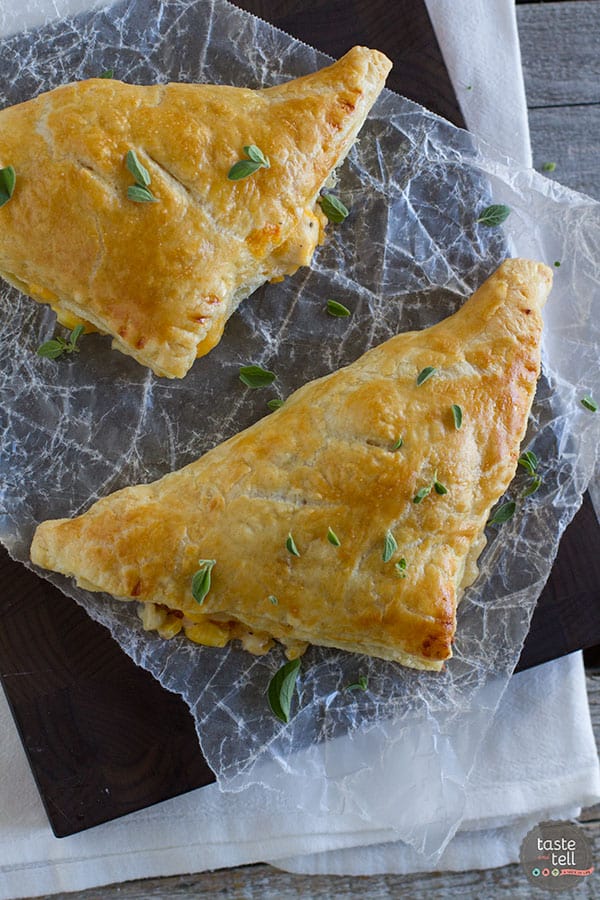 This Creamy Chicken and Corn Turnover Recipe was one of those recipes that was created by using a little bit of this and a little bit of that in the kitchen. I had a basic idea of what I wanted to do for dinner, and I just kind of went for it. I did have to write down measurements as I went along, but it still gave me the opportunity to get a little bit creative.
And happily, this turnover recipe turned out fabulous, and even (most of) the kids liked them! I used frozen corn because I had some in the freezer, but I think right now would be the perfect time to take advantage of the fresh summer corn. I also used my favorite kitchen shortcut of using cooked, shredded chicken. I try to keep some on hand all of the time (it freezes well!) and then it's good to go for an easy, fast dinner.
This Creamy Chicken and Corn Turnover Recipe was a true winner. I can't wait to make it again!!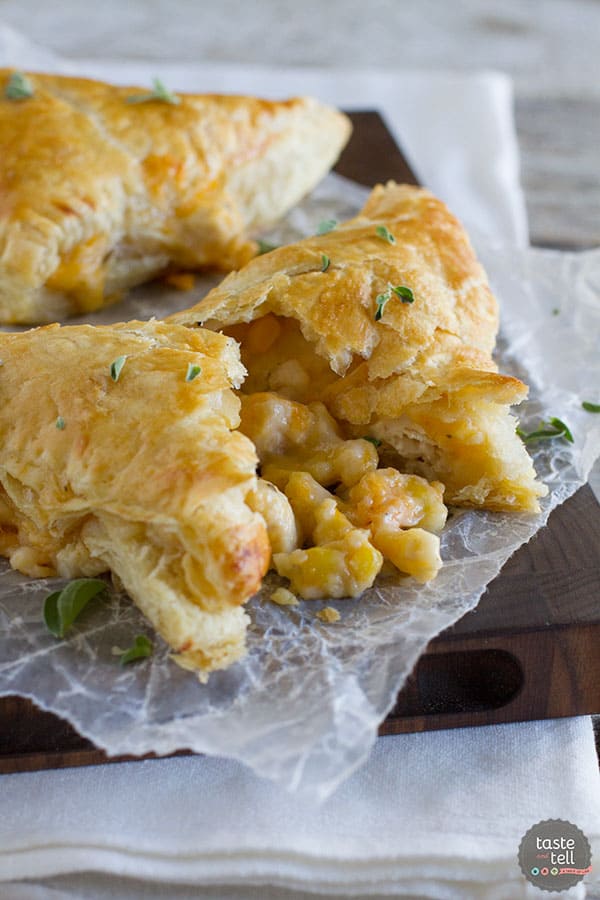 Like what you see here? Make sure you are following Taste and Tell for more recipes and ideas!
Facebook | Pinterest | Instagram | Twitter | Google+ | Weekly Newsletter | Feedly | Bloglovin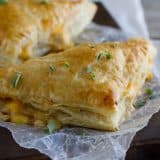 Creamy Chicken and Corn Turnover Recipe
---
Prep Time: 15 mins
Cook Time: 30 mins
Total Time: 45 mins
Yield: 8 turnovers 1x
Description
Chicken, corn, cheese and an easy cream sauce are enclosed in puff pastry triangles to make this Creamy Chicken and Corn Turnover Recipe that will be a hit with the family.
---
Scale
Ingredients
3/4 cup chicken broth
3/4 cup milk, divided
1/4 teaspoon Emeril's Essence (can sub in poultry seasoning)
1/4 teaspoon salt
1/8 teaspoon onion powder
1/8 teaspoon dried oregano
1/8 teaspoon black pepper
dash of paprika
6 tablespoons flour
2 cups cooked cubed or shredded chicken
1 cup frozen corn
1 box (2 sheets – 17.3 oz) puff pastry sheets, thawed
1/2 cup shredded cheddar cheese
1 egg
---
Instructions
Preheat the oven to 375ºF. Line a baking sheet with parchment paper or a silpat liner.
In a medium saucepan, combine the chicken broth and 1/4 cup of the milk. Add the Emeril's Essence, salt, onion powder, oregano, pepper and paprika. Bring to a boil.
In a bowl (or in your measuring cup if you don't want to get another dish dirty) whisk together the remaining 1/2 cup milk and the flour. Slowly add the flour mixture to the boiling mixture, whisking the whole time to avoid lumps. Continue to cook until the mixture has thickened, another minute or two. Season to taste.
Pour the mixture into a large bowl and add the chicken and the corn.
Lay the puff pastry sheets out on a work surface. Cut each sheet into 4 squares. Place a couple of heaping tablespoons of the chicken mixture on the center of each square. Top with about a tablespoon of the cheese. Fold over the puff pastry, creating a triangle, enclosing the filing in the center. Use the tines of a fork to press the edges down to seal. Transfer to the baking sheet.
Whisk the egg with a splash of water in a small bowl. Brush the egg over the top of each turnover. (You do not need to use all of the egg wash – just enough to coat each turnover.) Cut 1 or 2 slits in the top of each turnover to allow the steam to escape.
Bake in the oven until golden brown, about 30 minutes.
Don't miss a thing! Follow me on Pinterest to see what I'm pinning!
Visit Taste and Tell's profile on Pinterest.