This Cuban Quesadilla recipe is for hearty quesadillas that are filled with all of the flavors of a Cuban sandwich – pork, ham, pickles, mustard and cheese.

I have never been to Cuba, and I really don't know a whole lot about Cuban food, except for the flavors of the very popular Cuban sandwich – pork, pickles and ham. Yes, it seems like I just may have a thing for pickles lately!! But every time I see this sandwich – or something that has been inspired by this sandwich, I want it. And this quesadilla recipe surely fits the bill!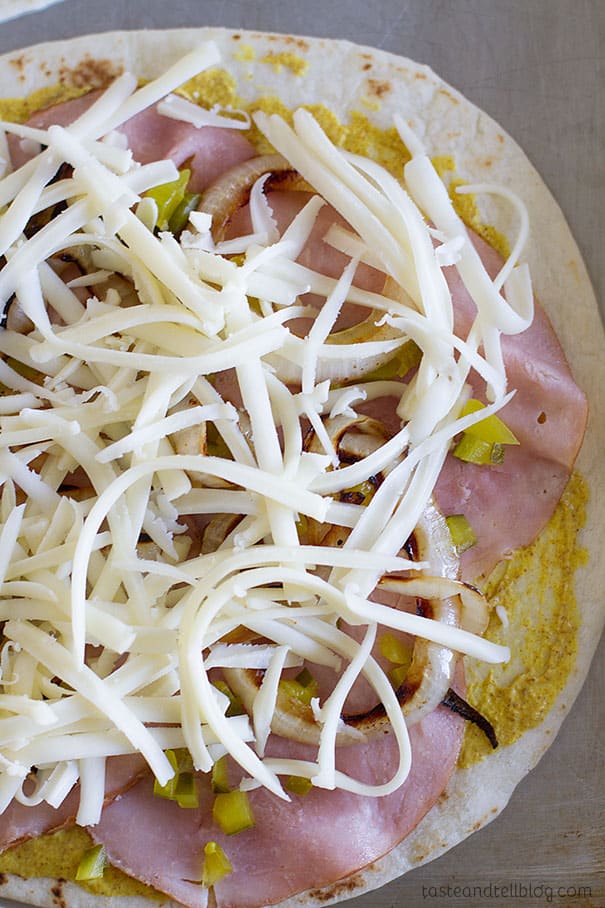 I'm a quesadilla fan anyway, but this quesadilla recipe is so packed with flavor and texture. And the recipe is written to make them on the grill, but I used my grill pan and it worked just fine. But if it is hot in your part of the woods right now, this is the perfect recipe to take outside to cook so that you can keep your house nice and cool.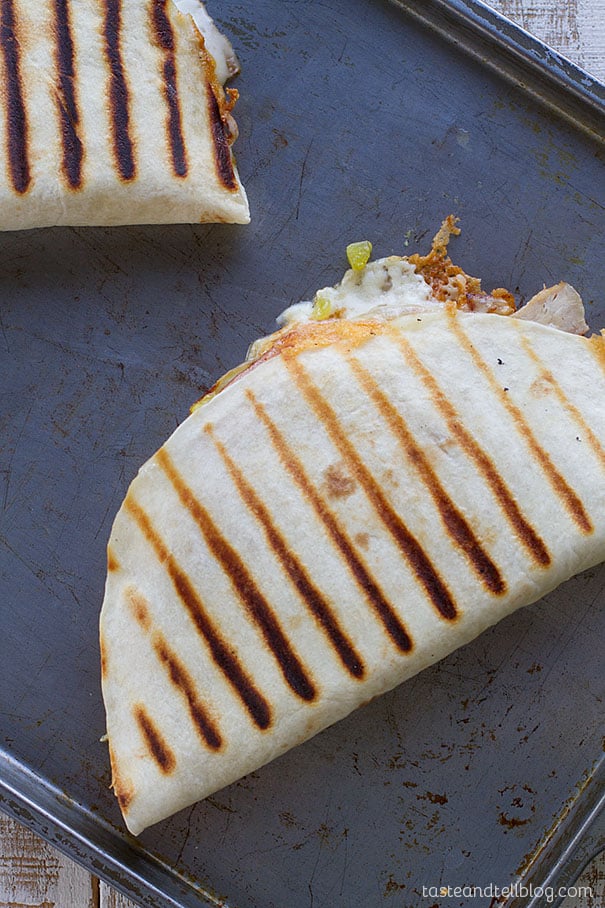 A couple of notes about this recipe. I would cut the onions thinner than 1/2-inch next time. They were pretty big. It wasn't a big deal since I love grilled onions, but they did have a hard time staying in the quesadillas! (Note – the recipe has been updated to slice them 1/4-inch!) Although these have a lot of flavors going on in them, I really think this would be a family friendly meal. Abbi just loved this quesadilla recipe and ate more than her fair share. Besides, what kid doesn't like quesadillas?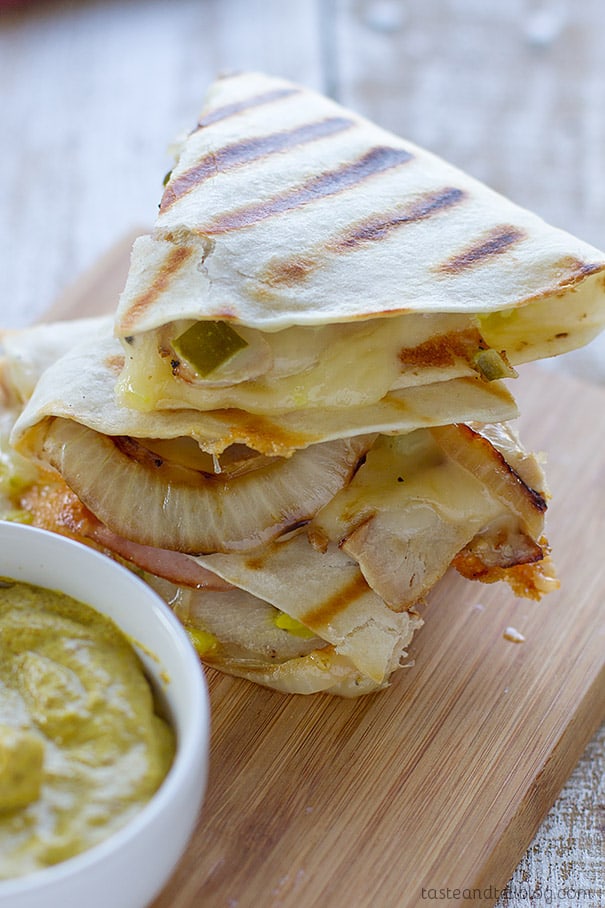 More Quesadilla Recipes
Chicken Quesadilla with Refried Beans
Greek Quesadillas
Chipotle Beef Quesadilla Recipe
Shrimp Quesadilla with Chorizo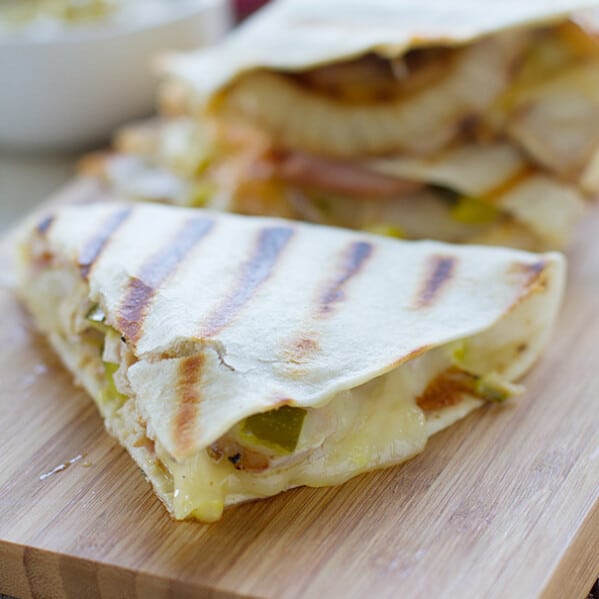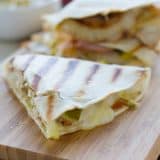 Cuban Quesadillas
---
Prep Time: 10 minutes
Cook Time: 30 minutes
Total Time: 40 minutes
Yield: 4 servings 1x
Description
These hearty quesadillas are filled with all of the flavors of a Cuban sandwich – pork, ham, pickles, mustard and cheese.
---
Scale
Ingredients
1 large clove garlic, grated or finely minced
1/4 teaspoon salt
1/8 teaspoon pepepr
1 tablespoon vegetable oil, plus more for oiling the grill
1/2 lb. boneless pork chops
1 large onion, cut into 1/4-inch slices
4 tablespoons spicy brown mustard, plus more for serving
4 (10-inch) flour tortillas
6 ounces thinly sliced cooked ham
2–3 chopped dill pickles
8 oz Monterey Jack cheese, shredded
---
Instructions
In a small bowl, combine the garlic, salt and pepper. Pour in the vegetable oil and mix. Rub all over the pork.
Heat the grill to medium high and oil the grates. Put the pork on the hottest part of the grill and cook, turning occasionally, until the internal temperature registers 155F. Let the pork rest for 5 minutes then slice thinly against the grain.
While the pork cooks, cook the onions on a cooler part of the grill. Close the grill and cook, turning the onions once, until they start to get brown, about 10 minutes. Remove from the grill and reduce the heat to low.
Lay each tortilla out and spread 1 tablespoon of the mustard on each tortilla. Top with one-fourth of each of the ham, pickles, onions, pork and cheese. Gently fold the tortilla over (these are full!).
Lightly oil the grates of the grill again. Place the quesadillas on the grill, cover and cook, turning once, until they are slightly browned and the cheese is melted.
Cut into wedges and serve immediately with extra mustard.