A perfect salad to serve during the winter months, this Winter Salad is filled with apples, pears and dried cranberries. Don't skip out on the homemade Lemon Poppy Seed Dressing – it makes the salad!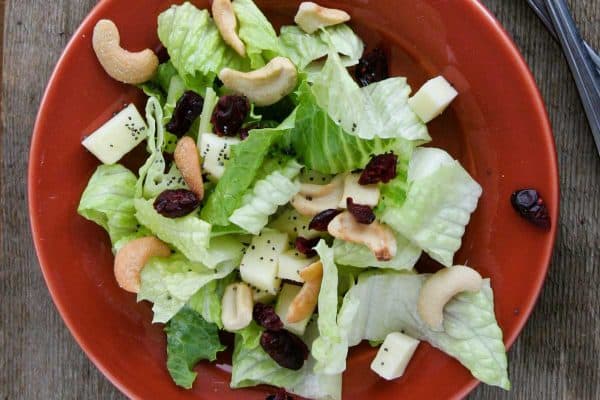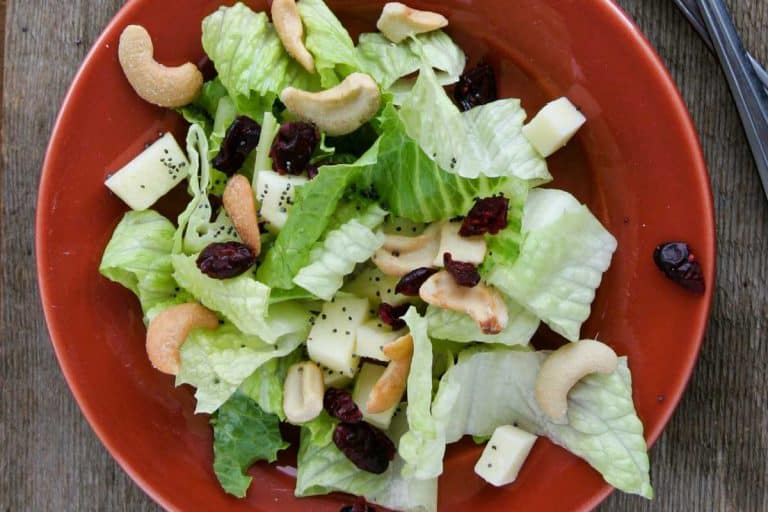 I always say that it's rare for the same recipe to grace our table over and over again. But since I first made this recipe (over 10 years ago!), this salad has been made so many times, I couldn't even guess the number.
This Winter Salad with Lemon Poppy Seed Dressing is one that I often make for holidays. I'm pretty sure we've had it at Thanksgiving, Christmas and Easter over the years. But also for family dinners and even just a regular dinner time with my little family.
It's called a winter salad (simply because the fruit used in it is in season and readily available during the winter) but it could definitely be served year round. It is the perfect combination of flavors, and I just know it will be made many, many more times over the next 10 years!
Winter Salad Ingredients
I love that this salad uses fruits that are readily available all winter long, but I also love that it is easy to change things up to what you have on hand.
Here is what I use, and some ideas for substitutions, if needed.
Romaine Lettuce – Romaine is my green of choice when it comes to salads. I love that it has some flavor to it, and that it is a crisp green. But this can easily be changed out for iceberg lettuce, or a mix of greens.
Monterey Jack Cheese – I like using a mild cheese so that the kids will all eat this salad, but I think it would be fantastic with blue cheese or feta, as well.
Cashews – Cashews are my favorite nut for this salad. Again, though, this is easy to swap out with sliced almonds or pine nuts or pistachios. Or leave the nuts out completely if there are allergies or aversions.
Dried Cranberries – These bring in some tangy sweetness. And I love the chewy texture you get, as well. Swap in dried cherries, if desired.
Apple – I tend to like a sweeter apple for this salad, like a honeycrisp or gala. Granny Smith is too sour, in my opinion, and I do like an apple that will stay crisp. I leave the skins on, but feel free to peel, if desired.
Pear – I will admit that pears have not always been my favorite fruit, but I absolutely love them in this salad. I don't think the type is as important (just one that you like) but make sure it is ripe, but not overripe. You don't want pieces of mushy fruit in the salad. Again, I leave the peel on, but feel free to peel it, if desired.
Lemon Poppy Seed Dressing Ingredients
My favorite part of this salad is probably the lemon poppy seed dressing. It's always tempting to just pick up a bottle of salad dressing, but this is so easy, and tastes so amazing, that you'll want to make this from scratch!
Here's what you'll need:
Sugar – Just use a regular white sugar. This dressing is a sweet dressing and pairs nicely with the fruit in the salad.
Lemon Juice – For the best flavor, use freshly squeezed lemon juice, not juice from a bottle.
Onion – you can finely dice onion, but I find the best way to get the onion flavor without small chunks of onion is to grate the onion.
Mustard – I use dijon-style mustard for the best flavor. You could also use a brown mustard, if desired.
Salt – If you are usually sensitive to salt, start by adding 1/4 teaspoon. Then you can taste the dressing once it's finished and add more salt, if needed.
Vegetable Oil – I like to use a neutral oil for this salad dressing. If you like the flavor of olive oil, you can sub that in, but be aware that it will change the flavor of the dressing.
Poppy Seeds – Make sure your seeds are fresh. Poppy seeds will go rancid if they are older.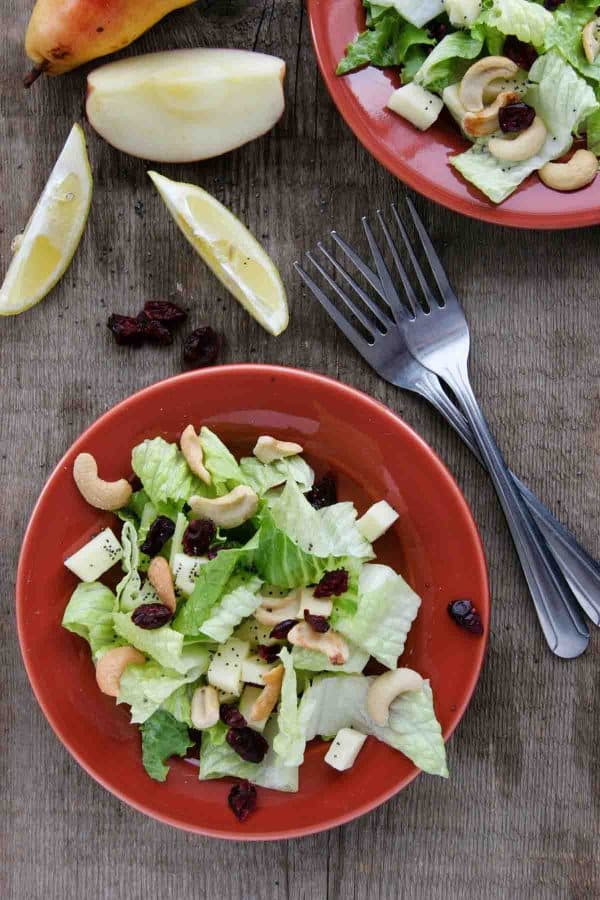 Tips and Tricks
This salad is heavy on the dressing, so I always just coat the salad until desired, and put the rest out for everyone to add more dressing, as desired.
The salad can be made a few hours ahead of time, and the dressing can be made a day or two in advance, but don't dress the salad with the dressing until right before you serve it. If you make the dressing ahead of time, it will probably separate, so just give it a good shake to recombine the ingredients.
Always check for seasoning before serving. I like things salty, so I usually add a bit more salt, but the correct seasoning can make or break this recipe.
More Salad Recipes
Antipasto Salad Recipe
Caesar Salad with Pasta
Red Raspberry Spinach Salad
Two Bean Salad with Hearts of Palm and Blue Cheese
Protein Packed Cobb Salad Recipe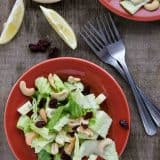 Winter Salad with Lemon Poppyseed Dressing
---
Author:
Prep Time: 15 minutes
Cook Time: 0 mins
Total Time: 15 minutes
Yield: 6 servings 1x
Category: Salad
Method: No Bake
Cuisine: American
Description
A perfect salad to serve during the winter months, this Winter Salad is filled with apples, pears and dried cranberries. Don't skip out on the homemade Lemon Poppy Seed Dressing – it makes the salad!
---
Scale
Ingredients
Dressing:
1/4 cup white sugar
1/2 cup fresh lemon juice
2 teaspoons grated onion
1 teaspoon Dijon-style prepared mustard
1/2 teaspoon salt
2/3 cup vegetable oil
1 tablespoon poppy seeds
Salad:
1 head romaine lettuce, torn into bite-sized pieces
4 oz Monterey Jack cheese, cubed
1 cup cashews
1/4 cup dried cranberries
1 apple, cored and diced
1 pear, cored and diced
---
Instructions
To make the dressing:
In a blender or food processor, combine the sugar, lemon juice, onion, mustard, and salt.
Process until well blended.
With the blender on low, add the oil in a steady stream until the mixture is thick and smooth.
Add the poppy seeds and pulse a couple times to combine.
Alternately, combine all of the ingredients in a jar with a tight fitting lid and shake vigorously until blended.
To make the salad:
Combine the lettuce, cheese, cashews, cranberries, apple and pear in a large bowl. Toss to combine.
Pour the dressing over the salad just before serving. Toss to coat.
Recipe Notes:
adapted from allrecipes.com
Nutrition information provided as an estimate only. Various brands and products can change the counts. Any nutritional information should only be used as a general guideline.
Nutrition
Serving Size: 1/6 of recipe
Calories: 476
Sugar: 14 g
Sodium: 335 mg
Fat: 41 g
Saturated Fat: 9 g
Unsaturated Fat: 29 g
Trans Fat: 0 g
Carbohydrates: 24 g
Fiber: 2 g
Protein: 9 g
Cholesterol: 20 mg
Keywords: winter salad, lemon poppy seed dressing