The perfect fast lunch, this Buffalo Ranch Shrimp Salad is spicy and creamy and done in 10 minutes.
I have been on a salad kick lately. I often get bored with lunch – I'm the only one who really likes leftovers, so that's usually what I have – but sometimes it gets old eating the same thing two days in a row. And I've never been one of those people who is good at turning their leftovers into something totally new and exciting. But in my attempts, I started making salads. Great for leftover chicken or steak, or even leftover taco meat. And I'm always looking for ways to use up veggies before they go bad.

So what started as trying to change up my lunch routine turned into a salad for lunch obsession. I'm not gonna lie – usually it's like a kitchen sink salad. Go through the fridge, grab whatever looks good, throw it in a bowl and call it good. But sometimes, the most simple recipes make the best impression and beg to be made over and over again.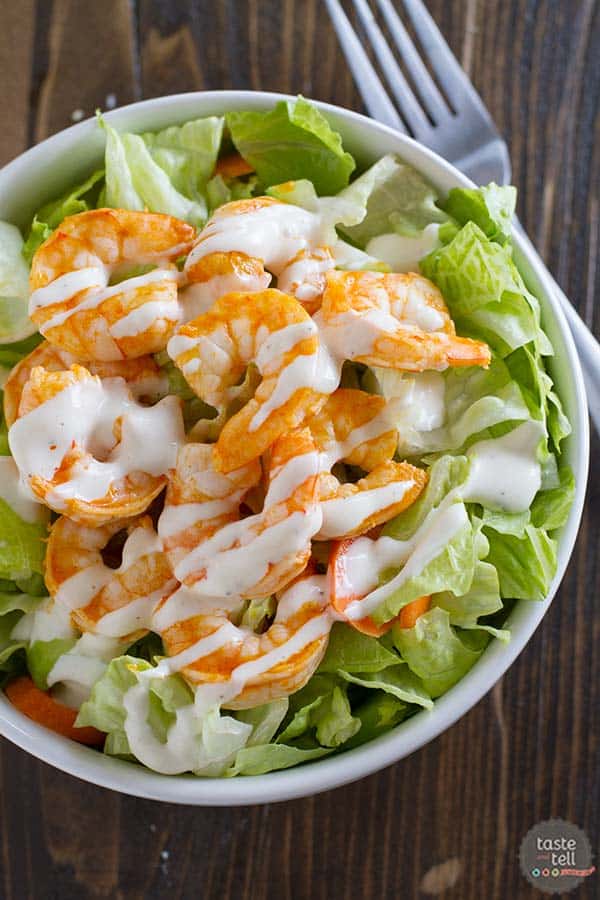 This Buffalo Ranch Shrimp Salad is one of those simple recipes that I just can't get enough of. It's as simple as some lettuce, carrots and celery tossed together, and then topped with buffalo shrimp and dressed with ranch dressing. On the days that I don't have any leftover protein, shrimp is a great alternative. It cooks up in just minutes, which is the only way to go when you are trying to make and eat your lunch before one of the kids asks for something else. I simply toss the shrimp in some buffalo sauce, then saute them in a little bit of butter. And honestly, I'll often pour the remainder of the buffalo sauce over the salad as well. All kinds of flavor there!!
My favorite dressing for this salad is Hidden Valley Ranch Dressing – I always have it on hand, and the cool ranch dressing is great against the heat of the buffalo sauce. If I have some blue cheese on hand, I'll throw that on top, but really, the ranch is all I need.
I celebrated National Ranch Dressing Day last week with the Ranch Dressing Dip Bar that I shared with you all, and this salad is just a way to turn every day into National Ranch Dressing Day. Nothing wrong with that, right?? (PS – the winners of the Ranch Dressing Day gift packs have been emailed – check your email to see if it was you!!)
I don't often have very much time at lunch, but I can definitely always pull this 10 minute Buffalo Ranch Shrimp Salad off. And now I think I need another one today!!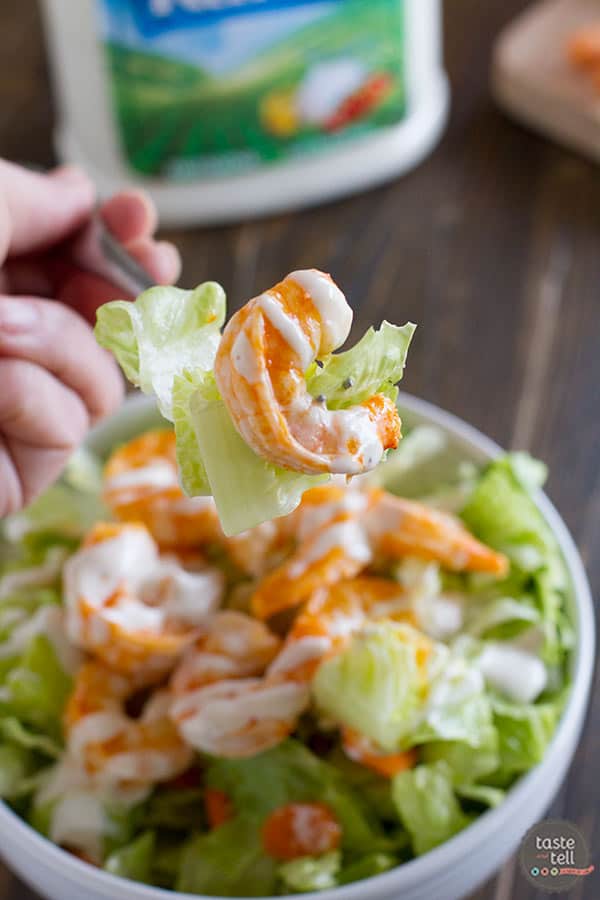 Like what you see here? Make sure you are following Taste and Tell for more great recipes and ideas!!

Facebook ** Pinterest ** Twitter ** Instagram ** Google+
or you can subscribe to my newsletter or Feedly or Bloglovin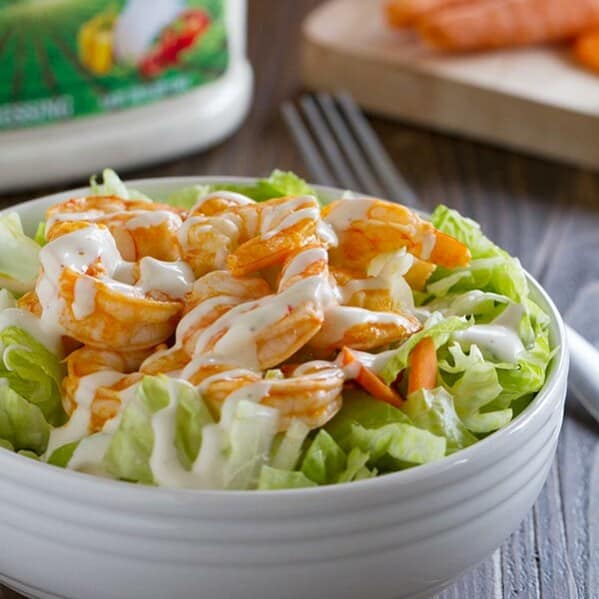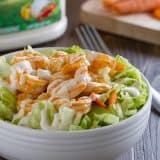 Buffalo Ranch Shrimp Salad
---
Prep Time: 6 mins
Cook Time: 4 mins
Total Time: 10 mins
Yield: 1 serving 1x
Description
The perfect fast lunch, this Buffalo Ranch Shrimp Salad is spicy and creamy and done in 10 minutes.
---
Scale
Ingredients
8–10 large shrimp, peeled, deveined and tails removed
1 tablespoon buffalo sauce
1 teaspoon butter
lettuce (I like romaine hearts), chopped
1 medium carrot, peeled and thinly sliced
1 stalk celery, thinly sliced
Hidden Valley Ranch Dressing
---
Instructions
Combine the shrimp and the buffalo sauce in a bowl and toss to coat the shrimp.
Place the butter in a small sauté pan and melt over medium heat. Add the shrimp and cook until it is just pink, a couple minutes per side.
In a large bowl, combine the lettuce, carrot and celery and toss to combine. Add the shrimp to the salad, then dress the salad with ranch dressing.
This post has been sponsored by Hidden Valley Ranch. I'm so glad to be able to work with companies and organizations that I truly believe in. Thank you for supporting them, too.