Super simple yet very elegant, this Iceberg Salad with Homemade Blue Cheese Dressing can be prepared ahead of time and assembled right before serving. And the homemade blue cheese dressing is one of the best I've ever had!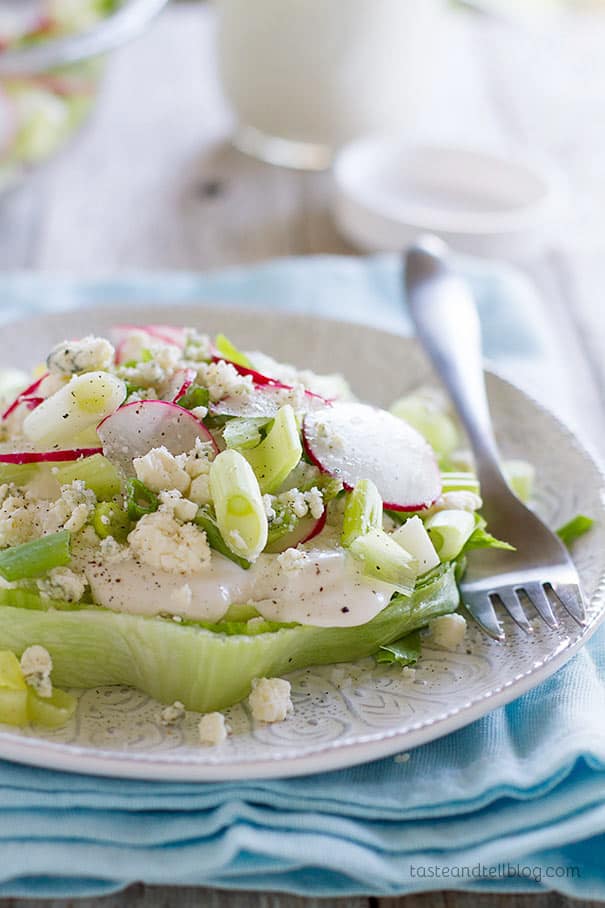 I don't usually get much of a chance to watch any "daytime" tv at my house. When the tv is on during the day, it's usually on cartoons. It's the joy of having kids. So if anything is on during the day that I want to watch, I have to record it to watch at night after the kids are in bed. So basically that means that I don't get a chance to watch much daytime tv at all. 🙂
But in the past few months, I have been setting aside one day a week as a "work" day, where I have a babysitter and I get to sit in front of the computer all day, attempting to get caught up. And since I'm one of those people who doesn't like to sit in complete silence, I usually have the tv on. I'm an HGTV junkie, so for awhile, that's what I would always have it on. But in the past month or so, I've been switching it over to the Food Network instead.
I've been having fun halfway watching those shows. Watching others cook always makes me motivated and excited to get into the kitchen myself.

One of those shows that usually comes on while I'm working is Barefoot Contessa. I love me some Ina Garten! There is just something about her that makes you want to be invited to one of those intimate gatherings in her killer back yard.
I had already seen that she just had a new cookbook – Make it Ahead – hit the shelves, and I was super excited to get my hands on a copy. I was really excited about the concept – a book full of make ahead recipes.
Now, I have to admit that I don't cook a lot of Ina Garten recipes, but I do have 2 of her other cookbooks. And even though I haven't made a lot of her recipes, this cookbook feels very Barefoot Contessa to me. Which means that the recipes are classic yet classy, more elegant than homestyle. So if you are looking for a cookbook full of homey casseroles that you can make ahead, you might be disappointed. But if you like to entertain and are looking for a way to make that process a little easier, this is the book for you.
This book covers everything from starters to drinks to main dishes to dessert, and everything in between. There were many recipes that jumped right out to me, and that I could see my family falling in love with. And there are some, like the Rosemary Rack of Lamb with Easy Tzatziki, that I would probably never make for my family, but then again – this isn't a cookbook aimed towards family cooking. But the recipes that I want to cook by far outweighed the recipes that I probably wouldn't make for my family.
Here are the details:
Number of Photos: Many. There is a photo for each recipe, plus some bonus lifestyle photos located throughout the book.
Difficulty Level of Recipes: Easy to Medium. I think there is a great mix of recipes in this book. Some that everyone would be more than comfortable making, and a few that are maybe a little bit more challenging.
Availability of Ingredients: Easy. One thing that I like about Ina Garten the most is that she cooks and bakes with real, basic, easy, everyday ingredients. Even though sometimes the recipes look a little fancy, they are all started with basic ingredients, which makes them more approachable.
Other Recipes I Want To Try:
Parmesan Chive Smashed Potatoes
Overnight Belgian Waffles
Pastitsio
Slow-Roasted Spiced Pork
Maple Baked Beans
Buy it on Amazon.
Overall Thoughts:
This is a book that I'm happy to have in my collection. The more I look through it, the more recipes I find that I want to add to the must make list. And the more I want to have a dinner party for an excuse to make some of these recipes!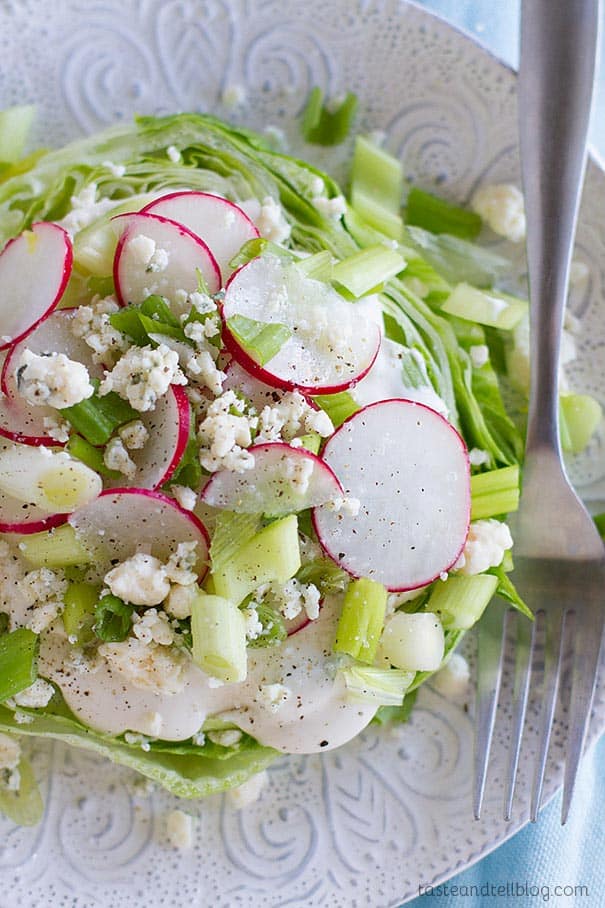 Ok, and now I know what you are thinking – you made an iceberg salad from this book? But let me tell you. This salad. Pretty much one of my very favorite salads ever.
Let's start with the homemade blue cheese dressing. Because I will never buy blue cheese dressing again. I already know that homemade dressing is better than store bought, but this was probably the best blue cheese dressing that I've ever had. You combine that with the crunchy iceberg lettuce, radishes, celery and green onions, then top it with more blue cheese – well, let's just say I was in complete bliss while I was eating this.
The recipe calls for fleur de sel to top the salad. If you know Ina Garten, you know she always wants you to use the best of everything. I have some fleur de sel on hand, and I definitely think it adds a little something extra to the salad, but if you don't have any, feel free to sub in coarse sea salt.
Now I just need to throw a dinner party so that I can serve my guests this Iceberg Salad with Homemade Blue Cheese Dressing!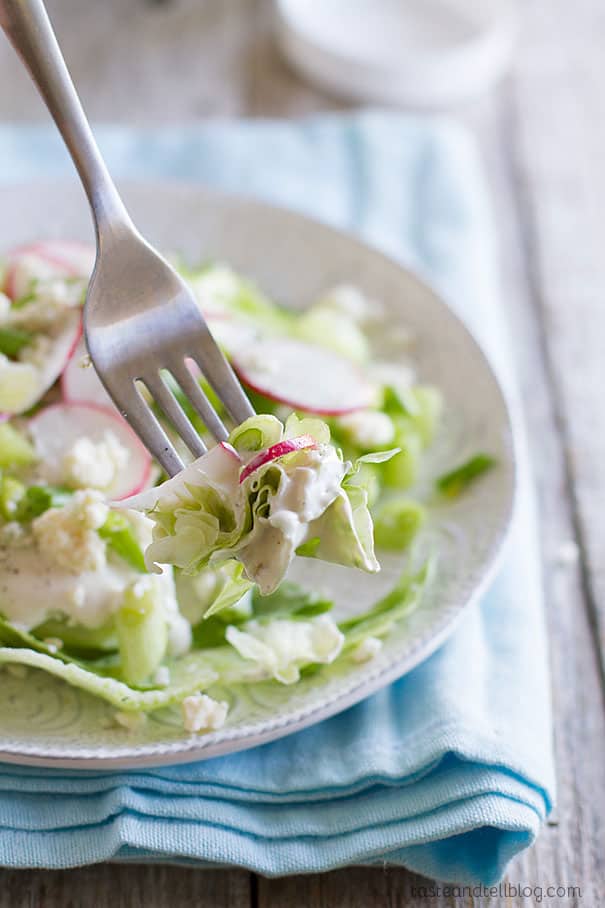 Like what you see here? Make sure you are following Taste and Tell for more great recipes and ideas!!

Facebook ** Pinterest ** Twitter ** Instagram ** Google+
or you can subscribe to my newsletter or Feedly or Bloglovin


Print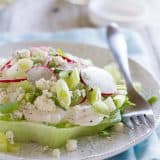 Iceberg Salad with Homemade Blue Cheese Dressing
Prep Time:

15 mins

Total Time:

15 mins

Yield:

4

servings

1

x
---
Description
Super simple yet very elegant, this Iceberg Salad with Homemade Blue Cheese Dressing can be prepared ahead of time and assembled right before serving. And the homemade blue cheese dressing is one of the best I've ever had!
---
Scale
Ingredients
Dressing
4 oz

blue cheese, crumbled

2/3 cup

mayonnaise

1/3 cup

plain Greek yogurt

1 tablespoon

red wine vinegar
salt and freshly ground pepper
Salad
6

radishes, trimmed and thinly sliced into rounds

5

green onions, white and green parts cut into

1/4

" thick pieces

4

celery stalks from the center of the bunch, cleaned and sliced into

1/4

" thick slices

1

large heat of iceberg lettuce, wilted outer leaves removed

4

to

6

oz blue cheese, crumbled
fleur de sel and freshly ground pepper
---
Instructions
Make the Dressing
Place the blue cheese in a bowl and microwave for 15-20 seconds, until it is starting to melt.
In a food processor or blender, combine the mayonnaise, yogurt, vinegar and melted blue cheese. Process until the dressing is smooth. Season to taste with salt and pepper. Refrigerate until ready to use.
Make the Salad
Combine the radishes, green onions and celery in a bowl.
Cut the lettuce into four 3/4" slices. Place each disc on a dinner plate. Spoon some of the dressing on top of each of the discs of lettuce. Top with 1/4 of the vegetables. Sprinkle with the blue cheese and season with the fleur de sel and freshly ground pepper.
To Make Ahead:
Prepare the dressing and refrigerate until ready to serve the salads. Combine the radishes, green onions and celery and refrigerate. When ready to serve, cut the lettuce and assemble the salads.
---
**I received this book from the publisher for this review, but all opinions are my own. This post contains affiliate links. If you purchase an item from Amazon from the link Taste and Tell receives a small commission. Thank you for supporting Taste and Tell through your purchases!**