Cool and crisp and flavorful, it's no wonder this Wedge Salad is such a popular salad! Traditionally served at steakhouses, this is so easy to serve at home.
I love this wedge salad as the side to a perfectly cooked steak, or even a grilled flank steak. In fact, it would be perfect alongside Roasted Chicken or fish as well!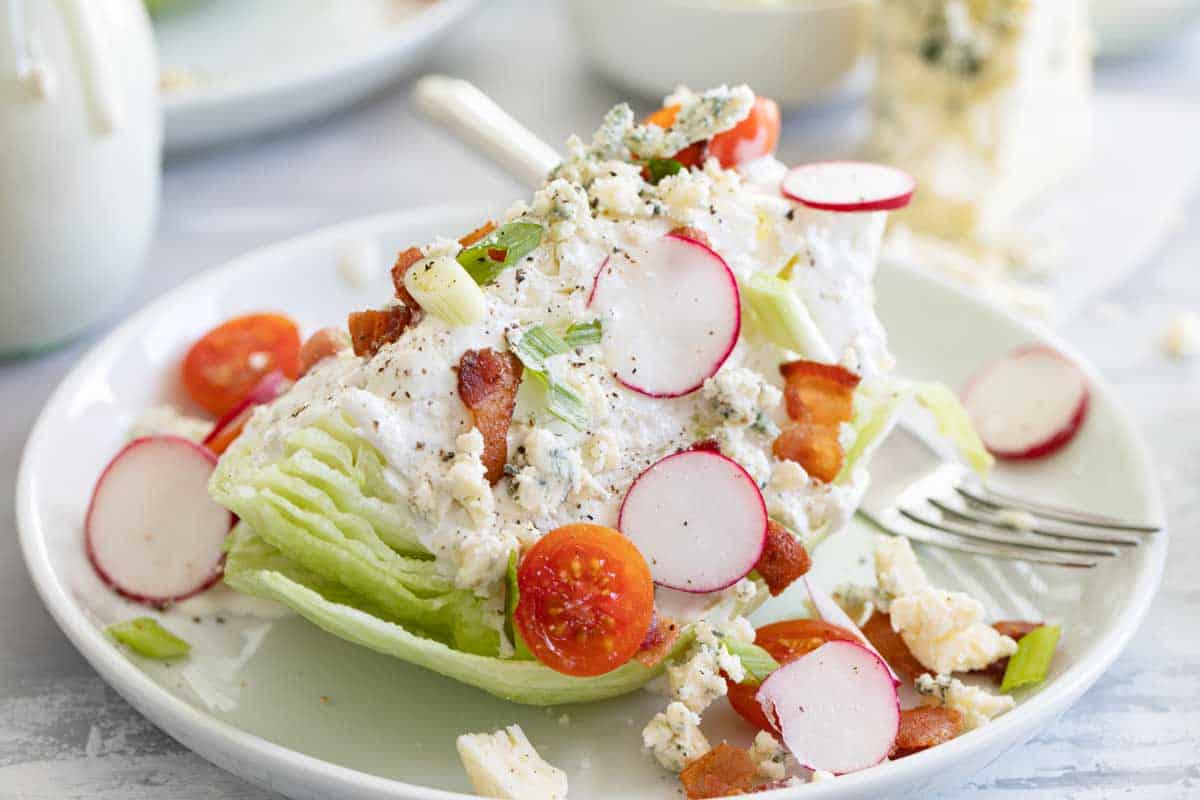 CLASSIC WEDGE SALAD
If you've ever been to a steakhouse, you will have seen a wedge salad on the menu. In fact, I'm pretty sure most people are pretty familiar with this popular salad.
But really, what's not to love?
A wedge of iceberg lettuce is topped with blue cheese dressing, bacon, more blue cheese, and usually even more veggies.
It's crisp and cool and even though it's super simple, it just looks fancy.
No wonder why it is so popular!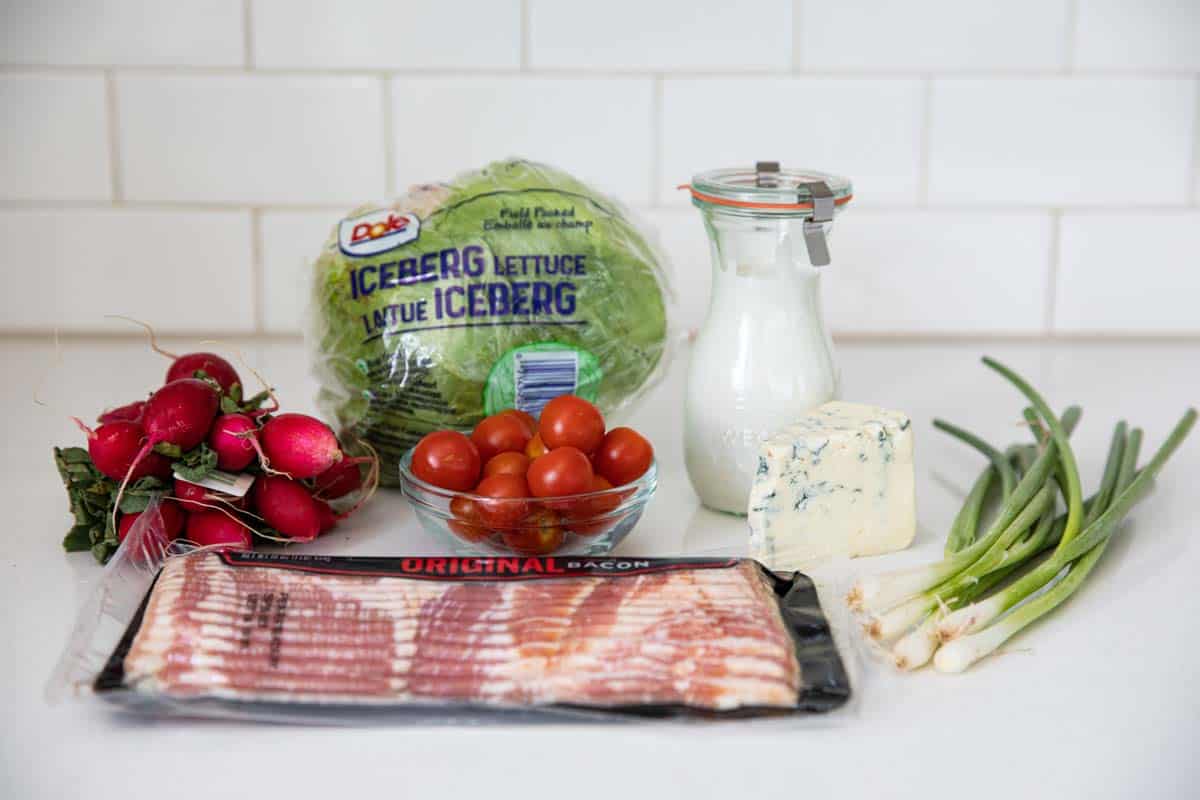 WHAT YOU'LL NEED
Only a few ingredients and you'll have this salad on the table!
Bacon – I usually just use regular slices of bacon for this salad, but thick cut would be amazing!
Iceberg Lettuce – I know people often turn their noses up at iceberg lettuce, but it is a must for this salad. It is cool and crisp and perfect.
Blue Cheese Dressing – I shared my homemade Blue Cheese Dressing recipe and I'd definitely recommend it. You could use store bought, but this homemade dressing really takes this salad to a new level.
Crumbled Blue Cheese – I always suggest buying a block of blue cheese and crumbling it yourself – the pre-crumbled varieties are usually more dried out. But use what works for you!
Toppings – In this salad, I like to use cherry tomatoes, thinly sliced radishes and diced green onions. But the sky is the limit! I have seen diced red onion, avocados, chives, and even nuts. But I like to keep it pretty simple.
Salt and Pepper – In the recipe card, it calls for fleur de sel, which is a "fancy" type of salt. It is actually a sea salt that is known for its pyramid shape crystals that rise to the top during the evaporation process. They are very delicate, and the harvesting process is more involved, so it does tend to be more expensive. I was given some as a gift and love to use it as finisher on dishes like this wedge salad. But if you don't have fleur de sel, you can definitely use sea salt as well. I have even used kosher salt in a pinch.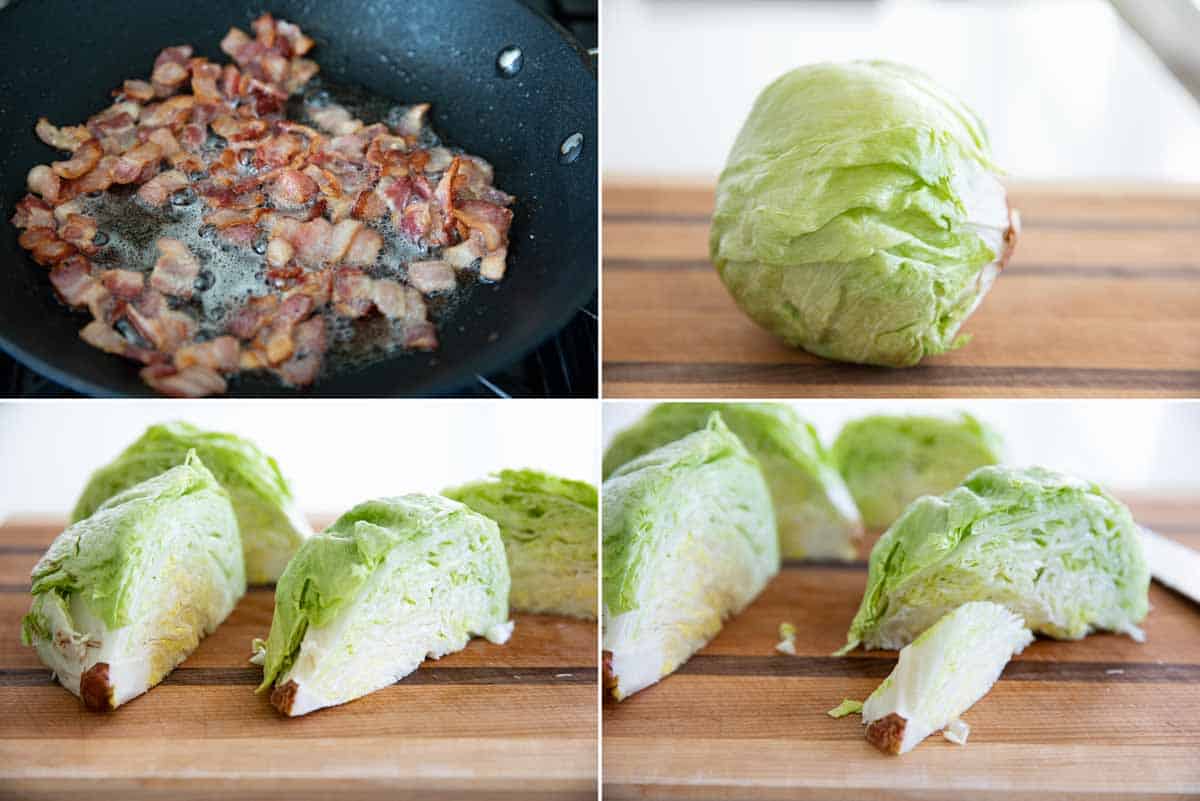 HOW TO MAKE A WEDGE SALAD
COOK THE BACON – You can cook the full strips and then chop or crumble the bacon, but I find that it's easiest to chop the bacon and then cook it.
CUT THE LETTUCE – To cut the lettuce into wedges, start by slicing the head of lettuce in half, through the stem. Take each half and cut it in half, forming 4 wedges. You'll still have the core in the lettuce at this point, so the next step is to cut the core out. Cut on an angle with your knife to remove the core, leaving as much of the actual lettuce as possible.
PLATE THE SALAD – Place each wedge on a plate, cut side up. Drizzle each salad with dressing, then sprinkle with blue cheese, the bacon, tomatoes, and any other toppings of your choice. Sprinkle with salt and pepper and serve!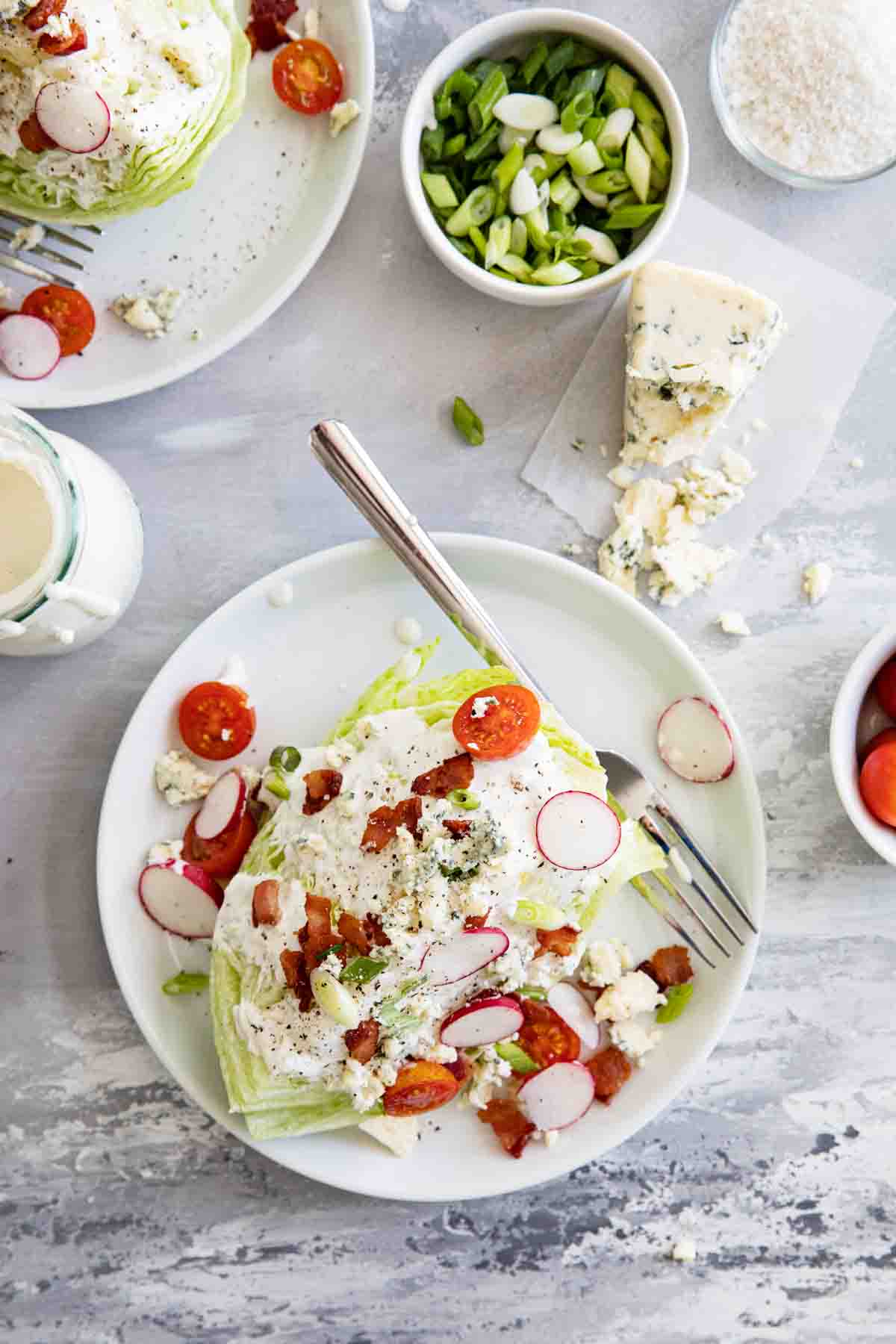 MAKE IT AHEAD
One of the characteristics of a wedge salad is that it is cold and crisp, so this salad is definitely the best when it is served fresh. But that doesn't mean that you can't prep parts of it ahead of time!
The blue cheese dressing can be made several days in advance. In fact, you'll want to refrigerate it after making it, so you will for sure want to prep the dressing before.
The bacon can be cooked a day in advance, if needed. I prefer for it to be cooked just before serving because I like for it to be warm still, but you could cook it and refrigerate it until it is needed.
The vegetables can be cut and prepped the day of. The longer in advance you cut them, though, the soggier they will get.
You won't want to assemble the salad until right before eating.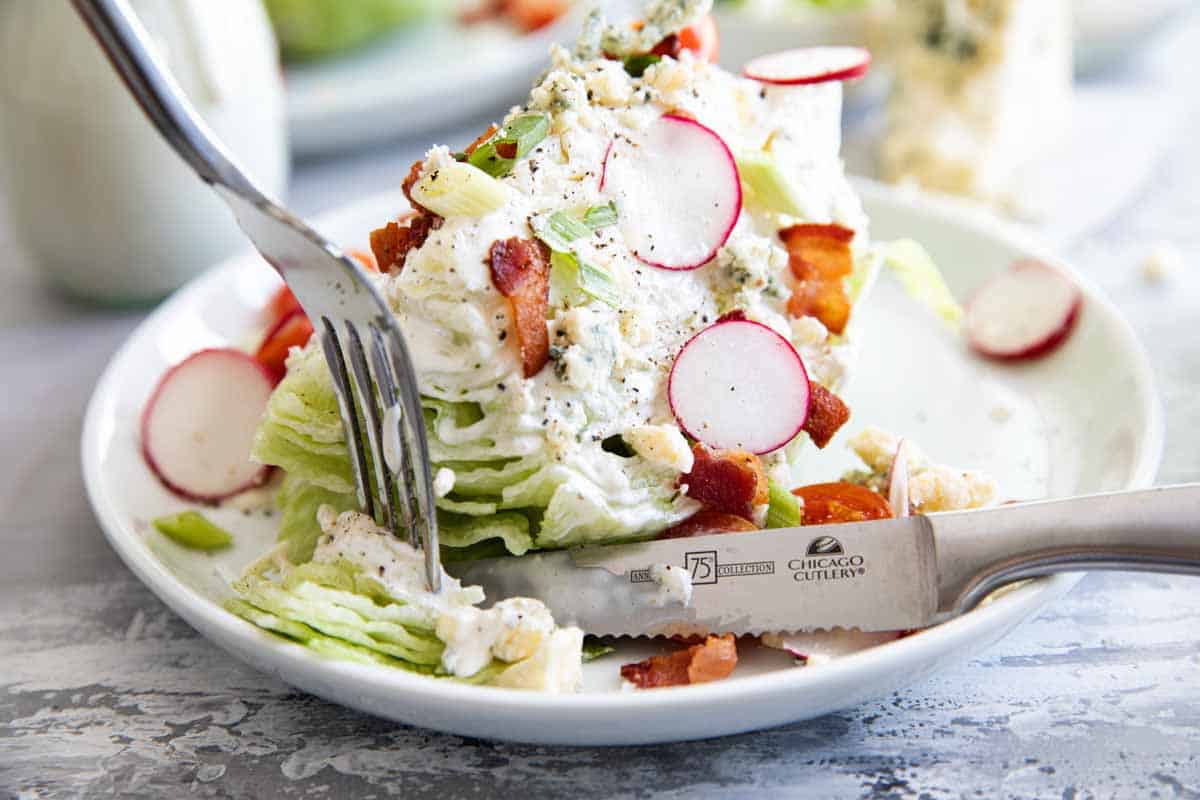 More Salad Recipes
Cobb Salad
Antipasto Salad
Avocado and Tomato Salad
Raspberry Spinach Salad
Summer Chopped Salad with Berries
Italian Chopped Salad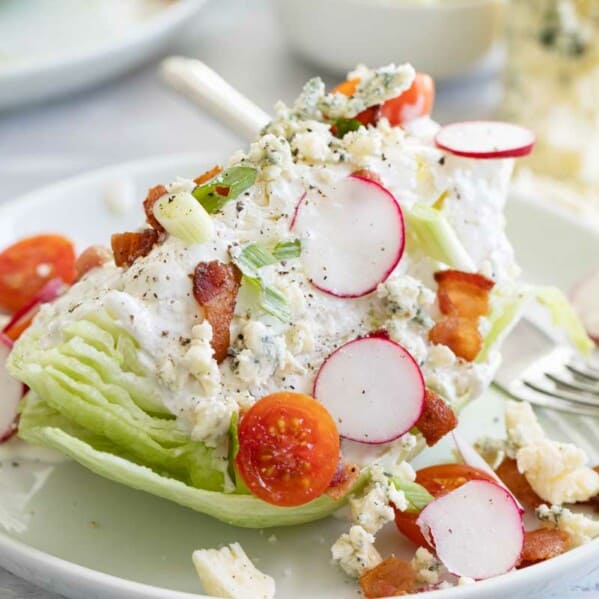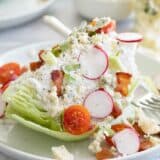 Wedge Salad
---
Author:
Prep Time: 10 minutes
Cook Time: 10 minutes
Total Time: 20 minutes
Yield: 4 servings 1x
Category: Salad
Method: Stove Top
Cuisine: American
Description
Cool and crisp and flavorful, it's no wonder this Wedge Salad is such a popular salad! Traditionally served at steakhouses, this is so easy to serve at home.
---
Scale
Ingredients
4 slices bacon
1 large head of iceberg lettuce
1 cup blue cheese dressing
1 oz crumbled blue cheese
Sliced cherry tomatoes, sliced radishes, green onions, for topping
Fleur de sel and freshly ground pepper, to taste
---
Instructions
Chop the bacon. Place in a medium skillet and cook until crisp. Remove to a paper towel lined plate with a slotted spoon.
Remove any wilted or brown leaves from the head of lettuce. Place the head on a cutting board and cut it in half, through the core. Place each half flat side down and cut into half, again through the core, creating 4 wedges. Take each wedge and cut the core out on a diagonal. Rinse gently under running water, then shake off or wipe down any excess water.
Place each wedge on a plate, cut side up.
Top each with 1/4 cup of the blue cheese dressing, then sprinkle on the cooked bacon. Divide the blue cheese, cherry tomatoes, radishes and green onions. Sprinkle each with fleur de sel and pepper.
Serve immediately.
Recipe Notes:
If you don't have fleur de sel, you can use coarse sea salt or kosher salt. The fleur de sel just adds a little something extra.
Nutrition information provided as an estimate only. Various brands and products can change the counts. Any nutritional information should be used as a general guide. Nutrition information does not include tomatoes, radishes or green onions.
Nutrition
Serving Size: 1 wedge
Calories: 250
Sugar: 6 g
Sodium: 612 mg
Fat: 22 g
Saturated Fat: 9 g
Unsaturated Fat: 13 g
Trans Fat: 0 g
Carbohydrates: 8 g
Fiber: 2 g
Protein: 9 g
Cholesterol: 27 mg
Keywords: Wedge salad, iceberg salad