A layered bean salad with beans, cucumbers, tomatoes, chickpeas, arugula, hearts of palm and blue cheese with a delicious vinaigrette.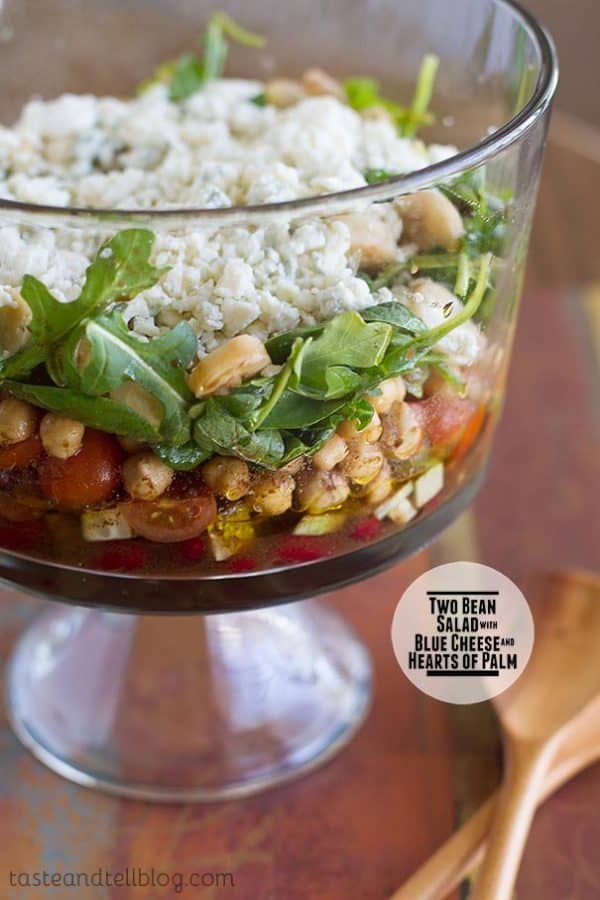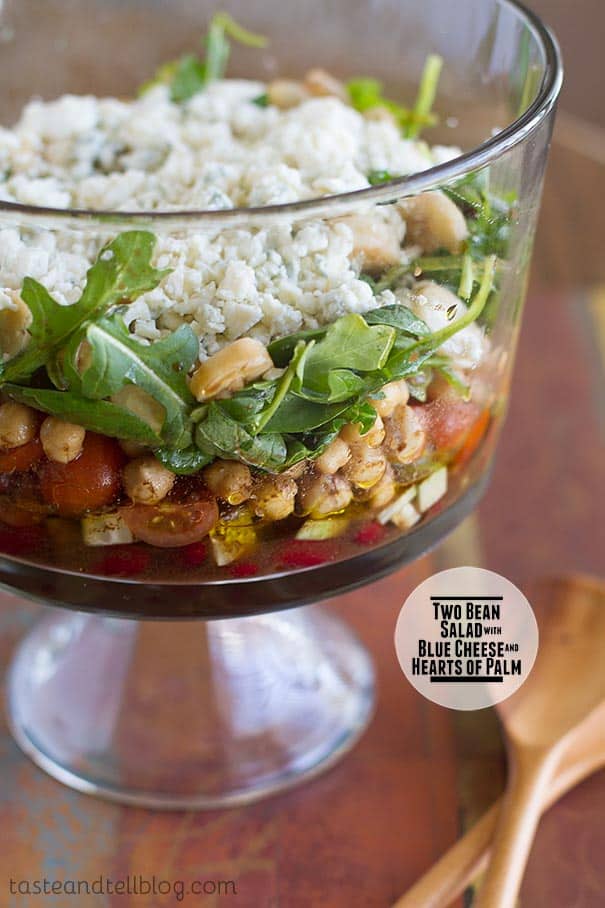 Photos Updated January 2014
A long name for what I will just call good…
I actually made this bean salad last weekend, but haven't gotten around to posting it until today. I have some unsaid rule that I try to stay away from the computer as much as possible on the weekends. I think I just get too much during the week – sitting in front of a computer for 8+ hours every day.

This is my first recipe from Cat Cora's Cooking From the Hip. I was feeling a little ambitious, I guess, because I have never tried hearts of palm before, so I had no idea of what to expect. I was a little hesitant to make this, because I knew I would have to make the whole recipe because cutting it down would be a little difficult. I would end up with half a can of chickpeas, kidney beans, and hearts of palm left, and instead of just letting them go to waste, I made the whole salad. I also wanted to get the whole layered look.
I get so frustrated shopping for ingredients sometimes. I cannot find arugula anywhere. I also have never been able to find shallots anywhere until yesterday, so I substituted some baby greens for the baby arugula and an onion for the shallot. I also didn't have any sherry vinegar, so I decided to use red wine vinegar. But I only had about a quarter cup of that, so I did a mixture of red wine vinegar and balsamic vinegar. Even with the substitutions, this salad exceeded my expectations. I made it as a side dish for dinner on Friday, and my husband didn't want any. I ended up eating the rest myself over the next couple days (taking out the greens because they got a bit soggy). This is very flavorful, and a very pretty salad as well. This will definitely be an option next time I need to bring a salad to a family gathering.
Even though this isn't a regular green salad, this is definitely healthy. Just what my body has been begging for as the weather really heats up!!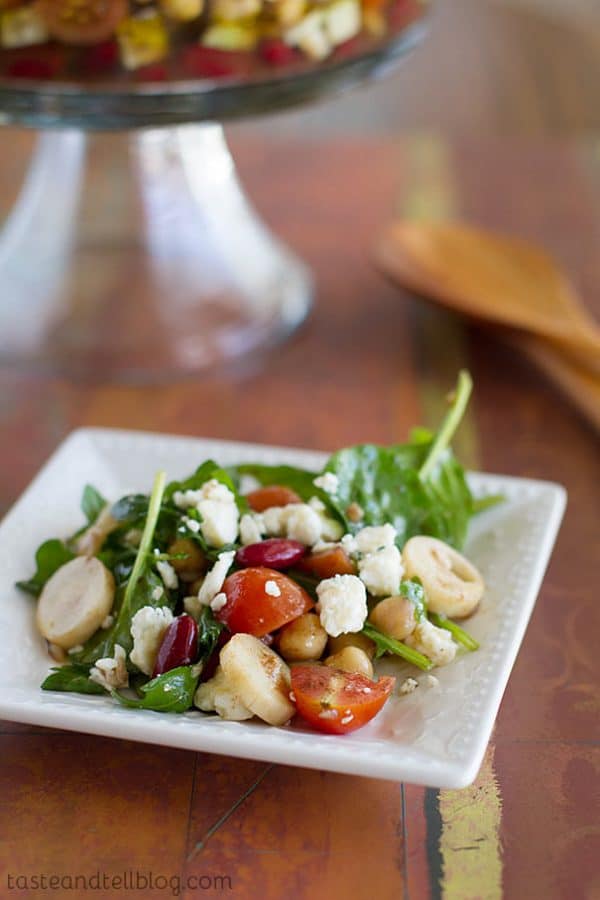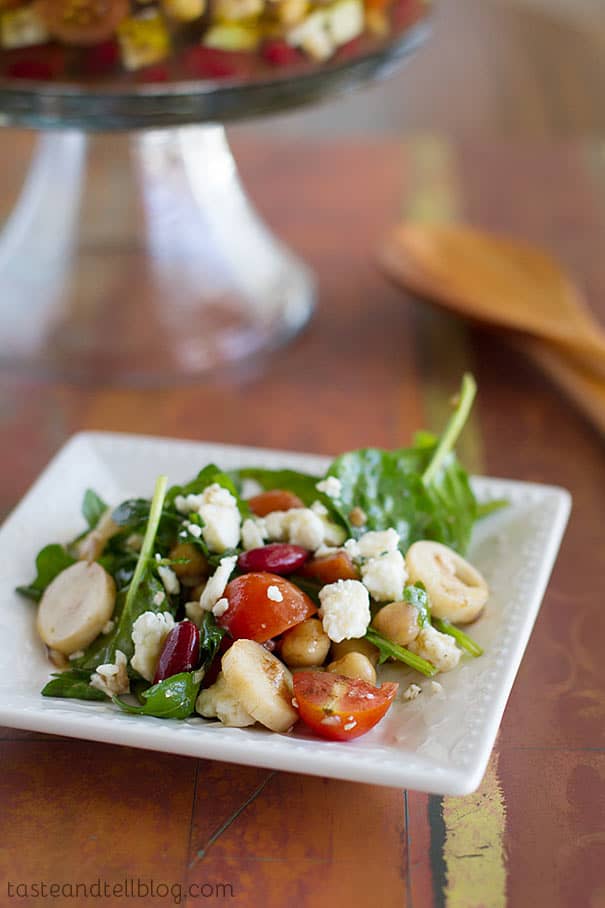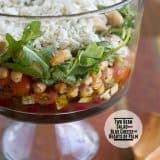 Two Bean Salad with Hearts of Palm and Blue Cheese
---
Prep Time: 20 mins
Total Time: 20 mins
Yield: 6-8 servings 1x
Category: Salad
Method: No Bake
Description
A layered salad with beans, cucumbers, tomatoes, chickpeas, arugula, hearts of palm and blue cheese with a delicious vinaigrette.
---
Scale
Ingredients
Vinaigrette:
1/2 cup red wine vinegar
1/2 cup balsamic vinegar
1/2 cup extra virgin olive oil
2 tablespoons chopped shallots
1 tablespoon Dijon mustard
1 teaspoon sea salt
Salad:
1 can (8-oz) hearts of palm, drained
1 can (15.25 oz) kidney beans, drained and rinsed
1 cup diced cucumber
1 cup halved cherry tomatoes
1 can (15.5 oz) chickpeas, drained
2 cups baby arugula or other baby greens
1 cup crumbled blue cheese
---
Instructions
For the vinaigrette, combine the red wine vinegar, balsamic vinegar, olive oil, shallots, mustard and salt. Whisk together until combined.
Slice the hearts of palm into rings and set aside. In a small bowl, combine the kidney beans with 2 tablespoons of the vinaigrette. Toss quickly, then transfer to a large salad bowl. In the same small bowl, combine the cucumber with some of the vinaigrette, then transfer to the salad bowl to make the second layer. Repeat with the tomatoes, chickpeas, arugula and then the hearts of palm. Sprinkle the blue cheese over the top, then cover and refrigerate for 1 hour before serving.