One skillet is all you need for this easy Skillet Butternut Squash Lasagna. Easy enough for a weeknight, and all you need is one pan!
Butternut squash is one of my favorite fall and winter vegetables! It's also great in this Creamy Butternut Squash Pasta and Slow Cooker Creamy Butternut Squash Soup.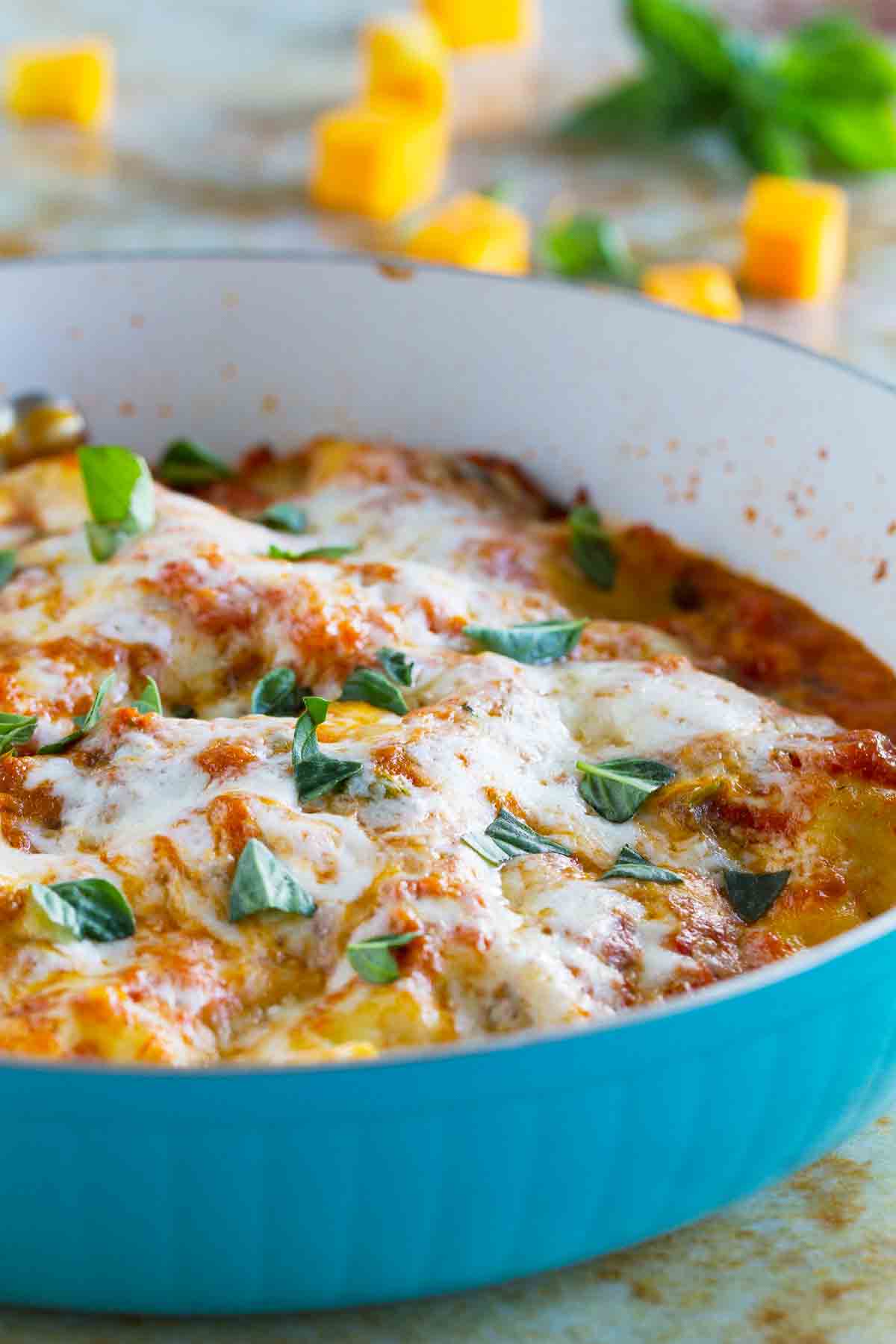 Every January, I make the same goal. I love goal planning year round, so I don't usually make huge, lofty goals in January.
But every year, I make a goal to make dinner at home more often.
I know this may sound like a funny goal for someone who posts about food, but the last two months of year tend to get busy and full and dinner becomes something that gets put on the back burner. Way too much eating out happens, and many nights, it's just whatever everyone can find.
So I love starting over in January with the goal to make dinnertime a priority.
Part of that, for me, is making sure I have an arsenal of good recipes, and also a menu plan.
And on this first menu plan of the year, this Skillet Butternut Squash is making the cut.
This one is meat free, but the meat lovers in your family won't even miss the meat. It's a great comfort food recipe, can all be made in one skillet. And if you roast your butternut squash ahead of time, it's actually great for a weeknight.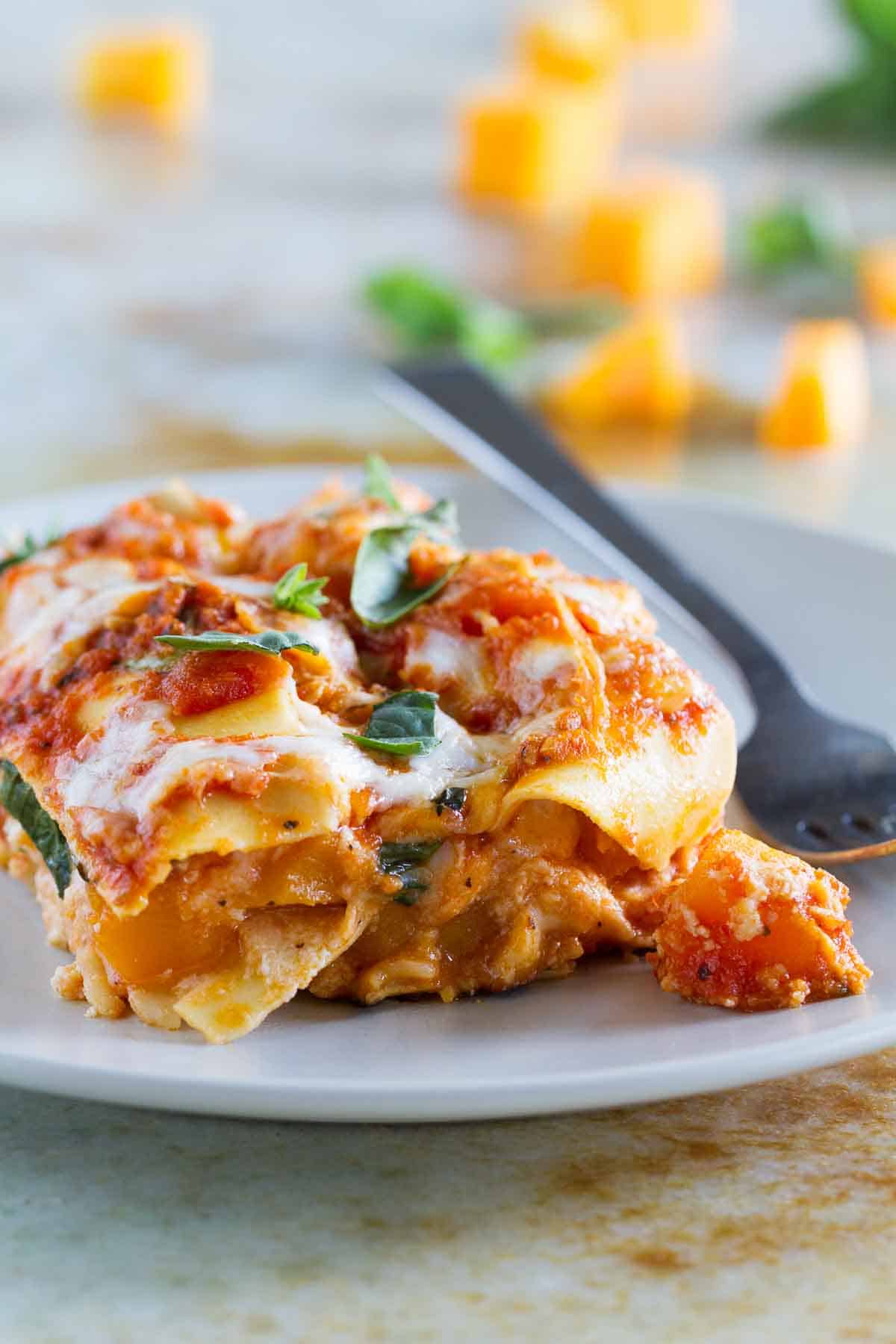 How to Roast Butternut Squash
There are actually 2 main ways to roast butternut squash. The first way is to just cut it in half and place each half, cut side down, on a baking sheet to roast. I'm not going to go into detail on this way this time, because that will work best when you want to mash the squash, or puree it for a soup.
In this recipe, you'll want to roast pieces of the squash. It really is similar to roasting any other vegetable – especially potatoes.
Start by peeling the squash. This can be a bit intimidating, because the peel is usually thick and rough on a butternut squash. If you have a good vegetable peeler, you can use that. You may need to go over the squash twice, though, as the peel is thick. I will usually do this, or use a sharp knife to peel the squash.
Once the squash is peeled, cut it in half (this works best if you do it lengthwise) and remove the seeds. I just use a spoon to scoop them out.
Next, take a sharp knife and cut the flesh of the butternut squash into cubes, about 1/2 inch for this recipe.
Drizzle the squash with olive oil and season it with salt and pepper. Lay it on a baking sheet in a single layer.
Roast it in a 400ºF oven until it is fork tender, about 25-30 minutes. You'll want to go in and stir it around once or twice during the cook time to make sure it roasts evenly.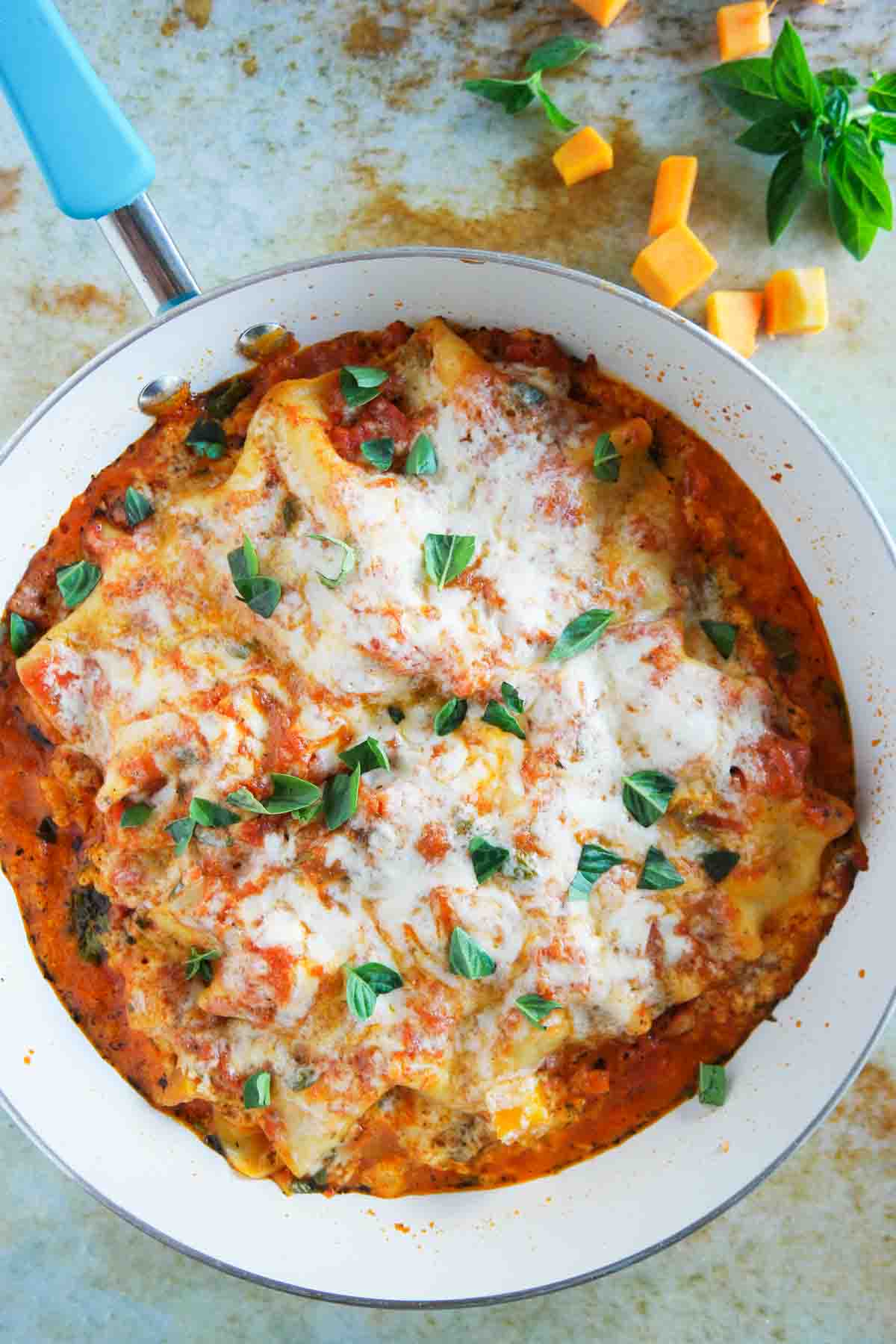 Tips and Tricks
If you want to save time (and effort) you can buy pre-cubed butternut squash. It will usually be more expensive, but will cut back on the time and effort of cutting it yourself.
You can also roast the squash ahead of time. After roasting, let it cool then refrigerate it until you are assembling the lasagna.
Make sure you are using no-boil lasagna noodles. If you don't have no-boil noodles, you can use regular lasagna noodles, but you'll want to prep them first. Place them in a dish and pour boiling water over them and let them sit for about 15 minutes.
Fresh basil is definitely preferred in this recipe, but I know it can be harder to find this time of year. I think dried basil can be overwhelming, though, so if using dried basil, only use about 2 tablespoons.
Store any leftover butternut squash lasagna in an airtight container in the refrigerator. I love the leftovers, so I'm never mad when there is some leftover!
More Lasagna Recipes
Lasagna Soup Recipe
Skillet Lasagna
Chicken Lasagna with Green Chile and Cheese
American Lasagna
Spaghetti Lasagna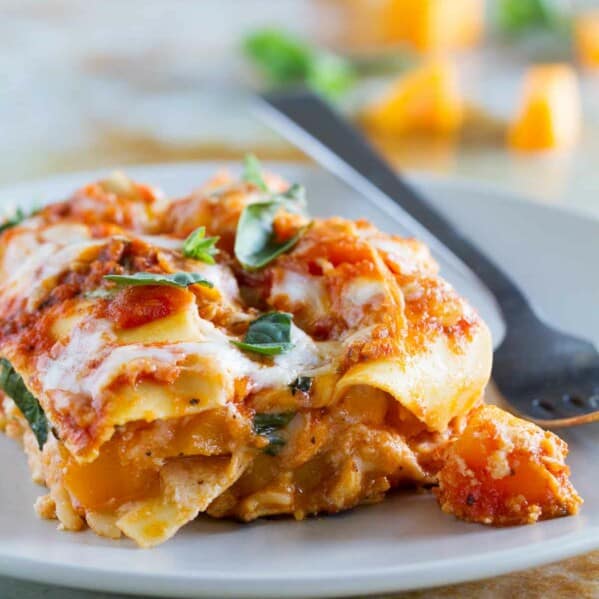 Skillet Butternut Squash Lasagna
---
Author:
Prep Time: 20 minutes
Cook Time: 50 minutes
Total Time: 75 minutes
Yield: 4 servings 1x
Category: Main Course
Method: Stove Top
Cuisine: Italian
Description
One skillet is all you need for this easy Skillet Butternut Squash Lasagna. Easy enough for a weeknight, and all you need is one pan!
---
Scale
Ingredients
1 lb cubed butternut squash
1 tablespoon extra virgin olive oil
salt and pepper
1 cup ricotta cheese
1 cup freshly grated Parmesan cheese
1 teaspoon chopped fresh rosemary
pinch freshly grated nutmeg
2 cups marinara sauce (store bought or homemade)
1/2 cup chopped fresh basil
6 no-boil lasagna noodles
2 cups shredded mozzarella cheese (about 8 oz)
---
Instructions
Preheat the oven to 400ºF.
Place the butternut squash on a baking sheet and drizzle with the olive oil. Sprinkle with salt and pepper and stir to combine. Spread the squash into a single layer, then roast until the squash is fork-tender, 25-30 minutes, stirring once or twice during baking time. Remove from oven and let cool slightly.
In a medium bowl, combine the squash, ricotta, 3/4 cup of the Parmesan, the rosemary and the nutmeg. In another bowl, combine the marinara with the basil.
Spread 1/2 cup of the marinara in the bottom of a large nonstick skillet. (Mine is a 12-inch skillet.) Cover the marinara with 2 of the lasagna noodles. Spread half of the butternut squash mixture on the noodles, then sprinkle 1/3 of the mozzarella over the top. Add another layer of noodles, the rest of the butternut squash mixture, 1 cup of the marinara, and half of the remaining mozzarella. Top with the remaining noodles, the rest of the marinara, then the remaining mozzarella. Sprinkle the remaining 1/4 cup of Parmesan over the top.
Cover the skillet and cook over medium-low heat until the pasta is tender and the cheese is melted, about 20 minutes. Halfway through the cooking time, check to see if the edges look dry, and if they do, add up to 1/2 cup of water.)
Let the lasagna sit for 5 minutes before serving.
Recipe Notes:
adapted from Food Network Magazine October 2014
Nutrition information provided as an estimate only. Various brands and products can change the counts. Any nutritional information should be used as a general guide.
Nutrition
Serving Size: 1/4 of recipe
Calories: 643
Sugar: 8 g
Sodium: 879 mg
Fat: 32 g
Saturated Fat: 10 g
Unsaturated Fat: 8 g
Trans Fat: 0 g
Carbohydrates: 63 g
Fiber: 12 g
Protein: 33 g
Cholesterol: 57 mg
Keywords: butternut squash lasagna