One skillet is all you need for this easy Skillet Butternut Squash Lasagna. Easy enough for a weeknight, and all you need is one pan!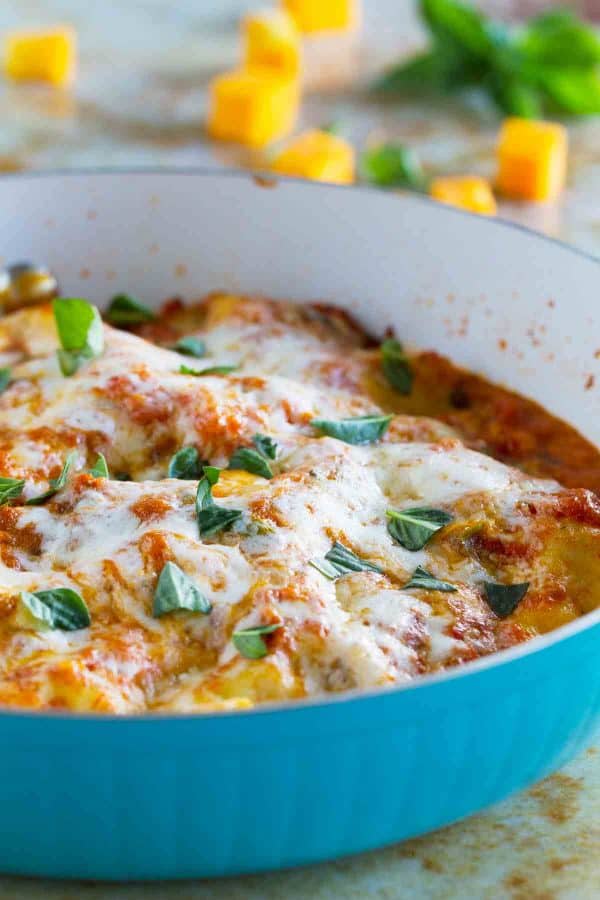 Happy 2017!!
I feel like we just turned the calendar page over to 2016, but here we are, another year older, and hopefully wiser. I know it's technically just another day, but I love the start of a new year. I feel like you have a clean slate in front of you. A new year – full of new possibilities.
Along with the new year comes new resolutions. Are you a goal setter? I've learned in years past that I don't do well with big, lofty goals. I tend to do better when I make them smaller. More realistic. More attainable.
Like losing weight. I've never been good at "lose 20 pounds this year." Instead, I like to break it down – drink at least 10 glasses of water every day. Reach my 10,000 steps every day. Do yoga 2 times a week. While losing a certain amount of weight may seem like an admirable goal, I just need it broken down and simplified.
One goal that I know is a popular one this time of year is a goal I am putting on myself. To cook more and eat out less. You would think that since I'm a food blogger, dinner is magically on the table every night. The truth is that the last few months have been brutal. I spend so much time in the car driving my kids to and from school, and then I'm trying to test and photograph recipes for the blog in the other time I have. So unless the recipe I'm working on is a dinner recipe, dinner has been a struggle. I know things will get better when we are finally in the new house and I won't have to spend so much time in the car, but I need to stop using that as an excuse. So being prepared and organized is the name of the game for me this year.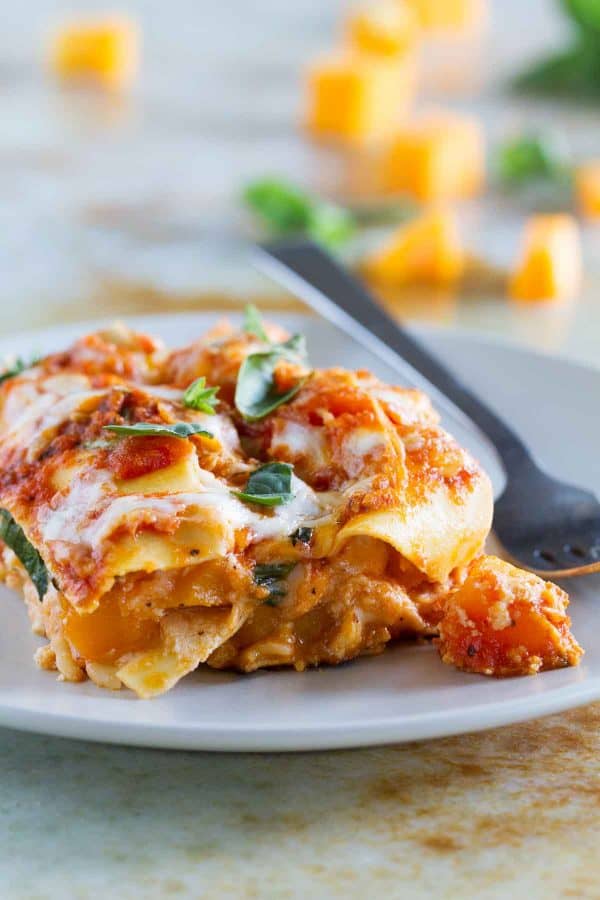 So the first part of the plan is to make sure I have my menu for the week planned out by Sunday night every week. If I'm prepared, I'm a lot less likely to make excuses. And I'm resolving that we will only have take out 2 times a month max (not counting date nights!) Because if I put a number on it, I know I'll have to stick to it. Even if it means falling back on sandwiches when life gets crazy.
So all of that to say that there will be more recipes like this Skillet Butternut Squash Lasagna in my future. I've actually made this recipes several times now – I like it that much. It's a meat-free meal, but you'll never miss the meat. It's comforting without being overly heavy, and it's a lasagna that you can actually make on a weeknight.
You start by roasting my favorite – butternut squash. If you are a regular reader, you know that I'm a bit obsessed with it. 🙂 You can always cut down on prep/cooking time by roasting the squash ahead of time. Just roast it and refrigerate it, and when it's time to make the lasagna, just add it in.
I have always been a fan of butternut squash lasagna, and this version is just as good as (if not better than!) a traditional butternut squash lasagna. Plus, clean up is a breeze!!
So if you are resolving to cook more this year, this Skillet Butternut Squash Lasagna belongs on your next meal plan!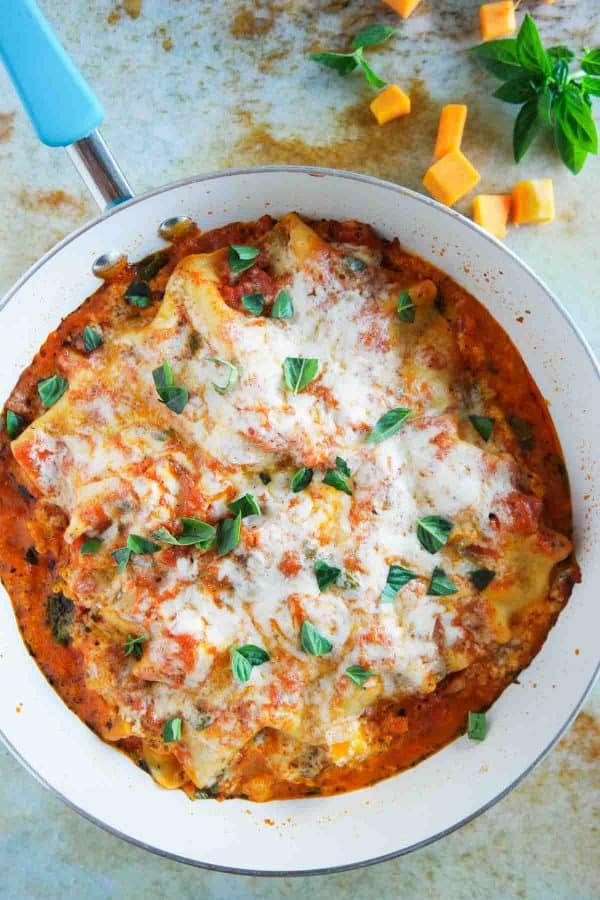 Like what you see here? Make sure you are following Taste and Tell for more recipes and ideas!
Facebook | Pinterest | Instagram | Twitter | Google+ | Weekly Newsletter | Feedly | Bloglovin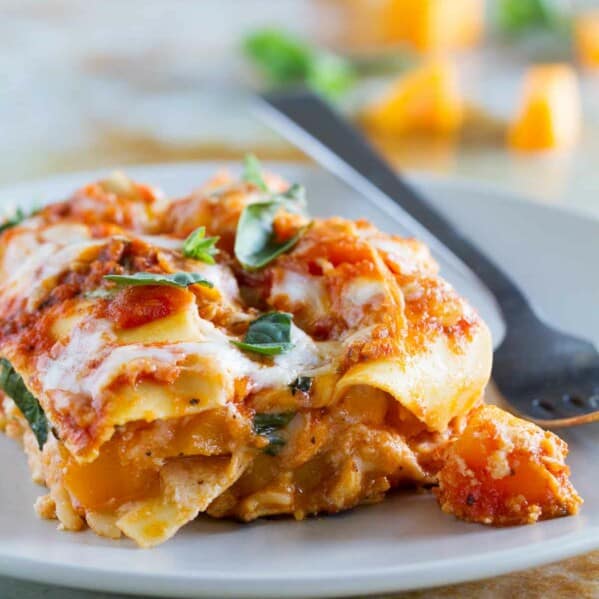 Skillet Butternut Squash Lasagna
---
Author:
Prep Time: 20 minutes
Cook Time: 50 minutes
Total Time: 75 minutes
Yield: 4 servings 1x
Category: Main Course
Description
One skillet is all you need for this easy Skillet Butternut Squash Lasagna. Easy enough for a weeknight, and all you need is one pan!
---
Scale
Ingredients
1 lb cubed butternut squash
1 tablespoon extra virgin olive oil
salt and pepper
1 cup ricotta cheese
1 cup freshly grated Parmesan cheese
1 teaspoon chopped fresh rosemary
pinch freshly grated nutmeg
2 cups marinara sauce ((store bought or homemade))
1/2 cup chopped fresh basil
6 no-boil lasagna noodles
2 cups shredded mozzarella cheese ((about 8 oz))
---
Instructions
Preheat the oven to 400ºF.
Place the butternut squash on a baking sheet and drizzle with the olive oil. Sprinkle with salt and pepper and stir to combine. Spread the squash into a single layer, then roast until the squash is fork-tender, 25-30 minutes, stirring once or twice during baking time. Remove from oven and let cool slightly.
In a medium bowl, combine the squash, ricotta, 3/4 cup of the Parmesan, the rosemary and the nutmeg. In another bowl, combine the marinara with the basil.
Spread 1/2 cup of the marinara in the bottom of a large nonstick skillet. (Mine is a 12-inch skillet.) Cover the marinara with 2 of the lasagna noodles. Spread half of the butternut squash mixture on the noodles, then sprinkle 1/3 of the mozzarella over the top. Add another layer of noodles, the rest of the butternut squash mixture, 1 cup of the marinara, and half of the remaining mozzarella. Top with the remaining noodles, the rest of the marinara, then the remaining mozzarella. Sprinkle the remaining 1/4 cup of Parmesan over the top.
Cover the skillet and cook over medium-low heat until the pasta is tender and the cheese is melted, about 20 minutes. Halfway through the cooking time, check to see if the edges look dry, and if they do, add up to 1/2 cup of water.)
Let the lasagna sit for 5 minutes before serving.
SHOP THIS POST:
Butternut Squash Recipes You Need to Save: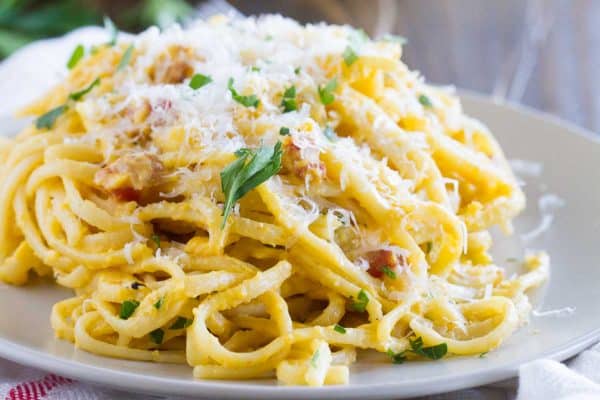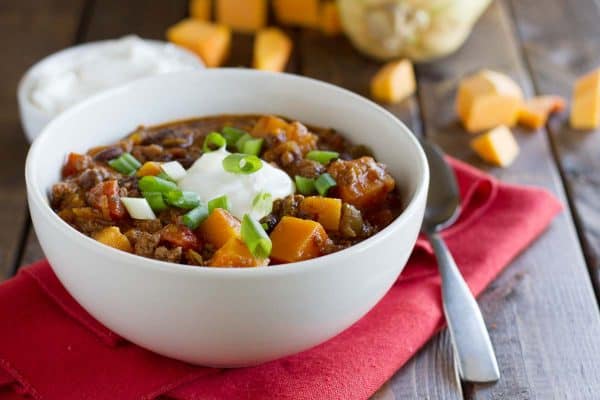 Butternut Squash Chili with Beef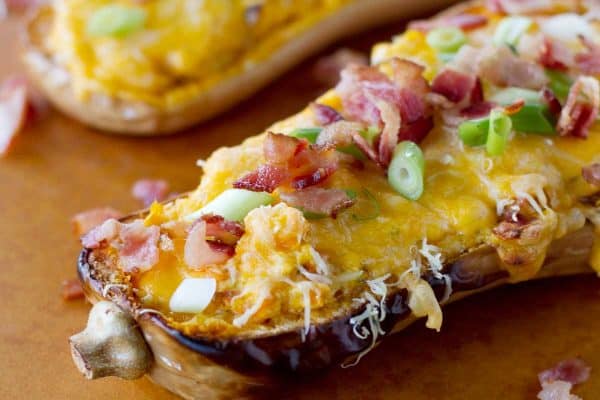 Double-Stuffed Butternut Squash
Around the Web:
Butternut Squash Tacos from Bijoux & Bits
Thai Butternut Squash Red Curry from Little Spice Jar
Roasted Butternut Squash Soup from Ahead of Thyme
Don't miss a thing! Follow me on Pinterest to see what I'm pinning!