Tuscan Pasta with Sausage – An easy and hearty pasta dish, with sausage and beans.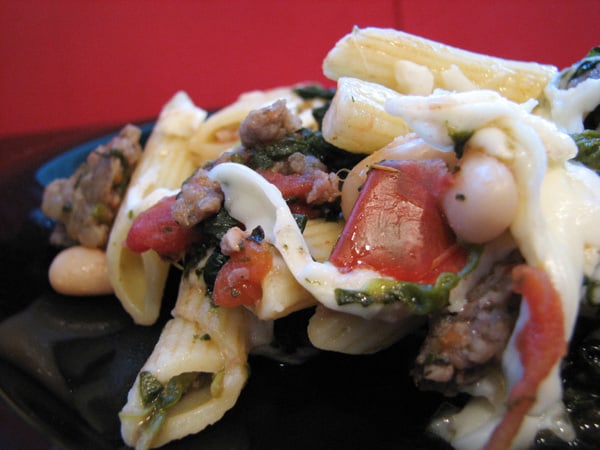 **Note – this recipe came from a blog that no longer exists, so I have added the recipe, and taken out the links. So sad this blog is gone!! (and grateful I had printed out the recipe!)**
This recipe comes from a blog that I love for all of her simple, down to earth recipes. I have been reading Mommy Cooks for the last few months, and I have so many of her recipes bookmarked. Even though I'm not a mom, I usually need recipes that are quick and easy for weeknights. Mommy Cooks is the perfect place to find these recipes!!
I remember being intrigued by this recipe because there are beans in it. I don't know where I've been, but I don't think I've ever had a baked pasta dish that had beans in it. But I'm going to start adding them now – this was a perfect addition! This pasta dish has many of my favorite things – sausage, spinach, tomatoes – all baked together into a cheesy main course. She used fusilli, but I had some penne that needed to be used, so I substituted that. And I have to admit that I would prefer the cheap mozzarella in baked dishes like this. It just seems to melt better to me. I didn't use a really good mozzarella for this, but something mid-grade, and it didn't melt like I like my cheese in a baked dish.
You could easily switch up the kind of beans you use, as well as the shape of pasta. I think this is a very versatile recipe that would be a great way to use up ingredients you have on hand. Serve it up with some French bread, and you have a whole meal, ready to go!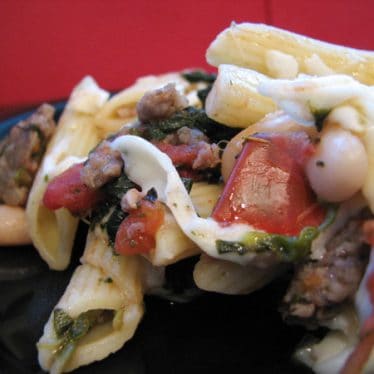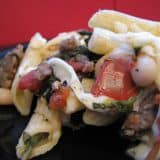 Tuscan Pasta with Sausage
---
Author:
Prep Time: 10 minutes
Cook Time: 40 minutes
Total Time: 50 minutes
Yield: 6-8 servings 1x
Category: Main Dish
Method: Bake
Cuisine: Italian
Description
Tuscan Pasta with Sausage – An easy and hearty pasta dish, with sausage and beans.
---
Scale
Ingredients
1 pound ground sausage
1 (28-ounce) can Italian-style diced tomatoes
1 (14.5 ounce) can cannelini beans, drained and rinsed
1 (10 ounce) box frozen spinach, thawed and drained
1 (16 ounce) box pasta
1/2 teaspoon minced garlic
1 teaspoon Italian seasoning
3 cups shredded Mozzarella cheese
1/4 cup romano cheese, grated
chopped parsley, to garnish
---
Instructions
Preheat oven to 350F.
In a Dutch oven over medium-high heat, cook the sausage with the minced garlic until the sausage is no longer pink and crumbled. Drain.
Stir in the tomatoes, beans, spinach and Italian seasoning. Reduce the heat and simmer until heated through, about 5 minutes.
Meanwhile, cook the pasta according to package directions, just until al dente. Drain and lightly butter.
Add the cooked pasta to the meat sauce and toss until well coated. Spray a 9×13-inch baking dish with non-stick cooking spray.
Pour half of the pasta mixture into the pan. Sprinkle half of the mozzarella cheese on top, then repeat. Sprinkle the grated Romano on the top. Cover with foil and bake for 20-25 minutes or until the cheese is melted.
Recipe Notes:
Recipe from Mommy Cooks (blog no longer active)