You'll never know that this Lighter Cajun Sausage Pasta has less calories than most creamy pastas! A secret ingredient helps to make this dish lighter, yet it is still creamy and full of flavor.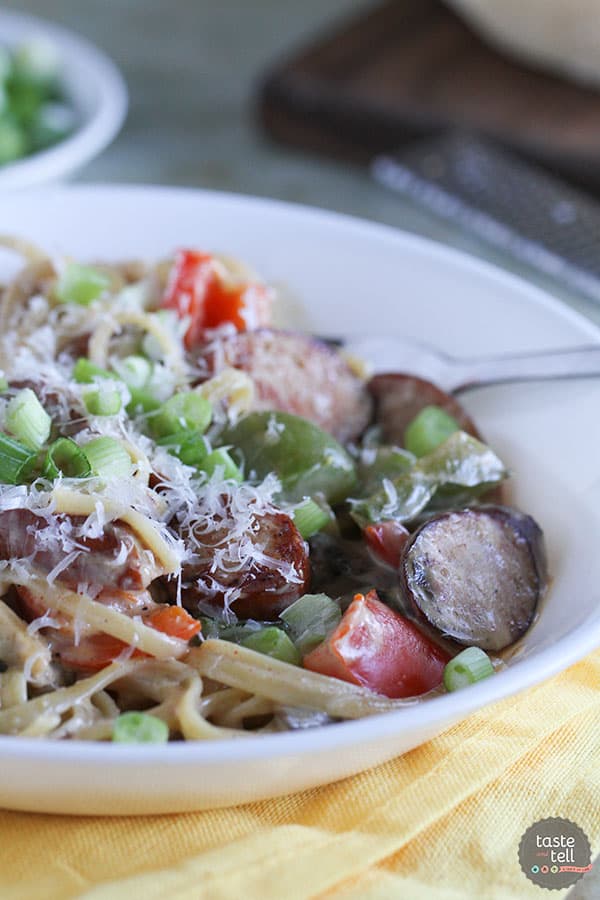 So – let's talk social media. I know, such a riveting subject, right? It seems like today, there is a new social media outlet showing up every other week. There was Facebook and Twitter, then Instagram, Vimeo, Pinterest, Vine, StumbleUpon, Flickr, YouTube, Foursquare, Google+…should I keep going? Let's be real – it's all kind of overwhelming.
And working in an industry that is all online, social media plays a big part. So parts of my day are spent on Facebook, Twitter, Pinterest and Instagram. Is it really possible to keep up with all of it?
Then along came Snapchat. I always just thought it was something the teenagers were using, and then all of a sudden, fellow bloggers were "snapping". And I refused. I just didn't see the purpose in yet another social media outlet.
But I started paying attention and watching. Not participating. But watching other people and their snaps. I'm not going to lie – I was totally turned off in the beginning, and some people's snaps made me not want to even follow their blog. I didn't have a desire to join the ranks. But then I started following a fellow food blogger (whatsgabycooking) and all of a sudden, I got it. I loved what she was doing – cooking dinner on Snapchat and sharing her kitchen secrets. That's when it all changed for me.
You know where this goes. Yes, I am now on Snapchat. And I'm kind of loving it. (Follow me there – tasteandtell). A few weeks ago, I had the idea to make this dish, and I knew the flavors I wanted it to have. I decided to snap along as I made it and tested it. I'm not saying I'm going to do this often (it's hard to snap and cook at the same time!) but it was fun to share my recipe development process online.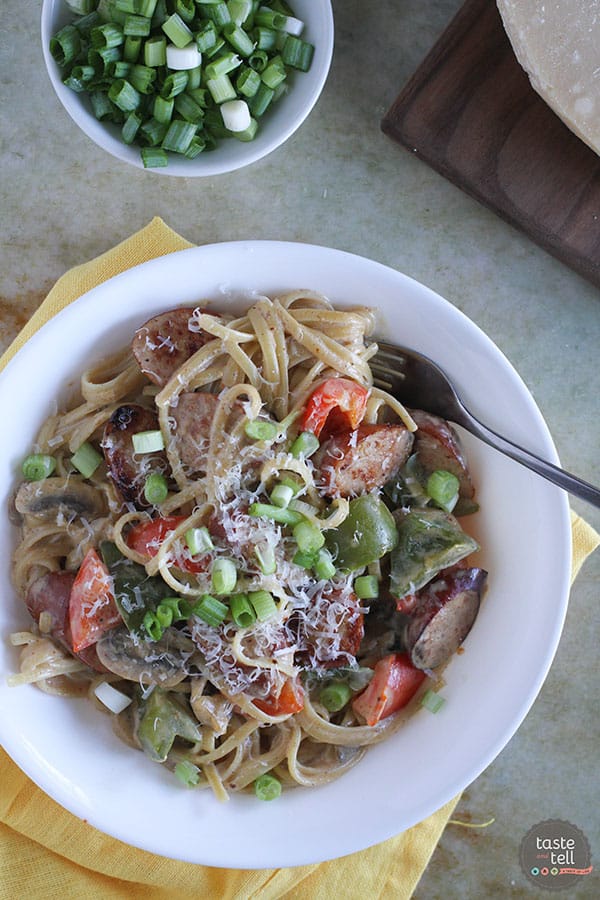 And happily, this dish turned out fantastic. Halfway through making it, I worried that it would end up horrible and I'd be sharing a kitchen fail on Snapchat, but all was well. And we loved this dinner. There was some leftover, and I seriously hid those leftovers in the fridge so that I could eat every last bite. (And I did!!)
I'm not claiming that this is healthy by any means, but I did make a few changes to lighten it up a bit. Instead of beef or pork smoked sausage, I used chicken smoked sausage. And then there is my biggest secret – where I would normally use cream, or at least half and half, I subbed in evaporated milk. It's significantly lower in calories and fat, but you still get that great, creamy texture. I did add in some cornstarch to thicken up the sauce a bit, but my husband didn't even know that this Cajun Sausage Pasta didn't even have cream in it.
This Lighter Cajun Sausage Pasta is a great weeknight dinner – it only takes 30 minutes, and you can adjust the cajun seasoning to make it less or more spicy for your family. We loved it and I can't wait to make it again!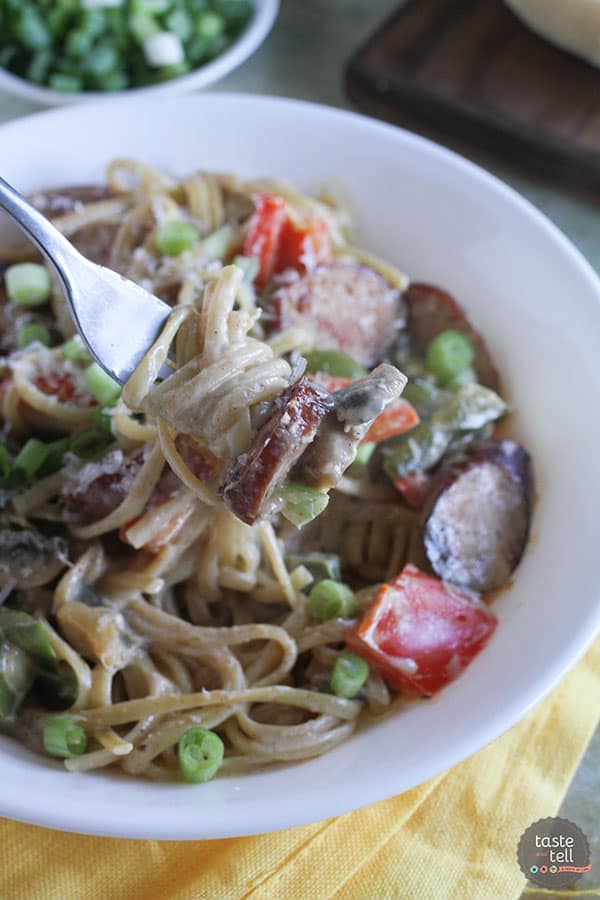 Like what you see here? Make sure you are following Taste and Tell for more recipes and ideas!
Facebook | Pinterest | Instagram | Twitter | Google+ | Weekly Newsletter | Feedly | Bloglovin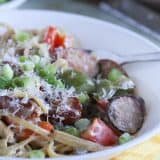 Lighter Cajun Sausage Pasta
---
Prep Time: 15 mins
Cook Time: 15 mins
Total Time: 30 mins
Yield: 4 servings 1x
Description
You'll never know that this Lighter Cajun Sausage Pasta has less calories than most creamy pastas! A secret ingredient helps to make this dish lighter, yet it is still creamy and full of flavor.
---
Scale
Ingredients
8 oz linguine pasta
1 tablespoon extra virgin olive oil
1 (13 oz) package chicken smoked sausage, sliced
1 red bell pepper, chopped
1 green bell pepper, chopped
8 oz fresh mushrooms, sliced
2 teaspoons cajun seasoning
1/4 teaspoon lemon pepper
1/4 teaspoon garlic powder
2 cups evaporated milk
2 tablespoons cornstarch
grated parmesan cheese, for topping
sliced green onions, for topping
---
Instructions
Bring a large pot of salted water to a boil. Add the pasta and cook according to the package directions. Drain and return to the pot.
Meanwhile, heat the olive oil in a large skillet over medium-high heat. Add the sausage, and cook until browned on both sides, 3-5 minutes. Remove the sausage to a bowl.
Add the red bell pepper, green bell pepper and mushrooms to the same skillet. Cook until the vegetables start to soften, about 5 minutes. Season with the cajun seasoning, lemon pepper and garlic pepper. Season to taste with salt.
In a small bowl, stir together 2 tablespoons of the evaporated milk with the 2 tablespoons of cornstarch. Pour the remaining milk into the skillet with the vegetables. Heat until it starts to simmer, then pour in the cornstarch mixture. Continue to cook until the sauce thickens, 2-3 minutes.
Pour the sauce over the pasta in the pot. Add in the sausage. Stir to combine.
Serve topped with parmesan cheese and green onions.
Don't miss a thing! Follow me on Pinterest to see what I'm pinning!
Visit Taste and Tell's profile on Pinterest.