Lasagna for a weeknight! Skip the hassle of preparing a lasagna and make this One Skillet Lasagna instead. It is a taste of Italy without all the work!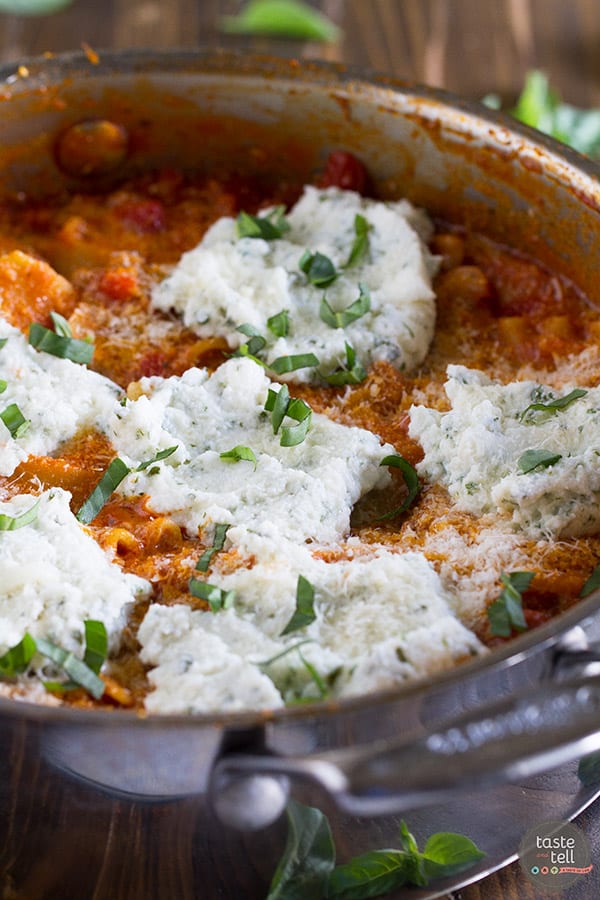 Thank you to Carando® for sponsoring this post.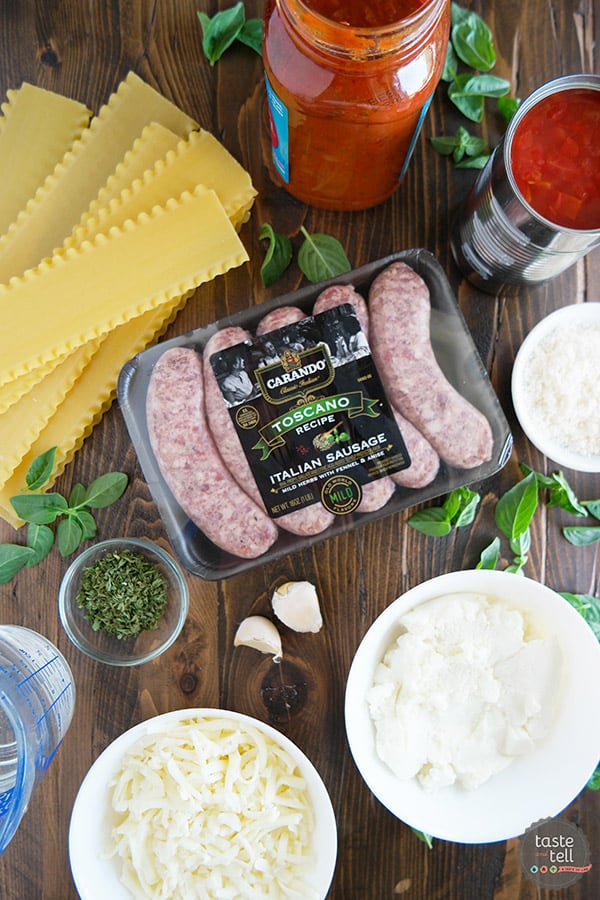 There is one theme day that I know everyone will be happy with, and all of the food will be consumed that day. It's Italian day, baby. Which usually means pasta. (And tell my youngest that we are having pasta for dinner, and he will run around excitedly and become very impatient for dinner.)
One of our very favorite meals is lasagna, but let's face it. Unless you are making the lasagna ahead of time, it's not really a weeknight kind of meal. There is just way too much prep time involved. And cook time. So it's almost always reserved for the weekend. But now you can get that real taste of Italy on a weeknight with this One Skillet Lasagna!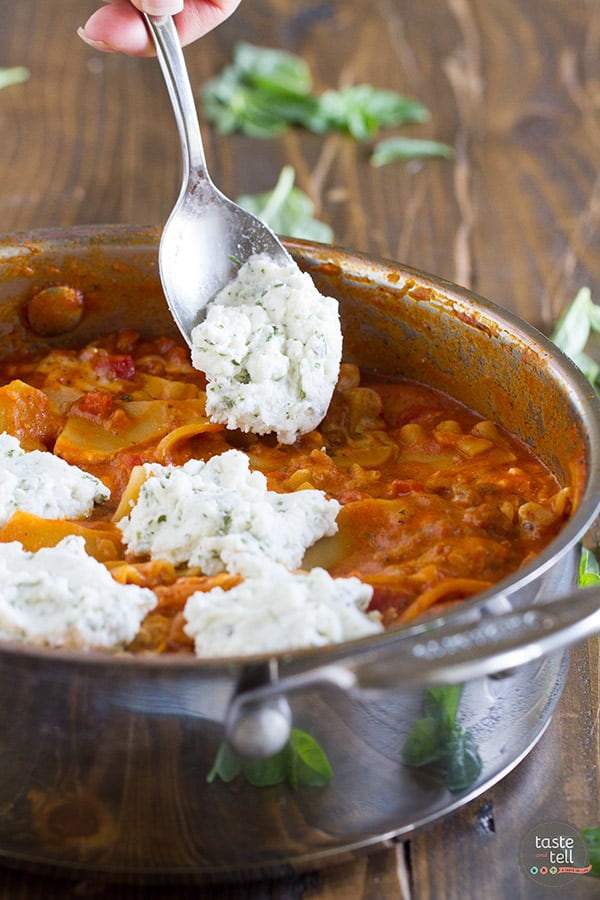 Just imagine all of the great flavors of lasagna in an easy skillet meal. That's what you've got right here. You've got the meat, the cheese, the sauce, the noodles - and dinner is on the table in well under an hour.
When I make lasagna, I love to use sausage because the rich, bold flavor always stands out. So of course, for this One Skillet Lasagna, I went with a truly Italian sausage - the Toscano Recipe Fresh Italian Sausage from Carando®. I love that it is full of great Italian seasonings and spices (so I don't have to add extra to the recipe), and I love that it is available at my favorite grocery store - Smith's. And happy day, right now, the Taste of Italy event is happening at all Smith's and Kroger stores across the country. The event runs from September 14th - September 27th, and it's a great way to try out all kinds of authentic Italian ingredients. Including this sausage from Carando®.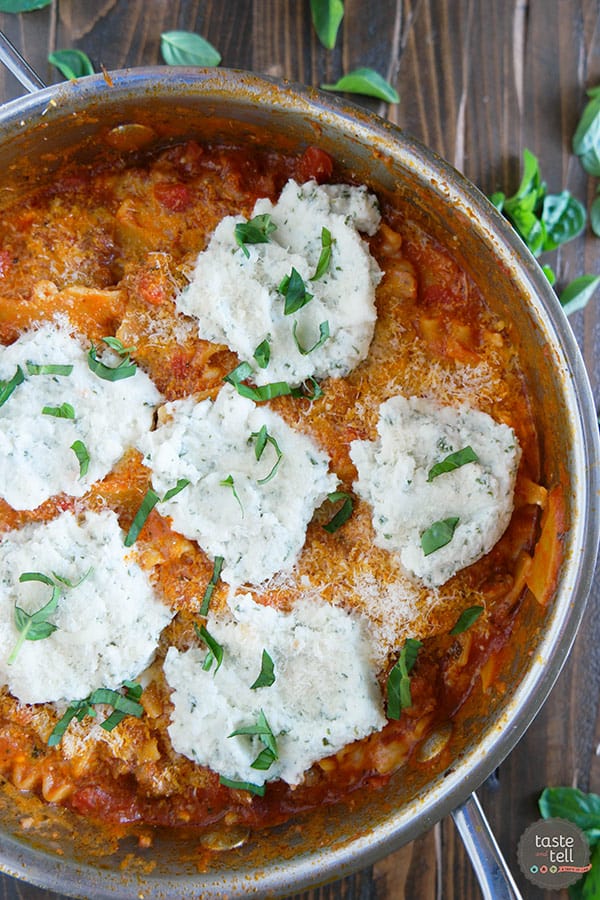 The Carando® sausage does not contain any MSG, is gluten free, and it made with quality pork. And most importantly, it's delicious!!
This One Skillet Lasagna couldn't be any easier. You cook your sausage and add some diced tomatoes and pasta sauce. For the pasta, I used broken lasagna noodles. You could always use a short cut pasta (like farfalle), but I love how rustic-ness that the different shapes and sizes of the broken lasagna noodles bring.
Now there is no excuse to skip lasagna on a weeknight - when you can have this One Skillet Lasagna on the table in no time!
For more Italian recipes and ideas, visit http://www.italianworldflavor.com/.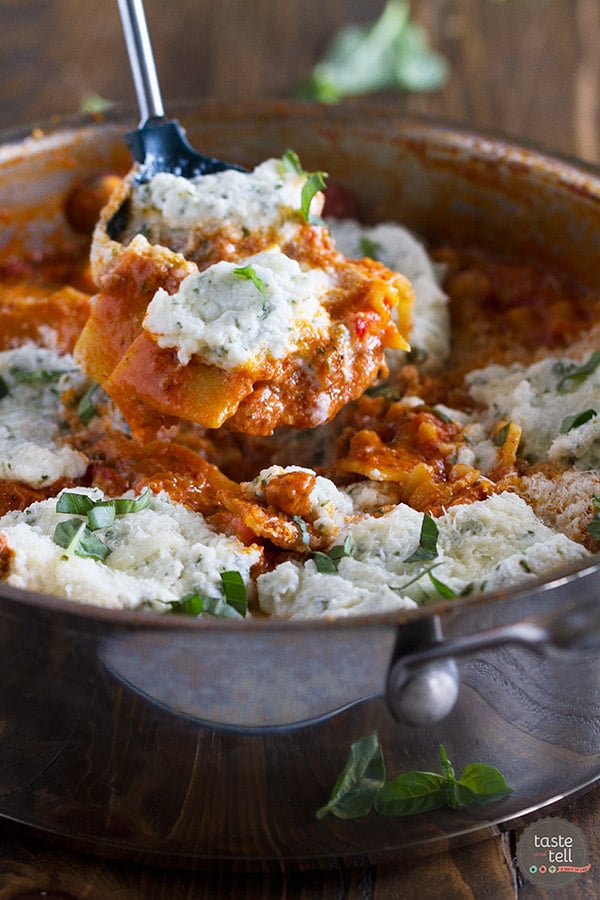 Like what you see here? Make sure you are following Taste and Tell for more recipes and ideas! Facebook | Pinterest | Instagram | Twitter | Google+ | Weekly Newsletter | Feedly | Bloglovin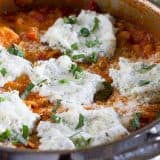 One Skillet Lasagna
---
Author:
Prep Time: 10 mins
Cook Time: 35 mins
Total Time: 45 mins
Yield: 6 servings 1x
Description
Lasagna for a weeknight! Skip the hassle of preparing a lasagna and make this One Skillet Lasagna instead. It is a taste of Italy without all the work!
---
Scale
Ingredients
1 package (16 oz) Carando® Toscano Recipe Fresh Italian Sausage
2 cloves garlic, minced or grated
1 jar (24 oz) pasta sauce
1 1/2 cups water*
1 can (15 oz) diced tomatoes, undrained
8 oz lasagna noodles, broken into bite-sized pieces
4 tablespoons chopped basil
1 cup shredded mozzarella cheese
2 oz cream cheese, softened and cut into small squares
1 cup ricotta cheese
1 tablespoon dried parsley
1/4 cup freshly grated Parmesan cheese
additional basil, for serving (optional)
---
Instructions
Remove the skins from the sausage and break into pieces. Add to a large skillet over medium heat and cook, breaking up even more as it cooks, until cooked though and browned. Add the garlic and cook until fragrant, about 30 seconds. Add the pasta sauce, water, diced tomatoes, broken lasagna noodles and basil. Bring to a boil, then reduce heat and cover. Cook until the noodles are al dente, and most of the liquid has been absorbed, 15-20 minutes. I like to stir it every 3 or 4 minutes to make sure the noodles don't stick to the bottom of the pan. This is especially important in the last 5 minutes, as this is when they start to stick the most.
Remove the lid from the skillet and stir in the mozzarella cheese and cream cheese. Place the cover back on and reduce the heat to the lowest setting. Let it sit, covered, for 3 minutes.
Meanwhile, stir the ricotta and parsley together. When the lasagna is done, turn off the heat and dollop the ricotta mixture over the top. Sprinkle with the Parmesan. Put the lid back on the skillet and let it sit for 5 minutes, then serve.
Recipe Notes:
*If you live at or near sea level, you might want to start with 1 cup of water, and add more water if needed during the cooking time.
Don't miss a thing! Follow me on Pinterest to see what I'm pinning!
Visit Taste and Tell's profile on Pinterest.

This post has been sponsored by Carando® and Kroger, but all opinions are my own. Thank you for supporting me and the companies I partner with.