A traditional carbonara pasta is combined with sausage and bacon in this indulgent Sausage Carbonara Pasta.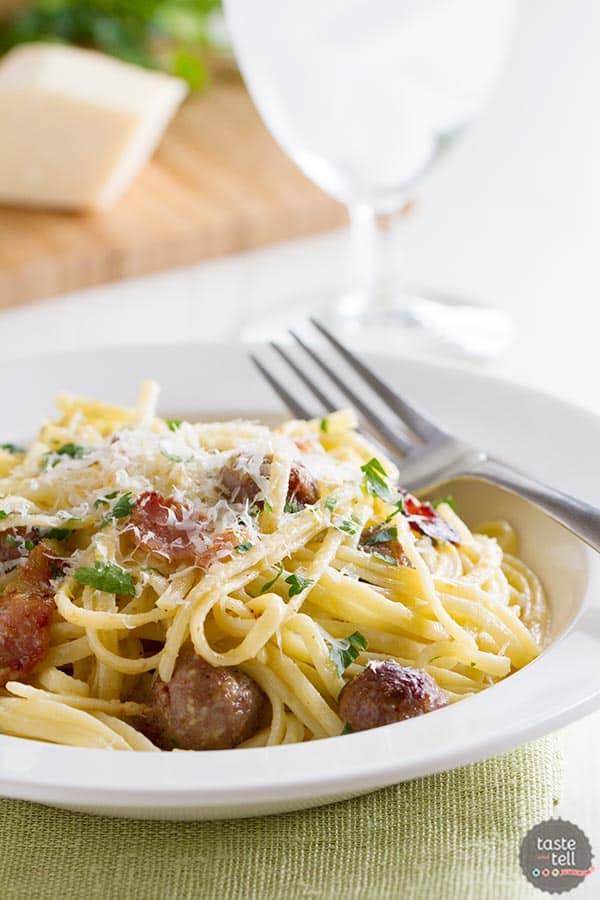 Photos Updated February 2015
I can't believe it's the last day of NaBloPoMo, and I've actually made it through. 1 post every day – and it's been a hectic month!! And now, I'm thinking I'm going to take a break, but I still have so much to share!! I thought that I'd be able to clear out all of those photos out of my "to blog" folder, but there are still so many!! And I have a new Cookbook of the Month to announce tomorrow (I'm so excited for December's book!!) So maybe you won't be getting a break from me, but at least I won't feel the pressure of blogging every day anymore!
Today's recipe is a Cookbook of the Month recipe. I decided that I couldn't cook from an Italian cookbook and not feature at least 1 pasta recipe, so in a week where we already had pasta several days, my husband agreed to let me make yet another pasta dish. I was actually leaning towards making risotto, but my husband vetoed that and picked out this pasta dish.
I have never made a proper carbonara dish before. I was really excited about this, even though I know how not good it is for me. But everything in moderation, right?!? This was everything I expected it to be. Rich, creamy, and very flavorful. The store I stopped at didn't have pancetta, so I substituted thick cut bacon instead. The only other change I made was to use Pecorino Romano instead of Parmesan, because that's what I had in the fridge. It all came together quite quickly – the most time consuming part is rolling the sausage into little balls. I will definitely make this again!!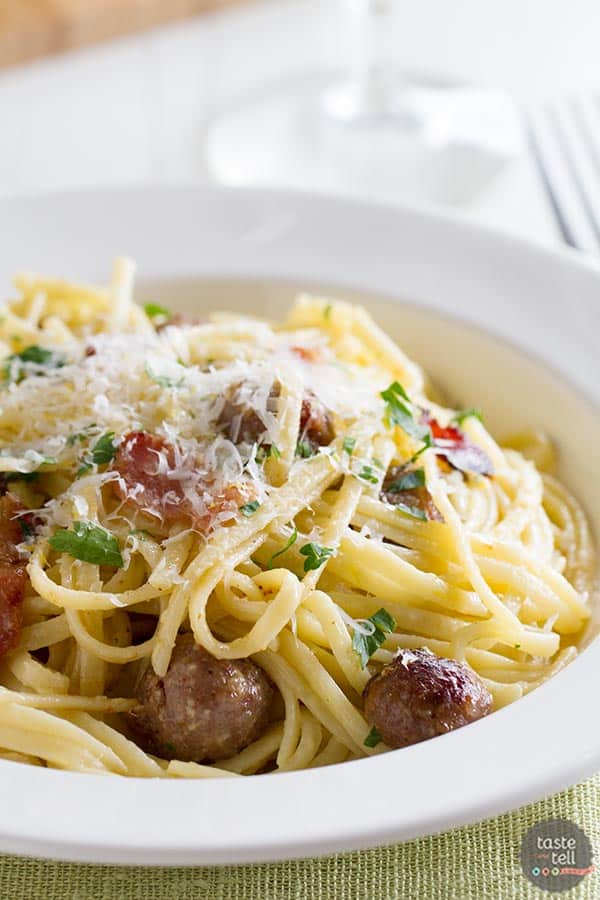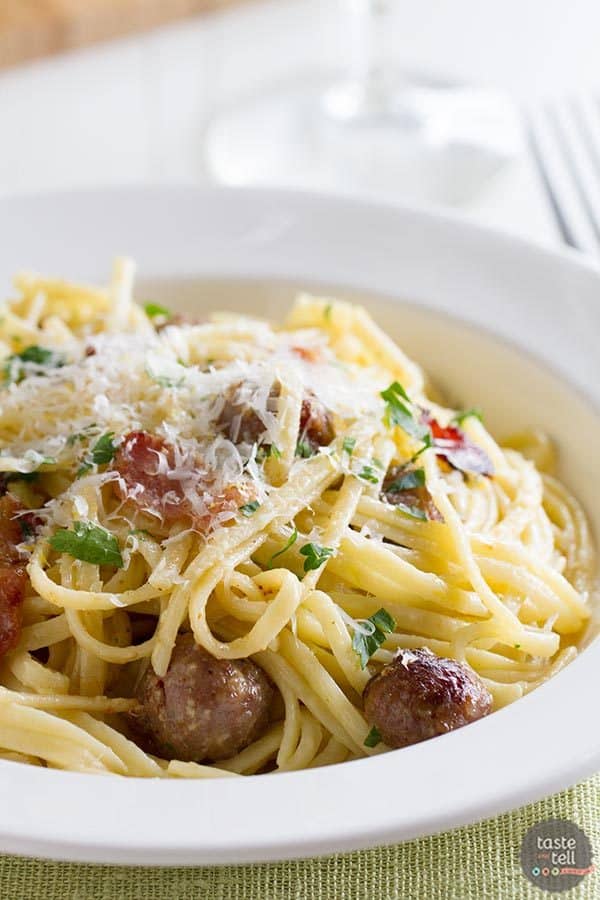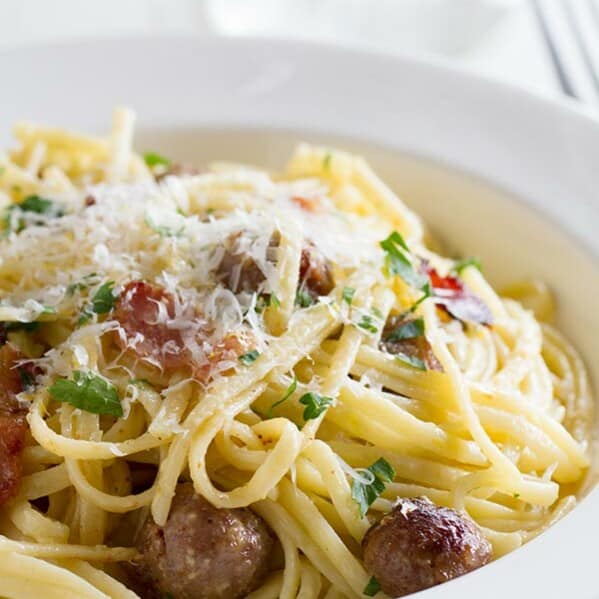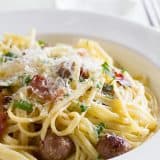 Sausage Carbonara Pasta
---
Author:
Prep Time: 10 mins
Cook Time: 20 mins
Total Time: 30 mins
Yield: 4 servings 1x
Category: Main Dish
Method: Stove Top
Cuisine: Italian
Description
A traditional carbonara pasta is combined with sausage and bacon in this indulgent Sausage Carbonara Pasta.
---
Scale
Ingredients
1 lb Italian sausages
1 tablespoon olive oil
4 slices of bacon, chopped
1 lb linguine pasta
4 large egg yolks
1/2 cup heavy cream
3 1/2 oz grated Parmesan cheese
zest of 1 lemon
2 teaspoons chopped fresh parsley
extra virgin olive oil
---
Instructions
Remove the sausages from the skins. Using wet hands, roll the sausage into small balls about the size of marbles. Set aside.
Heat the olive oil in a large pan over medium heat. Add the sausage balls and cook until they are starting to brown, then add the bacon. Continue to cook until the sausage and bacon are both cooked through.
While the sausage is cooking, bring a large pot of salted water to a boil. Add the pasta and cook until al dente. Reserve a mug full of the pasta water before draining.
Combine the egg yolks, cream, Parmesan, lemon zest and parsley in a bowl and whisk to combine. Immediately after draining the pasta, return it to the same pot and add the egg yolk mixture. Vigorously stir the pasta and the sauce – the heat from the pasta will gently cook the eggs. It should form a silky sauce after stirring for a minute or two. If the sauce becomes too dry or stiff, add a bit of the reserved pasta water to loosen it up.
Stir the sausage and bacon into the pasta. Season to taste with salt and pepper. Drizzle each serving with olive oil before serving.