A sponge cake is surrounded by a strawberry Bavarian cream and topped with a strawberry "mirror" in this impressive Strawberry Mirror Cake.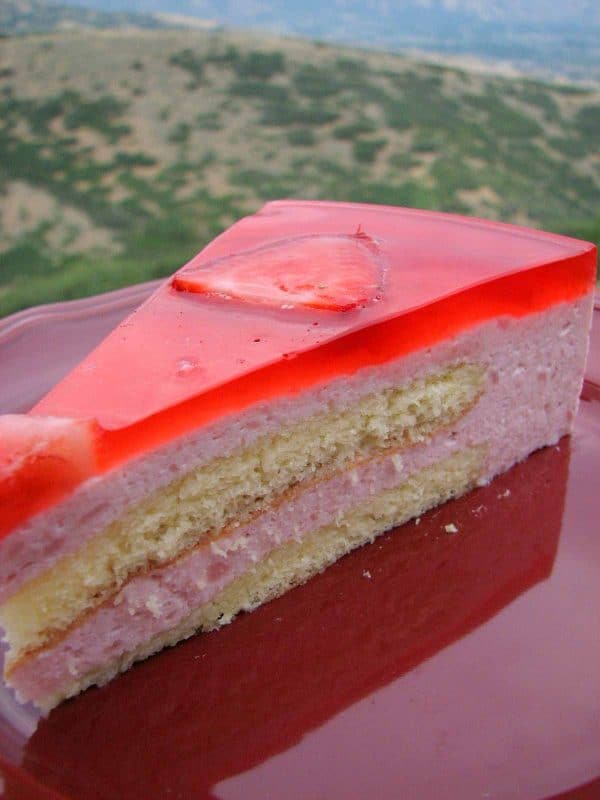 This is my first challenge as a daring baker, and it really was a fun one!!
And since I have a few friends and family members that read my blog that don't frequent other food blogs, here is a little bit of history….
The Daring Bakers was started by two of my favorite food blogs – Lis of La Mia Cucina (every one of her blog posts makes me laugh) and Ivonne of Cream Puffs in Venice (talk about some serious baking talent!!) They both decided to make the same recipe one month – pretzels – using the same recipe, and post about it. The next month they decided to do it again with a different recipe, and had a few more join, and the next month they decided to do it again with a different recipe, and had a few more join, and the next month they decided to do it again with a different recipe, and a few more joined….you get the point!! The group has grown so large now that for the first time this month – a new blog has been created to give links to all of the participants for the month.
So without any further ado, this months challenge…..
A Strawberry Mirror Cake
I had never had a strawberry mirror cake before, in fact, I don't think I had ever heard of one before. I was really excited to try something new. I was going to make it at the beginning of the month, but put it off for a bit because of my hubby's birthday and other things that were going on. I decided that I had the perfect opportunity to make it for my family's once-a-month get together. In fact, I've decided that my family might be getting the fruits of my daring baker labors every month when we get together. Who else would be the perfect guinea pigs that would give me honest opinions??
I read through the recipe multiple times, then headed to the store to pick up the ingredients I would need. Unfortunately, I already knew that I wouldn't be able to find any local, wonderful strawberries. Our season here was just past, and I had spent the weekend before running to multiple stores and fruit stands, trying to find the perfect strawberries to top my husband's cheesecake, but I had no luck. So I settled on some beautiful strawberries that lacked a lot of flavor. I even purchased a 10-inch springform pan for the recipe so that I could make sure it was right, and I was finally able to find cake flour. Really, who thought it would be so hard to find cake flour??? I had already volunteered to bring a dessert to the above mentioned family get together, so I knew there was no backing out – especially since I had already told a few of my sisters about it and they were looking forward to seeing how it turned out. I was quite lazy the night before, and didn't start until about 8pm.
Everything started out very smoothly. I used my new KitchenAid to whip up the cake, which was probably my favorite component of the dessert. It is a thin cake, baked on a jelly roll pan, and then the two circles of cake that you use are cut out of the sheet cake. At first I wondered what I was going to do with all of the leftover cake scraps, but after tasting it, I knew it probably wouldn't last long. I kept snacking on pieces while I made the cake (I needed the energy to keep me going, right?!?) and I finished them off the next day while I was making the mirror for the cake. (It was super tasty with the strawberry mush that was left over while making the mirror the next day!!)
First step – completed successfully.
Then came the strawberry Bavarian cream. This was my first time making a Bavarian cream, and although it wasn't a complete success, or failure for that matter, I did learn a lot!! You first have to sprinkle gelatin over strawberry puree. I've used gelatin before, but this called for 2 1/2 tablespoons!! That seemed like a lot, but I went with it. I continued with the recipe, making the custard-like sauce. Everything went smoothly until I tried to stir in the gelatin/strawberry puree mixture. LUMPS GALORE!! I didn't know what to do!! I tried to squish as many as I could against the side of the bowl, but there was no way I was going to get rid of all of them. (The next day I posted an entry on the daring bakers blog (a spot for us to discuss the recipe) and many other said they had the same problem, but just strained the mixture to get rid of the extra balls. I wish I would have thought of that!!) And then you are supposed to stir the mixture in a bowl over a bowl of ice water, but of course we didn't have any ice because our freezer is so stinkin' full, and it was too late in the recipe to run out and get some. So I tried to improvise, sticking some ice packs in the bowl of water, but that didn't really work. So I stuck it in the fridge, stirring it every couple minutes – which is probably another reason I didn't get rid of all of those little balls of gelatin.
I continued on with the recipe without any problems – assembling the cake, I didn't have any issues. Some had said that they ran out of room in their pan and couldn't use all of the Bavarian cream, but I had tons of room to spare. The only modification I made (which was an allowed modification) was to leave the alcohol out. Into the fridge the cake went – and a look around the kitchen – now aka "war zone" – told me that I wasn't going to bed quite yet. Lots of clean up later, I collapsed into bed along side my husband, who was already sound asleep thanks to the use of ear plugs!!
The next morning, before I started the mirror, I called my sister to see what time we were getting together, and told her that I would be making some cookies or cupcakes to bring as a back up. I was afraid that the gelatin balls would gross everyone out and that no one would want to eat my cake, but she told me that she had a birthday cake for her daughter, who's birthday was that day. Thank goodness – the pressure was now off of me.
So I continued. I was a little afraid of the mirror, as it also calls for gelatin, but luckily, everything went really smoothly. For the strawberry juice, you are supposed to drain the crushed, simmered strawberries through a "damp jelly bag or a cheesecloth-lined colander". Well, I don't even know what a damp jelly bag is, and I didn't have any cheesecloth, so I improvised again, using an dish towel set over a colander, where the juice dripped into a bowl. I am happy to say, this worked wonderfully! Then there was another step with an ice bath – what to do this time?? Improvising again, I knew the ice packs wouldn't cut it, so instead of ice, I used some frozen peas! Perfection! So next time you are out of ice and you need it for an ice bath, frozen peas work in a pinch! I decided that the only decoration I was going to do would be to set some sliced strawberries on top of the cake with the mirror on top, so I did that and then poured the mirror mixture on top. I made sure to pour very slowly, as I didn't want it splashing everywhere, making a mess and becoming uneven. I went on beautifully!! I carried it to the fridge and set it down, then poked some small air bubbles with my fingernail to pop them. The cake was done!!
When the cake was unveiled that evening, everyone oohed and aahed about how pretty it was. It really was a gorgeous cake. After taking pictures, I dug into my slice.
The Pros:
Beautiful cake. It looks like something you would buy in a fancy bakery.
It wasn't too hard to make, and I think that making it again would be a lot more successful, knowing exactly what needs to be done now.
The Cons:
Mine did not have a whole lot of flavor. I am not blaming this on the recipe – I am putting all of the fault on the strawberries. I think that if I would have caught them when it was prime season here in Utah, this cake would have been full of flavor. But even the raw strawberries that I ate were not that great.
There was not enough cake, which was my favorite component of the dessert. My finished product was a lot more cream than cake, and I would make the cake at least equal to the amount of cream.
It took a long time to make – about 3 hours – and maybe it would have been more worth it if it had more flavor.
The family liked it – but when they heard that it took 3 hours to make, they said that it wasn't really worth 3 hours of work. But really, it was a great experience, and a lot of fun to make. This is so different than anything that I have ever made before, so it really was a learning experience, too.
Thanks for the challenge Peabody!!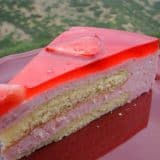 Strawberry Mirror Cake
---
Description
A sponge cake is surrounded by a strawberry Bavarian cream and topped with a strawberry "mirror" in this impressive Strawberry Mirror Cake.
---
Scale
Ingredients
Cake:
3 eggs
3 egg yolks
3/4 cup sugar
1 tsp vanilla extract
3 egg whites
1/8 tsp cream of tartar
2 TBSP sugar
2/3 cup sifted cake flour
1/2 cup water
1/3 cups sugar
2 TBSP kirsch or strawberry liqueur
Strawberry Bavarian Cream:
2 1/2 TBSP unflavored gelatin
1 1/2 cups strained strawberry puree(1 ½ baskets)
5 egg yolks
2/3 cup sugar
1 1/2 cups milk
1 TBSP lemon juice
several drops of red food coloring
1 3/4 cups whipping cream
Strawberry Mirror:
1 tsp lemon juice
1 TBSP kirsch
1 TBSP water
1 TBSP unflavored gelatin
Few drops of red food coloring
Strawberry Juice:
1 1/2 pints of strawberries(18 oz)
3/4 cup sugar
3/4 cup water
---
Instructions
To Make the Cake:
Preheat oven to 450F. Butter and flour the sides of an 11-by-17 inch jelly roll pan(rimmed baking sheet). Line bottom of pan with a sheet of parchment paper cut to fit bottom pan exactly.
Beat eggs, egg yolks and ¾ cup sugar together in a medium bowl until thick and light. Beat in the vanilla.
In a separate bowl, beat the egg whites until foamy, add cream of tartar and beat until whites begin to form peaks. Add the 2 TBSP sugar and beat until the whites hold stiff, glossy peaks(do not over beat).
Sift flour over the egg yolk mixture and fold in . Stir in one fourth of the whites. Then carefully fold in the remaining whites.
Spread batter evenly in pan. Bake until light brown and springy to touch(7 to 10 minutes). Cool in pan 5 minutes. Run a knife along edge to loosen. Invert cake tin to cut out 8 ¼ inch circles of cake. Wrap the cake layers, separated with waxed paper, and set aside. Cake may be frozen at this point.
Make the Soaking Syrup:
Combine water and the 1/3 cup sugar in saucepan; bring to a boil to dissolve sugar. Cool to room temperature; flavor with liqueur. Set aside or refrigerate in glass jar until ready to use.
Brush sides of 10-inch springform pan lightly with flavorless salad oil or almond oil. Cut out a cardboard circle that is exactly the same size as the bottom inside of the pan; cover cardboard with aluminum foil and fit into bottom of pan. Center one layer of the cake bottom of pan. Brush the cake with some of the soaking syrup to just moisten(not drench) the cake; set aside.
Prepare Strawberry Bavarian Cream:
Sprinkle the gelatin over the strawberry puree in a small bowl and set aside until spongy.
Combine egg yolks and sugar in a bowl' beat until light. Bring milk to a boil in sauce pan. Pour hot milk into yolk mixture and stir with a wooden spoon(it doesn't say so but I would temper the egg mixture first to be safe). Return this mixture to the saucepan and cook over medium heat, stirring constantly, until your finger leaves a clear trail in sauce when drawn across the back of the spoon.(Do not boil or mixture will curdle.) Immediately remove from heat and stir in softened gelatin mixture. Pour into a stainless steel bowl places over a bowl of ice water. Stir in lemon juice and a few drops of red food coloring. Cool over ice water, stirring occasionally, until mixture thickens to the consistency of softly whipped cream.
White gelatin mixture is cooling, whip the whipping cream until it holds soft peaks. When the gelatin mixture resembles softly whipped cream, fold the whipped cream into the gelatin mixture.
Immediately pour about half of the Bavarian Cream over the first layer of cake in the pan. Set the next layer of cake on top of the cream. Pour remaining Bavarian Cream over cake and smooth top of the cream with spatula. Refrigerate until the cream sets(1 to 2 hours).
Prepare the Strawberry Mirror:
Prepare strawberry juice: Wash and hull strawberries; coarsely chop. Place strawberries in saucepan; crush to start juices flowing. Place over low heat; add sugar and water; simmer slowly 10 minutes. Pour juice and pulp through damp jelly bag or cheesecloth-lined colander and drain into a bowl for 15 minutes(Do not press down on fruit).
Place lemon juice, kirsch, and water in a small bowl. Sprinkle gelatin over this mixture; set aside until spongy and soft.
Measure 1 ½ cups Strawberry juice into a small saucepan and bring to a simmer; pour over gelatin mixture and stir to dissolve gelatin. Tint to desired color with red food coloring. Place bowl over bowl of ice water and stir occasionally until the mixture is syrupy and just beings to thicken(do not let jell); remove from ice water.
When mixture is syrupy, pour a 1/16-inch layer over the top of cake. Refrigerate until set.
To Serve:
Wrap a hot towel around the outside of springform pan for a few minutes. Run a small sharp knife tip around the edge of the Strawberry Mirror to separate it form the sides of pan. Mirror will tear when sides are unlatched if it is stuck at ANY point. Slowly unlatch the pan and slide it off the cake. Slice cake in wedges and serve in upright slices.
Recipe Notes:
Adapted from Cakes and Pastries At The Academy by the California Culinary Academy 1993