Being a mom makes my time in the kitchen a lot different than back before I had kids. I remember back in the day when I had the luxury of cooking whenever I wanted – my schedule, and sometimes my husband's schedule, was the only thing I really had to worry about. But now, things are a little different. Don't get me wrong – I love and feel so lucky that I am able to stay home with my kids, but it's easy to get distracted with a potty-training-attention-needing 2 year old, and a nursing 7 month old. It's sometimes hard to find even 20 continuous minutes to concentrate on one recipe.
So I do what I can do – and I usually cook during nap time. And it seems to work pretty well. The only problem is when I am making something that is noisy – things that need the use of the mixer, or the food processor, or the blender. I have been known to take appliances into the backyard so that I can run them without waking up my kids!! In my dream home, the kitchen will be on the opposite side from the bedrooms so I can be as noisy as I want! But for now, I have to do the "noisy" tasks before they go down.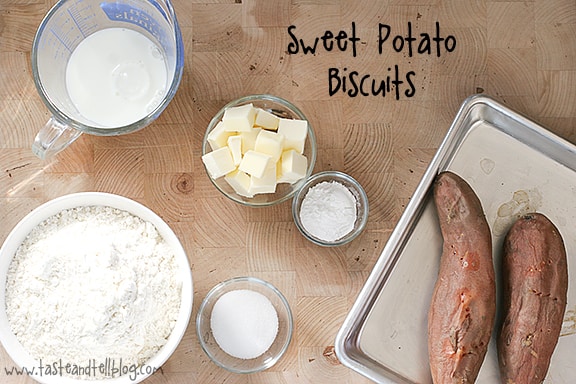 The instructions for these sweet potato biscuits has you making the biscuits in the food processor. So, not wanting to wake kids up, I decided to make these biscuits before nap time. Potatoes were roasted and processed, ingredients were measured out, and then the mixing started. By the time the dough came together, my son was screaming to eat. So, not thinking, I left the dough in the food processor, deciding that I'd feed him and put him down, and then come back to finish the biscuits.
This is where biscuit making 101 comes in, and obviously I wasn't thinking straight that day. There is a reason you use cold butter when you are making biscuits. That is what makes them really flaky and light. And I left my dough in the food processor for a good 30 minutes before I rolled them out. Seriously – sometimes I wonder what I am doing writing a food blog, because I can't even get things right so much of the time!!
Surprisingly, these biscuits still came out really good. They weren't quite as tall or as flaky as I'm sure they are if you make them correctly, but even with my mistake, they were awesome biscuits. I can only imagine how good they are when you don't mess them up!! I will be making these again – probably very soon – and hopefully I can remember the basics next time!
Recipe Rating: 8.75 out of 10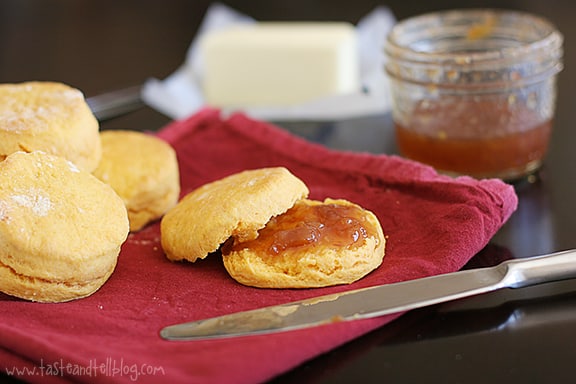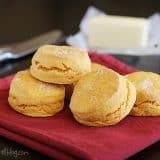 Sweet Potato Biscuits
---
Prep Time: 20 minutes
Cook Time: 1 hour
Total Time: 1 hour 20 minutes
Yield: 15-16 biscuits 1x
Description
A light and fluffy biscuits with a hint of sweet potato flavor. Perfect for a holiday table, or for a weeknight dinner table!
---
Scale
Ingredients
2 medium sweet potatoes
2 cups all-purpose flour, plus more for rolling out
1 tablespoon sugar
2 teaspoons baking powder
1/2 teaspoon fine sea salt
5 tablespoons unsalted butter, chilled and cut into small pieces
1/3 cup milk
---
Instructions
Preheat the oven to 400F.
Bake the sweet potatoes until tender, about 45 minutes. Remove from the oven and allow to cool enough to handle. When they are cool enough, remove the peels and mash until smooth in a food processor. Measure out 1 cup of the sweet potatoes and set aside, and reserve the rest for another use.
Prepare a baking sheet by lining it with parchment paper or a silicone mat. Set aside.
In the same bowl of the food processor, combine the flour, sugar, baking powder, and salt. Pulse a few times to combine. Pulse in the butter just until the mixture resembles coarse crumbs.
In a small bowl, whisk together the sweet potatoes and the milk. Add to the food processor and pulse just until the mixture comes together.
Lightly flour a work surface, and turn the dough out. Knead 4 or 5 times. Lightly flour a rolling pin and roll out to 3/4 inch thickness. Cut out 10 biscuits using a 2-inch round cutter, making sure to cut straight down, not turning the cutter. (This assures that the biscuits rise evenly when baked.) Place the biscuits on the prepared baking sheet. Re-roll the remaining dough and cut an additional 5 to 6 biscuits. Discard any remaining dough.
Bake in the oven until lightly browned, about 15 minutes. Transfer to a wire rack to cool. Serve warm or at room temperature.
————————————-
from Basic to Brilliant, Y'all: 150 Refined Southern Recipes and Ways to Dress Them Up for Company
—————————
Check out these other great biscuit recipes:
Bacon Cheddar Drop Biscuits from Two Peas and Their Pod
Biscuits Supreme from Everybody Likes Sandwiches
Daddy's Rise and Shine Biscuits from Taste and Tell