Extra tender with a soft texture and slightly sweet flavor, these Sweet Potato Biscuits are the perfect southern side dish. These are perfect for breakfast, dinner, or for your holiday table.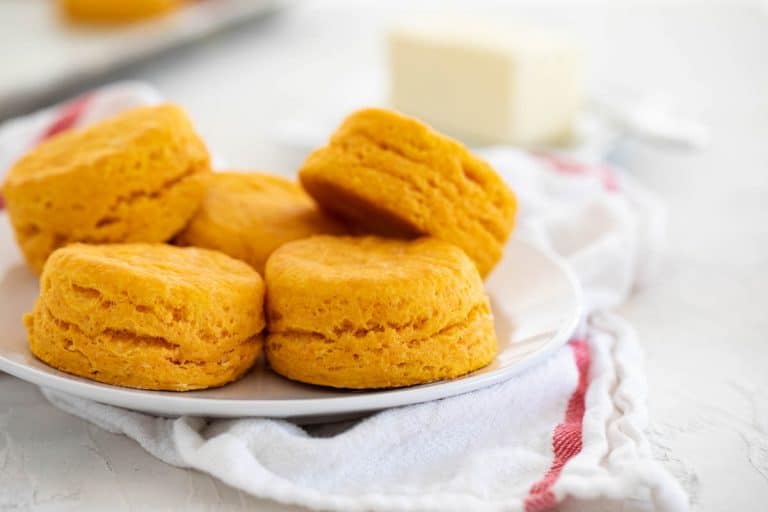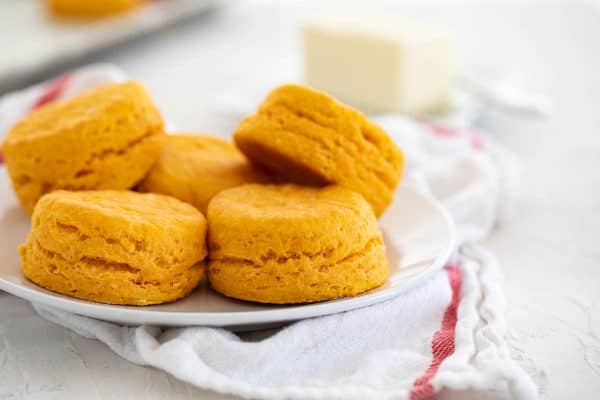 I am carb addicted. For some reason, I feel like every meal needs some kind of bread, biscuit, or tortilla. So I'm always looking for something new to switch things up.
And as much as I'd love a freshly baked roll on my plate every day, I know that they are time consuming and not always doable for a weeknight. So I often go to biscuits.
These sweet potato biscuits have become a staple in our house. Yes, they do take a little bit of time to bake the sweet potatoes, but that can all be done well ahead of time. I love regular biscuits, but there is something about that extra sweetness that you get in these that has me craving them.
And I also love that these would be perfect for your holiday table. Easy, low stress, and perfect to make ahead!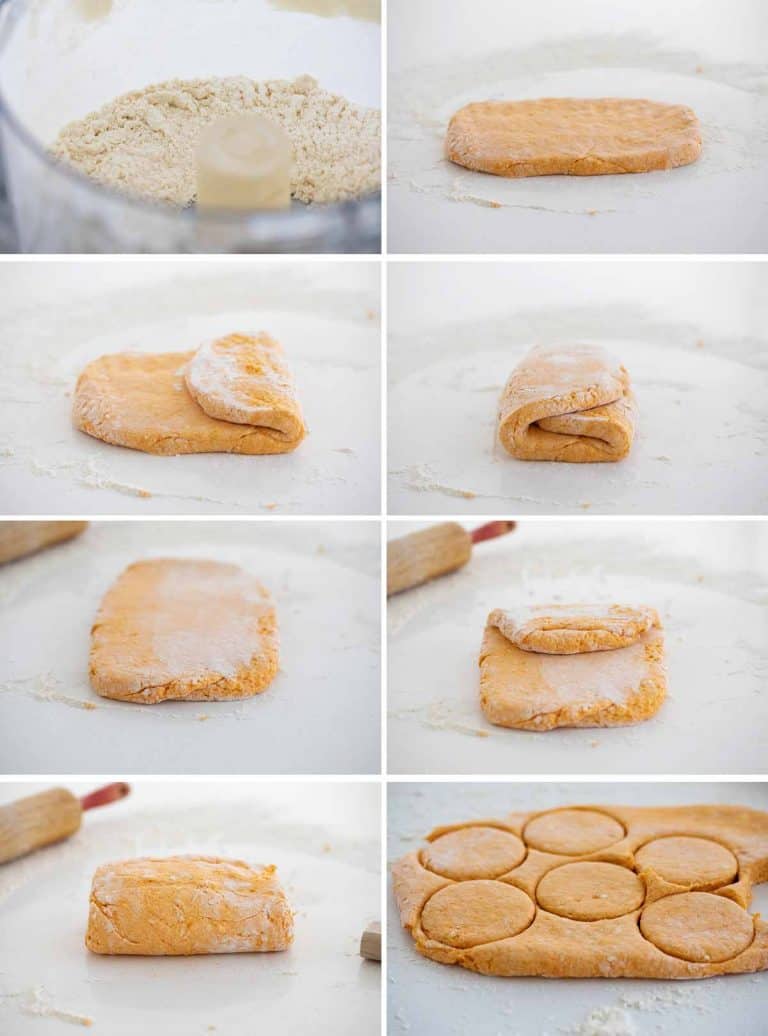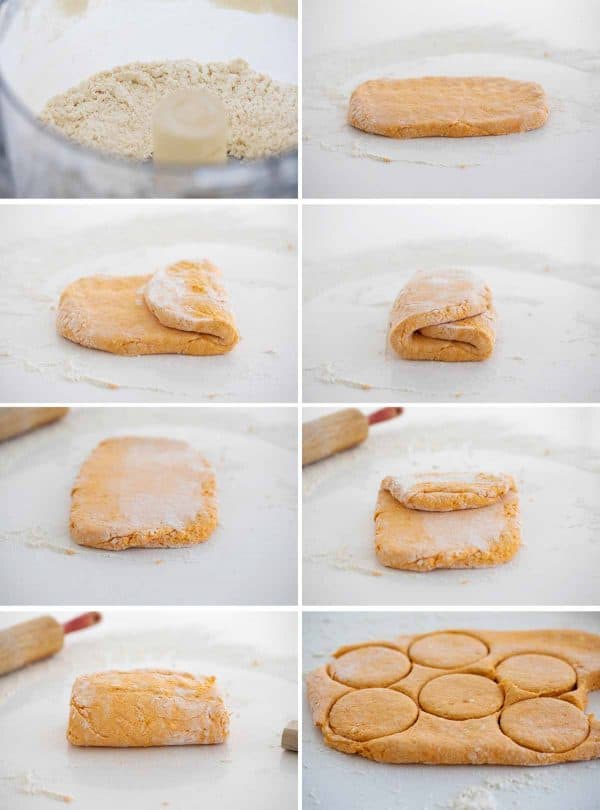 How to Make Sweet Potato Biscuits
I'm going to show you my favorite way to make fluffy biscuits. This method works on most biscuits so it's a great method to learn!
For the sweet potato biscuits, you obviously need sweet potatoes. So the first thing to do is to bake your sweet potatoes and mash them for the biscuits. You can do this in advance.
When it's time to make your biscuits, start by making your dough. I like to use a food processor because it mixes everything together quickly without overworking the ingredients. If you don't have a food processor, you can do this by hand and use a pastry cutter or a fork to cut the butter into the flour mixture. You'll combine your dry ingredients – flour, sugar, baking powder and salt – in your food processor and pulse to combine. Add in your butter that has been cut into small pieces. Pulse until the mixture looks like coarse crumbs.
Add the sweet potato puree and buttermilk to your mixture and pulse just until everything comes together.
Flour your counter and pour the dough out. Knead the dough a few times and then roll the dough (or pat it with your hands) into a rectangle that is about 1/2-inch thick.
Now you are going to fold the dough. Start on one side and fold it 1/3 of the way over, then fold the other side over that first side. So you should have a thick rectangle that goes the opposite direction.
You are going to repeat that fold again with the dough facing the opposite way. These folds will form the layers for your biscuits.
Roll (or pat) the dough out again to 1/2-inch thick, then use a circle cutter to cut the biscuits. Make sure you don't twist the cutter – you want a clean cut so that the biscuits will rise well.
Take the scraps and repeat. You won't want roll the dough more than twice because the biscuits will start to get tough.
Bake the biscuits until they are golden brown and cooked through, then brush the tops with melted butter when they come out of the oven.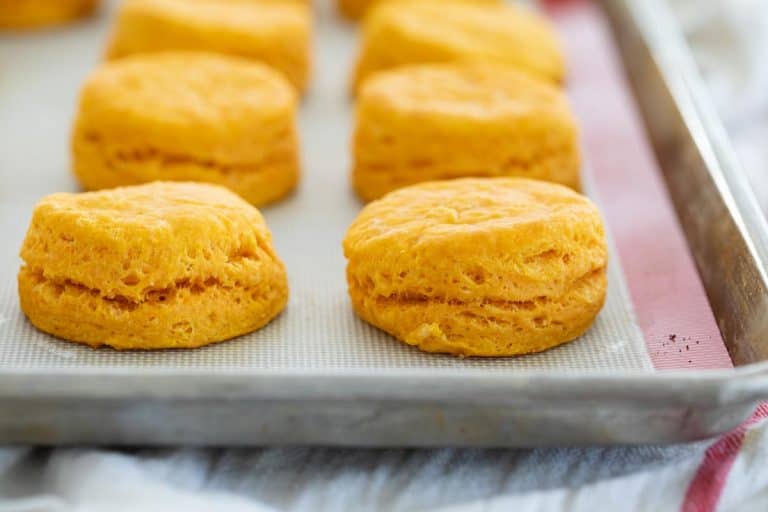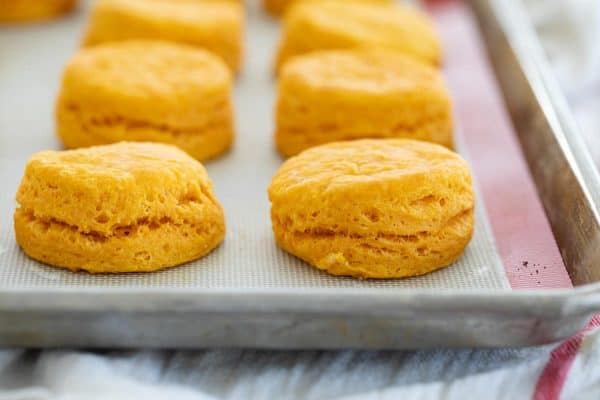 What to Serve Sweet Potato Biscuits With
I love these sweet potato biscuits as an easier (and faster!) bread alternative for holidays. Perfect for Easter, Christmas or Thanksgiving!
These would go perfectly with a bowl of soup, as well.
I always like some kind of bread with meatloaf, and I think these would be perfect!
They would also pair well with a hearty Sunday dinner, like these Braised Country Style Ribs.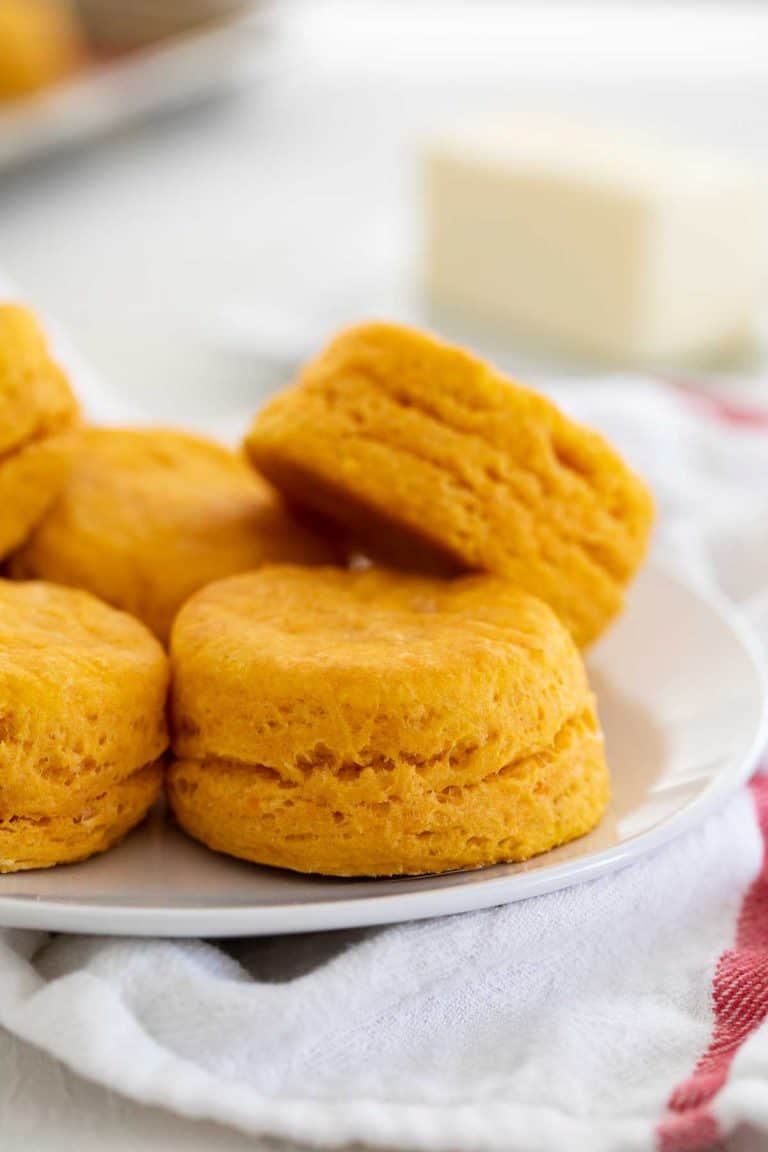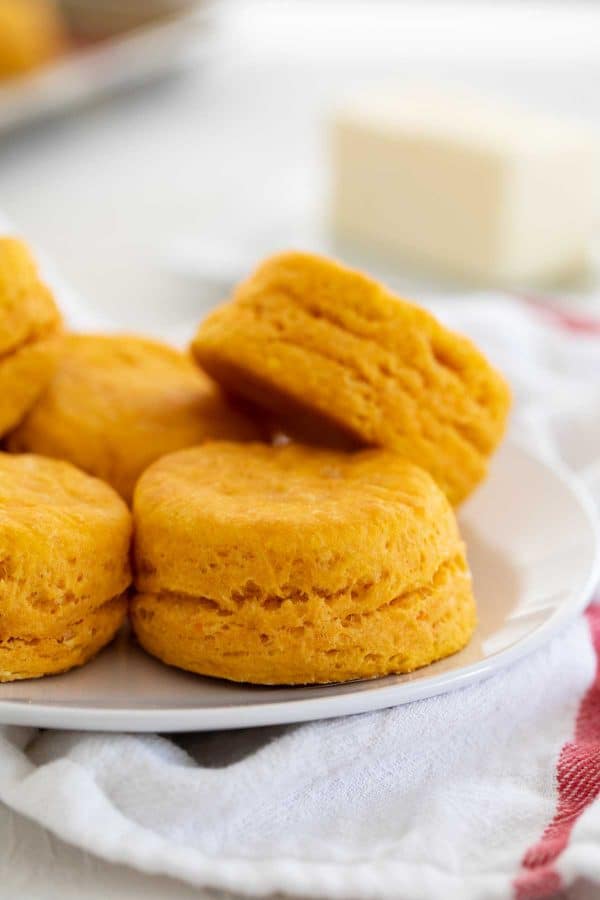 More Favorite Bread Recipes Perfect to Serve Alongside Your Dinner:
Sweet Potato Buttermilk Crescent Rolls
Red Lobster Cheddar Biscuits
Lion House Dinner Rolls
Easy Focaccia Bread Recipe
Easy Dinner Rolls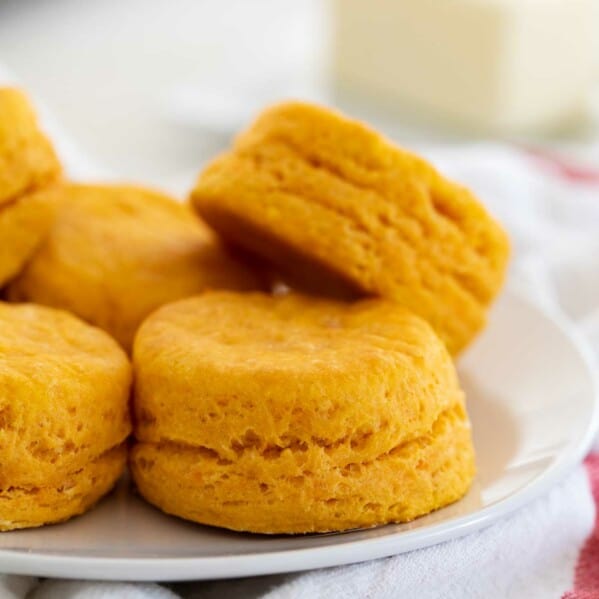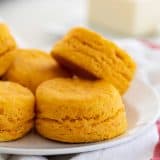 Sweet Potato Biscuits
---
Author:
Prep Time: 15 mins
Cook Time: 55 mins
Total Time: 1 hour 10 mins
Yield: 12 biscuits 1x
Category: Side Dish
Method: Bake
Cuisine: American
Description
Extra tender with a soft texture and slightly sweet flavor, these Sweet Potato Biscuits are the perfect southern side dish. These are perfect for breakfast, dinner, or for your holiday table.
---
Scale
Ingredients
2 medium sweet potatoes
2 cups all-purpose flour, plus more for rolling out
1 tablespoon sugar
2 teaspoons baking powder
1/2 teaspoon salt
6 tablespoons butter, chilled and cut into small pieces, divided
1/3 cup buttermilk
---
Instructions
Preheat the oven to 400ºF.
Scrub the potatoes clean and pierce with a fork. Line a baking sheet with foil and place the potatoes on the baking sheet. Bake the potatoes until they are tender, about 45 minutes.
When the potatoes are cool enough to handle, Rome the skins and mash the potatoes.* Measure out 1 cup of the potatoes and reserve the remaining potatoes for another recipe.
Line another baking sheet with parchment paper or a silpat liner. Set aside.
In a food processor, combine the flour, sugar, baking powder, and salt. Pulse a few times to combine.
Add 5 tablespoons of the butter to the food processor. Pulse the mixture just until it resembles coarse crumbs.
Add the 1 cup of sweet potatoes and buttermilk to the food processor. Pulse just until the mixture comes together.
Lightly flour a counter and turn the dough out. Knead the dough a few times to bring it together.
Roll the dough into a rectangle about 1/2-inch thick. Fold one side of the dough over to by 1/3, then fold the other side over the first side. Flatten the dough into another rectangle (this one will perpendicular to the direction of the first rectangle that you made). Fold the dough into thirds again.
Roll the dough one last time to about 1/2-inch thick. Using a 2-inch cookie cutter, cut the biscuits, pressing straight down on the cutter, being careful not to twist or turn it. Place the biscuits on the prepared baking sheet. Re-roll the dough the same way you rolled it out the first time (folding into thirds twice) then cut the remaining dough into biscuits. Discard any dough that is left over.
Bake the biscuits in the 400ºF oven until they are lightly browned, about 15 minutes.
While the biscuits are baking, melt the remaining tablespoon of butter.
When the biscuits are done, remove from the oven and brush with the melted butter.
Recipe Notes:
Adapted from Basic to Brilliant, Y'all
Nutrition information provided as an estimate only. Various brands and products can change the counts. Any nutritional information should only be used as a general guideline.
Nutrition
Serving Size: 1 biscuit
Calories: 152
Sugar: 3 g
Sodium: 194 mg
Fat: 6 g
Saturated Fat: 4 g
Unsaturated Fat: 2 g
Trans Fat: 0 g
Carbohydrates: 21 g
Fiber: 1 g
Protein: 3 g
Cholesterol: 16 mg
Keywords: sweet potato biscuits