Soft and fluffy, these Sweet Potato Buttermilk Crescent Rolls are perfect for a holiday.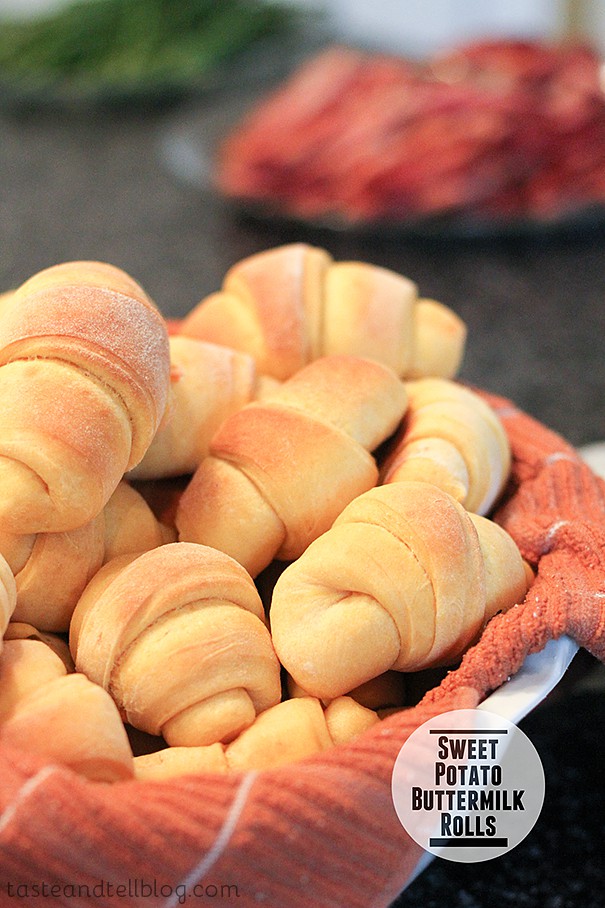 Photo Updated March 2013



My favorite part of any holiday meal is probably the bread. I actually made these rolls, along with Lion House Rolls, last Thanksgiving. They turned out so well – they just may be one of my new favorite roll recipes!! I have always loved potato breads, but this was my first time making a sweet potato bread. And it definitely won't be the last time!!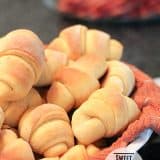 Sweet Potato Buttermilk Crescent Rolls
---
Prep Time: 20 minutes
Cook Time: 20 minutes
Total Time: 2 hours 40 minutes
Yield: 20-24 rolls 1x
Description
Soft and fluffy, these Sweet Potato Buttermilk Crescent Rolls are perfect for a holiday.
---
Scale
Ingredients
1 cup mashed sweet potato, at room temperature
2 cups buttermilk, at room temperature
1 egg, at room temperature
1/2 cup butter, melted and cooled
1/4 cup sugar
2 packets (4 1/2 teaspoons) active dry yeast
2 1/2 teaspoons salt
6 – 7 cups bread flour
---
Instructions
Combine the sweet potato, buttermilk, egg, butter, sugar, yeast and salt in the bowl of a stand mixer. Mix on low until combined. Let sit for a few minutes.
Using the paddle attachment, add in 1 cup of the bread flour. Add in more flour, 1 cup at a time, until a soft dough begins to form. If you are using a stand mixer, switch to the dough hook and knead on medium for 6-7 minutes. Add more flour as needed until the dough pulls away from the sides of the bowl. (The amount of flour will vary – don't feel that you have to use the full amount.) If kneading by hand, dump the dough on a floured surface and knead for 8-10 minutes, adding flour as needed, until the dough is soft and tacky, but not sticky.
Scrape the dough out of the bowl and knead on a lightly floured surface a few times to form the dough into a smooth bowl. Place the dough in a large bowl that has been sprayed with nonstick cooking spray or greased with oil. Turn the dough to coat and then cover with plastic wrap or a towel and let it rise until doubled.
When the dough has doubled, punch the dough down to deflate it. Cut the dough in half. Working with half of the dough at a time, roll the dough into a circle, about 12-inches in diameter. Use a pizza cutter to slice the dough into 10-12 wedges. Starting on the wide end, roll up into a crescent shape. Place the rolls on a greased baking sheet. Repeat with the second half of the dough. Cover loosely with a towel or plastic wrap and let rise until doubled.
While the rolls are rising, preheat the oven to 375F.
Place the rolls in the oven and bake until browned and cooked through, 15-20 minutes. Let the rolls cool slightly before serving.