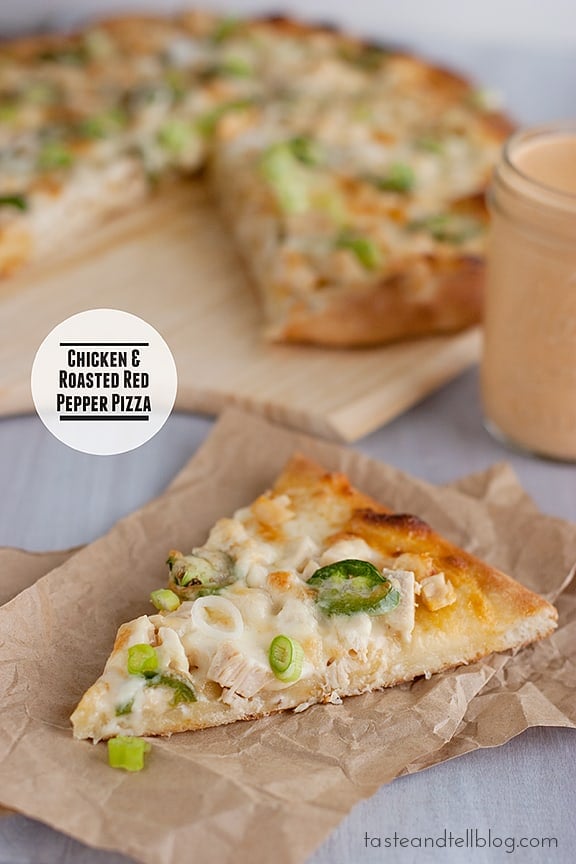 Since it's been a few weeks since I've posted a pizza recipe. (Yes, my name is Deborah and I am a pizza addict.) This is not your ordinary pizza. It starts with a roasted red pepper sauce that is out of this world delicious. I seriously wanted to just eat it with a spoon. And get this – only 2 ingredients plus salt. Then, for the pizza, load on some chicken and jalapenos, and of course – cheese, and you have a pizza that is oh, so good. The sauce does make enough for 2 pizzas, but I liked to use the leftover sauce to dip my pizza in to. My husband is a "dip your pizza in ranch dressing" kind of guy, but I think I'm going to become a "dip your pizza in roasted red pepper sauce" kind of girl. Can you tell I liked the sauce??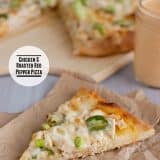 Chicken and Roasted Red Pepper Pizza
---
Prep Time: 20 minutes
Cook Time: 10 minutes
Total Time: 30 minutes
Yield: 4-6 servings 1x
Description
Pizza is topped with a roasted red pepper sauce, then chicken, jalapenos and cheese and then baked until golden and bubbly.
---
Scale
Ingredients
Roasted Red Pepper Sauce
2 cups heavy cream
1 red bell pepper, roasted, skin removed
salt
Pizza
12–16 oz pizza dough
1 cup cooked, chopped chicken
1–2 fresh jalapenos, sliced
1 1/2 cups shredded Monterey Jack cheese
sliced green onions, for garnish
---
Instructions
To make the sauce:
Place the cream in a saucepan over medium-high heat. Cook, stirring occasionally, until reduced by half. Remove from the heat.
Place the roasted red pepper in a blender or food processor. Add the reduced cream and process until smooth. Season to taste with salt.
To make the pizza:
Preheat the oven to 450F.
Roll out the pizza dough according to the recipe directions. Spread about 1/2 cup of the roasted red pepper sauce on top of the crust. Top with the chicken and jalapeno slices, then sprinkle with cheese. Bake until the crust is golden and the cheese is bubbling. Sprinkle with sliced green onions before serving.
**Note** There is enough of the roasted red pepper sauce for 2 pizzas, or use the remaining sauce to dip your pizza in.