This Butternut Squash and Sage Pizza is topped with ricotta, mozzarella and roasted butternut squash, then finished with fresh sage.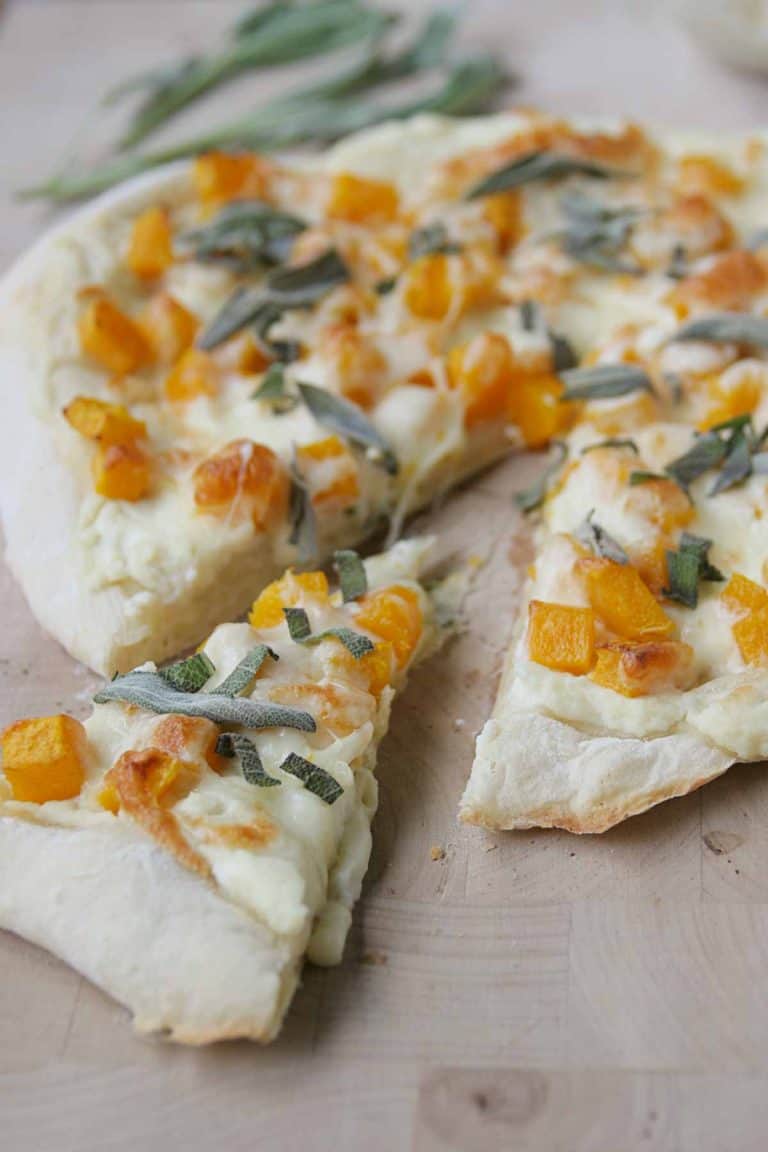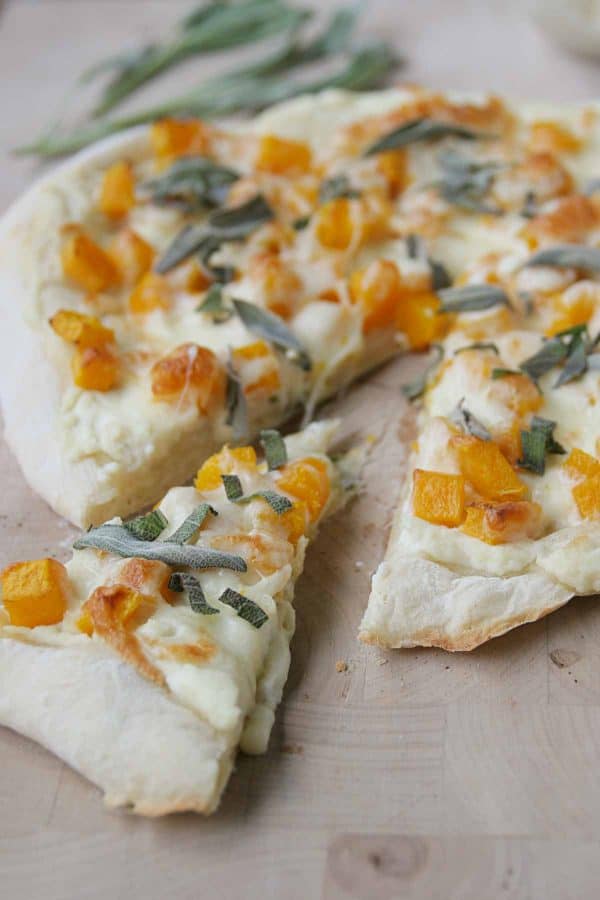 There are 3 things – food wise – that I get super excited about when fall hits.  Pumpkin, apple and butternut squash. I know that most people love pumpkin and apples, but I know you are probably thinking -butternut squash?  Yep.  I love it.  And can't get enough of it all fall and winter long.  I've had it in everything from risotto to bread to soup and more.  But I had never had it on pizza – until now.
I had actually been wanting to make this pizza forever.  I had half of a butternut squash in my fridge before we moved, and then there was the chaos of moving, so when I did go to the fridge to grab the squash to make this pizza the first time, I discovered I had waited too long and my squash was no longer good.  But that didn't stop me!  The pizza was promptly added to the next menu plan.
After my first bite, I kicked myself for not making it sooner. Yum. That's all I could say. While my kids munched away on their plain cheese pizza, (the only kind they will eat), I happily enjoyed every bite of my pizza. Later, my dad tried it and totally fell in love, too.  In fact, he couldn't stop talking about it.  And then last night, I got a text from my brother wanting this recipe because my dad was telling him about it. I'd say that's one way to judge that it's a winner!!
This is a pizza that will totally leave you craving more. It's the perfect combination of flavors!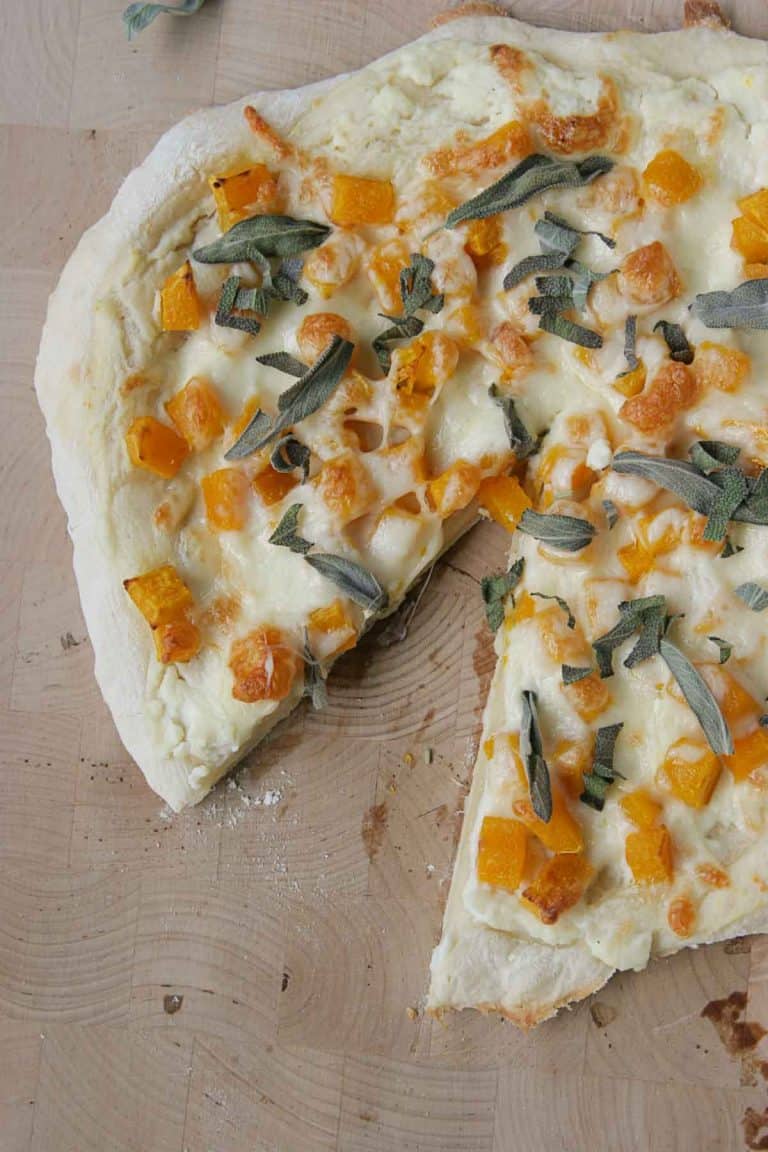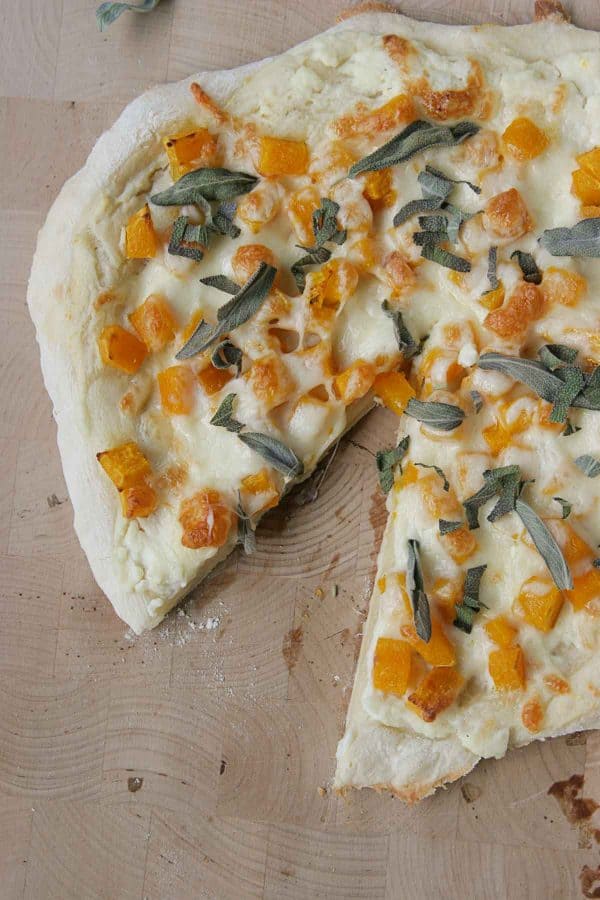 More Butternut Squash Recipes:
Skillet Butternut Squash Lasagna
Sausage and Butternut Squash Slab Pie
Stuffed Butternut Squash
Quiche Recipe with Butternut Squash and Kale
Butternut Squash Chili with Beef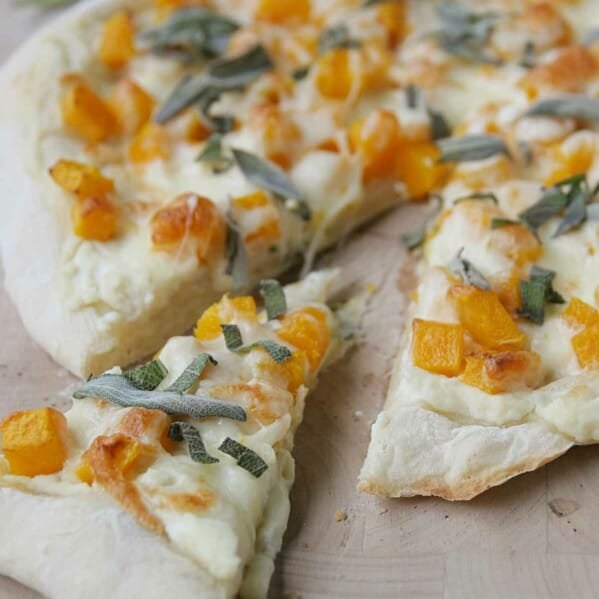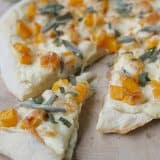 Butternut Squash and Sage Pizza
---
Author:
Prep Time: 20 minutes
Cook Time: 30 minutes
Total Time: 1 hour 20 minutes
Yield: 4-6 servings 1x
Category: Main Dish
Method: Bake
Cuisine: Italian
Description
This Butternut Squash and Sage Pizza is topped with ricotta, mozzarella and roasted butternut squash, then finished with fresh sage.
---
Scale
Ingredients
2 cups cubed (1/4-1/2″) butternut squash
olive oil
salt
1 lb pizza dough
3–4 oz ricotta
1 1/2 cups mozzarella
fresh sage
---
Instructions
Preheat the oven to 400F. Place the butternut squash on a baking sheet, drizzle on olive oil and salt. Toss to combine. Roast in the oven for 20-30 minutes, turning once or twice, until fork-tender and roasted. Set aside.*
Increase the oven temperature to 475F and place a pizza stone in the oven. Let heat for at least 30 minutes.
Roll out the pizza dough. Spread on the ricotta. Sprinkle the mozzarella over the ricotta, then top with the butternut squash. Cook according to the instructions for the pizza dough.
Top pizza with fresh sage before serving.
Recipe Notes:
*Squash can be roasted ahead of time and refrigerated until needed.