Comfort food at it's finest – this Meatball Pizza is topped with homemade meatballs, onions and lots of cheese.
This post is sponsored by Mrs. Dash
What is your go-to meal when you don't have something planned, or when you don't feel like cooking what you had planned?
Mine? Pizza.
And lately, it seems like we've been eating a lot of pizza!!
Maybe it's the fact that it's getting darker sooner, and somehow that zaps my motivation to cook something harder. Or maybe it's because I just really like pizza. Or maybe it's because my family loves it when I make pizza, and I know it's something that all of us will love.
Regardless, I'm not complaining, because I love making new pizza recipes. And this one is a doozy.

I'm starting to head into comfort food mode. The days are getting shorter, the weather is (kind of) starting to cool down. Before I know it, leaves are going to cover the ground. And as much as I hate to say goodbye to the summer, I sure do love comfort food.
So I decided to combine two of my favorite things, comfort food and pizza. You can't go wrong with that combination, right?
This pizza is pure comfort. Big, homemade meatballs are put on top of a pizza that gets covered in cheese, and then baked until hot and melty. Really, what's not to love? The meatballs are made easy by using a Mrs. Dash Meatloaf Seasoning Mix. It's not just for meatloaf!! (And ps – did you know that the Mrs. Dash Seasoning Packets are the only salt free, MSG free, all natural seasoning mixes available??) When I went to make my meatballs, I realized I was out of breadcrumbs, so I just toasted a few slices of whole wheat bread, then pulsed them in my food processor. Easy whole wheat breadcrumbs!! The meatballs seriously come together in a snap. Just make sure you don't over-bake them, because they will bake a little bit more when they go on top of the pizza.
This recipe makes enough for 2 large pizzas, but feel free to cut the recipe in half. But the meatballs will freeze well, too, so they would be a great thing to have on hand for when a pizza craving strikes (or one of those nights when you don't know what else to make!)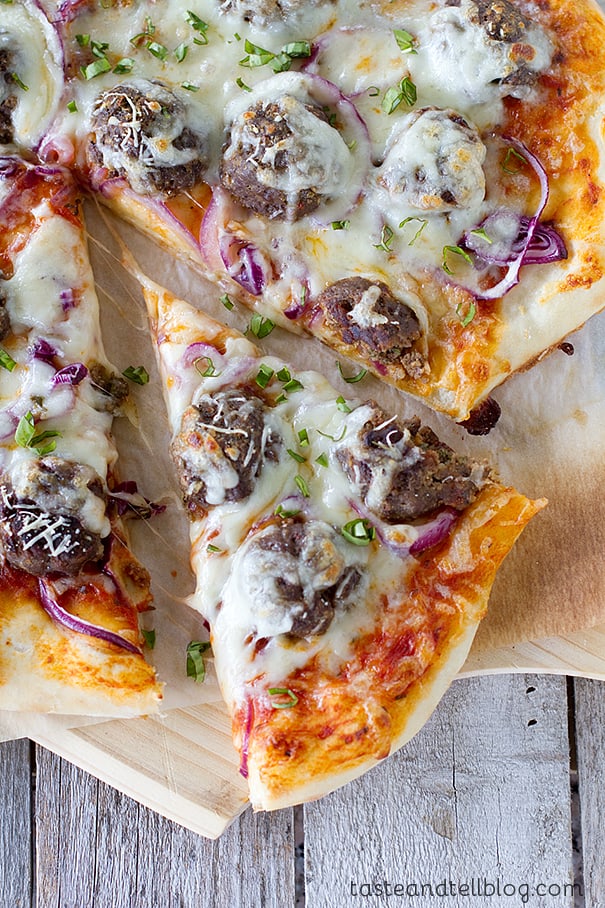 Running from September 16, 2013 – October 27, 2013, you can play the Mrs. Dash READY, SET, WIN! Game, where you can win many things from seasoning packets (over 129,000 of them!), slow cooker packages and even $2,500! What are you waiting for – head over and play!!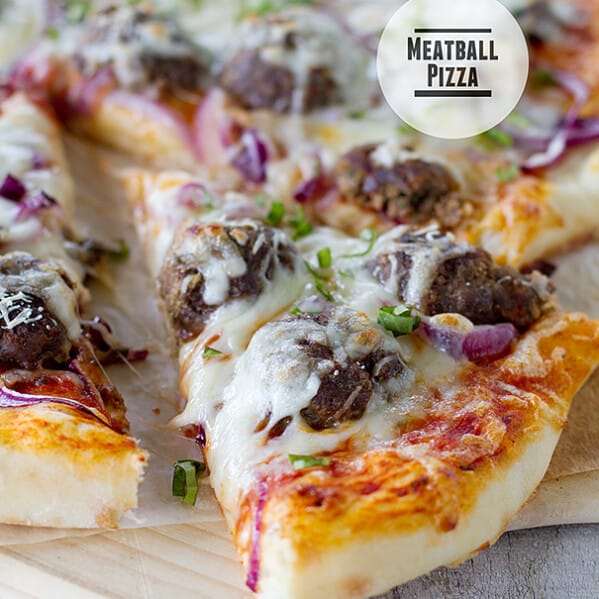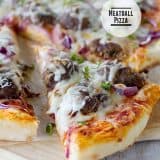 Meatball Pizza
---
Prep Time: 20 minutes
Cook Time: 35 minutes
Total Time: 1 hour
Yield: 2 pizzas 1x
Description
Comfort food at it's finest – this Meatball Pizza is topped with homemade meatballs, onions and lots of cheese.
---
Scale
Ingredients
Meatballs
1 lb ground beef
1/2 cup whole wheat bread crumbs
1/4 cup grated Parmesan cheese
1 package (1.25 oz) Mrs. Dash Meatloaf Seasoning Mix
1 1/2 tablespoons Worcestershire sauce
1 egg, lightly beaten
olive oil
Pizza
2 lbs pizza dough
1/2 cup pizza sauce
1/2 of a red onion, thinly sliced
1 lb mozzarella cheese, shredded
1/2 cup shredded Parmesan
shredded basil
---
Instructions
Preheat the oven to 400F.
In a bowl, mix together the ground beef, bread crumbs, Parmesan cheese, meatloaf seasoning mix, Worcestershire sauce, and egg. Lightly mix, and form mixture into 16 meatballs, about the size of a golf ball. Place on a foil-lined baking sheet and drizzle with olive oil. Bake until cooked through, 15-20 minutes.
Raise oven temperature to 450F and preheat a pizza stone.
Divide the pizza dough into 2 1-lb balls. On a floured surface, roll one ball of dough out. Spread 1/4 cup of the pizza sauce over the dough. Top with half of the red onions.
Take half of the meatballs and cut them in half. Top the pizza with the meatballs. Sprinkle half of the mozzarella over the top, followed by half of the Parmesan.
Bake the pizza until the crust is golden and the cheese is melted, about 10 minutes. Top with half of the basil.
Repeat with the remaining ingredients to make a second pizza.