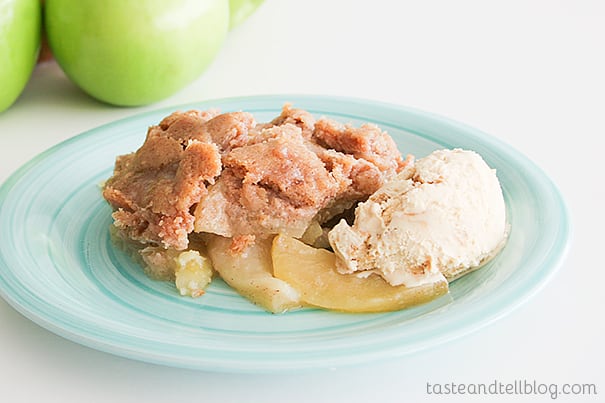 I try to stay pretty organized with my meal planning. I have a notebook, where once I decide on the menu, I write it at the top, along with where I found the recipes. Below, I start my grocery list, arranging everything according to where I find the ingredients at the grocery store. It works quite well for me. But the one thing I'm not so good at is planning a back up. I can't tell you how many times I have planned a meal, only to find that I can't find one or two of the ingredients that are vital to the dish. When that happens, all of my planning and organization goes down the drain!
Well, last week, I had to take a dessert to an event. I looked my cookbooks and found this recipe for this apple crisp that sounded really good. I stopped off at the grocery store, without a back up plan of course, only to find that apples are really expensive right now. Not having a backup, I decided to go with it since I had to have the dessert that night, and I really wasn't wanting to go back home, choose a new recipe, and go back out shopping again. Even the checkout lady remarked that the apples were about as valuable as gold right now!!
But in the end, it was all worth it. The crisp was delicious! The topping is different than I have done a crisp before, but it was a welcome change. I used a combination of Galas and Granny Smiths. The original baking time on the recipe is 1 1/2 hours, and I only cooked mine for about an hour. The Galas pretty much turned to apple sauce, while the Granny Smiths kept their shape but were still quite soft. I like the apples with a bit of texture still, so next time I would cook it for less time, but I guess it's a preference thing because my husband loved this the way it was. And as much as I liked it warm the night I made it, I especially loved the leftovers the next day – straight out of the fridge!
Apple Crisp
from Tartine
Makes 8 to 10 servings
Filling
3 pounds assorted apples
1/4 cup sugar
3 tablespoons lemon juice
grated lemon zest from one lemon
1/8 teaspoon salt
Topping
1 cup unsalted butter, cold
1 cup sugar
1 1/4 cups all-purpose flour
1 tablespoon ground cinnamon
1/8 teaspoon salt
Preheat the oven to 350F. Butter the bottom and sides of a 9×13-inch baking dish.
Peel (some or all, as you prefer), core and slice the apples and place them in a large mixing bowl. In a small bowl, stir together the sugar, lemon juice and zest, and salt. Add to the apples and mix well with your hands. Transfer the apples to the baking dish.
Make the topping. Place the butter and sugar in a mixing bowl. Using a mixer fitted with the whisk attachment on medium speed, or using a wooden spoon, beat together until smooth. Add the flour, cinnamon and salt and mix just until it comes together into a smooth dough.
Scoop up palm sized balls of the dough and flatten with your hands as if you are making a 1/4-inch thick tortilla, and lay on top of the apples. Cover the entire surface with the dough. If there are gaps, that is okay, as they will allow steam to escape during baking.
Bake until the crisp is browned and the apples are tender, 1 to 1/2 hours. If the top gets too dark, cover it with aluminum foil. Let cool on a wire rack.

Other delicious sounding apple crisps:
Apple Crisp on Simply Recipes
Sit and Stay Awhile Apple Crisp on Joy the Baker
Vanilla Apple Crisp with Caramel Sauce on Closet Cooking
Crockpot Apple Crisp from A Year of CrockPotting