Since I've been living at my parent's house, with a limited pantry, I think my cooking habits have really changed a lot these past couple months. I haven't had my pantry full of lots of ingredients, and I've really only been cooking for myself and Abbi. (Which means I'm mostly cooking for myself, since Abbi has been on a bit of an eating strike lately, unless it's peanut butter sandwiches, string cheese, or chocolate…) Before, I'd have a whole meal plan, and mostly stick with it. If I didn't feel like cooking one night, we would survive on leftovers. But these last couple of months, I have found myself, more than once, faced with dinner time and no plan at all. Honestly, I'm surprised at how well I've adapted. I have been able to make quite a few meals on the fly, no grocery store trip required.

One thing that has saved me on more than one occasion is Swanson's Premium Canned Chicken. I don't have to worry about thawing chicken from the freezer, and then cooking it – which is a huge time and sanity saving thing. A couple of weeks ago, I was craving buffalo chicken, and had an idea pop into my mind to make these Buffalo Chicken Pizza Rolls. They were super fast to make, by using canned chicken. You can easily use store bought pizza dough, or use pizza dough you have on hand (which I love to have on hand now ever since I discovered this recipe). These rolls were done in well under half an hour, and they were so addictively delicious that I wanted to eat them all myself. I did refrain, but believe me – I was tempted!!
So next time you are pressed for time and need dinner on the table stat – this is a great go-to recipe!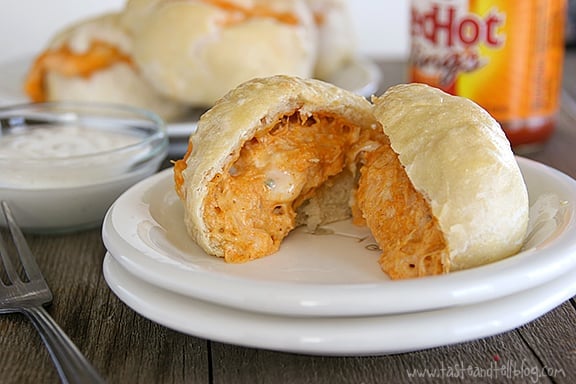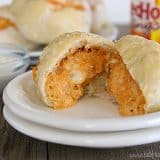 Buffalo Chicken Pizza Rolls
---
Prep Time: 20 minutes
Cook Time: 10 minutes
Total Time: 30 minutes
Yield: 6 rolls 1x
Description
Dinner is made easy by using canned chicken for these buffalo chicken filled pizza rolls
---
Scale
Ingredients
4 oz. cream cheese, softened
1 can (12.5 oz) Swanson Premium canned chicken, drained
1/4 cup crumbled blue cheese
1/4 cup buffalo sauce
1/2 cup shredded Mozzarella cheese
1 pound pizza dough
1 egg
---
Instructions
Preheat the oven to 425F. Spray a baking sheet with non-stick cooking spray. Set aside.
In a large bowl, mix cream cheese until smooth. Add in the chicken, blue cheese, buffalo sauce, and mozzarella. Mix until completely combined.
Flour a work surface. Roll out the pizza dough into a 12"x10" rectangle. Cut the rectangle into 6 squares.
Divide the chicken mixture between the squares, about ¼ cup of the chicken mixture for each square. Working one at a time, pinch the edges together to form a ball of dough around the chicken mixture. Pinch to form a seam, making sure there are no holes. Place on the prepared baking dish, smooth side up. Repeat with the other 5 rolls.
Beat the egg lightly and mix in 1 tablespoon of water. Brush the egg wash lightly over the top of each roll.
Bake the rolls in the preheated oven until the dough is golden brown and cooked, about 10 minutes.
**This is a sponsored post, but all opinions are my own**