Forget the casserole and go straight for dessert! These moist, spiced Sweet Potato Cupcakes are topped with a marshmallow frosting, and then toasted to give them that familiar Thanksgiving flavor.
I love a good cupcake as a holiday dessert! For more, you can also check out these Pumpkin Cupcakes with Cream Cheese Frosting or these Caramel Apple Cupcakes.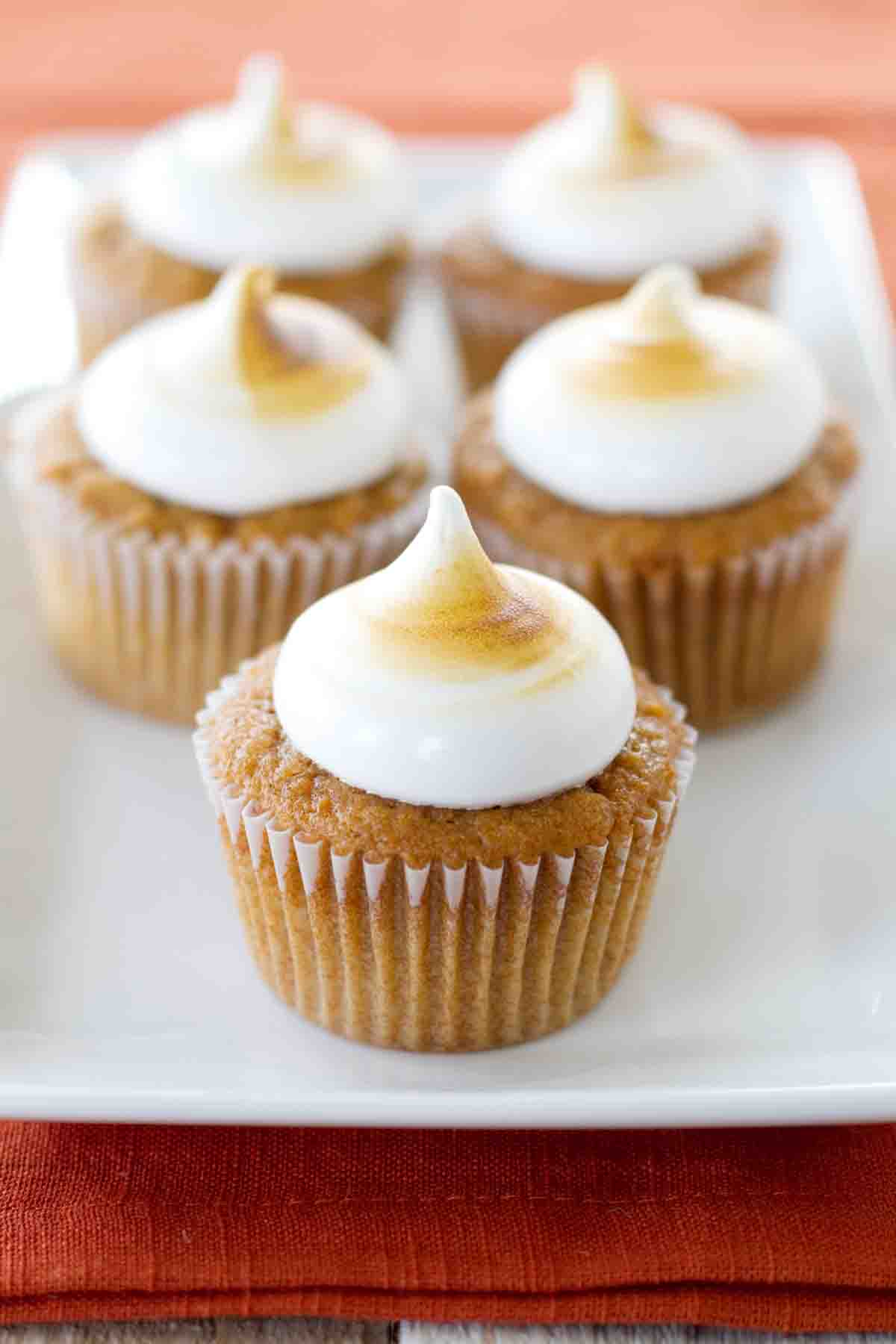 These cupcakes – well, they just may very well be my very favorite cupcakes ever. I'm not even kidding you. I made them for my husband to take to work for a potluck, and he told me that they had to end up going to the store to buy cupcakes because the team leaders spotted the cupcakes before lunch and ended up eating almost all of them. I passed some of them off to two of my sisters, and both of them called me, raving over them. And let's just say I'm glad that I didn't have all of them at home, because I probably would have eaten them. I won't even tell you how many I did eat!!
These are the perfect holiday cupcake, as well. What says Thanksgiving more than sweet potatoes topped with marshmallows? Well, as much as I love sweet potato casserole, I think I'll be grabbing for one of these instead. 🙂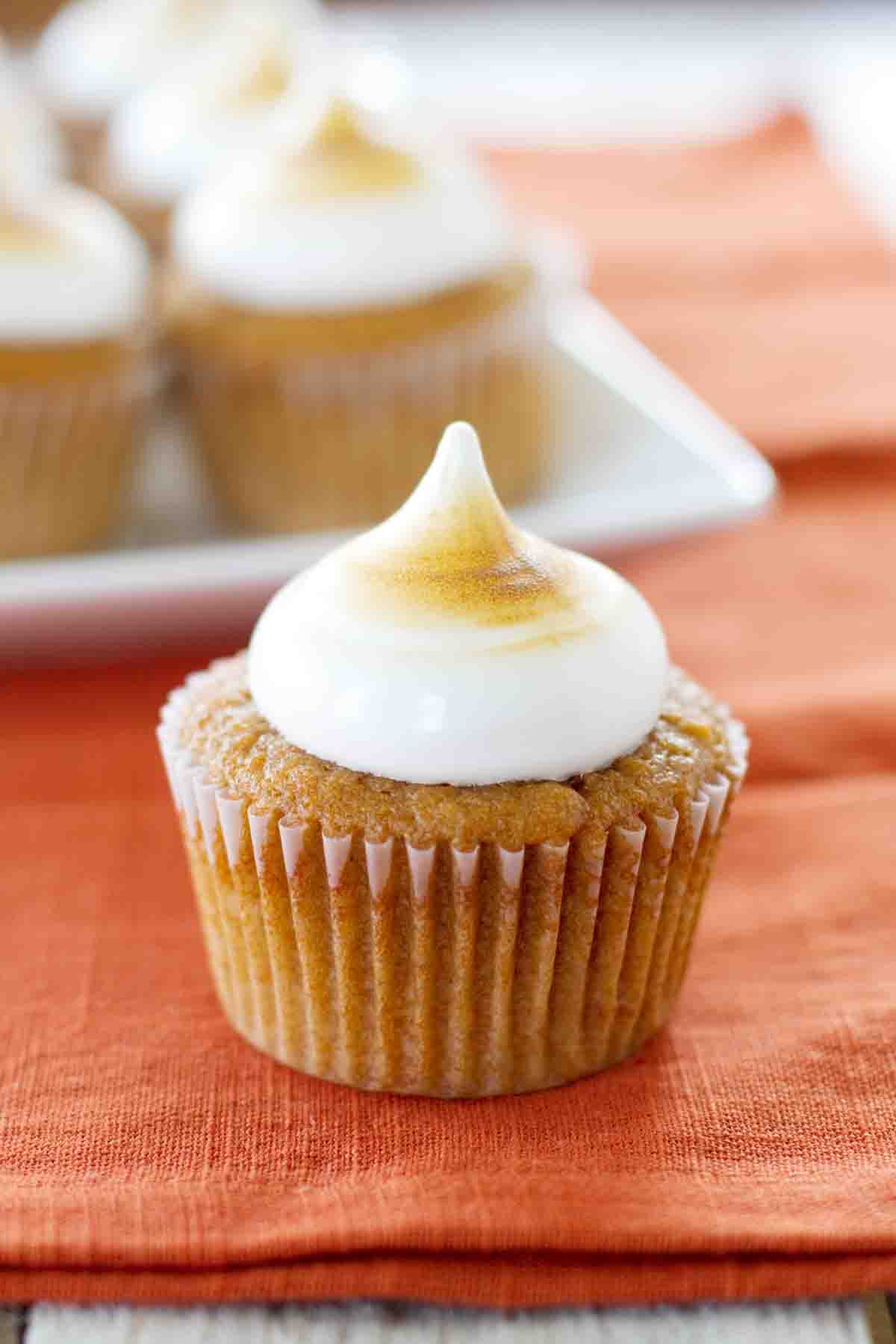 The Cupcakes
These cupcakes are similar to a pumpkin cupcake, but made with sweet potatoes instead. You will need cooked, mashed sweet potatoes, and these can be made ahead of time. The easiest way to do this is by baking the potatoes, then mashing after baked.
The Frosting
This frosting is based off of my favorite childhood frosting. It is made from whipping egg whites, then slowly adding in a hot sugar syrup which turns it all into a delicious marshmallow frosting. And I love the addition of toasting the frosting. I used a kitchen torch.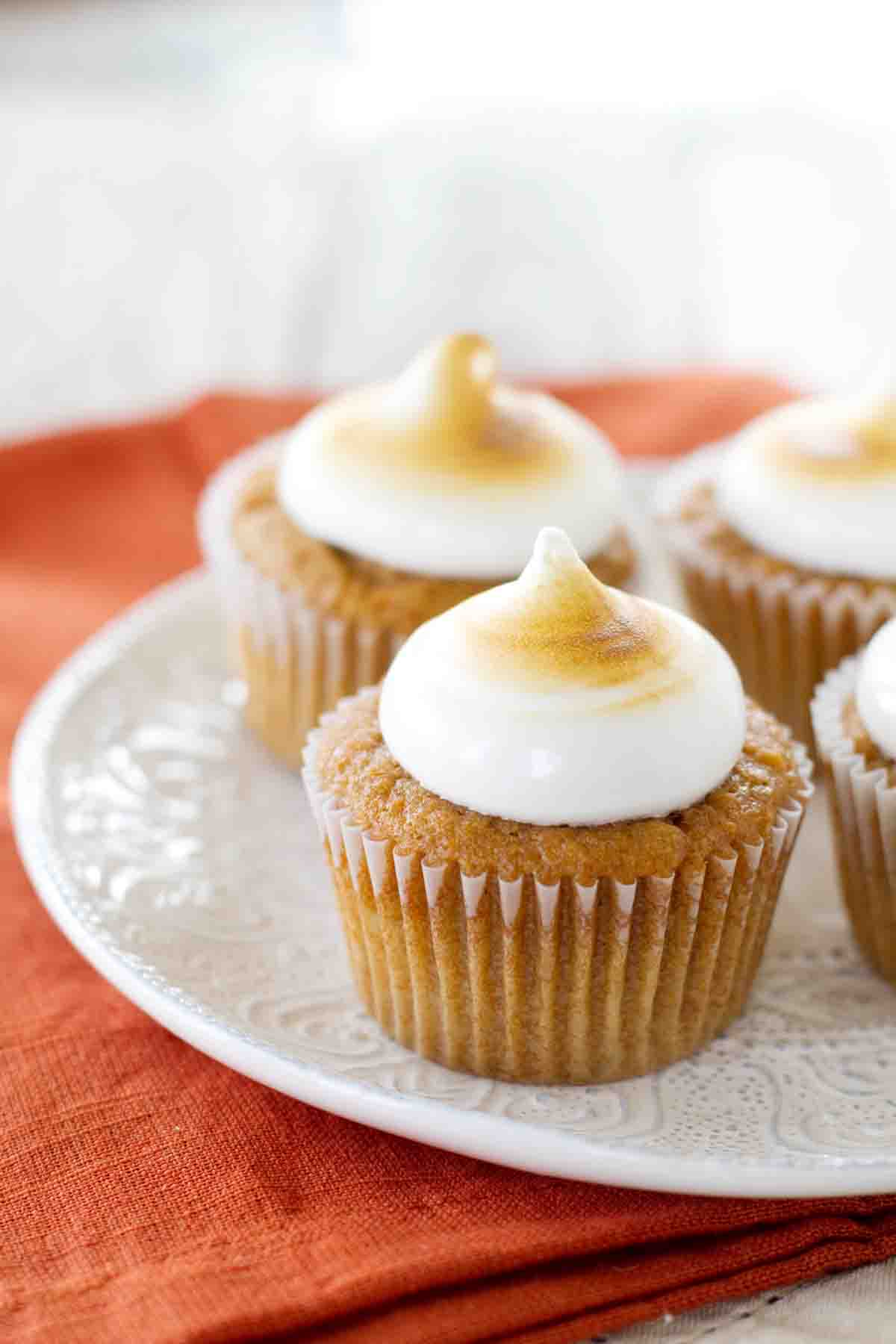 More Holiday Desserts
Pilgrim Hat Thanksgiving Cupcakes
Pumpkin Pie
Chocolate Cream Pie
Sweet Potato Pie with Marshmallow Meringue
Pumpkin Roll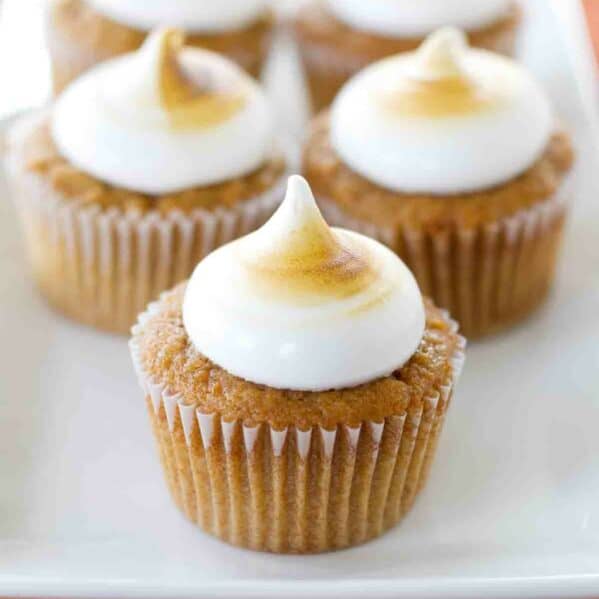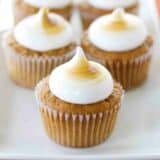 Sweet Potato Cupcakes with Toasted Marshmallow Frosting
---
Prep Time: 25 minutes
Cook Time: 20 minutes
Total Time: 1 hour 20 minutes
Yield: 30 cupcakes 1x
Category: Dessert
Method: Baked
Cuisine: American
Description
Forget the casserole and go straight for dessert! These moist, spiced sweet potato cupcakes are topped with a marshmallow frosting, and then toasted to give them that familiar Thanksgiving flavor.
---
Scale
Ingredients
Cupcakes
3/4 cup butter, at room temperature
2 1/4 cups brown sugar
3 eggs
1 1/2 teaspoons vanilla extract
1 1/2 cups cooked, mashed sweet potatoes
3 cups all-purpose flour
1 tablespoon baking powder
1 1/2 teaspoons ground cinnamon
1 1/2 teaspoons ground ginger
3/4 teaspoon ground nutmeg
3/4 teaspoon baking soda
3/4 teaspoon salt
1/2 teaspoon ground cloves
3/4 cups milk
Marshmallow Frosting
4 egg whites, at room temperature
1 cup sugar
2/3 cup corn syrup
1 teaspoon vanilla extract
---
Instructions
To make the cupcakes
Preheat the oven to 350F. Line 30 muffin tins with cupcake liners.
Beat the butter and brown sugar in the bowl of a mixer until light and fluffy. Add the eggs, one at a time, scraping down the bowl between additions. Beat in the vanilla and then the sweet potatoes.
In a bowl, whisk together the flour, baking powder, cinnamon, ginger, nutmeg, baking soda, salt and cloves. Mix half of the flour mixture into the sweet potato mixture, followed by the milk, then the remaining flour.
Scoop the batter into the prepared cupcake liners, filling each about 3/4 full. Transfer to the oven and bake until the center springs back when touched, 18 to 22 minutes. Cool completely on a wire rack.
To make the frosting
In a stand mixer, beat the egg whites until they form stiff peaks.
Meanwhile, heat the sugar and corn syrup over medium heat. Heat until it comes to a full boil, then remove from the heat.
Once the egg whites are stiff, slowly pour in the hot sugar mixture. Do not scrape the sides of the bowl, or you will have sugar crystals in the frosting. Beat the frosting until it forms a shiny, fluffy marshmallow frosting, 5-7 minutes.
Pipe the frosting onto the cooled cupcakes. Use a kitchen torch to toast the frosting.
Keywords: sweet potato cupcakes, toasted marshmallow frosting