These Caramel Banana Cupcakes consist of banana cupcakes with a caramel surprise inside and are topped with a caramel and banana buttercream.
If you love banana desserts, you'll also love these Banana Chocolate Chip Cookies or Banana Cake with Cream Cheese Frosting.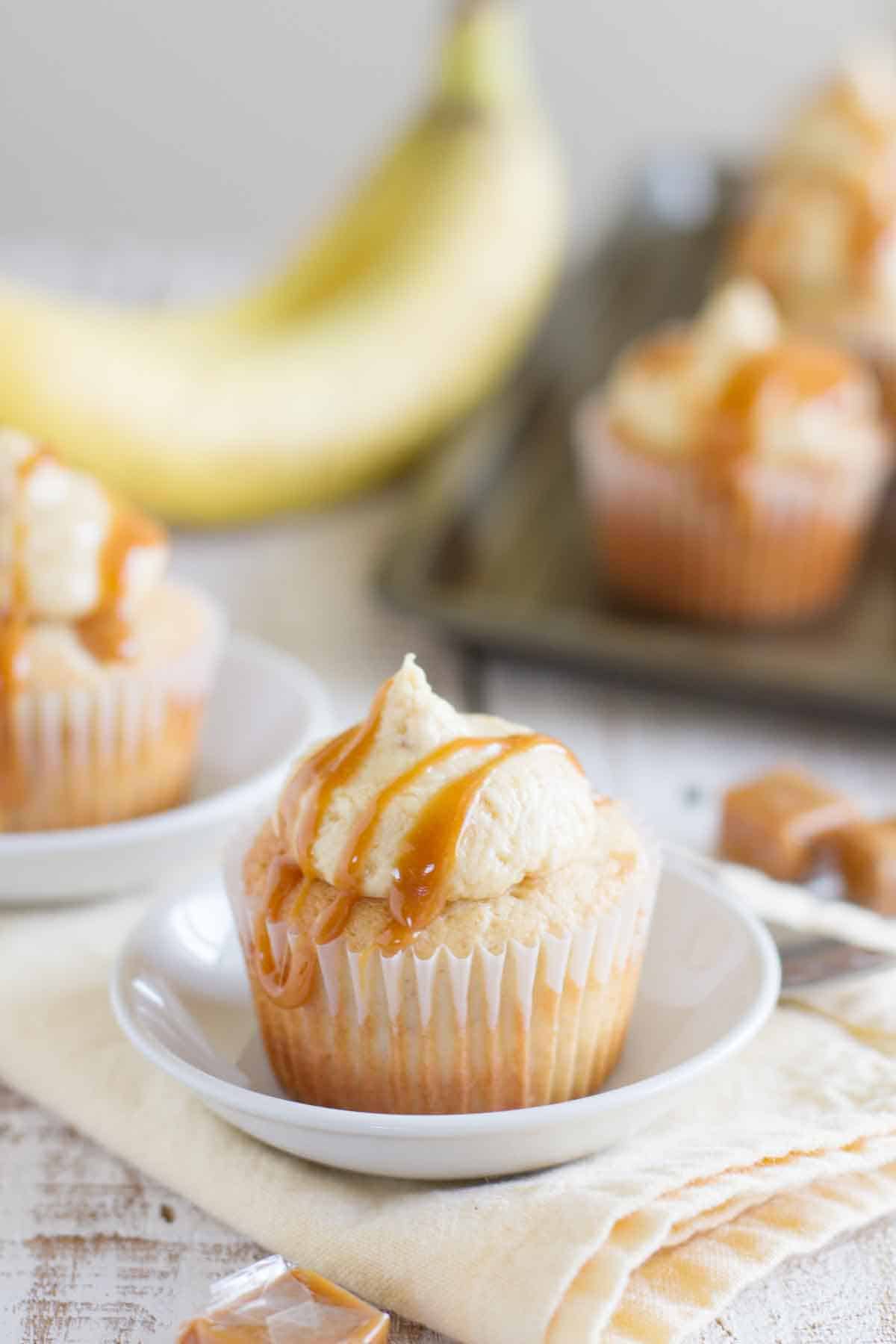 I found myself with a bunch of ripe bananas a few weeks ago, and just had to remake this cupcake recipe from the archives. You can never have too many ideas for recipes with overripe bananas, in my opinion!!
I loved the caramel in the center of the cupcakes, but they do harden up a little bit, so if you are looking for a soft caramel center, I would suggest filling them with a caramel sauce or dulce de leche after they are baked. And I've updated the frosting recipe since first posting several years ago, and I think that this frosting is pretty amazing. There is caramel and banana in the frosting!! These are a delicious way to use those bananas up!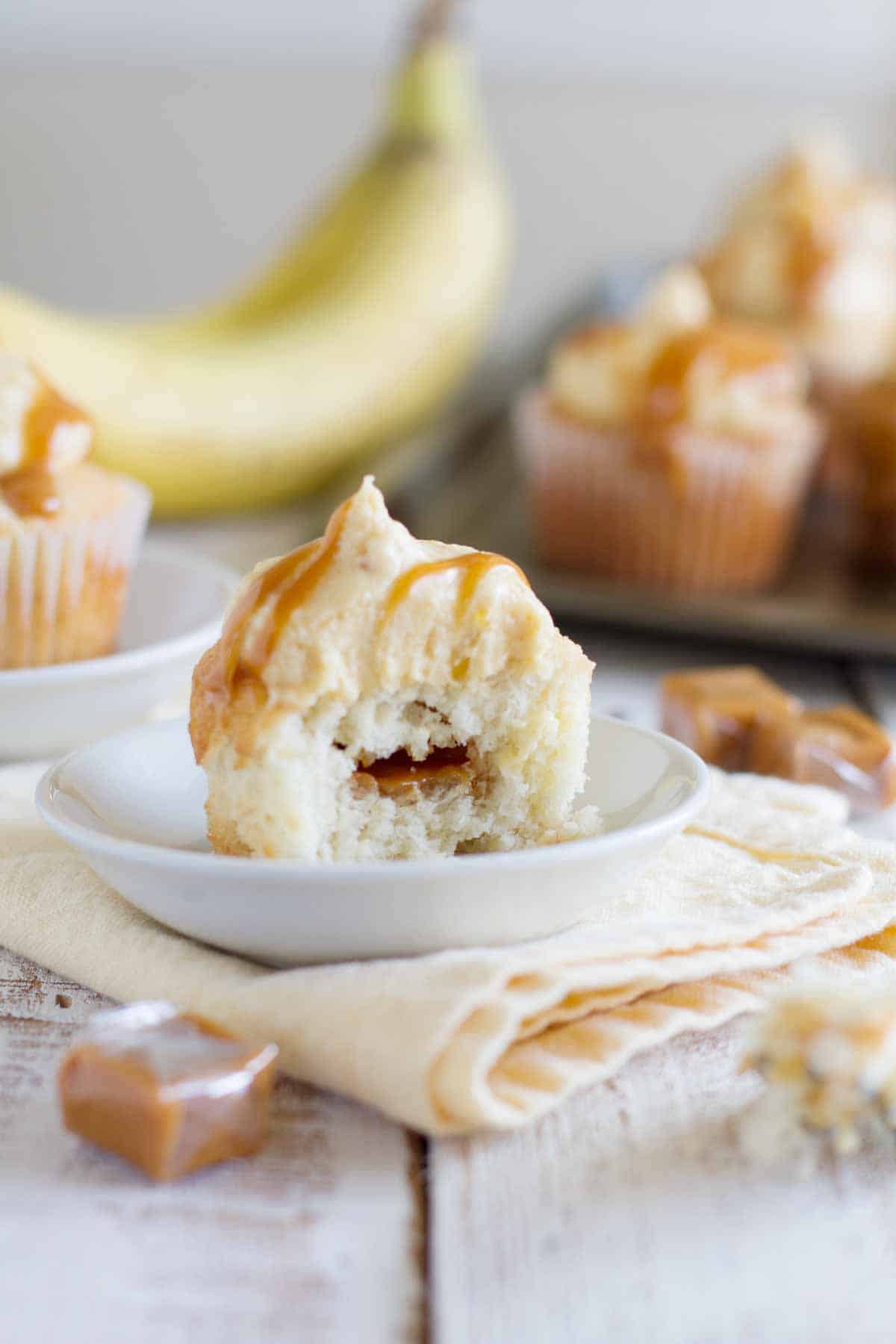 Why I Love These Caramel Banana Cupcakes
These cupcakes remind me a lot of a "fancier" banana bread – the banana flavor comes through well in the cupcake, and the frosting is very buttery, so it made me think of a slice of banana bread with a nice slather of butter on top.
But really, you can never go wrong with the combination of banana and caramel!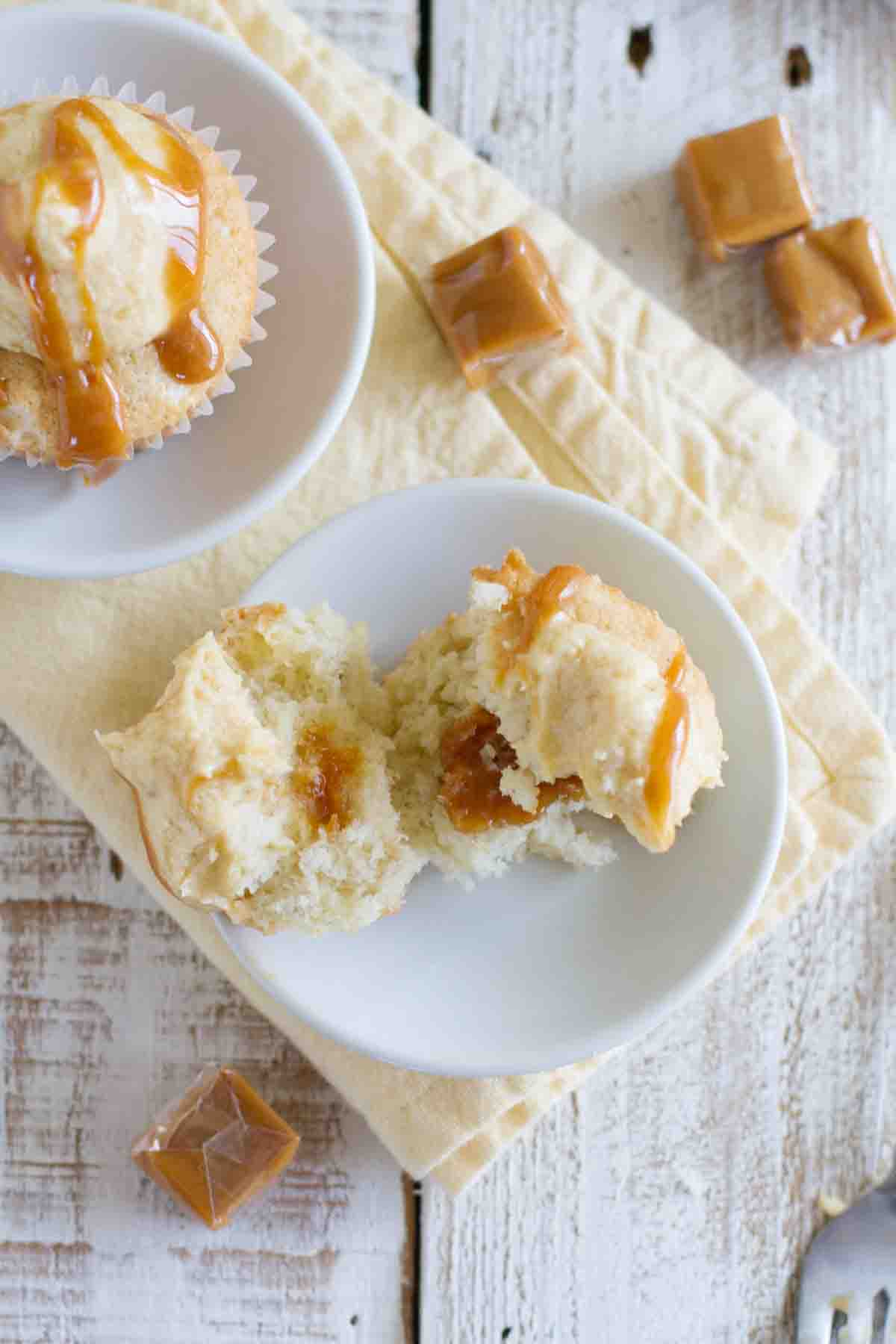 More Cupcake Recipes
Carrot Cake Cupcakes
Red Velvet Cupcakes
Pumpkin Cupcakes with Cream Cheese Frosting
Banana Split Cupcakes
Chocolate Sour Cream Cupcakes with Chocolate Buttercream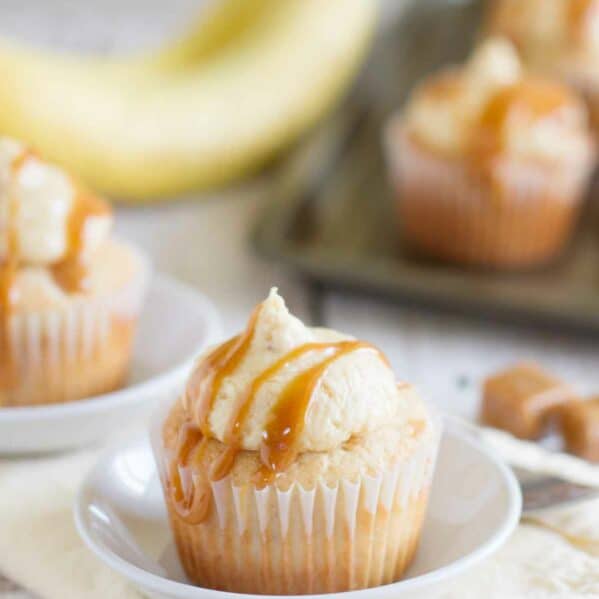 Caramel Banana Cupcakes
---
Author:
Prep Time: 40 minutes
Cook Time: 25 minutes
Total Time: 1 hour 30 minutes
Yield: 18 cupcakes 1x
Category: Dessert
Method: Baked
Cuisine: American
Description
These Caramel Banana Cupcakes consist of banana cupcakes with a caramel surprise inside and are topped with a caramel and banana buttercream.
---
Scale
Ingredients
12 ounces (3 sticks) butter, at room temperature
1 1/4 cups sugar
1 cup mashed ripe banana
1 1/2 teaspoons baking powder
3/4 teaspoon salt
1 3/4 cups flour
1/2 cup plus 2 tablespoons milk
3 large eggs, separated
One bag (5.5 oz) soft caramels
4 1/4 cups powdered sugar
caramel sauce, for topping, if desired
---
Instructions
Preheat the oven to 350F. Line 2 12-count muffin tins with 18 liners.
In a large bowl or the bowl of a stand mixer, beat 4 oz. (1 stick) of the butter with 1 cup of the sugar until light and fluffy, 4-5 minutes. Add 3/4 cup of the bananas, the banking powder and 1/2 teaspoon of the salt and beat until smooth. Add in 1 cup of the flour and mix just until combined. Add in 6 tablespoons of the milk and the remaining 3/4 cup of flour and mix until combined.
In another bowl, beat the egg whites until soft peaks form. Gradually mix in the remaining 1/4 cup of sugar on high speed and continue to beat until stiff, glossy peaks form. Gently fold the egg whites into the batter until no white streaks remain.
Fill each of the cupcake liners about 3/4 full. Cut 9 of the caramels in half and add one piece to the center of each cup of batter. Bake in the preheated oven until the top springs back when touched, about 25 minutes. Allow to cool completely.
While the cupcakes are baking, add the remaining caramels to a heavy saucepan. Add the remaining 1/4 cup of milk, 1/4 cup of bananas and 1/4 teaspoon of salt and cook over medium heat until the caramels are melted.
In the bowl of an electric mixer, beat the egg yolks and 1/4 cup of the powdered sugar until thick, about 3 minutes. Slowly beat in the caramel mixture, then transfer the mixture back to the saucepan. Cook over medium-low heat, stirring constantly, for about 1 minute. Transfer to a bowl and refrigerate until cool.
In the bowl of a stand mixer, beat the remaining 8 oz (2 sticks) of butter at high speed until fluffy, about 5 minutes. Turn the mixer to low and slowly add in the cooled caramel mixture, then slowly beat in the remaining 4 cups of powdered sugar. Beat on high until light and fluffy.
Pipe the frosting onto the cooled cupcakes and drizzle with caramel sauce, if desired.
Recipe Notes:
adapted from Every Day with Rachael Ray September 2008
Keywords: caramel banana cupcakes