Gravy not required! These rich mashed potatoes are filled with blue cheese and herbs and topped with brown butter walnuts.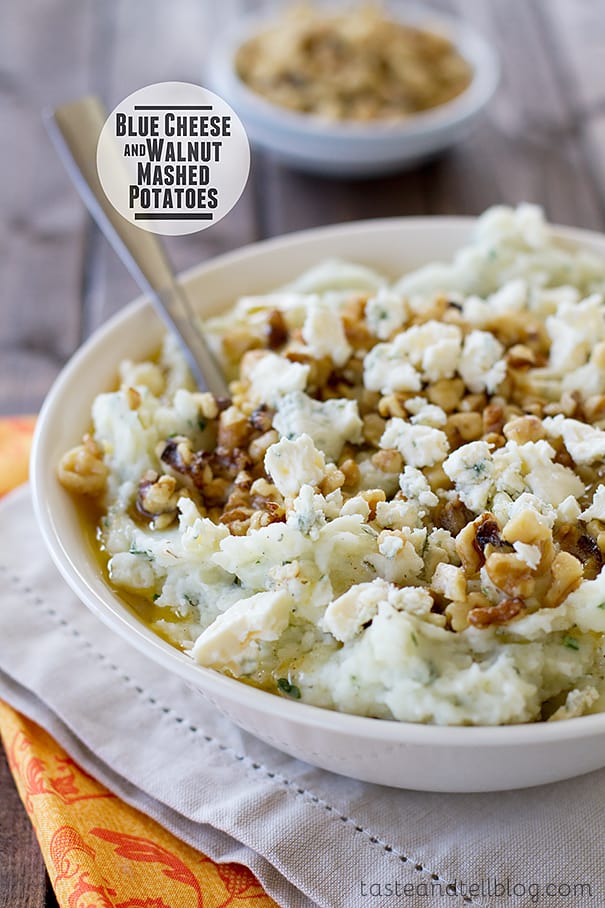 This post has been created in partnership with Diamond Nuts.
I've said it before, and I'll say it again. While I love the Thanksgiving turkey, the side dishes are what always get me. (Ok, and the bread, too. But doesn't that technically count as a side??) I will always fill up my plate on Thanksgiving, and while there is turkey, you can sometimes not even see it, buried by all of the different side dishes. And don't ask me to choose my favorite, because I can't. That's why I have to completely fill up my plate!!
And I think you all are on the same page as me. I've asked what kind of Thanksgiving recipes you all want, and side dish recipes always win!
I think we are all creatures of habit – especially when it comes to the holidays. I know that there are a few staple side dishes that must be on our family table every year. But – since I love trying new recipes, there is always room for a new recipe or two.
This year, I wanted to try out a new potato recipe.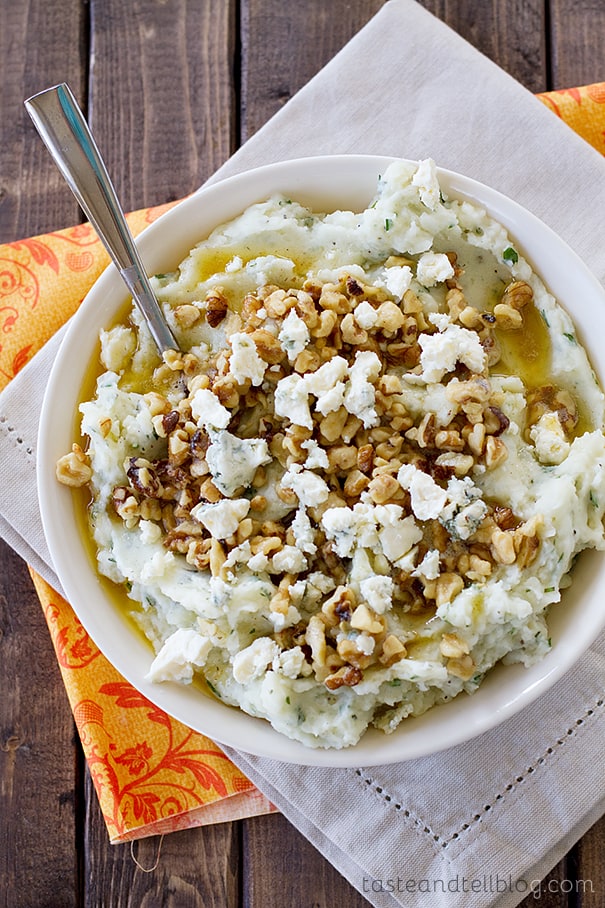 There are very few things that I wouldn't do for a good potato recipe. I kind of adore this root vegetable. But regular mashed potatoes wouldn't do. I needed something a little bit more. Something easy, but something that would wow. We are planning for Thanksgiving, after all.
Thank goodness, my inspiration came in the form of blue cheese and walnuts. I recently partnered up with Diamond Nuts, which I am very excited about. It's amazing what a difference some good nuts will make for a recipe. And right now, we are in the middle of walnut harvesting season, so I had to choose walnuts to work with, right?
Diamond Nuts has been working with California nut growers since 1912. And some of those nut growers have been growing walnuts for generations. You really need a quality product to make these mashed potatoes shine, and the walnuts from Diamond are top notch. Add in some quality blue cheese, and you have some pretty epic mashed potatoes. You don't even need gravy for these babies!!
I'm pretty sure I'll be giving thanks over these potatoes this year!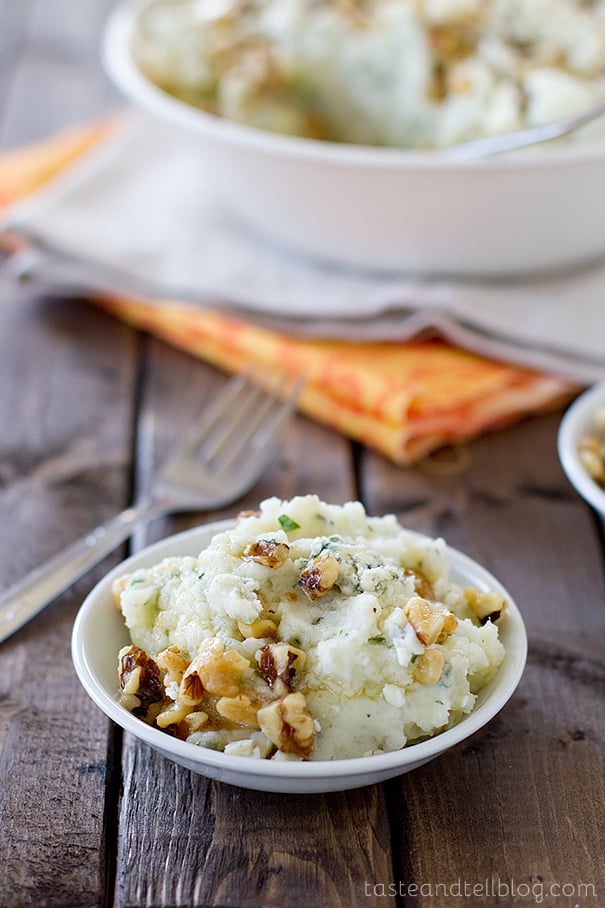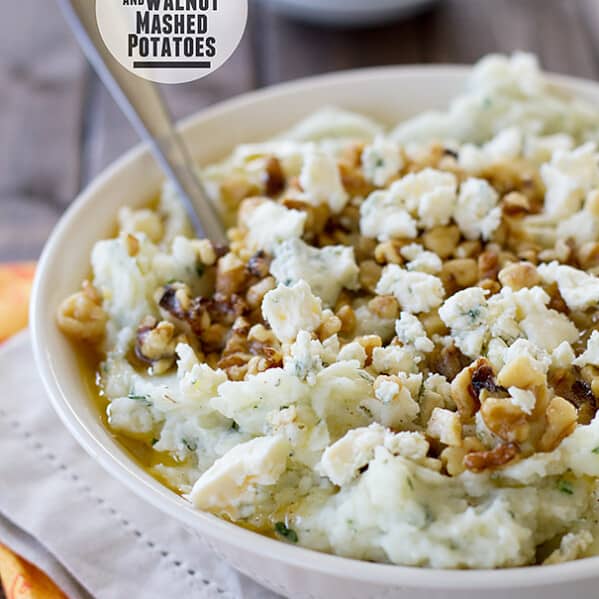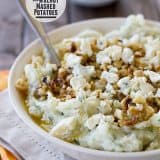 Blue Cheese and Walnut Mashed Potatoes
---
Prep Time: 15 minutes
Cook Time: 30 minutes
Total Time: 45 minutes
Yield: 6-8 servings 1x
Description
Gravy not required! These rich mashed potatoes are filled with blue cheese and herbs and topped with brown butter walnuts.
---
Scale
Ingredients
2 lbs potatoes, peeled and diced
4 tablespoons butter, divided
3/4 cup milk
1 tablespoon minced rosemary
2 tablespoon minced parsley
1/2 teaspoon salt
1/4 teaspoon pepper
4 oz blue cheese
1/2 cup chopped Diamond Walnuts
---
Instructions
Place the potatoes in a large pot and cover with water. Bring to a boil and cook until the potatoes are tender. Drain and return to the pot.
Add 2 tablespoons of the butter to the potatoes, as well as the milk, rosemary, parsley, salt and pepper. Mash with a potato masher until desired consistency. Crumble in about 3/4 of the blue cheese and mix to combine.
Meanwhile, melt the remaining 2 tablespoons of butter in a small skillet. Continue to cook over medium heat, stirring constantly, until the butter turns a golden brown, 6-8 minutes. Add in the walnuts and cook for an additional minute, making sure the butter doesn't burn.
Transfer the mashed potatoes to a serving bowl. Pour the butter and walnut mixture over the top of the potatoes. Crumble the remaining blue cheese over the top.
More Thanksgiving Potato Recipes: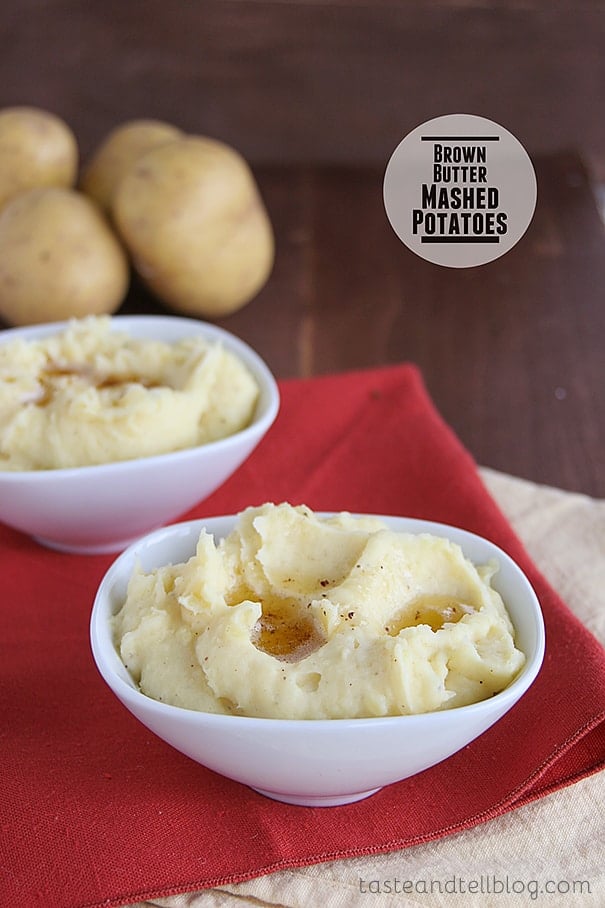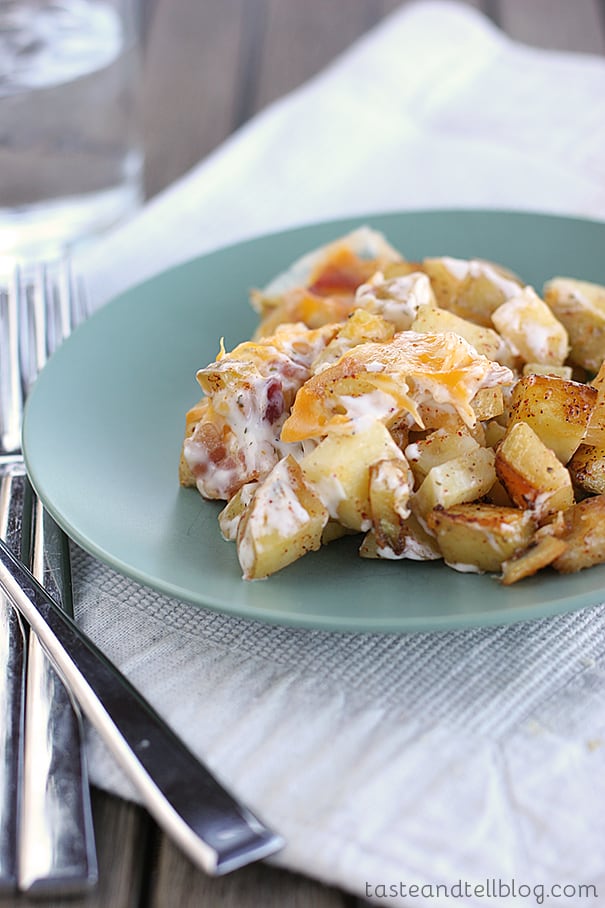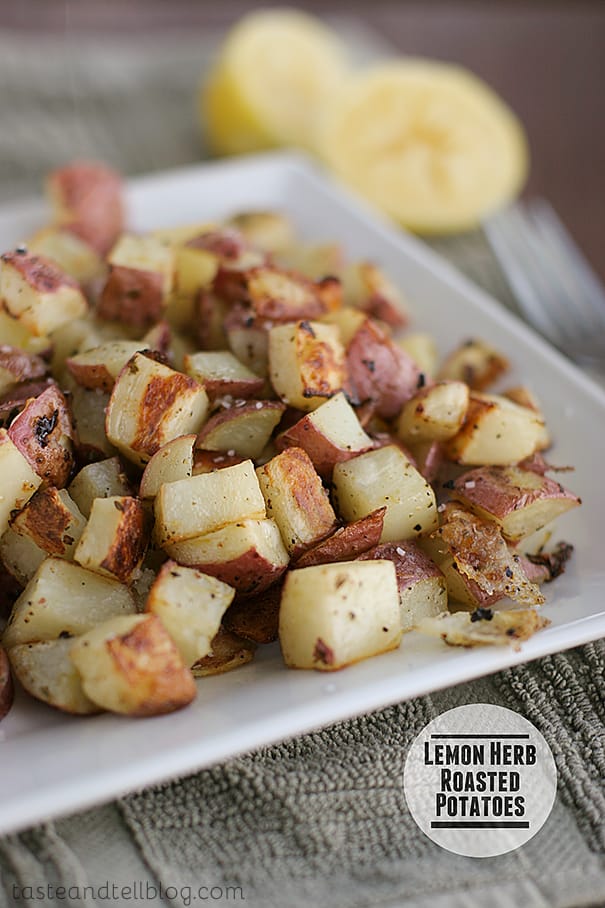 Around the Web:
Pancetta and Porcini Potato Gratin from Closet Cooking
Chorizo Potato Croquettes from Fifteen Spatulas
Loaded Baked Potato Casserole from Diethood
**Thank you to Diamond Nuts for sponsoring this post. Because of sponsors like Diamond Nuts, I am able to bring you all of the recipes I feature here.**