Mashed sweet potatoes make these rolls super tender and soft and the orange cream cheese glaze takes these Sweet Potato Cinnamon Rolls with Orange Icing to a new level!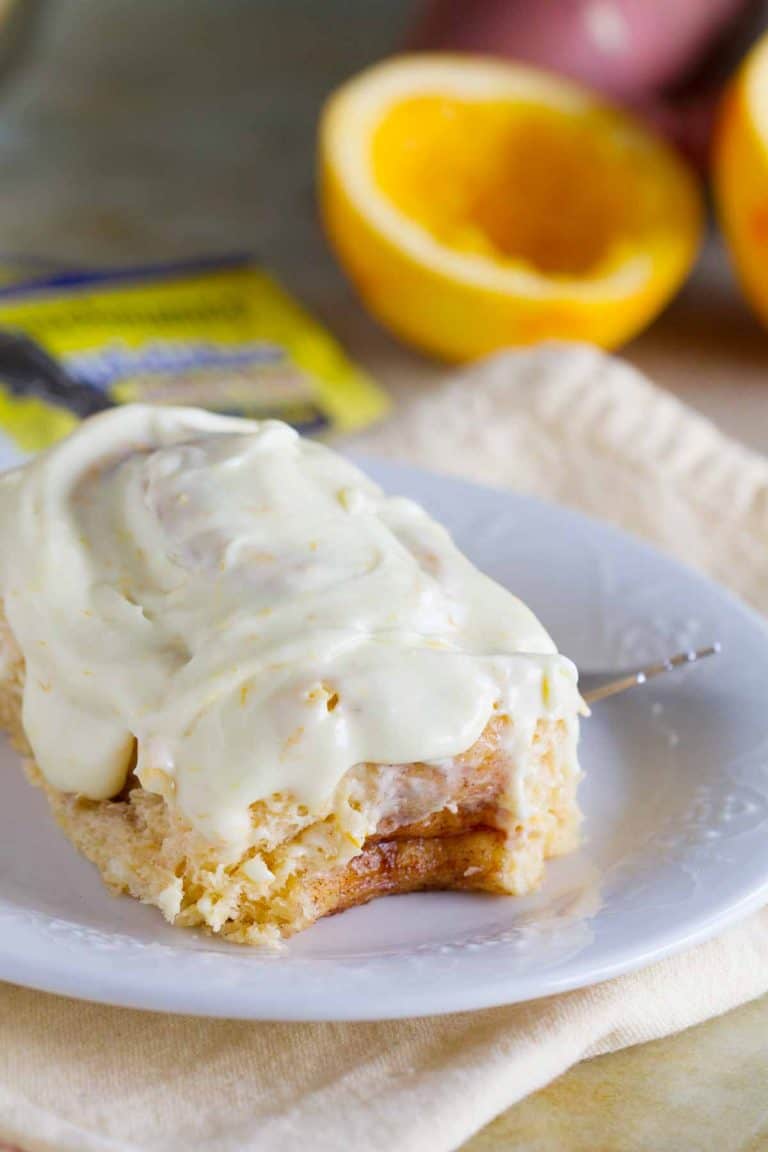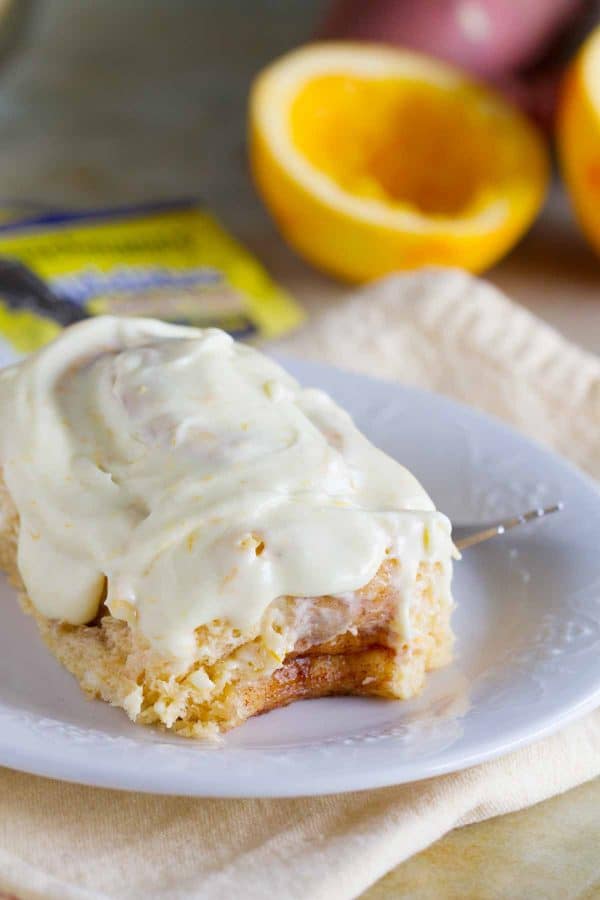 If you know me, you know that I'm addicted to making my house smell good. I have a little problem addiction. If you asked to see my candle collection, or my box full of melts, I'd almost be embarrassed to show you. There is just something about having a house that smells good – even if it is a hot mess, it still just feels better if it smells good.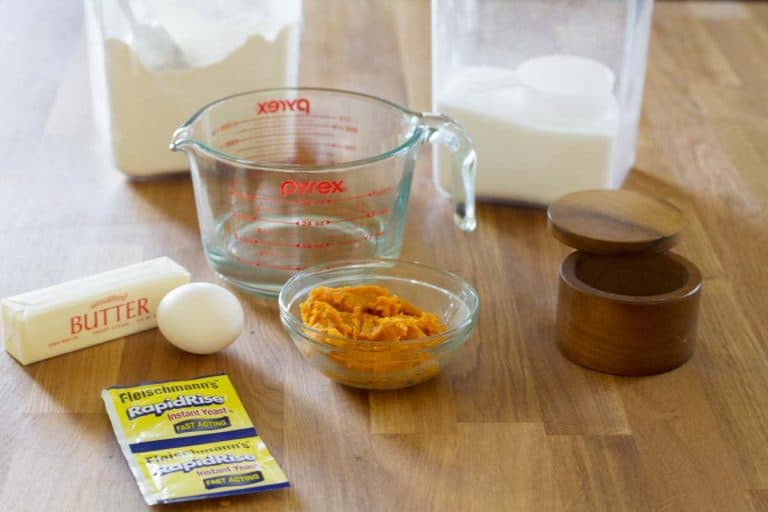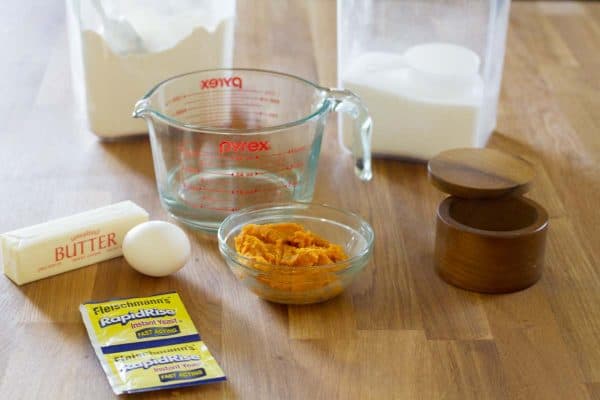 If I'm home, I will pretty much always have a candle going. There are only 2 exceptions – if I am cooking something in the slow cooker (because let's face it – the smell of chili combined with vanilla cookie is not always the most appealing) or if I am baking.
Because baking is just like burning a candle, except better. 🙂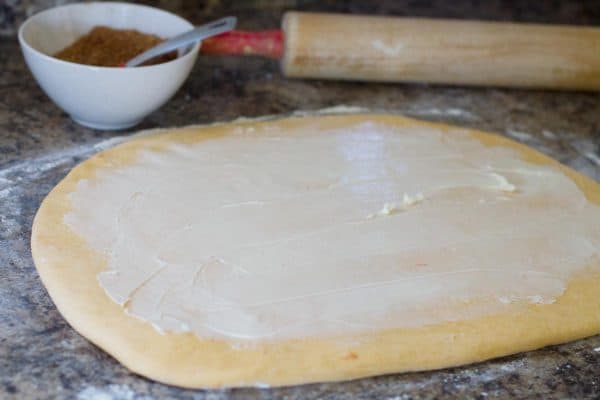 Cookies, cupcakes, cakes – they are all great, but what really gets me is cinnamon rolls. The smell of cinnamon rolls baking just cannot be beat. Fresh bread comes in a close second, but cinnamon rolls still win out. Because you get that fresh baked bread smell with the addition of cinnamon and sugar. You can't beat that!!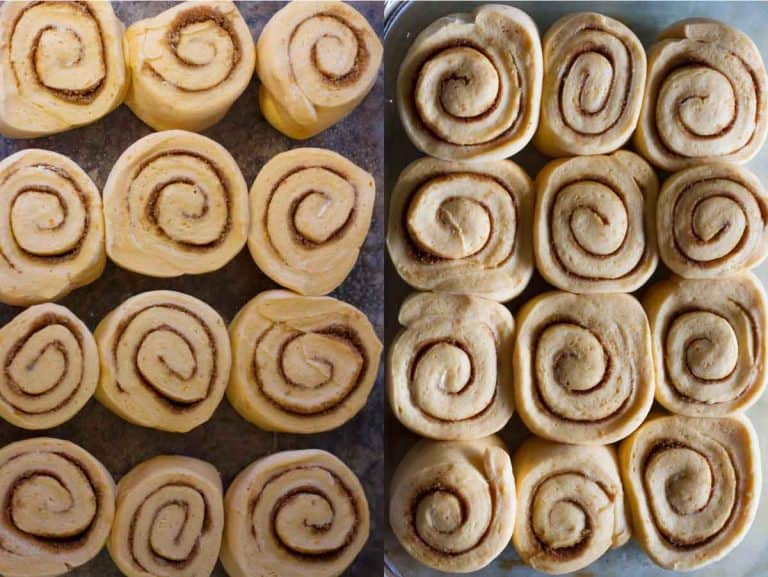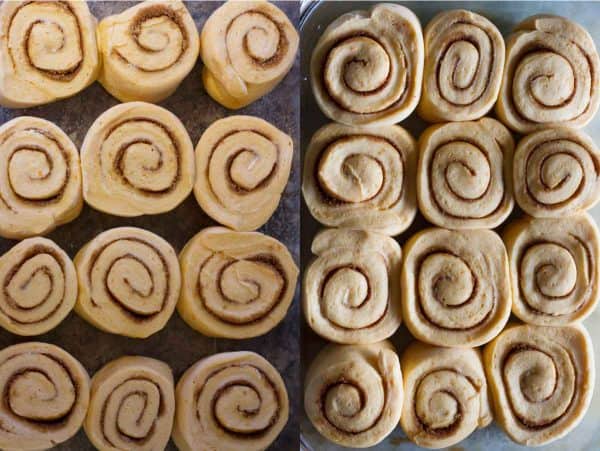 So when I was browsing through the Fleischmann's® Yeast website recently and came across these Pumpkin Rolls with Cream Cheese Frosting, I instantly fell in love. And then I remembered that I've already made pumpkin cinnamon rolls. And, well, if the pumpkin shortage that I keep hearing about is legit, maybe it's time to move away from pumpkin for the season? (No! Don't say it's true!)
So I decided to change things up. Out with the pumpkin, and in with my other favorite orange vegetable – sweet potatoes!!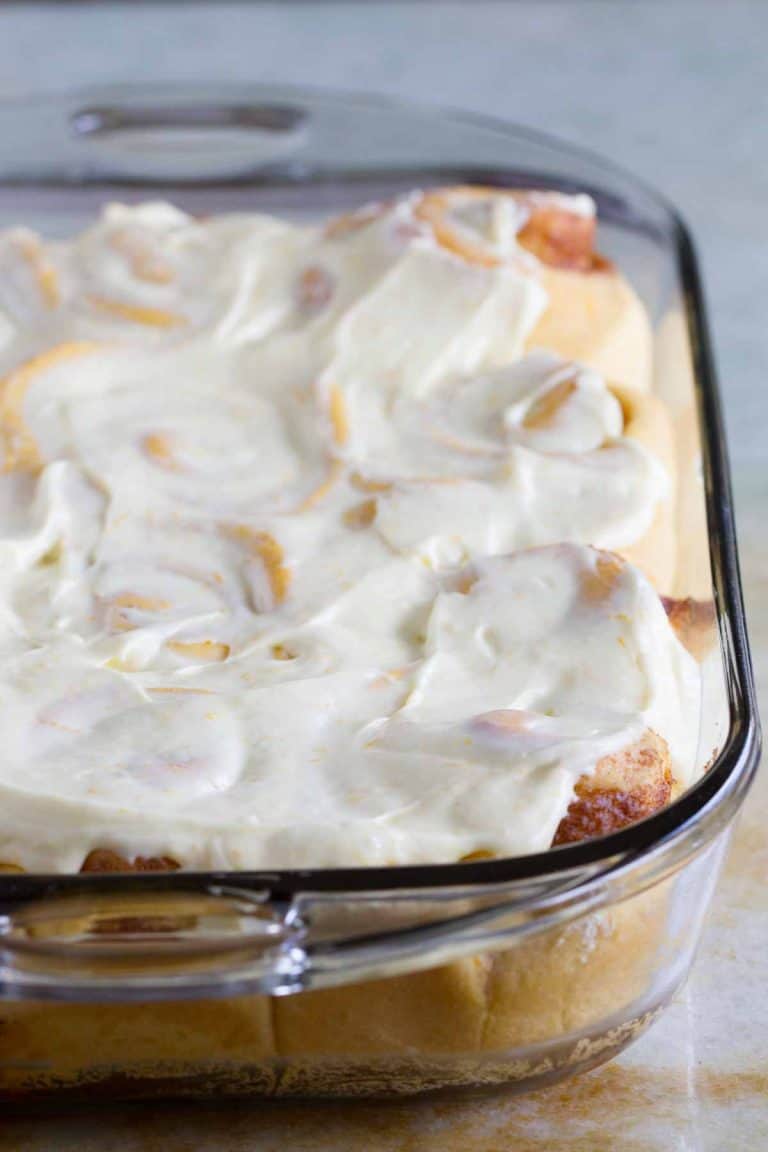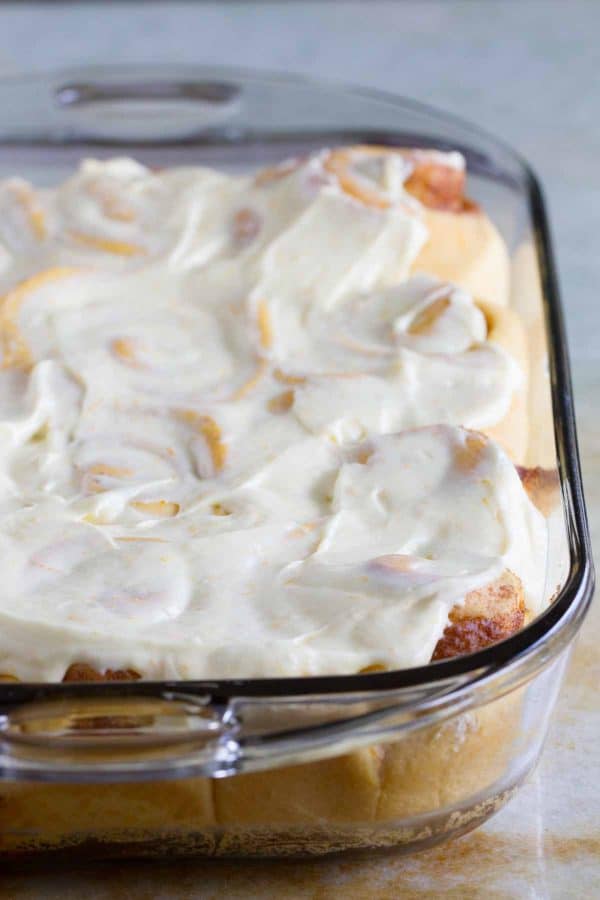 If you've been reading for awhile, you'll know that I spent basically the first 18 years of my life believing that I didn't like sweet potatoes. It's such a shame – because I missed out on all of those years – because they are one of my very favorite things now as an adult. While I usually use them in a soup or hash or even fried up as tater tots, they work really well in baking as well. Cook them and mash them up and put them in your bread recipe and you have magic. Bake these Sweet Potato Cinnamon Rolls up and then you top the rolls off with an orange scented cream cheese frosting. Then you have a winner on your hands.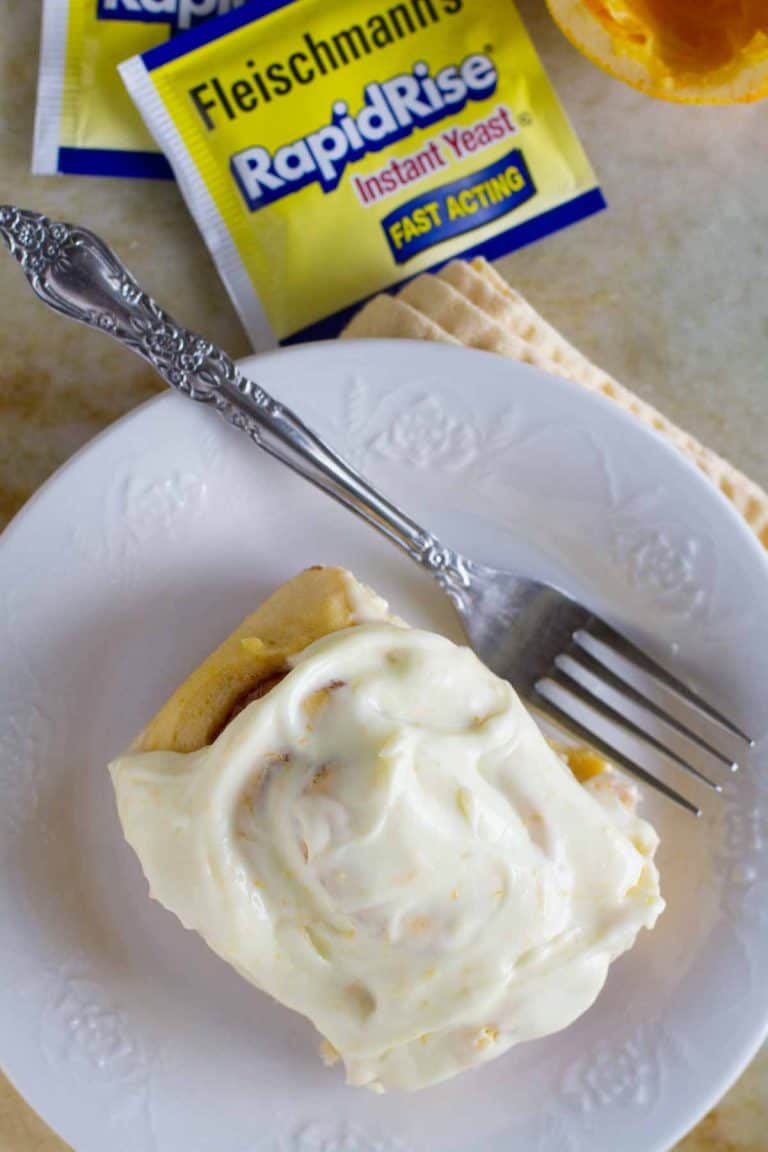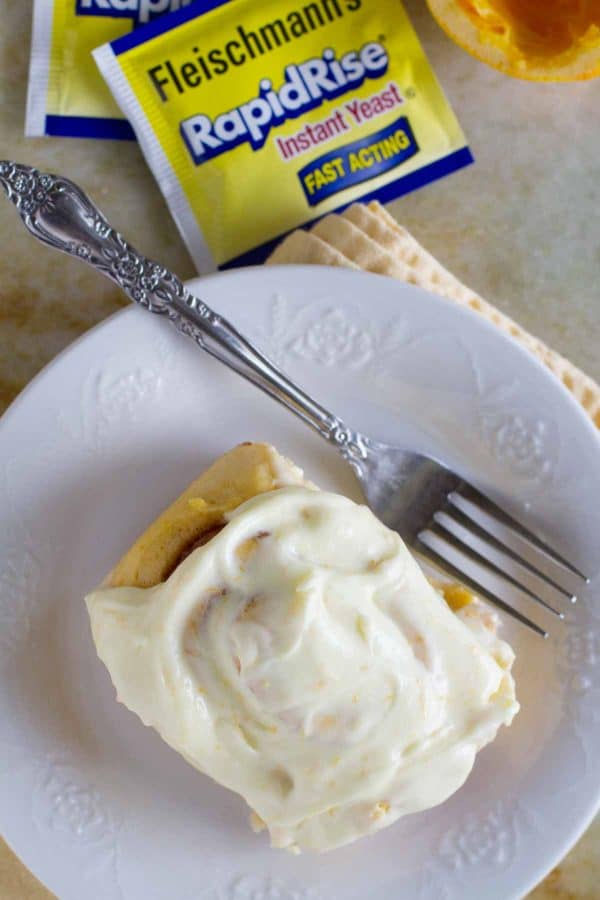 These Sweet Potato Cinnamon Rolls are soft and pillowy and just perfect. The sweet potatoes are one secret to the perfect rolls, but the other is a yeast that won't let you down. I've been using Fleischmann's® Yeast for as long as I can remember. We have a pizza addiction in our house, so this yeast pretty much makes a weekly appearance. I can always count on it to be fresh for it to help me be a better baker.
I love that this recipe makes 12 rolls – it's the perfect size so that I can give one to each person in my family, and then share the others with extended family or friends. Or you could double the recipe and give a pan away, because baking is a great way to show someone that you care about them!
In fact, maybe I need to bake up a batch of these every week to show my family that I care about them on a weekly basis. Am I right? 😉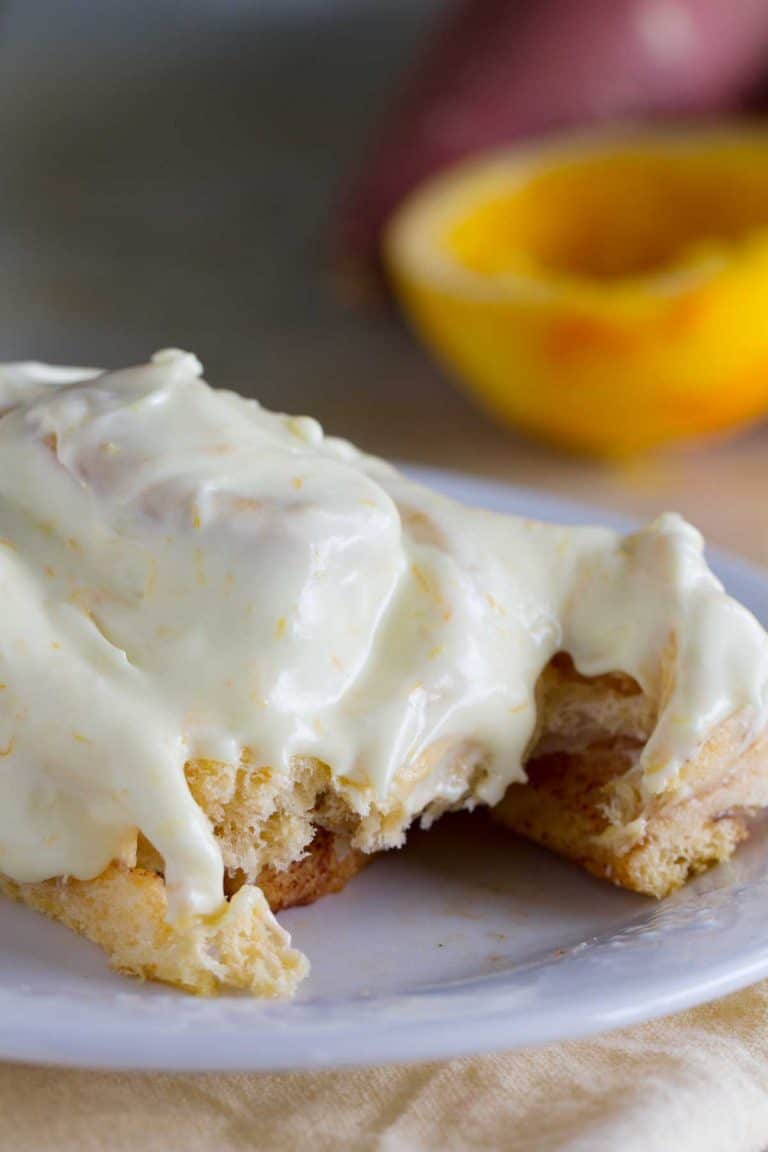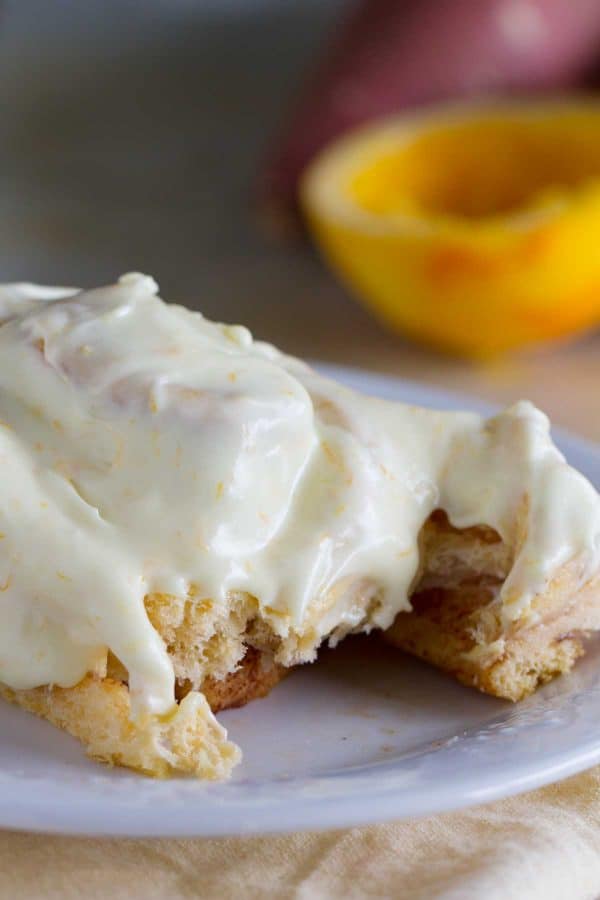 Like what you see here? Make sure you are following Taste and Tell for more recipes and ideas!
Facebook | Pinterest | Instagram | Twitter | Google+ | Weekly Newsletter | Feedly | Bloglovin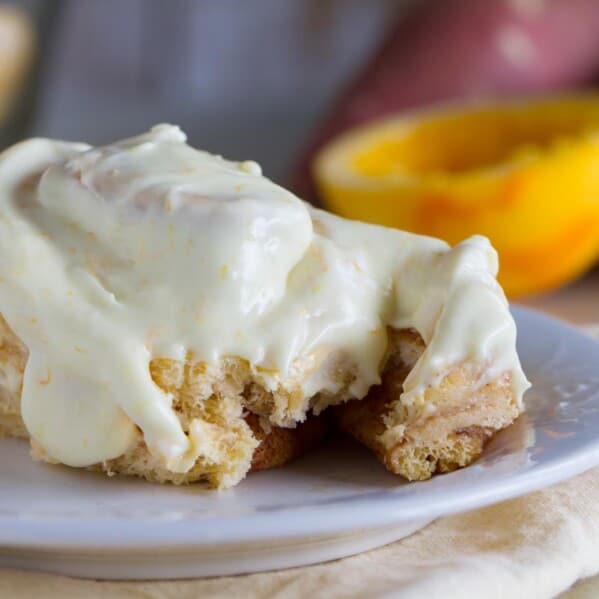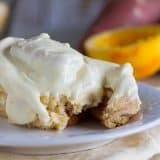 Sweet Potato Cinnamon Rolls with Orange Cream Cheese Frosting
---
Author:
Prep Time: 1 hour 25 mins
Cook Time: 25 mins
Total Time: 1 hour 50 minutes
Yield: 12 rolls 1x
Category: Breakfast
Description
Mashed sweet potatoes make these rolls super tender and soft and the orange cream cheese glaze takes these Sweet Potato Cinnamon Rolls with Orange Cream Cheese Frosting to a new level!
---
Scale
Ingredients
Rolls
4 1/4 – 4 3/4 cups all-purpose flour
1/3 cup sugar
2 packets Fleischmann's® RapidRise™ Yeast
1 teaspoon salt
1 cup water
3/4 cup mashed sweet potatoes
3 tablespoons butter, cut into small cubes
1 egg
Filling
1/3 cup packed brown sugar
2 teaspoons Pumpkin Pie Spice
3 tablespoons very soft butter
Orange Cream Cheese Frosting
4 oz cream cheese, softened
2 tablespoons butter, softened
2 1/2 cups powdered sugar
zest of 1 orange
1 to 2 teaspoons fresh orange juice
---
Instructions
In the bowl of a stand mixer, combine 2 cups of the flour, the sugar, dry yeast and salt.  Stir until blended.  In a separate bowl, combine the water, sweet potatoes and the butter.  Microwave the mixture on high in 15 second increments until very warm, but not hot (120º to 130ºF).  The butter will not melt completely.  Add the liquid mixture to the flour mixture along with the egg.
Beat the mixture on medium speed for 2 minutes, scraping the bowl occasionally.  Continue adding in flour, 1/2 cup at a time, until the dough just pulls away from the sides of the bowl. 
Lightly flour a work surface and turn the dough out.  Knead until the dough is elastic and smooth, about 6 to 8 minutes.  Cover with a towel and allow the dough to sit for 10-15 minutes. 
While the dough is resting, prepare the filling.  Combine the brown sugar and pumpkin pie spice in a small bowl. 
Roll the dough out into a 15×12-inch rectangle.  Spread the butter over the dough, stopping about 1/2-inch from the sides.  Sprinkle the sugar/spice mixture evenly over the butter.  Starting at the long end of the rectangle, roll up tightly.  Pinch the ends to seal.  Cut the log into 12 even pieces and place cut side up in a greased 13×9-inch baking dish.  Cover the dish and allow the rolls to rise until doubled, about 45 minutes.
Heat the oven to 350ºF.  Bake the rolls until they are golden brown, 20-25 minutes.  Cool the rolls on a wire rack for at least 20 minutes.
To make the icing, beat the cream cheese and the butter together.  Beat in the powdered sugar, about 1/2 cup at a time.  Beat in the orange extract.  Add enough orange juice to make it the right consistency.  Spread the icing over the rolls and serve.
Nutrition
Serving Size: 1 roll
Calories: 393
Don't miss a thing! Follow me on Pinterest to see what I'm pinning!
Visit Taste and Tell's profile on Pinterest.


I am a Bake a Little Extra Blog Ambassador and this post is sponsored by Fleischmann's® Yeast. I'm so glad to be able to work with companies and organizations that I truly believe in. Thank you for supporting them, too.