Photo updated October 2012

First of all, I want to thank everyone for their well-wishes for my husband. Things didn't happen quite as we expected – the doctor got into his knee and found that there was too much damage to continue the surgery. He ended up scoping the knee, and so now it looks like my husband will need a full knee replacement sooner than expected.
I was looking through the photos I have not blogged about, and came across these cookies that I made about a month ago. I came across this recipe on This Week For Dinner. These cookies contain everything I love in a cookie – chocolate, coconut, oatmeal – I knew that these would go over well at our house!! I made them, and of course we loved them. Again, I only had quick cooking oats, but I would recommend making these with old-fashioned oats. It also called for mini chocolate chips, and I used regular chocolate chips because that is what I had. These are BIG cookies – and while you could always make them smaller, every once in awhile you need to treat yourself to a BIG cookie!!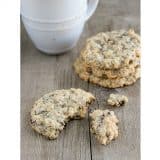 Chocolate Oatmeal Coconut Cookies
---
Prep Time: 10 minutes
Cook Time: 15 minutes
Total Time: 45 minutes
Yield: about 20 cookies 1x
Description
More than your typical chocolate chip cookie – these cookies are full of oats, coconut and chocolate!
---
Scale
Ingredients
1 cup unsalted butter, at room temperature
1 cup brown sugar, packed
6 tablespoons sugar
2 eggs
1 1/2 teaspoons vanilla
1/2 teaspoon salt
1/2 teaspoon baking soda
1 1/2 cups flour
2 1/4 cups oats
1 1/2 cups coconut
12 oz semi-sweet mini chocolate chips (2 cups)
---
Instructions
Preheat the oven to 350F.
In a mixer, beat together the butter and the sugars until light and fluffy. Add the eggs one at a time, beating well after each addition. Beat in the vanilla, salt, and baking soda. Add in the flour and beat just until combined. Add in the oats, coconut and chocolate chips. Beat until combined.
Place 1/4-cup scoops of the dough on a greased cookie sheet, at least 3 inches apart. Pat down to circles 1/2-inch high.
Bake in the preheated oven for about 15 minutes, rotating cookie sheet halfway through the baking time. Cool on cooling racks.
————————-
Slightly adapted from This Week for Dinner