Take a trip to the tropics with these super moist and delicious Strawberry Colada Cupcakes – filled with strawberry, coconut and pineapple.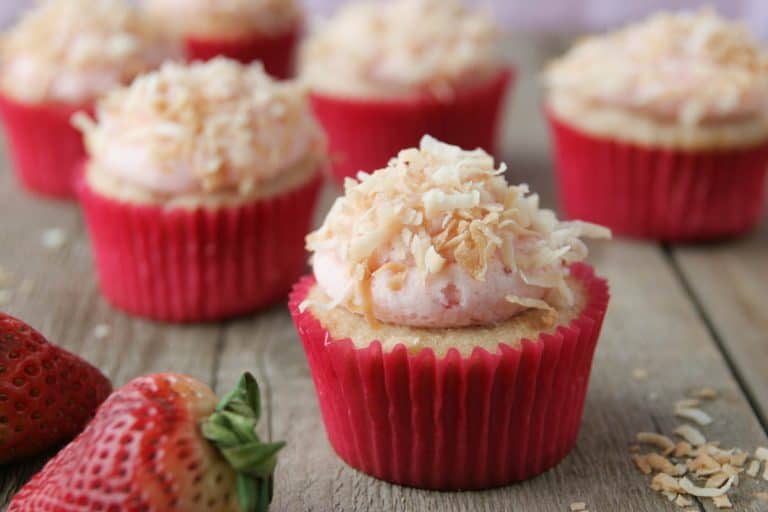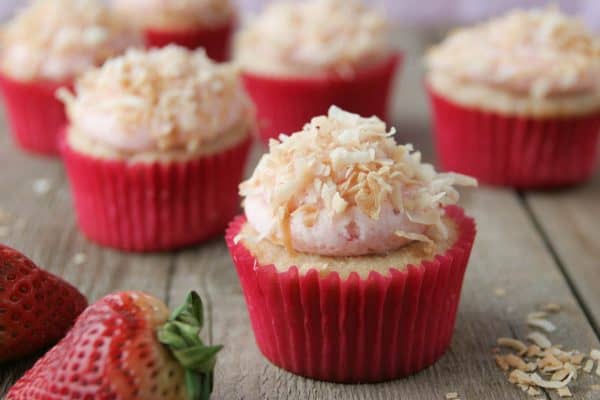 Spring has been teasing us lately.  A couple of weeks ago, we enjoyed several nice afternoons, nice enough to go outside in the afternoon in short sleeves, and to open up the windows during the day and let the fresh breeze through.  We even turned off the heater for a few days.
And then yesterday, I wake up to a thin layer of snow on the ground.  And on the drive home from a family dinner last night, I get stuck driving through a snowstorm.  Have I ever told you how much I hate driving in the snow?  All day long, all I could do was dream of warmer days.
Dream of warmer days, or eat cupcakes that make me feel like I'm sitting on a beach, right?  I actually made these cupcakes for the February birthdays in my family, but those leftovers sure did help me through more than one cold day.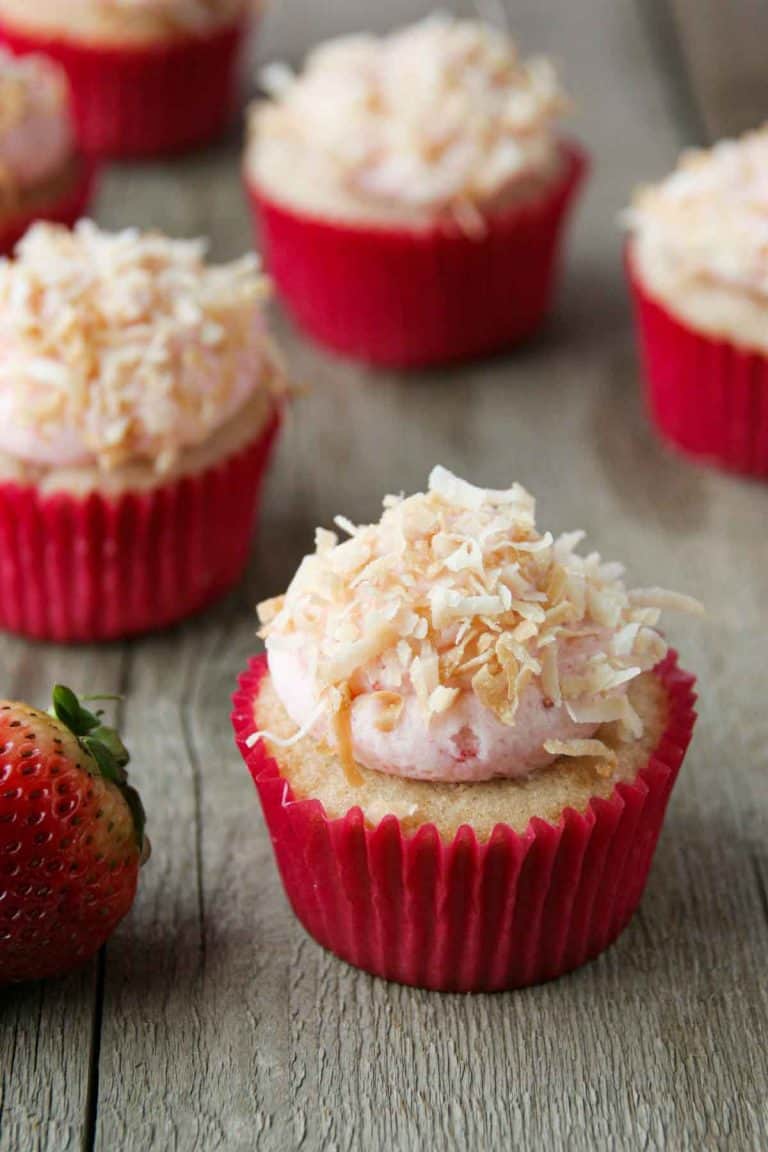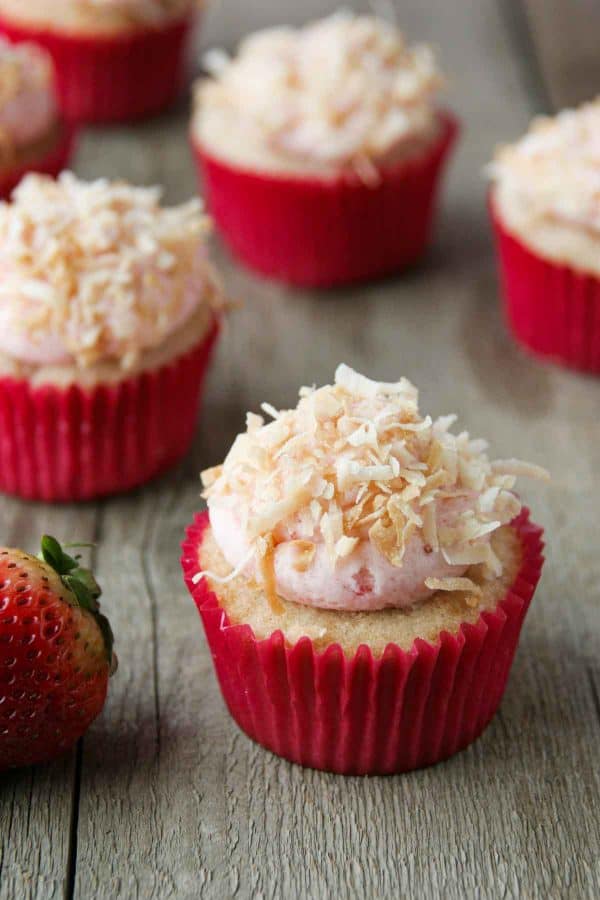 If you remember, I am on the search for the perfect cupcake this year.  This was my February attempt, and it was seriously close to that bakery style cupcake that I have been looking for!  They were super moist, and a little bit dense.  Have you ever noticed that bakery cupcakes are never light and fluffy?  I love that texture you get from a bakery cupcake, and these were the closest I've ever had from a homemade cupcake.
These were seriously delicious.  And my strawberries weren't even that sweet and full of flavor.  I can't imagine how good these would be with some super sweet, in season strawberries. These were really in my top 5 favorite cupcakes ever. Yep, I loved them that much!! And I think you'd love them, too.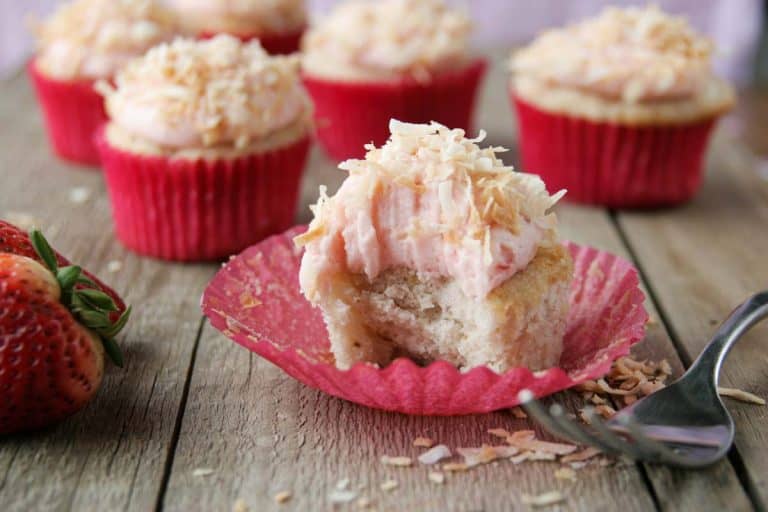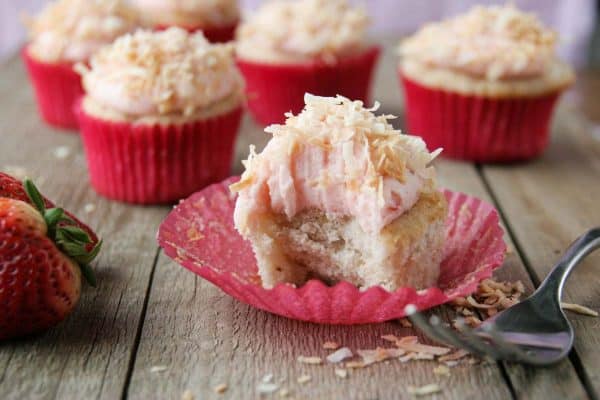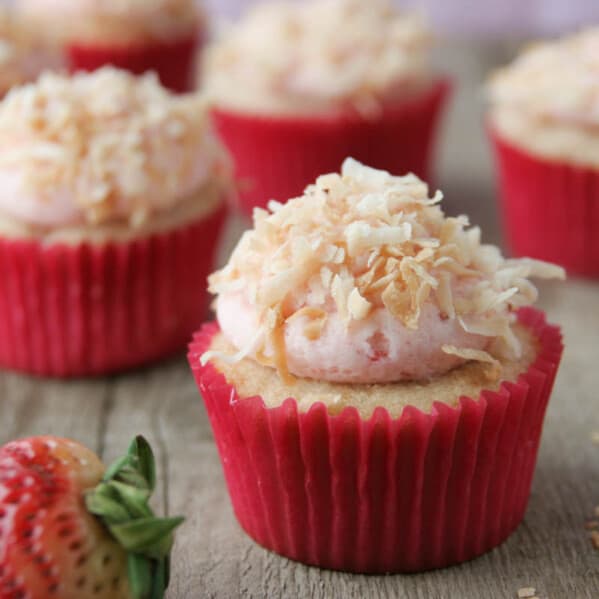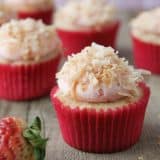 Strawberry Colada Cupcakes
---
Author:
Prep Time: 50 minutes
Cook Time: 22 minutes
Total Time: 1 hour 50 minutes
Yield: 24 cupcakes 1x
Category: Dessert
Method: Bake
Cuisine: American
Description
Take a trip to the tropics with these super moist and delicious cupcakes – filled with strawberry, coconut and pineapple.
---
Scale
Ingredients
Cupcakes
1 1/2 cups fresh strawberries, hulled
1/2 cup canned coconut milk (not cream of coconut)
1 1/2 teaspoons coconut extract
1/2 teaspoon vanilla
2 cups cake flour
2 teaspoons baking powder
1/4 teaspoon salt
3/4 cup unsalted butter, softened
1 1/3 cups granulated sugar
1 whole egg
2 egg whites
1/4 cup well-drained crushed pineapple in unsweetened juice
Frosting
1 cup butter, softened
3 1/2 cups powdered sugar
1 teaspoon coconut extract
1/2 teaspoon vanilla
Garnish
---
Instructions
Heat the oven to 350F. Put paper covers in 24 muffin cups. Set aside.
Place 1 1/2 cups of the strawberries In a blender or food processor. Cover and puree until smooth. (Puree should measure about 1 cup – if not, puree more berries.) Pour 2/3 cup of the puree into a small bowl. Stir in the coconut milk, 1 1/2 teaspoons coconut extract, and 1/2 teaspoon vanilla extract. (Reserve the remaining puree for the icing.)
In a medium bowl, mix together the flour, baking powder and salt. Set aside. In a large bowl, or the bowl of a stand mixer, beat the butter and sugar at medium speed for 2 minutes, until light and fluffy. Add the whole egg and the egg whites, 1 at a time, mixing well between additions. On low speed, add 1/3 fo the the flour mixture, followed by 1/2 of the strawberry-coconut milk mixture. Add another 1/3 of the flour, the rest of the strawberry-coconut mixture, then the rest of the flour. Beat just until blended. Fold in the pineapple.
Divide the batter among the prepared baking cups, filling each cup about 3/4 full. Bake until the centers spring back when lightly touched, about 18-22 minutes. Cool for 5 minutes, then remove from tins to cool completely on wire racks.
Make the frosting: In a medium bowl, beat the butter on medium speed until light and fluffy. On low speed, beat in the powdered sugar, 1/2 cup at a time. Mix in the coconut extract and vanilla extract, and 3 tablespoons of the reserved strawberry puree. Add more puree, if desired.
Frost each cupcake with the frosting, and garnish with toasted coconut.
Recipe Notes:
slightly adapted from The Girl Who Ate Everything via Betty Crocker Big Book of Cupcakes