Strawberry cupcakes are filled with strawberry jam then topped with a strawberry cream cheese frosting.
Welcome to Taste and Tell Thursdays! Come link up your posts below for a chance to win a Smucker's Birthday Kit!
We didn't have a whole lot of birthday traditions growing up. But there was one thing I always looked forward to – the Cherry Chip Cake with Fluffy Frosting. I've already talked about that cake – and my childhood memories behind it – so I won't bore you with it again. But to this day, that cake always reminds me of birthdays. (In fact, just a few weeks ago my mom requested it for her birthday cake!)
I'm hoping to starts some new fun traditions with my kids. Abbi is now to the age that she knows just what she wants, and she is definitely not afraid to voice it. Her birthday is at the end of this month, and for the last – oh, probably 10 months – she has been reminding me that she wants a strawberry birthday cake. You know how most kids change their minds 20 times in the span of 20 minutes? Well, not this girl. It is a strawberry cake, and I have a feeling it's going to be a strawberry cake for every birthday from here on out.
This week, I have teamed up with Smucker's for Taste and Tell Thursdays. Smucker's is inviting fans to share what they love to eat on their birthday. They have fun poll questions on their Facebook page, and based on the results, they will share a birthday recipe that would be great for anyone with a birthday coming up.
So in honor of my beautiful daughter and her upcoming birthday, I made cupcakes. Strawberry cupcakes. An early present for the birthday girl.
Like what you see here? Make sure you are following Taste and Tell for more great recipes and ideas!!

Facebook ** Pinterest ** Twitter ** Instagram ** Google+
or you can subscribe to my newsletter or Feedly or Bloglovin


Very Strawberry Cupcakes
Strawberry cupcakes are filled with strawberry jam then topped with a strawberry cream cheese frosting.
Ingredients
Cupcakes
1 box Pillsbury strawberry cake mix
1 cup water
¼ cup vegetable oil
3 eggs
2 teaspoons lemon zest, divided
Frosting
½ cup butter, at room temperature
1 (8 oz) package cream cheese, at room temperature
4-5 cups powdered sugar
1 (10 oz) jar Smucker's Simply Fruit Strawberry Spreadable Fruit
fresh strawberries, sliced, for garnish
Instructions
Heat the oven to 350F. Line 24 muffin cups with paper liners.
In a large bowl, beat the cake mix, water, oil and eggs for 30 seconds on low. Beat for 2 minutes on medium. Stir in 1 teaspoon of the lemon zest. Divide evenly among the muffin cups.
Bake for 18-22 minutes, or until a toothpick inserted in the middle comes out clean. Cool completely.
Beat the butter and cream cheese until creamy. Add the powdered sugar ½ cup at a time until you reach the desired consistency. Stir in ⅓ cup of the spreadable fruit. Add the remaining 1 teaspoon lemon zest. Beat for 2 minutes until light and fluffy.
Remove the cupcakes from the paper liners. Cut each cupcake in half crosswise. Spread a dollop of the spreadable fruit on the bottom halves. Replace the tops.
Place the frosting in a large decorator bag. Pipe the frosting on top of each of the cupcakes. Garnish with fresh sliced strawberries.
--------------------
adapted from Smucker's
Before we get to the giveaway, the winner of last week's bakeware set from Good Cook and Challenge Butter was Ashley.  Check your email, Ashely, to claim your prize!
And here are a few posts that were linked that caught my eye: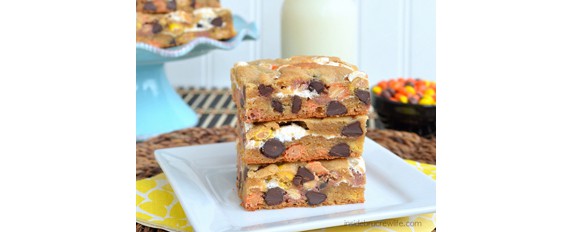 Peanut Butter Reeses Blond Brownies from Inside BruCrew Life

Gingerbread Cupcakes with Salted Caramel Icing from Bake, Run, Live

Loaded Baked Potato Chex Mix from Kitchen Concoctions
And now for the giveaway and link up: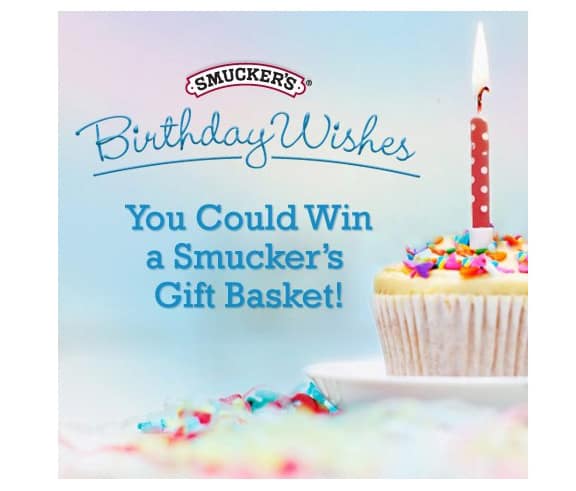 Included in the gift basket are:
*A variety of Smucker's Jams, Jellies and Preserves*
*A selection of birthday recipes to try*
*a $100 Wal-Mart gift card*
To enter to win, use the Rafflecopter widget below.  Remember – if you link up a recipe, make sure you enter on the Rafflecopter for your chance to win!
The rules for the link up are simple:
1 – you can link up to any recipe
2 – link must be to a blog post – no etsy stores or advertisements
3 – please add a link in your post back to this post
4 – you can link up to 2 links per week, and links cannot be duplicated through the month
Don't forget to click over on some of the other links so that we can all enjoy each other's creations!!
And I'd love to have you follow me via Facebook, Twitter, Pinterest, or Google+. And don't forget to subscribe to my weekly newsletter!