Happy St. Patrick's Day!
Did you have a visit from any little leprechauns? Did you find that gold at the end of the rainbow? Are you wearing your green?
I mentioned earlier this week that I was quite the slacker this year, and didn't have any fun St. Patrick's Day food to post this year. Granted, I'm not Irish, and I don't really celebrate St. Patrick's Day, but any reason to celebrate and make fun food should be reason enough, right? 🙂
Well, this is as close as I am getting to St. Patrick's food this year. Yeah, I know the Reuben sandwich isn't Irish. It's American. But, corned beef and sauerkraut are Irish, aren't they?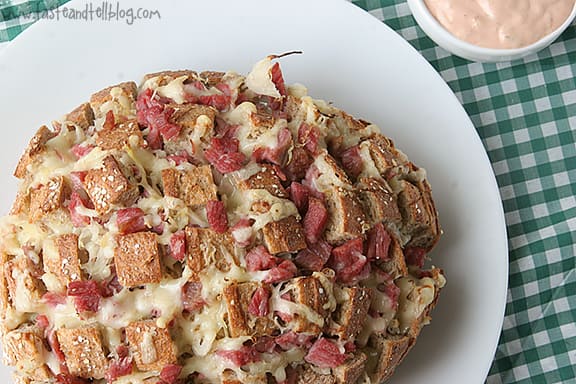 Regardless, this pull bread was fun to make, and was pretty darn delicious as well. I couldn't find a loaf of rye bread that wasn't already sliced, so instead of hitting up every grocery store with 2 kids in tow, I opted to just use a multi-grain loaf. It worked, and it saved my sanity! On the RR Show, Rachael squirted the sauce over the top of the bread, but I opted for dipping, mostly since I knew this would never get eaten in one sitting, and I didn't want it to get soggy. And for some reason, I didn't see any corned beef at the deli counter, so I actually ended up buying corned beef that I had to cook myself. And although it took some time, it was actually the easiest part!!
So if you are enjoying corned beef and cabbage while celebrating St. Patrick's Day tonight, save some of that corned beef to make up this bread to snack on tomorrow!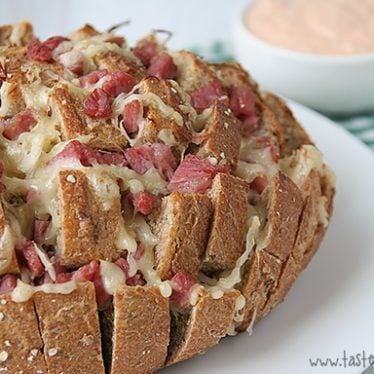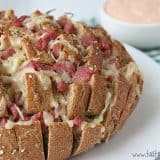 Reuben Pull Bread
---
Prep Time: 15 minutes
Cook Time: 12 minutes
Total Time: 30 minutes
Yield: 6-8 snack servings 1x
Description
The Reuben sandwich gets a makeover in this easy and crowd-friendly appetizer.
---
Scale
Ingredients
1 loaf rye bread
1/2 cup sauerkraut, drained
1 1/2 cups chopped corned beef
1 1/2 cups shredded Swiss cheese
1/2 cup sour cream
1/2 cup ketchup
1/4 cup relish
---
Instructions
Preheat the oven to 400°F.
Score the loaf of bread paralell and perpendicular in 1-inch cubes, making sure not to cut all of the way through the bread.
In a bowl, combine the sauerkraut, corned beef and Swiss. Put the loaf of bread on a baking sheet, and carefully pulling apart the cubes, stuff the mixture into the crevices, distributing the mixture evenly over the whole loaf.
Place the loaf in the oven, and bake until the cheese is melted and bubbly, 10-12 minutes.
Meanwhile, mix together the sour cream, ketchup and relish. Season with salt and pepper.
When the loaf is done, either squirt the sauce over the top of the loaf, or serve the sauce on the side for dipping.
————————–
Recipe from The Rachael Ray Show