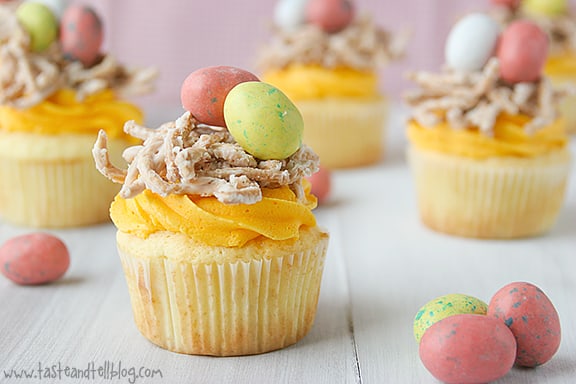 It's 10:30 at night.  I'm supposed to be working on this blog post.  I don't have the pictures edited or the recipe typed up.  And I keep getting distracted by playing Draw Something.  I have 2 games going – with 2 of my sisters.  I'm going to be honest here.  I'm a horrible artist.  In fact, I refuse to play the game with anyone but my sisters or my husband.  I've had a few requests come through from other friends, but I am seriously so embarrassed at my artistic skills that I'm just ignoring them.  Really – I laugh out loud at every picture that I send over.  Luckily, both of my sisters are really smart, and are really good at guessing my chicken scratch, drawn with my fat fingers.
I actually feel quite un-artistic overall, on more than just games where you have to draw different words.  I have some serious envy when I'm browsing blogs and see all of the gorgeous cakes, cookies, cupcakes and other amazing things that some of these other people come up with.  Both my daughter's and my son's birthday cakes were total disasters this year.  In fact, my son's was so bad that I made my husband pick up a cake from the grocery store on the way home, so at least he'd have a cake he could dig into for his first birthday.  It was scary.
And as creative as I wanted to be this year, I just couldn't think up any fun, unique Easter ideas that I thought I could pull off.  But I did come across these cupcakes, and thought to myself – I'm pretty sure I could pull those off!  And I did!  I won't lie – the nests were a little messy to work with, and it was hard to get the noodles to stick in just the way I wanted them to, but it all worked out.  And I think they turned out pretty darn cute.
So if you are like me, and you are looking for something easy, yet cute and Spring-like, I totally have the faith that you could pull these off.  Because seriously – if I can do it, I know you can!!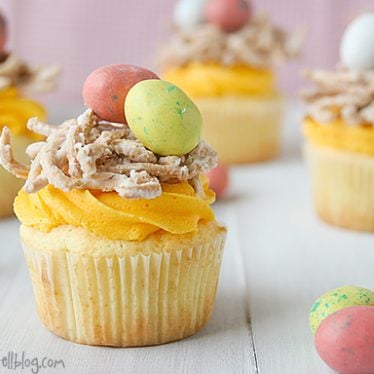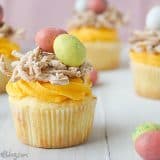 Bird's Nest Cupcakes
---
Prep Time: 30 minutes
Cook Time: 17 minutes
Total Time: 1 hour 40 minutes
Yield: 28 cupcakes 1x
Description
Citrus scented cupcakes are topped with a bird's nest made from chow mein noodles. And easy and festive Easter or Spring cupcake.
---
Scale
Ingredients
For the cupcakes:
2 3/4 cups cake flour
2 teaspoons baking powder
1/2 teaspoon baking soda
1/4 teaspoon salt
1 (8-ounce) carton sour cream
1/3 cup orange juice
1 tablespoon finely shredded lemon peel
2 tablespoons lemon juice
1 cup butter, at room temperature
4 eggs, at room temperature
1 1/4 cups sugar
For the frosting:
1/2 cup butter, at room temperature
2 cups powdered sugar
1–2 tablespoons milk
1/2 teaspoon lemon extract
coloring, if desired
For the nests:
6 ounces vanilla candy melts
4 cups chow mein noodles
egg shaped candies or jelly beans
---
Instructions
Make the cupcakes: Preheat the oven to 350F. Line 28 cupcake tins with paper liners.
In a bowl, mix together the flour, baking powder, baking soda and salt. Set aside.
In another bowl, mix together the sour cream, orange juice, lemon zest and lemon juice.
In a large bowl, or the bowl of a stand mixer, beat the butter until smooth, about 30 seconds. Add in the sugar and beat until light and fluffy, about 3 minutes. Beat in the eggs, one at a time, scraping the sides of the bowl inbetween additions.
Add in the flour mixture and the sour cream mixture alternately, beating on low, just until combined.
Spoon the batter into the cups, filling each about 3/4 full.
Bake in the preheated oven for 15-17 minutes, or until a tester inserted in the center comes out clean. Cool completely.
Make the frosting: In the bowl of a stand mixer, beat the butter until smooth and fluffy. Add in the powdered sugar, a little at a time, until incorporated completely. Add in the milk, 1/2 tablespoon at a time, until the consistency you want is reached. Beat in the extract, and any coloring, if desired. Frost each cooled cupcake with a layer of the frosting.
Make the nests: In a small microwave safe bowl, melt the candy melts for 30 seconds at a time, stirring well, until melted. Stir into the chow mein noodles, and stir to coat. Shape noodles into nest shapes to top the cupcakes. If the mixture starts to set up before you are done, return the bowl to the microwave for a few seconds.
Top each cupcake with a noodle nest, and place a few candies in the center of each nest. If you want the candy to stick, use a small amount of the frosting as glue.
————————–
cupcake and nest recipes adapted from BHG
frosting recipe from taste and tell