Rice Krispie treats are made over with a strawberry twist – perfect for Valentine's day or for any strawberry loving girl!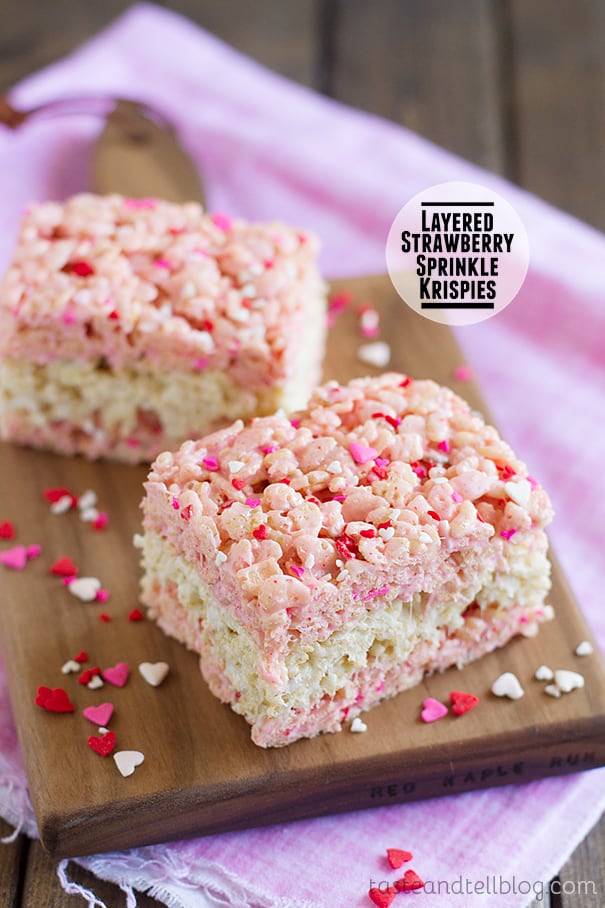 My daughter turned 5 at the end of last month. I can't believe I've been doing this whole mother thing for 5 years. It really is crazy how fast time flies. I remember bringing her home from the hospital like it was yesterday. And now she is this little person.
Before I had kids, I had this idea that I wanted to have a boy first. I have an older brother, and I always loved having that "protector". But having a girl first has been such a blessing. She is like a little mother and helps me out so much with her brothers and with anything I ask of her – I can't imagine not having my little girl first!!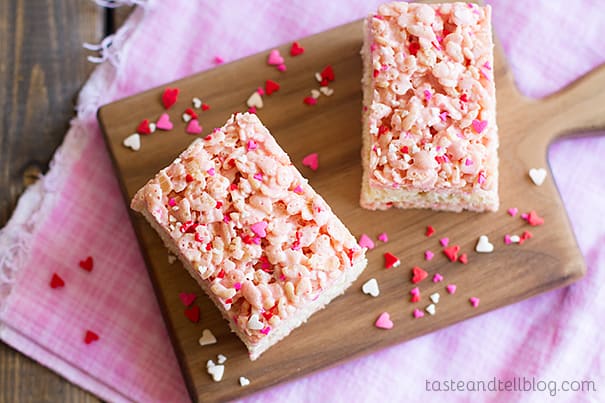 One thing has been constant since she was just a baby – she is all girl. Well, I shouldn't say "all" girl, because she loves playing with her boy cousins and loves getting dirty, but she is enamored with anything pink, sparkly, and girly. She owns numerous big tutus and wants everything to be pink. And her very favorite is anything strawberry.
All year long, she will talk about her strawberry birthday cake. She seriously counts down the days. For the last two years now, she has had the same birthday cake because she doesn't want anything but pink and strawberries.

This year, she is in preschool, and for her birthday, we got to bring a treat to share with her classmates. She knew she wanted strawberry something. (of course!) I wanted to make something the kids would love, something that would be easy to make the night before, and something strawberry (of course!) Rice Krispie treats were on the list of approved treats to bring, so I decided to go that route. The big question was how to make them strawberry?
Doing some online research, I came across these Cherry Krispie Treats from Shugary Sweets. She used flavored gelatin to flavor hers – and I thought that was a genius idea! So it was settled. Strawberry Rice Krispie Treats.
But then I made a pan, and decided that they weren't special enough just on their own. A thought came to my mind to layer them with a layer of regular Rice Krispie treats, and these were born. So much more fun than a regular Rice Krispie treat, I'd say!!
Perfect for Valentine's Day, or perfect for any little girl's birthday!
Like what you see here? Make sure you are following Taste and Tell for more great recipes and ideas!!

Facebook ** Pinterest ** Twitter ** Instagram ** Google+
or you can subscribe to my newsletter or Feedly or Bloglovin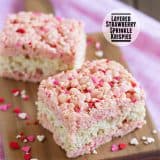 Layered Strawberry Sprinkle Krispies
---
Prep Time: 10 minutes
Cook Time: 10 minutes
Total Time: 1 hour 30 minutes
Yield: 16 bars 1x
Description
Rice Krispie treats are made over with a strawberry twist – perfect for Valentine's day or for any strawberry loving girl!
---
Scale
Ingredients
9 tablespoons butter
1 1/2 tablespoons strawberry gelatin
24 oz marshmallows
12 cups crispy rice cereal
4 tablespoons sprinkles
---
Instructions
Butter a 12×7 baking pan or 2 3-1/2×6 baking pans.
In a large bowl, melt 6 tablespoons of the butter on high. (Alternately, use a large pot on the stove top.) Stir in the strawberry gelatin. Add in 16 oz of the marshmallows and cook until the marshmallows are melted. Stir the mixture together until fully combined.
Stir in 8 cups of the cereal and 3 tablespoons of the sprinkles. Stir until completely mixed, then with buttered hands, press into the prepared baking pan. Sprinkle with the remaining tablespoon of sprinkles and lightly press in with your hands to adhere.
Let cool for about 20 minutes, then – if using on large pan, cut the rice krispies in half, forming 2 3 1/2×6 pieces.
In another bowl, melt the remaining 3 tablespoons of butter. Add the remaining 8 oz of marshmallows and continue to heat until melted. Stir in the remaining 4 cups of cereal until combined.
With buttered hands, pour the mixture on top of one of the strawberry layers. Use your hands to form the mixture to the same shape as the strawberry layer, then lightly press it into the layer, smoothing out the top. Add the second strawberry layer (sprinkle side up) to the top and press lightly to adhere the center to both strawberry layers. Let cool completely before cutting into 16 bars.
More Great Rice Krispie Treat Ideas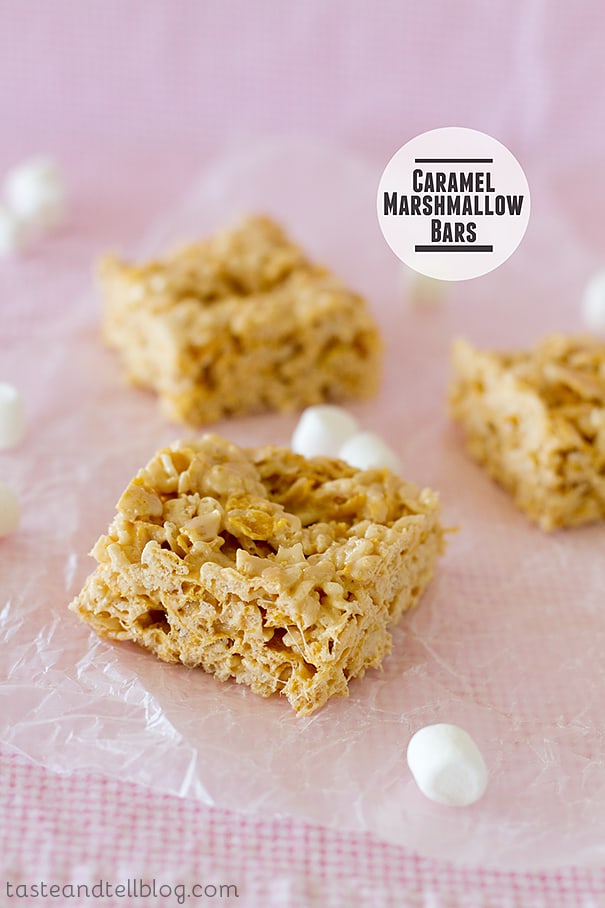 Black and White Rice Krispie Treats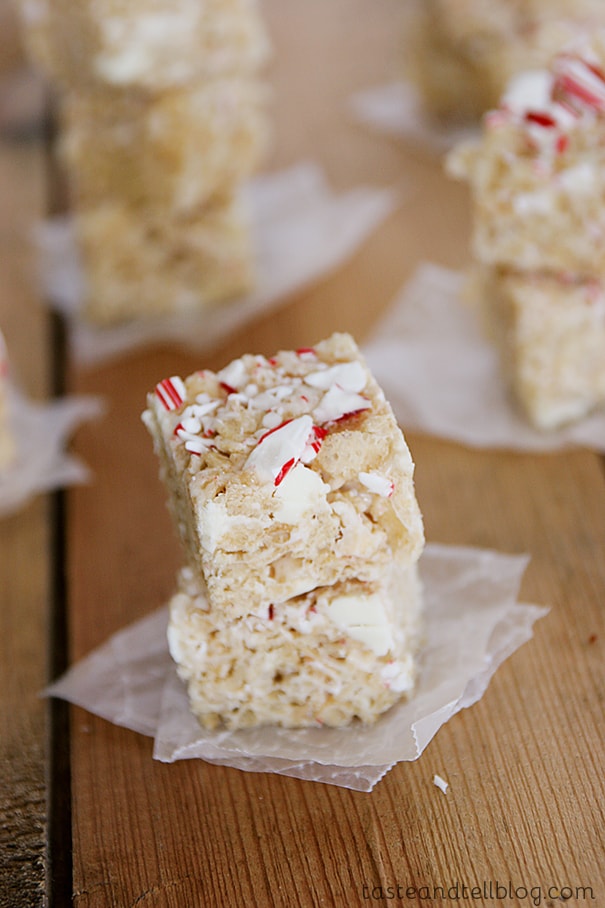 Little Peppermint Crispy Rice Squares
Around the Web:
Cocoa Reese's Krispies from Sweet Basil
Cookies and Cream Rice Krispie Treats from Lovely Little Kitchen
Strawberry Shortcake Rice Krispie Treats from Sweet Treats and More