A frosting made from candy bars! These simple yellow cupcakes are topped with a sweet and smooth Milky Way Bar frosting. Candy bar lovers will love these Milky Way Bar Cupcakes!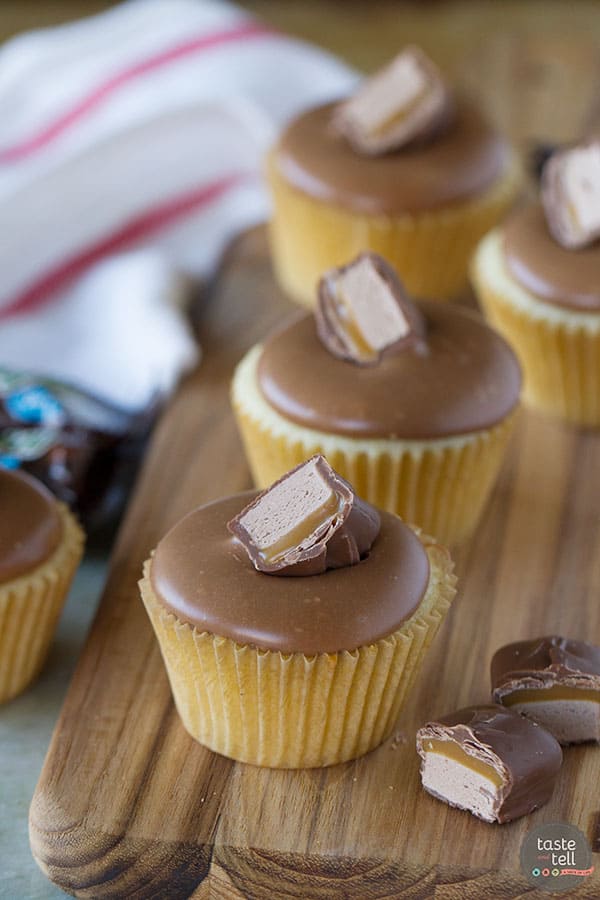 I've said it a hundred times before – one of the blessings of blogging are all of the wonderful people that you get to meet. The world today is definitely different than it was 10 or 15 years ago. Back then, if you said that you were going away to spend a weekend with a group of people that you met online, people would think that you were crazy. And probably stupid.
But today, it's totally the norm in the world that I live in. I've met some of my best real life friends through blogging. People who I have so much in common with, people who deal with many of the same issues I deal with, or people that I click with because they just "get it". I can't imagine my life now without knowing these people – whether I have met them in real life, or if they are just online friends – they make this online work life a little less lonely.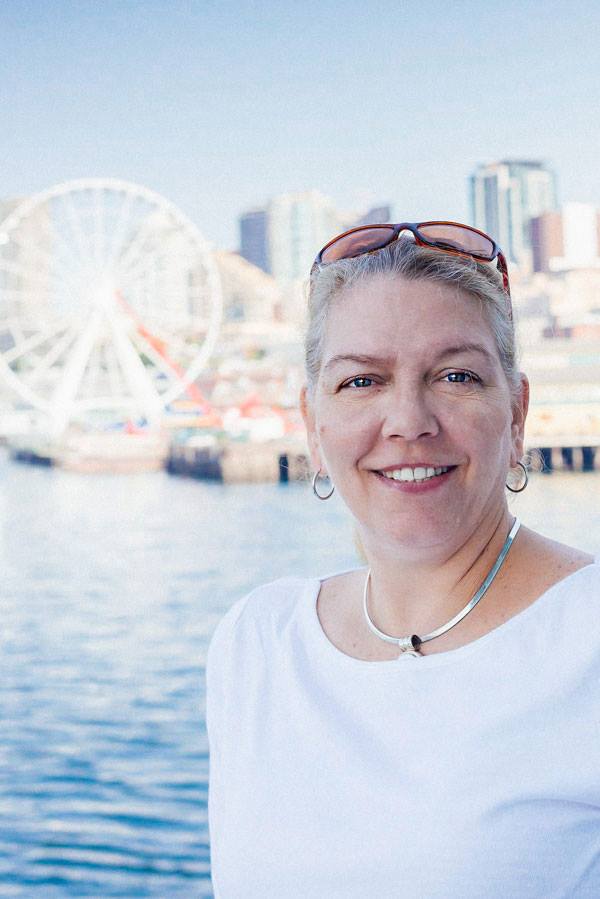 Photo courtesy Shanna Schad from Pineapple and Coconut


But it is with a sad heart that today, I say goodbye to one of the good ones. Last week, Joan from Chocolate, Chocolate and More passed away from a heart attack in her sleep. As the news surfaced, so many of her online blogging family couldn't believe it – didn't want to believe it. It's still hard to wrap my mind around it.
I've known Joan online for some time now, but finally had the honor of meeting her earlier this year at a blogging retreat. It was just a weekend, but that retreat means so much more to me now. I ran into her again just a month or so ago in Seattle and chatted with her and a few other bloggers for a few minutes. We joked about the fact that I was ditching my boots for my flip flops in the cold Seattle weather (all about comfort!) and how for her, it was as cold as winter outside. I can't help but to think of her every time I put my flip flops on now.
If you were to ask any blogger, I think one thing we would all agree about is that Joan was always so generous and giving. Nothing was ever a secret of success to her, because she was always willing to share what was working for her. I don't think she would ever turn someone down that asked for help, and was always the first to give advice.
I had to go back through my pictures from that retreat and pull some of my favorites. You can tell in each and every photo how full of life and happiness she was. She will be truly missed all throughout the blogging community and beyond.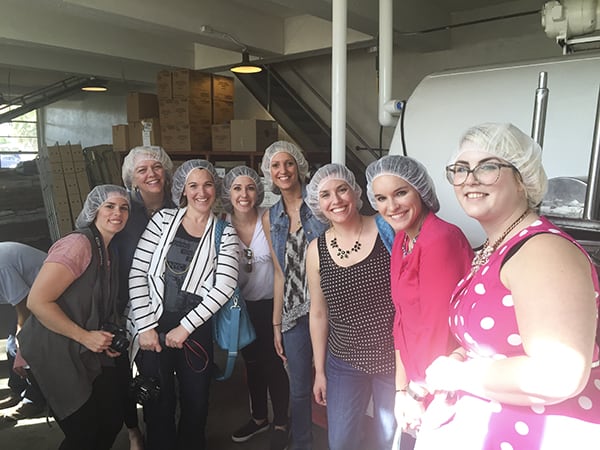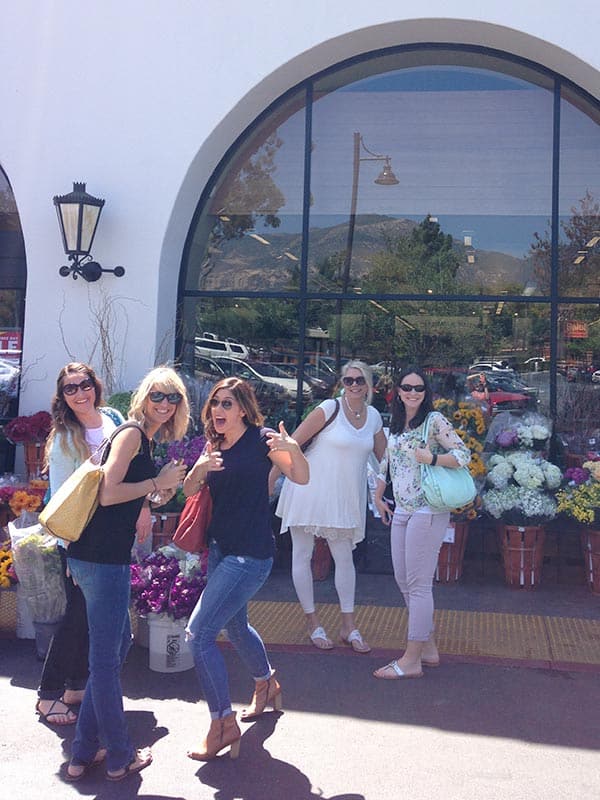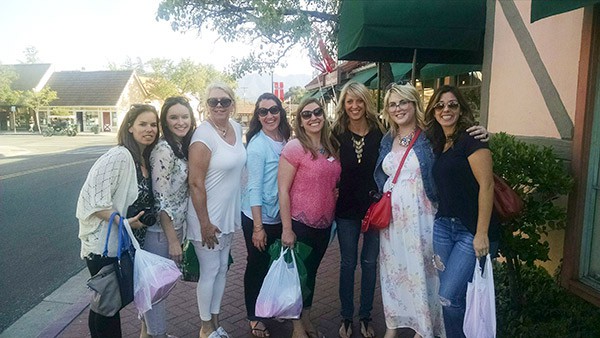 It goes without saying that Joan was a die hard chocoholic. So what better day to honor Joan than on National Chocolate Day?! I know that many other bloggers will be celebrating Joan today and in the weeks to come with lots of chocolate recipes, and I don't think Joan would have wanted it any other way. Share our love of chocolate with the world!!
Today, I am sharing a recipe that I first made over 3 years ago when I was working with Betty Crocker developing recipes. I was going through my computer last week and came across a folder with recipes, and had a bit of nostalgia looking through those recipes. It was like a goldmine! And when I saw this Milky Way Bar Cupcake recipe, I knew I had to remake them. The original cupcake was made simple with a box mix (which you totally could do) but this is my favorite basic cupcake recipe that never fails me. I've made it more times than I can count. To these cupcakes, you add a frosting made from Milky Ways. Yep, you heard that right – the frosting is actually made from Milky Way Bars. You melt them down with a few other ingredients and it makes this wonderfully sweet, delicious frosting. Candy bars + cupcakes equal one awesome cupcake!!
I do want to mention that Joan's family will be keeping her blog alive. She left behind 3 children, and the revenue from her blog will be going to support them. So I beg you to follow her blog – subscribe to her Facebook page, pin from her blog, just read and make her recipes – anything will help in keeping the blog alive a long time to come for her family.
And I would also urge you to know the symptoms of a heart attack. Joan went to bed with a stomachache, which I didn't know is one of the leading signs of a heart attack in women. Know your family history, or know they symptoms if you are at risk. This is the third blogger that I can think of off the top of my head that we have lost because of a heart attack, and it makes my heart sad. Know the signs so that you can get checked when needed. xoxo!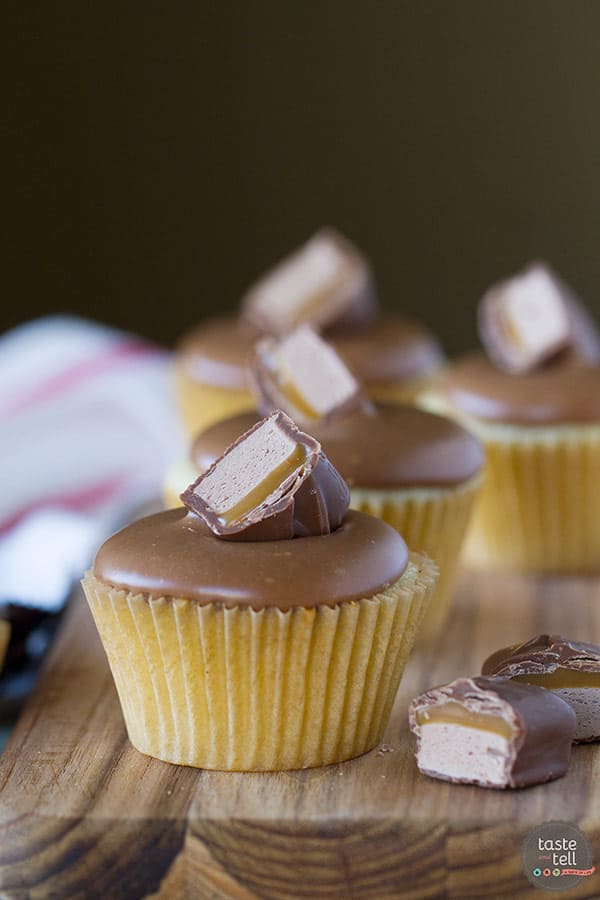 Like what you see here? Make sure you are following Taste and Tell for more recipes and ideas!
Facebook | Pinterest | Instagram | Twitter | Google+ | Weekly Newsletter | Feedly | Bloglovin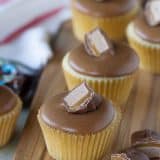 Milky Way Bar Cupcakes
---
Prep Time: 30 mins
Cook Time: 12 mins
Total Time: 42 mins
Yield: 18 cupcakes 1x
Description
A frosting made from candy bars! These simple yellow cupcakes are topped with a sweet and smooth Milky Way Bar frosting. Candy bar lovers will love these Milky Way Bar Cupcakes!
---
Scale
Ingredients
Cupcakes:
1 1/2 cups all purpose flour
1 1/2 teaspoons baking powder
1/2 teaspoon salt
1 cup sugar
1/2 cup butter, at room temperature
2 eggs
1 teaspoon vanilla extract
1 cup buttermilk
Milky Way Frosting:
12 oz (about 12 fun-sized) Milky Way candy bars
1/3 cup butter
1 1/2 tablespoons milk
1 teaspoon vanilla
2 cups powdered sugar
additional chopped or cut Milky Way candy bars, for garnish
---
Instructions
Preheat the oven to 325F. Line 18 cupcake tins with paper liners.
In a bowl, whisk together the flour, baking powder and salt.
In the bowl of a stand mixer, beat together the sugar and the butter until light and fluffy, about 2 minutes. Add in the eggs, one at a time, beating well after each addition. Scrape the sides of the bowl as needed. Beat in the vanilla.
Add one-third of the flour mixture, beat to combine, then half of the buttermilk. Repeat with another third of the flour and the remaining buttermilk, followed by the remaining flour, beating just until combined between each addition.
Divide the mixture between the 18 cups, filling each about ⅔ full. Bake until a tester comes out clean, about 18 minutes. Remove from the pans and cool completely.
To make the frosting, bring a small saucepan with about 1 inch of water to a simmer. Combine the candy bars, butter and milk in a large heat-proof bowl and set over the simmering water. Cook for 10-12 minutes, stirring frequently, until the candy bars have melted and the mixture is smooth.
Remove the bowl from the heat and stir in the vanilla. Add the powdered sugar and beat with a hand mixer (or stand mixer) until the mixture is smooth. (You can do this by hand as well, but it will be a little more difficult.)
Let the mixture sit for 10 to 15 minutes until just warm to the touch. Transfer the frosting to a piping bag fitted with a large round tip. Pipe the frosting onto the cooled cupcakes. It's easiest to pipe it from the middle and let the frosting spread out to the edges a bit. Immediately top with a candy bar piece.
Recipe Notes:
*This frosting is very sweet, so feel free to go light on the frosting. You may have some frosting left over, but it's delicious on it's own. Not that I would know or anything…
*The frosting sets up more as it cools. If you frost the cupcakes immediately, it will spread and probably drip off the side of the cupcakes. I like to wait 10-15 minutes, when it is still barely warm, as it will still slightly spread but not much at all. If you want it set up even more, you can let it sit even longer before piping it onto the cupcakes.
Frosting recipe originally posted on Betty Crocker
Don't miss a thing! Follow me on Pinterest to see what I'm pinning!
Visit Taste and Tell's profile on Pinterest.