Start Halloween morning off with a spooky pancake breakfast with these Spiced Ghost Pancakes.
*This post is sponsored by Bisquick*
I have always loved Halloween. Growing up, my brother was really into haunted houses and masks and dressing up. It was always a favorite of ours when he would make a haunted house in the basement at my grandparents' house on Sunday nights. Thinking back now, I have to laugh, but at the time, it was all very scary.
But I think that is where my love of Halloween came from. I always loved Halloween night and the decorations and the trick-or-treating. (And of course the candy!!)
It's fun now that my kids are getting a little bit older and really getting into Halloween. Abbi has always loved it – I think because she just loves to dress up. But even Easton decided what he wants to be this year and can't stop talking about taking his pumpkin around to trick or treat.
While we'll probably have a big pot of chili on the stove waiting while we trick or treat on Halloween night, I thought it would be fun to start the day off with a festive breakfast. And what's better than pancakes??
These pancakes are super easy and so good – filled with all of the spices that scream fall. They start with Bisquick, so they come together super easy and super fast. The whipped cream ghosts aren't a new thing (I did them on the Pumpkin Cheesecake Bars last year), but they are not only delicious to eat on top of the pancakes, but the kids will love them!!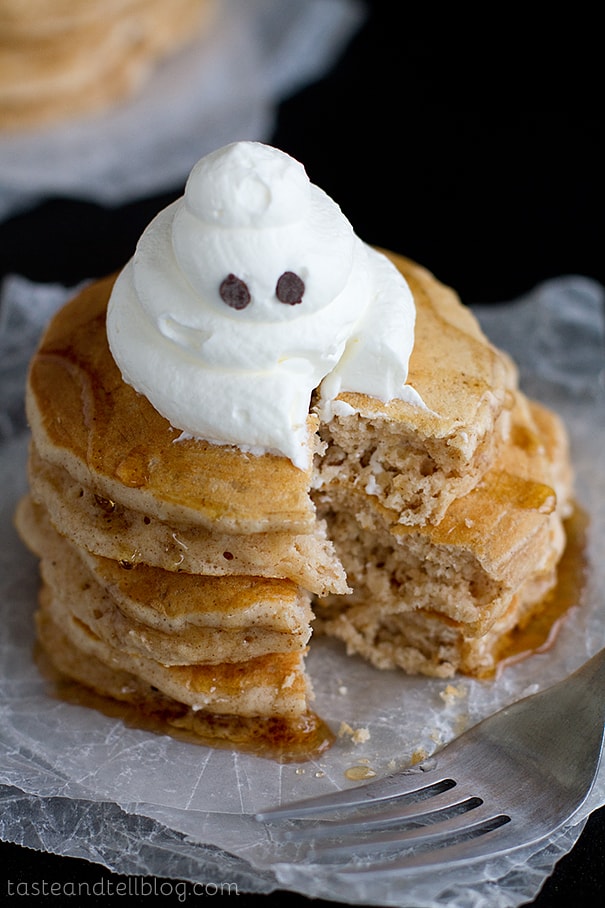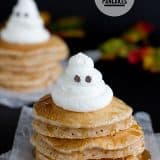 Spiced Ghost Pancakes
---
Prep Time: 10 minutes
Cook Time: 10 minutes
Total Time: 20 minutes
Yield: 6 servings 1x
Description
Start Halloween morning off with a spooky pancake breakfast with these Spiced Ghost Pancakes.
---
Scale
Ingredients
2 cups Original Bisquick® mix
2 tablespoons sugar
1 teaspoon cinnamon
1/4 teaspoon cloves
1/8 teaspoon nutmeg
Pinch of ginger
2 eggs, lightly beaten
1 cup milk
3/4 cup heavy cream
2 tablespoons powdered sugar
Mini chocolate chips
Maple syrup, for serving (optional)
---
Instructions
Heat a large skillet or griddle over medium-high heat.
In a large bowl, combine the Bisquick, sugar, cinnamon, cloves, nutmeg and ginger. Stir in the eggs and milk.
For each pancake, pour 1/4 cup of the batter onto the hot griddle. Cook until bubbly on top and set on the edges. Flip and cook on the second side.
To make the whipped cream ghosts, whip the cream until thick. Slowly add in the powdered sugar and continue to beat until you have stiff peaks. Transfer the cream to a pastry bag. Pipe the ghosts on top of pancake stacks and adhere 2 mini chocolate chips for the eyes.
Recipe Notes:
*Substitute 1 teaspoon of pumpkin pie spice for the individual spices.
*The pancakes are equally delicious without the ghosts for every day.
More Pancake Favorites:
Pancakes with Lemon Sauce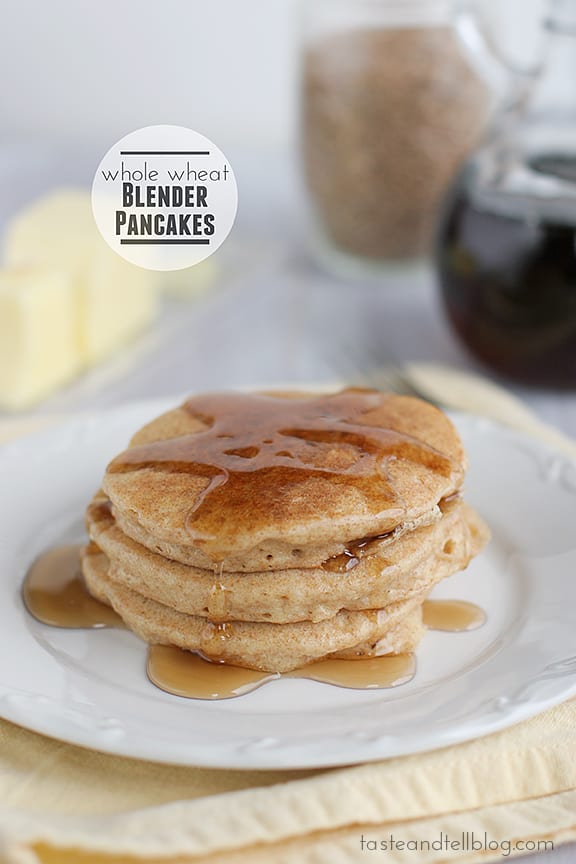 Whole Wheat Blender Pancakes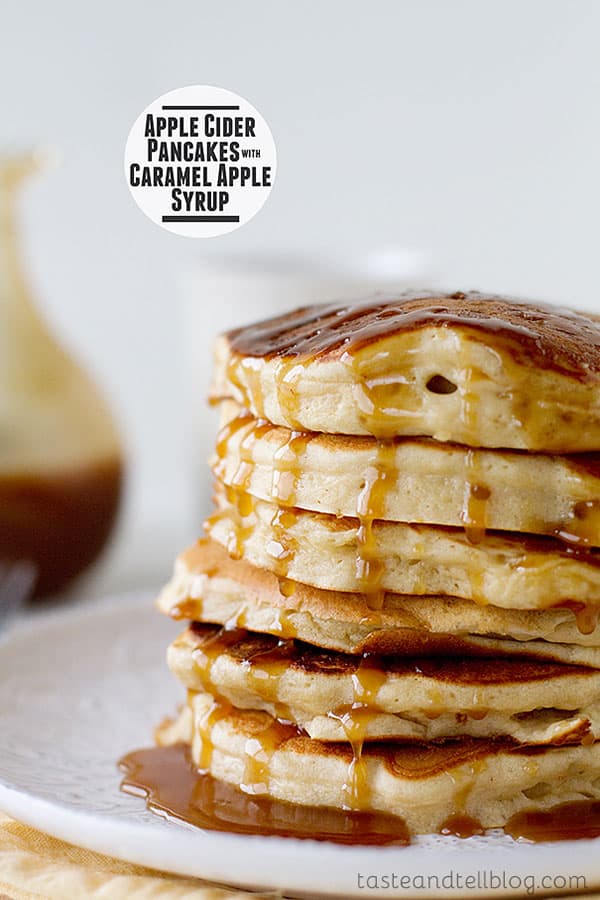 Apple Cider Pancakes with Caramel Apple Syrup
Around the Web:
Whole Wheat Brown Sugar Banana Bread Pancakes from How Sweet It Is
Pumpkin Brown Sugar Pecan Pancakes from Fabtastic Eats
Maple Cinnamon Roll Pancakes from Recipe Boy
**This post is sponsored by Bisquick, but as always, all opinions are my own.**