Chocolate lovers – this one's for you! These Ultimate Chocolate Cupcakes are chocolate cupcakes that are filled with chocolate mousse, then topped with a chocolate buttercream and a white chocolate ganache.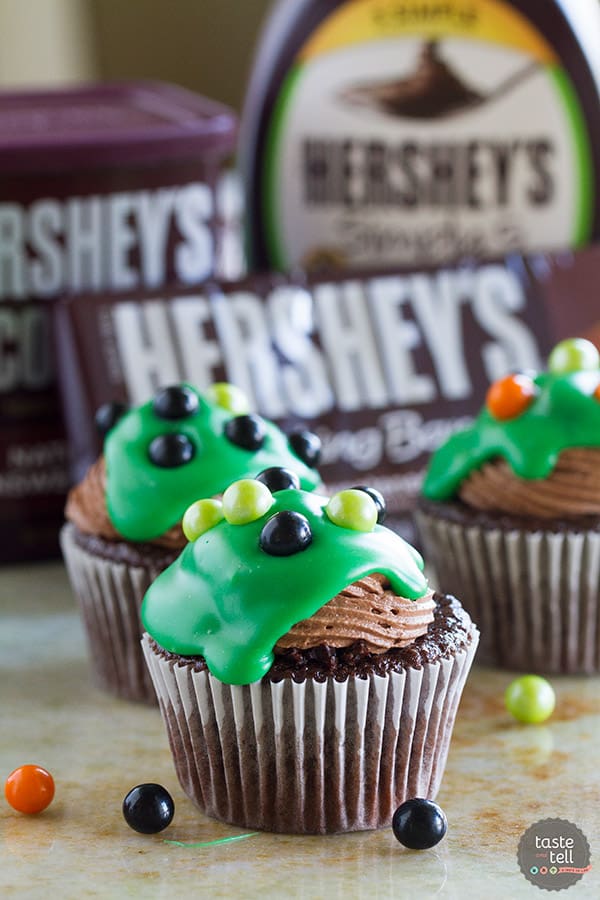 This post has been sponsored by HERSHEY.
I have always loved Halloween. Growing up, I was totally into the scary movies, the decorating, all of the Halloween candy. But now that I have kids, I think I actually love it even more.
My kids are at such a perfect age for Halloween. They are old enough to get it – picking out their own costumes and everything. In fact, my daughter has been talking about what to dress up for Halloween since last Halloween. I think she's changed her mind at least 10 times. They are all so excited, though. On October 1st, they all woke up cheering that October had finally come and that it was almost Halloween.
I may not dress up anymore (but maybe I need to change that this year?) and I've definitely moved past all of the scary movies (I've turned into a wimp), but I still love Halloween. I think it's the fact that I get to see it through my kids' eyes. And maybe it's because I get to make fun Halloween treats.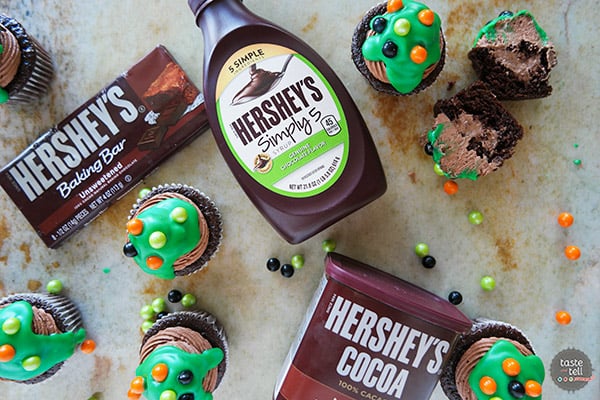 This year, it's all about these Ultimate Chocolate Cupcakes. Truly – these are for the chocolate lover. Chocolate cupcakes, chocolate mousse, chocolate buttercream and white chocolate ganache. Oh – and the candy that I topped these with had chocolate as well.
I started with a tried and true base. These chocolate cupcakes are made using the famous HERSHEY'S PERFECTLY CHOCOLATE Chocolate Cake Recipe. When I was in Pennsylvania with HERSHEY a little while back, we were able to see just how versatile this recipe is – turning it into a 3 layer cake, a 2 layer cake, a bundt cake and cupcakes. And since I knew I needed really good cupcakes, I knew I had to turn to this recipe. I did have to make some high altitude adjustments, which I often have to make with cupcakes, but I have included those changes below the recipe.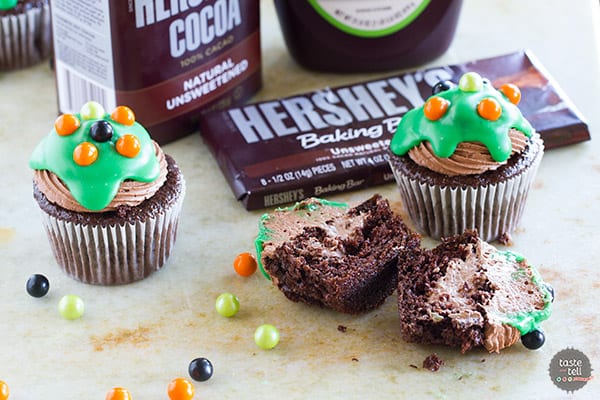 Really, though, this cupcake is all about the decorations. Now, I'm not a master cake decorator, but I do love decorating cupcakes and I knew I could make these fun for Halloween. I originally thought I'd do a chocolate ganache on top, but changed it to a white chocolate ganache so that I could color the chocolate and make it perfect for Halloween. There are a few tips I'd like to share with you, though. First, the white baking chips don't melt the same as semi-sweet baking chips will. The best way to melt the white baking chips is with a double boiler. Combine the chips with the cream, and stir, stir, stir until it is smooth. The second tip is to only use a paste food coloring. Do not try to use the liquid coloring, as it will cause the baking chips to seize up and it just won't work. You can definitely change up the color. My husband thought I should do orange, but for some reason, I just had green stuck in my head. And I loved the way these turned out! Top them with candy or sprinkles and you have a festive cupcake that tastes incredible as well. I used some candy balls that my grocery store was selling in the bulk section, but REESE'S PIECES would be perfect here!
These Ultimate Chocolate Cupcakes will be perfect for all of your Halloween parties this year!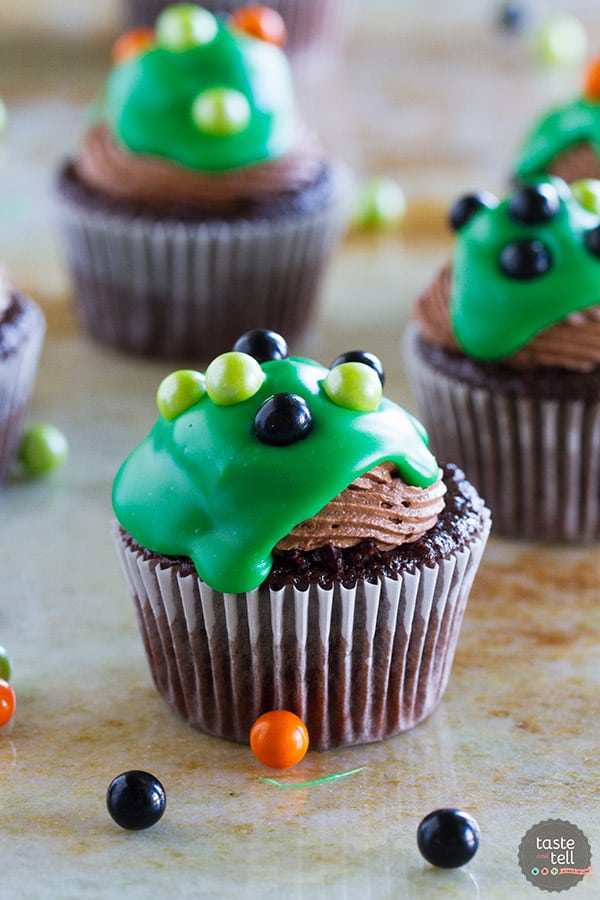 Like what you see here? Make sure you are following Taste and Tell for more recipes and ideas!
Facebook | Pinterest | Instagram | Twitter | Google+ | Weekly Newsletter | Feedly | Bloglovin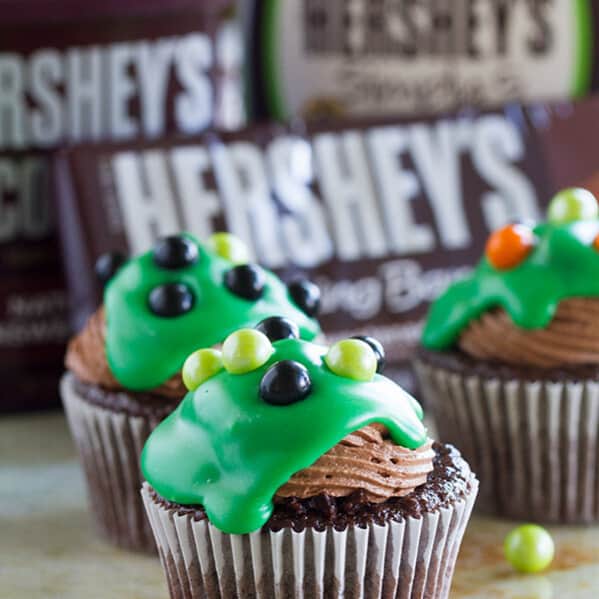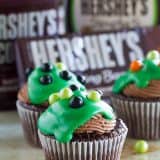 Ultimate Chocolate Cupcakes
---
Author:
Prep Time: 25 mins
Cook Time: 25 mins
Total Time: 50 mins
Yield: 36 cupcakes 1x
Description
Chocolate lovers – this one's for you! These Ultimate Chocolate Cupcakes are chocolate cupcakes that are filled with chocolate mousse, then topped with a chocolate buttercream and a white chocolate ganache.
---
Scale
Ingredients
Cupcakes:
Chocolate Mousse Filling:
Chocolate Frosting:
Green Ganache:
---
Instructions
to bake the cupcakes:
Preheat the oven to 350ºF. Line 36 muffin cups (2-1/2 inches in diameter) with paper baking cups.
In a large bowl, stir together the sugar, flour, HERSHEY'S Cocoa, baking powder, baking soda and salt. Add the eggs, milk, oil and vanilla. Beat on medium speed with a mixer for 2 minutes. Carefully stir in the boiling water. Fill each of the baking cups about 1/2 full of the batter.
Bake for 22 to 25 minutes, or until a tester inserted in the center comes out clean. Cool completely on a wire rack.
to make the chocolate mousse:
In a chilled bowl with chilled beaters, beat the cream until soft peaks form. Gradually beat in the confectioners' sugar and vanilla and continue to beat until stiff peaks form. Fold in the chocolate syrup and the cocoa. Refrigerate until needed.
to make the chocolate frosting:
Melt the chocolate in a double boiler. Allow the chocolate to cool slightly until warm.
In a medium bowl, whisk together the confectioners' sugar and cocoa. Beat in the butter until smooth. Add the melted chocolate and continue to beat. Add the cream and the vanilla, then beat for 2-3 minutes, until the frosting is light and fluffy.
to make the ganache:
Combine the white baking chips and the cream in a double boiler. Cook over low heat, stirring frequently, until the baking chips are melted and the mixture is smooth. Stir in the paste food coloring.
to assemble the cupcakes:
Cut a cone shape about ¾" in diameter and ¾" deep with a sharp paring knife. Cut off the pointed end of the cone and reserve the top. Fill each hole with about 1 teaspoon of the mousse, then cover with the reserved tops.
Place the chocolate frosting in a piping bag fitted with a decorative tip. Pipe the frosting onto the cupcakes.
While the ganache is still warm, drizzle a spoonful over the top of the cupcakes, letting the ganache drip down over the frosting. Place the decorations in the ganache before it completely sets up.
Recipe Notes:
For high altitude:
*subtract 2 tablespoons of sugar
*subtract 1/4 teaspoon baking powder
*subtract 1/4 teaspoon baking soda
*add 2 tablespoons milk
Don't miss a thing! Follow me on Pinterest to see what I'm pinning!
Visit Taste and Tell's profile on Pinterest.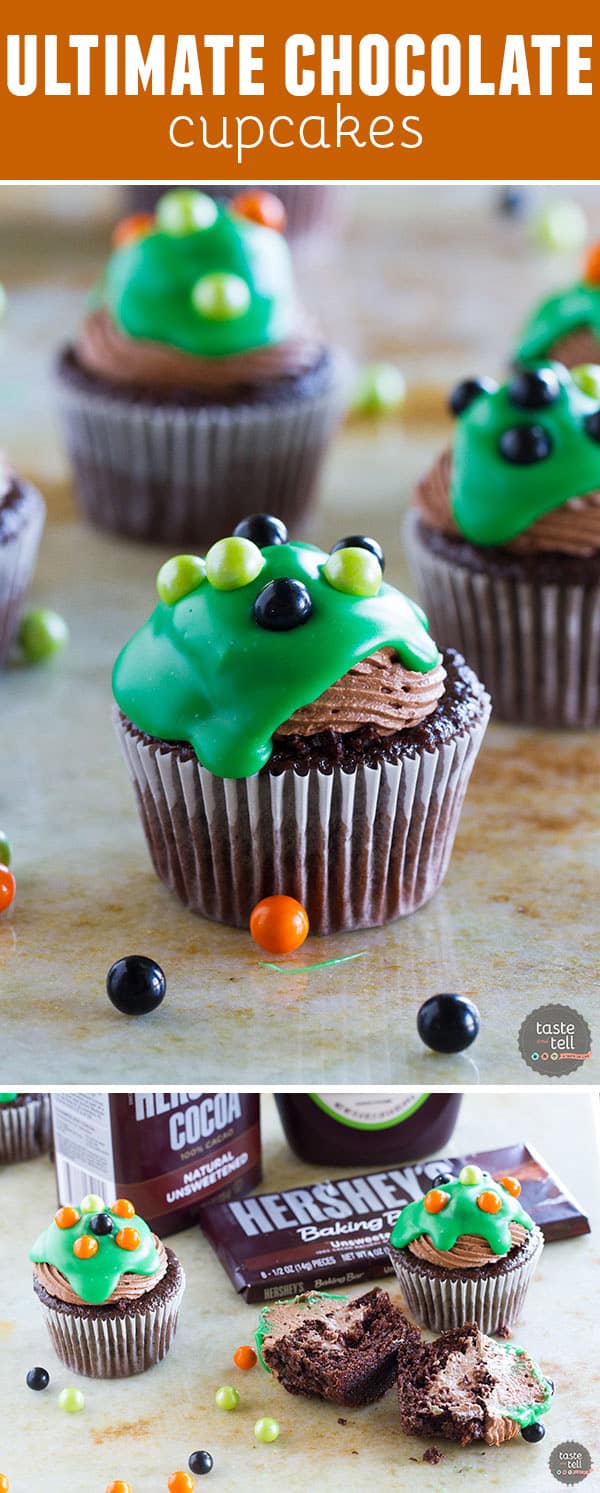 This post has been sponsored by HERSHEY, but all opinions are my own. Thank you for supporting me and the companies I partner with.