A curry and chutney chicken is the star in these Chicken Curry Bites.
Photo Updated September 2013
Originally posted December 1, 2008 – We are heading into the time of year when we need lots of appetizers, so it's a great time to bring these little bites back into the spotlight! These little wonton cups are filled with chicken with a kick. Curry paste and mango chutney give them tons of flavor. Great for game day or for a party, these Chicken Curry Bites need to be on your must-make list!
I don't have a lot to say today. I have a pile of laundry about as tall as I am, plus hundreds of blog posts that I'd like to visit today, a baby's room that needs painted, and a bathroom that is past needing to be cleaned. I keep thinking life will settle down!
I needed a good appetizer a few weeks ago, so I went to my bookmarked recipes and found this one, and I'm so glad that I chose it! These little bites were delicious. I found the recipe on a blog called Miscellany, and hers are much prettier than mine, but even so – I could have eaten these all myself. My wonton wrappers were 3″ square, and they still worked out perfectly. And they are super easy, and can be prepared in advance, which is a huge plus!!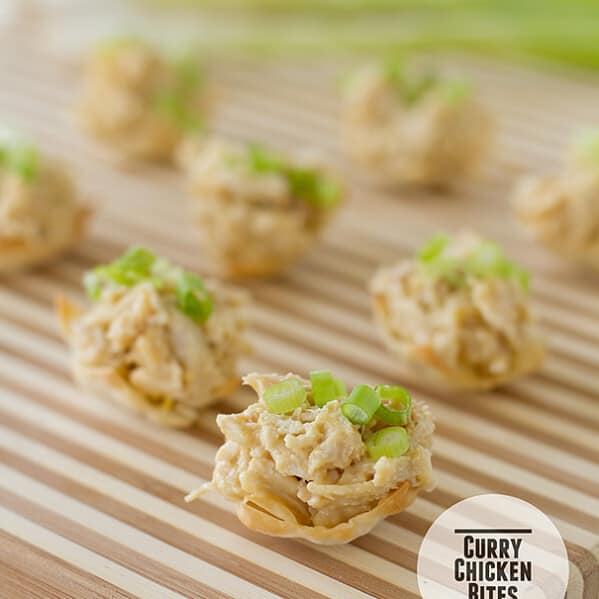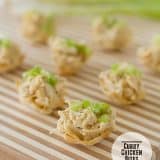 Chicken Curry Bites
---
Prep Time: 15 minutes
Cook Time: 7 minutes
Total Time: 35 minutes
Yield: 48 cups 1x
Description
A curry and chutney chicken is the star in these Chicken Curry Bites.
---
Scale
Ingredients
12 wonton wrappers, cut into quarters
vegetable oil to brush on wontons, about 2 tablespoons
2 1/2 cups shredded chicken
1/4 cup plus 2 tablespoons plain yogurt
1/4 cup mango chutney
3 tablespoons crunchy peanut butter
1 tablespoon fresh lime juice
1 1/2 teaspoons green curry paste
1/2 teaspoon salt
1/4 cup chopped green onions, for garnish
---
Instructions
Preheat the oven to 350F.
Place the wonton wrappers on a work surface and brush one side with the oil. Place in the bottoms of a miniature muffin tin, oiled side up. Bake until they are golden brown, 5-7 minutes. Remove from the oven and allow to cool completely.
In a bowl, mix together the chicken, yogurt, mango chutney, peanut butter, lime juice, curry paste and salt.
Fill each wonton cup with the chicken mixture and garnish with green onions.
Recipe Notes:
slightly adapted from Miscellany
Mango chutney can be found at most grocery stores, usually in the Asian section by the curry paste.
The wonton cups can be baked up to 3 days in advance and stored in an airtight container. The chicken mixture can be made 1 day in advance. Serve the cups once filled – they will only last a few hours.