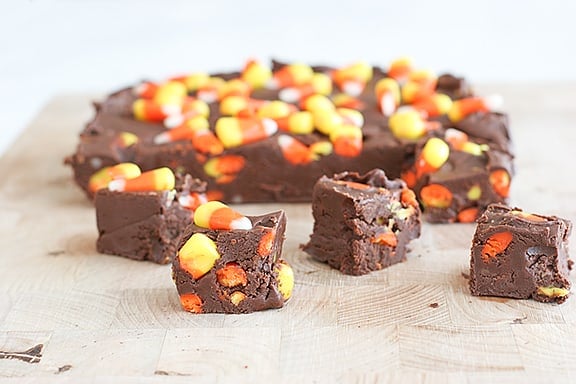 And the second Candy Corn Fudge!
I'm not known for being a decision maker.  So when it came to deciding between vanilla fudge that looked like candy corn, and a traditional chocolate fudge with candy corn in it – I just couldn't decide.  So I just made both!!
I'm actually more of a traditional chocolate fudge person myself.  I actually crave it quite often, but rarely have it.  My husband is not a fudge fan at all, so I know that if I make it, I will end up eating all of it.  (Which is both a good and a bad thing!!)  So needless to say, I don't make it very often.  But when I do, I am a happy girl!
Fudge is actually so simple to make.  I know a lot of people are intimidated by candy, but this is practically fool-proof.  Another recipe that doesn't require a candy thermometer and the hands-on time is less than 15 minutes!
This is kind of hard to make pretty slices out of, just because the fudge is softer than the candy corn – but I'm sure no one would mind because it's so delicious!
So if you are looking for a way to be festive this season, Candy Corn Fudge (either version!) just might be your answer!!
———————————-
GIVEAWAY CLOSED!!
In my Celebrate Autumn giveaway, I promised a half a pound of Candy Corn Fudge.  Well, since I love giveaways, I'm going to do another giveaway!  This one is just for 1/2 pound of fudge (1/4 pound of each kind), and all you have to do to enter is be a Facebook fan!  If you are already a fan, you are already entered.  You don't even have to leave a comment if you don't want to.  (Although I always love comments!)  And if you aren't a fan, head on over and Like my page.  It's that easy!  Sorry to any of you that aren't on Facebook – but there will be another giveaway next week that you can all take part in.  This giveaway will close next Wednesday, October 20 at 11:59pm MST, and the winner will be announced on Thursday (or a day or 2 later – you know that's how it usually goes with me!!)
Candy Corn Fudge
Easy chocolate fudge is infused with candy corn for the perfect holiday treat.
Ingredients
1 14-oz can sweetened condensed milk
2 tablespoons butter
1 teaspoon vanilla
2 cups semi-sweet chocolate chips
1 cup milk chocolate chips
1 cup candy corn, plus more for sprinkling on top
Instructions
Line a 8×8-inch pan with foil, letting the edges hang over as handles. Butter completely or spray with cooking spray.
In a double boiler, heat the sweetened condensed milk, butter and vanilla until the butter is completely melted and everything is combined. Remove from heat and add in the chocolate chips. Stir until smooth. Mix in the candy corn. Spread into the prepared pan and top with additional candy corn if desired. Let cool completely.