Lighten up a bit with this American Turkey Goulash Recipe that is filled with vegetables. Comfort food that is better for you than the original – but it's definitely not lacking on flavor!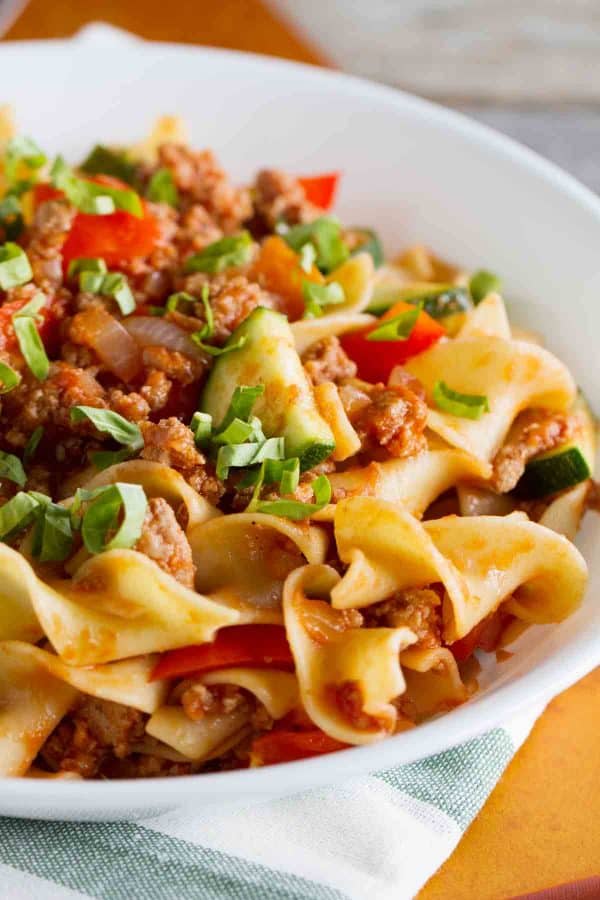 Originally posted November 3, 2008: It's that time of year when everyone is looking to make healthier choices and get in shape. I originally wrote this post nearly 10 years ago, but I still live by the rule of moderation. It's the only way for me to stay sane! But I try to make healthier dinner choices most nights so that I can splurge every once in awhile, and this American Turkey Goulash is a great, easy, good for you dinner idea. Here's to a healthy 2018!
The original post from 2008 continues below: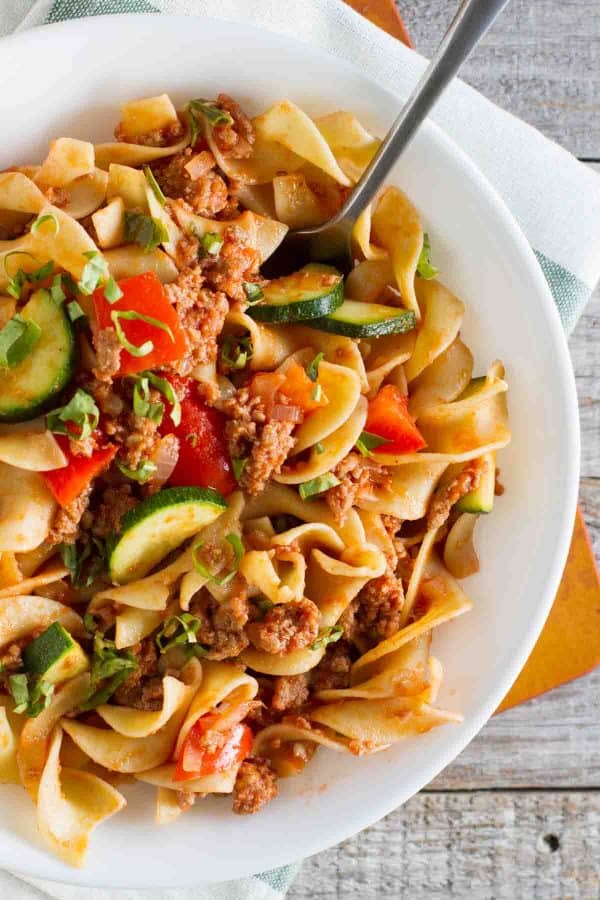 I am not a dieter. I have learned this after going through my 20's, trying just about every diet out there. I am a very average girl – body wise – but just like most women out there, I've struggled with my body image. So in come all of the diets. Some worked, others did not. But even with the ones that worked, I was never able to stick to them. I just love food too much.
So what do you do? Over the last little while, I have been learning to love what I have. And I have learned that I am an "everything in moderation" kind of girl. It would be hard for me to give up sugar, but that doesn't mean I need it every day, multiple times a day. I try to eat my veggies, and I try to cook healthy for the most part, but I will splurge sometimes and eat something that is really not healthy. It keeps me happy and it keeps me sane. That, along with regular exercise, has also kept me in the same size. (At least until I became pregnant!!) So although I'm still not 100% happy with my body, I have a healthy relationship with food and I'm actually able to enjoy eating.
I bring all of this up because the recipe I'm showing today comes from a cookbook from one of the many different "diets" out there – Body For Life. And I've actually tried this diet before, and it worked for me, and I had the lowest body fat percentage of my adult life. But like I said before, I couldn't stick with it in order to keep the results. But just because I'm not following the diet doesn't mean I can't enjoy some of the healthy recipes from it. This cookbook – Eating For Life – actually has quite a few recipes in it that I would love to try. Just because food is good for you doesn't mean it can't taste great!
This turkey goulash is an example of that. Great taste, and it's good for you! I did add some olive oil to the original recipe, because who wants to saute an onion in cooking spray? Plus, olive oil is a heart healthy oil! This is a meal you can feel good about eating!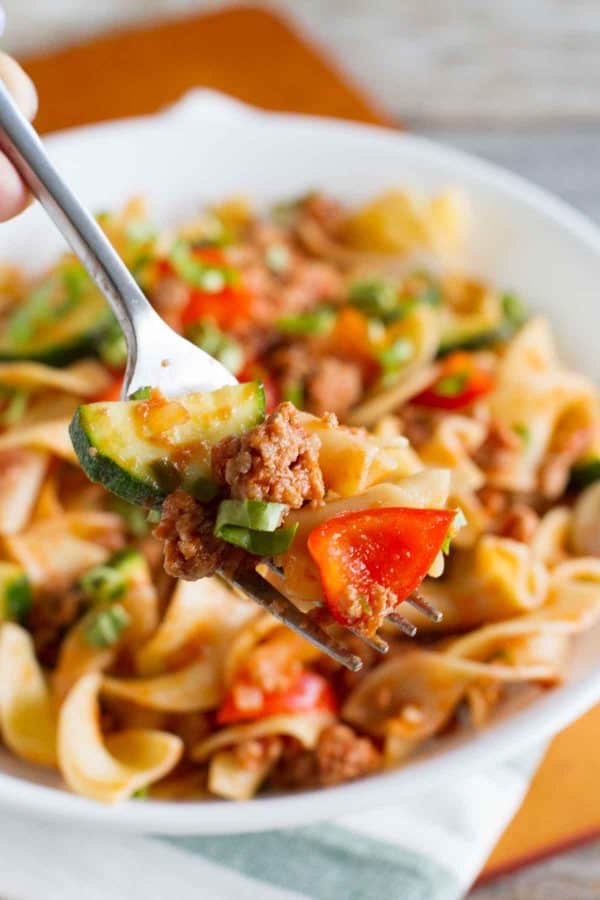 Looking for more healthy recipes?
This Slow Cooker Turkey Meatloaf is proof that comfort food can be good for you!
I am a lemon lover, and a butternut squash lover, so naturally, this Easy Lemon Chicken with Butternut Squash is a real winner!
This Lighter Cajun Chicken Pasta is the perfect lighter version of a favorite!
I'm totally intrigued by these Buffalo Chicken Zucchini Boats from The Food Charlatan
There is so much flavor in this Instant Pot Chicken Tikka Masala from TastyThin.
Like what you see here? Make sure you are following Taste and Tell for more great recipes and ideas!!

Facebook ** Pinterest ** Twitter ** Instagram ** Google+
or you can subscribe to my newsletter or Feedly or Bloglovin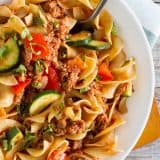 American Turkey Goulash
---
Author:
Prep Time: 10 mins
Cook Time: 15 mins
Total Time: 25 minutes
Yield: 4 servings 1x
Category: Main Dish
Description
Lighten up a bit with this American Turkey Goulash Recipe that is filled with vegetables.  Comfort food that is better for you than the original – but it's definitely not lacking on flavor!
---
Scale
Ingredients
8 oz uncooked egg noodles
2 teaspoons extra virgin olive oil
1 small onion, chopped
1 bell pepper (any color), chopped
1 medium zucchini, sliced into half moons
20 oz ground turkey
1 (15 oz) can tomato sauce
2 tablespoons fresh basil, chopped
---
Instructions
Bring a large pot of salted water to a boil.  Cook the egg noodles according to the package directions, then drain and set aside.
Heat the olive oil in a large skillet over medium heat.  Add the onion and cook for about 2 minutes.  Add the bell pepper to the skillet and cook an additional 2 minutes.  Add in the zucchini and cook for another 2 minutes.  Remove the vegetables from the skillet to a plate and set aside.
Place the ground turkey in the skillet and cook until browned and cooked through, breaking it up as it cooks.  Add the tomato sauce and cook, stirring occasionally, until heated through and slightly thickened.  Add the reserved vegetables back to the skillet and cook until the vegetables are heated through.  Add the cooked noodles and toss to coat.
Serve the goulash topped with the fresh basil.
Recipe Notes:
Adapted from Eating for Life
Nutrition information provided as an estimate only. Various brands and products can change the counts.
Nutrition
Calories: 492
Sugar: 8 g
Sodium: 732 mg
Fat: 15 g
Saturated Fat: 4 g
Unsaturated Fat: 9 g
Trans Fat: 0 g
Carbohydrates: 53 g
Fiber: 6 g
Protein: 37 g
Cholesterol: 98 mg
Don't miss a thing! Follow me on Pinterest to see what I'm pinning!