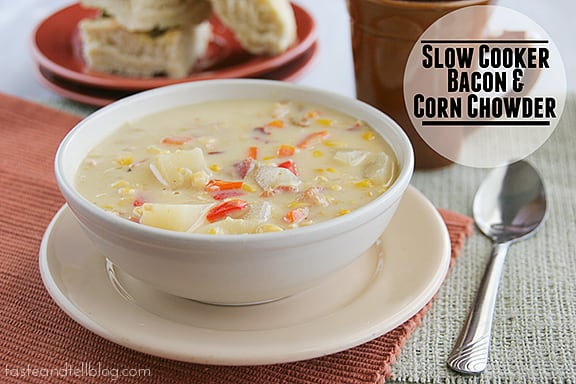 Facebook and Twitter are both full of updates about kids going back to school.  Either already back in, just started, or getting ready to go back shortly.  I have to admit – while everyone is updating and fretting about back to school, I'm secretly sitting and smiling, knowing that we can still spend all day in our pjs.  And that we can now go to the store without crowds.  And that the park and the swimming pool will be back to normal.  Yep, these are the perks of having young kids.  We have one more year before Abbi will start pre-school, and then we'll have to have a strict schedule, but until then, we are going to take advantage of our relaxed schedule and school-free days.
But I know that most of you are back in school now, and that schedules are busy and crazy.  And even if you are like me and don't have school schedules to tend to, we are all looking for ways to make dinner easy on those nights when there is just not time to spend in the kitchen.  Enter that magic appliance – the slow cooker!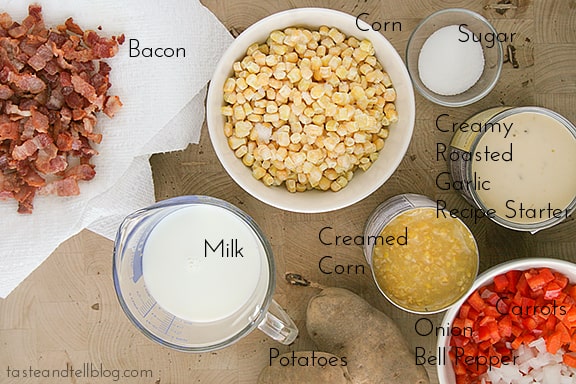 A little while back, I teamed up with Progresso.  The goal was to come up with 5 slow cooker recipes – using each of the 5 flavors of their new Recipe Starters.  I have to be honest – I was a little worried at first, worried that they would be more like condensed soups.  Now, I've used condensed soups a time a two, but it's no secret that they aren't my favorite.  But I went into this assignment with an open mind, and I'm glad that I did!  These Recipe Starters definitely don't taste like condensed soups.  And they don't have the same texture.  But what they do is add lots of flavor.  I was sold!
So over the next 2 weeks, I'm going to be bringing you my 5 slow cooker recipes.   Along with my regular posting schedule.  (Just a warning that you'll be hearing from me a lot through the end of the month!) Up first – this Bacon and Corn Chowder.  It doesn't get much easier than this.  Just chop and dump.  And then let the slow cooker work it's magic.  I used frozen corn, because when I made this corn wasn't in season, but the beauty of this recipe is that you can use either frozen or fresh.  It will work any time of year!!
So bring on the crazy nights and schedules – with recipes like this one, you'll be prepared!!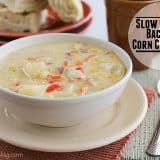 Slow Cooker Bacon and Corn Chowder
---
Prep Time: 5 minutes
Cook Time: 4 hours 30 minutes
Total Time: 4 hours 35 minutes
Yield: 4-6 servings 1x
Description
An easy slow cooker soup filled with corn – perfect for any season!
---
Scale
Ingredients
1/2 lb bacon, cooked and chopped
1/2 cup diced onion
1/2 cup diced carrot
1/2 cup diced red bell pepper
2 cups peeled, diced potatoes
2 cups frozen corn
1 (16 oz) can creamed corn
1 tablespoon sugar
Salt and pepper
1 can (18 oz) Progresso Creamy Roasted Garlic Recipe Starter
1 cup milk
---
Instructions
In a 6 to 7 quart slow cooker, combine the bacon, onion, carrot, red bell pepper, potatoes, corn, creamed corn, sugar and Progresso Creamy Roasted Garlic Recipe Starter. Season with salt and pepper. Stir to combine. Cook on low for 4 hours, or until the potatoes are tender.
Stir in the 1 cup milk and cook until warmed through, about 30 minutes. Serve warm.
**This is a sponsored post, but all opinions are my own.**