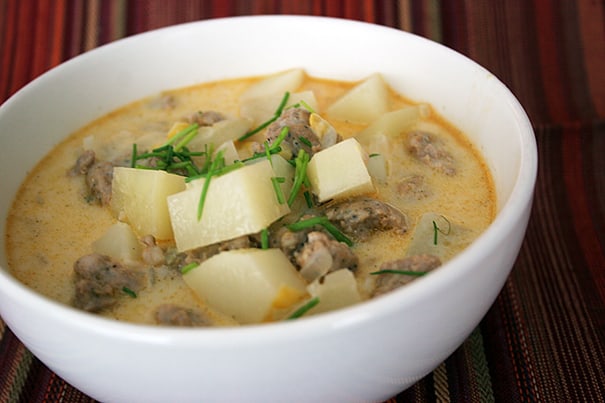 I know it is feeling like spring here, but I'm one who loves to eat soup year round. Especially in the late summer/early fall – when all of the garden produce is really good. And even though this is more of a cold weather soup, I know that even though the weather here has been nice, we still have a few chilly days in store that this would be perfect for!
I wasn't going to post about this soup because the photo isn't that great, but the way my husband ate this up – I knew I had to share!! I actually was worried that he wouldn't like this one because it has potatoes, and he's not the biggest potato fan. But I believe we had the whole batch of this eaten up within 24 hours!!
Corn-Sausage Chowder
Ingredients
1 lb. bulk pork sausage
2 medium onions, coarsely chopped
3 cups potatoes, cut into ½ inch cubes
2 cups chicken broth
1 teaspoon salt
⅛ teaspoon pepper
1 15¼-ounce can whole kernel corn, drained
1 14¾-ounce can cream-style corn
1 12-ounce can evaporated milk
Instructions
In a 4- to 5-quart Dutch oven, cook sausage and onion until sausage is browned and cooked through. Drain well.
Stir in potatoes, broth, salt, and pepper. Bring to a boil and then reduce heat. Cover and simmer for about 10 minutes or until potatoes are tender.
Stir in both cans of corn and evaporated milk. Cook until warmed through.
Garnish with chives if desired.