Comfort food in under 30 minutes! This Sloppy Joe Mac n Cheese takes the flavors of a sloppy joe and puts them in a big bowl of comforting pasta. The recipe makes 2 generous servings, but can easily be doubled or tripled to feed a crowd!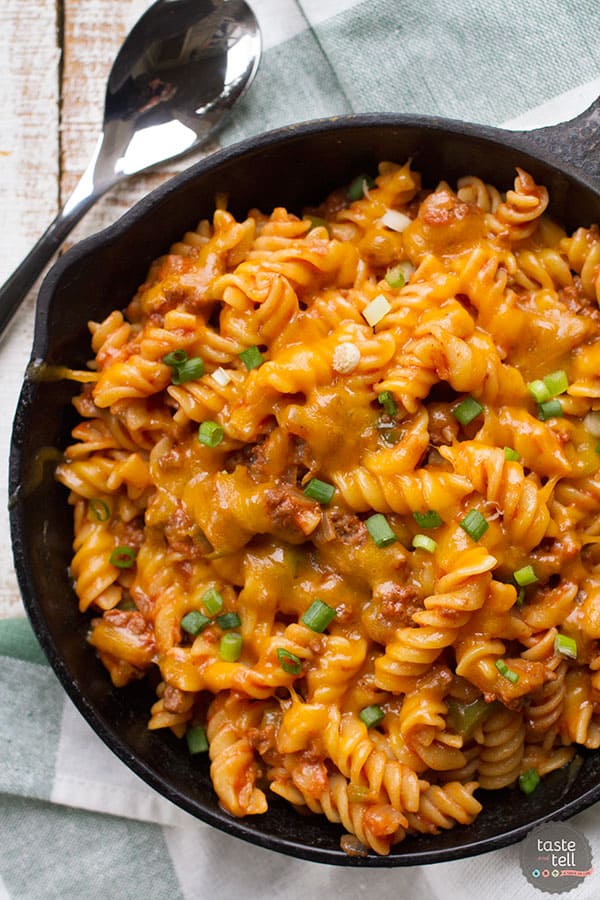 If you follow me on Snapchat (@tasteandtell), you probably would have seen my collection of cookbooks from bloggers. Maybe it's because I'm immersed in the blogger world, maybe it's because some of these bloggers I consider personal friends, and maybe it's because I fall into the category of a blogger with a cookbook – but I love cookbooks from fellow bloggers. And I'm so happy to be adding another cookbook to that collection.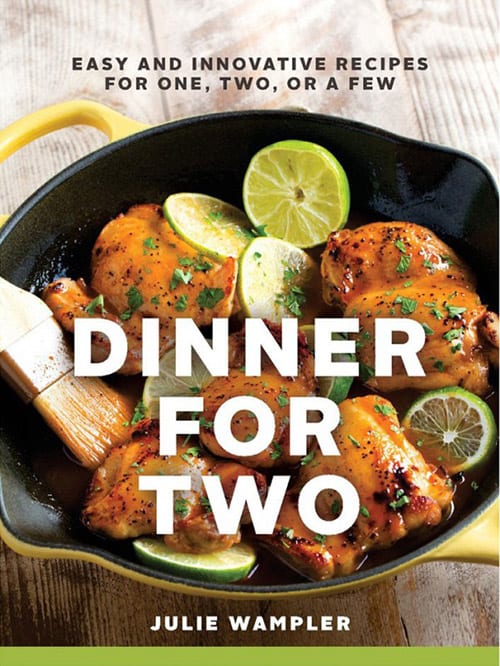 Dinner For Two – written by Julie Wampler from the blog Table for Two – is filled with over 75 recipes that are scaled down to feed one or two. A cookbook for two, you ask? I know, I know – you can definitely tell there are more than two in my household by the volume level in my house during the waking hours. But I love this book for several reasons. First, the recipes are all easy recipes that can be made on a weeknight. You all know how I feel about easy weeknight meals! Second, the recipes can easily be doubled. So really, you could feed a few, or feed a crowd. And third – since my kids are terrible eaters at dinnertime, sometimes 2 servings is all I need.
Here are the details:
Number of Photos: lots. A full page photo of every recipe. You definitely won't be left to wonder what a recipe is supposed to look like!
Difficulty Level of Recipes: easy. These recipes are meant to be easy recipes that you can pull together when you are exhausted after work. I think this book would even be good for a beginner in the kitchen,
Availability of Ingredients: easy. I don't think I saw one thing that would be hard to find. These are all everyday, regular ingredients.
Other recipes I want to try:
Roasted Tomatillo and Ranch Chicken Stuffed Shells
One Pot Jambalaya
Breakfast Enchilada Gratin
Hash Brown Waffle Huevos Rancheros
Roasted Garlic and Potato Soup
Cheesy Baked Italian Sausage Tortellini
Buy Dinner for Two on Amazon.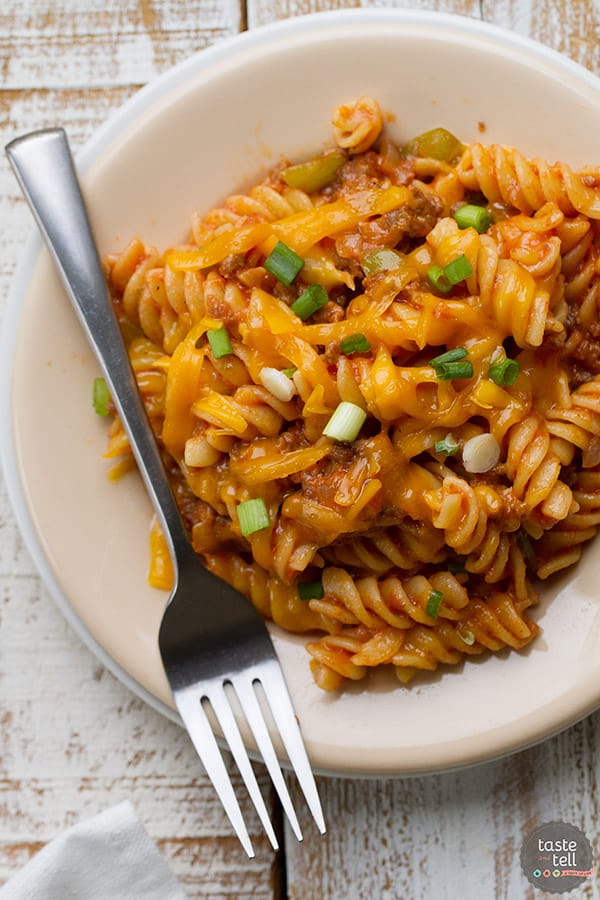 You all know that I'm a sloppy joe lover, right? I've got all kinds of versions of them here on Taste and Tell, including an Enchilada Sloppy Joe Recipe, Sloppy Dogs, Sloppy Cubanos, Chicken Sloppy Joes, Hula Joes… And that's just scratching the surface – there are even more!! But one thing I hadn't done is a pasta version of sloppy joes. So when I saw this Sloppy Joe Mac n Cheese, I knew it was in my future.
Since I knew my kids would go crazy for this mac n cheese as well, I doubled the recipe. It made enough to feed a crowd! But I was happy, because not only was it amazing that night, but it was pretty darn good as leftovers, too. And did I mention how easy and fast this was? Really, by the time my pasta was done cooking, everything else was finished and ready to go. The directions were clear, and dinner was on the table before I even knew it. It was a definite home run!!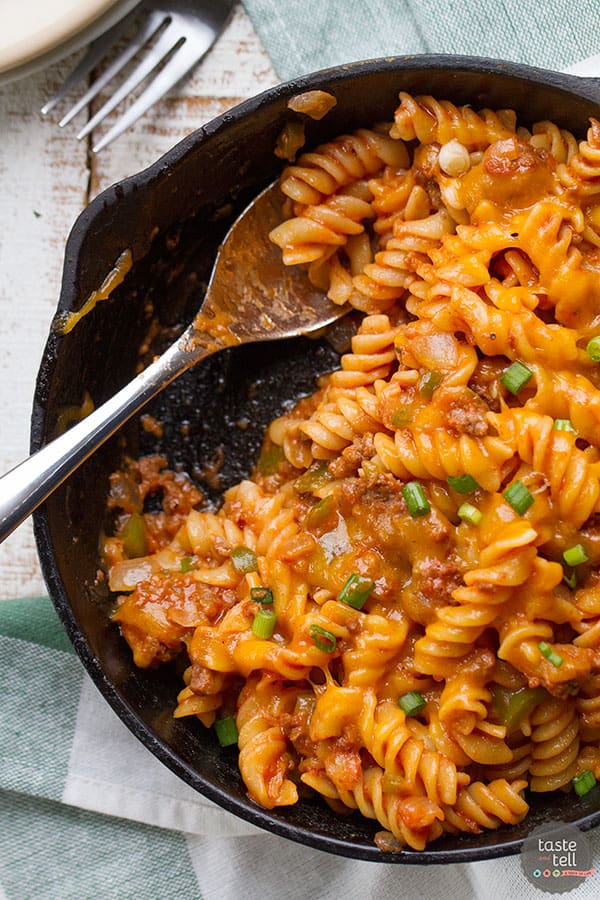 Like what you see here? Make sure you are following Taste and Tell for more recipes and ideas!
Facebook | Pinterest | Instagram | Twitter | Google+ | Weekly Newsletter | Feedly | Bloglovin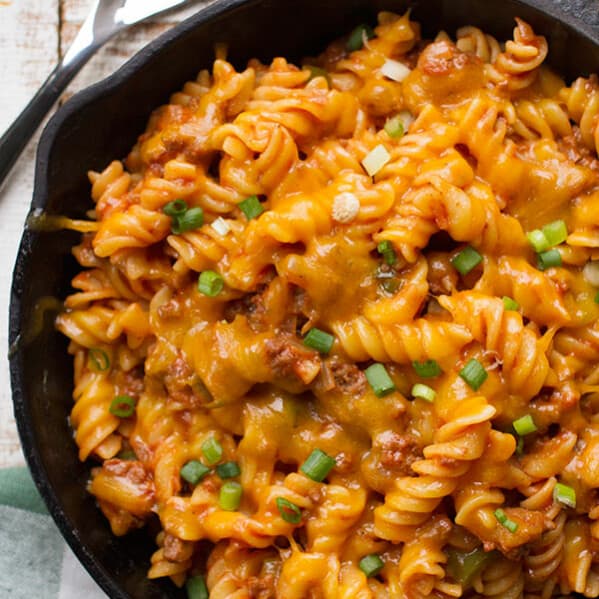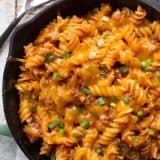 Sloppy Joe Mac n Cheese
---
Author:
Prep Time: 5 mins
Cook Time: 20 mins
Total Time: 25 mins
Yield: 2 servings 1x
Description
Comfort food in under 30 minutes! This Sloppy Joe Mac n Cheese takes the flavors of a sloppy joe and puts them in a big bowl of comforting pasta. The recipe makes 2 generous servings, but can easily be doubled or tripled to feed a crowd!
---
Scale
Ingredients
For the Sauce:
3/4 cup tomato sauce
2 tablespoons dark brown sugar
1 tablespoon tomato paste
2 teaspoons Worcestershire sauce
1/2 teaspoon kosher salt
1/4 teaspoon ground black pepper
For the Pasta and Remainder of Dish:
2 cups dry rotini (or any spiral-shaped) pasta
1 tablespoon vegetable oil
3/4 cup diced onion
1 medium green bell pepper, diced (about 1/2 cup)
2 cloves garlic, minced
1/2 pound ground beef
1 cup freshly grated sharp cheddar cheese
---
Instructions
For the sauce:
In a medium bowl, whisk together all the ingredients for the sauce and set aside.
For the pasta and the remainder of the dish:
Bring a large pot of water to a boil, and cook the pasta accordion toe the directions on the package.
In a large skillet over medium-high heat, heat up the vegetable oil. Add the onion, green bell pepper and garlic. Sauté until fragrant and softened, about 5 minutes.
Add the ground beef to the skillet and break it up with your spatula or wooden spoon. Cook until ground beef is thoroughly cooked through, about 5 to 7 minutes.
Add the sauce to the skillet. Then add the pasta (drained of excess water), and the cheese on top. Turn the heat down to medium-low, and toss the mixture until the cheese has melted and the ingredients are evenly coated and distributed throughout.
Serve warm.
Recipe Notes:
recipe reprinted with permission from Dinner For Two by Julie Wampler
Don't miss a thing! Follow me on Pinterest to see what I'm pinning!
Visit Taste and Tell's profile on Pinterest.