Simple and healthy, this Easy Lemon Chicken with Butternut Squash serves up roasted chicken breasts doused in lemon juice over roasted butternut squash.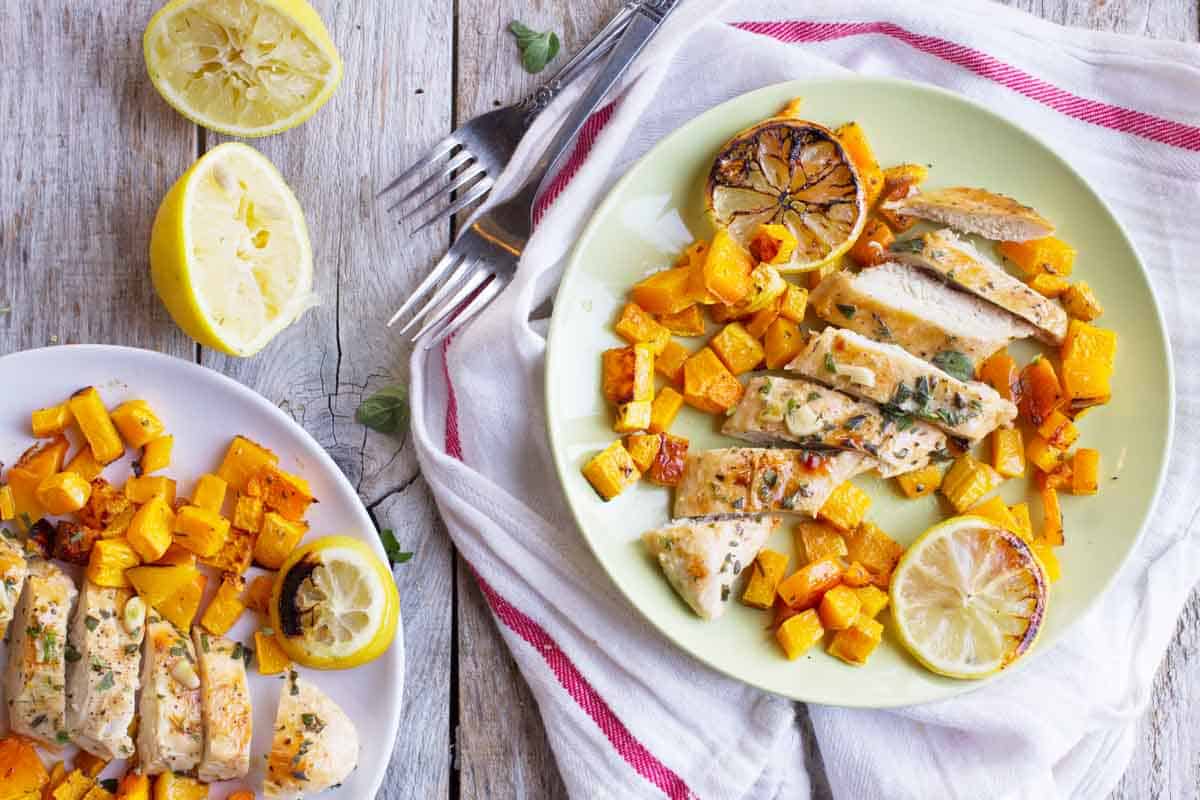 I hope you all had an amazing Thanksgiving! It is seriously one of the days that I look forward to all year long. I get to spend the majority of the day with my family, eating and talking and eating some more. But really – even though the food is a big part of it, the time with my family is really what I treasure. <3
Now let's get real here – who ate way too much yesterday? And who is feeling it today? I don't hold back on Thanksgiving. We usually have a late lunch and then graze the rest of the day. And when the pies come out? I'm a goner. I lost count this year with the number of pies we ended up with. Somewhere around the 14 or 15 mark I think? And of course, I want to try all of them. Needless to say, I left at the end of the night with a full heart and a full belly.
I wish I could say that I always wake up ready to repent of my ways and spend the day eating super healthy. But I have to have that piece of pie for breakfast, then the turkey sandwich for lunch. And then I'm ready to change my ways. By the time dinner rolls around, give me something light and something healthy.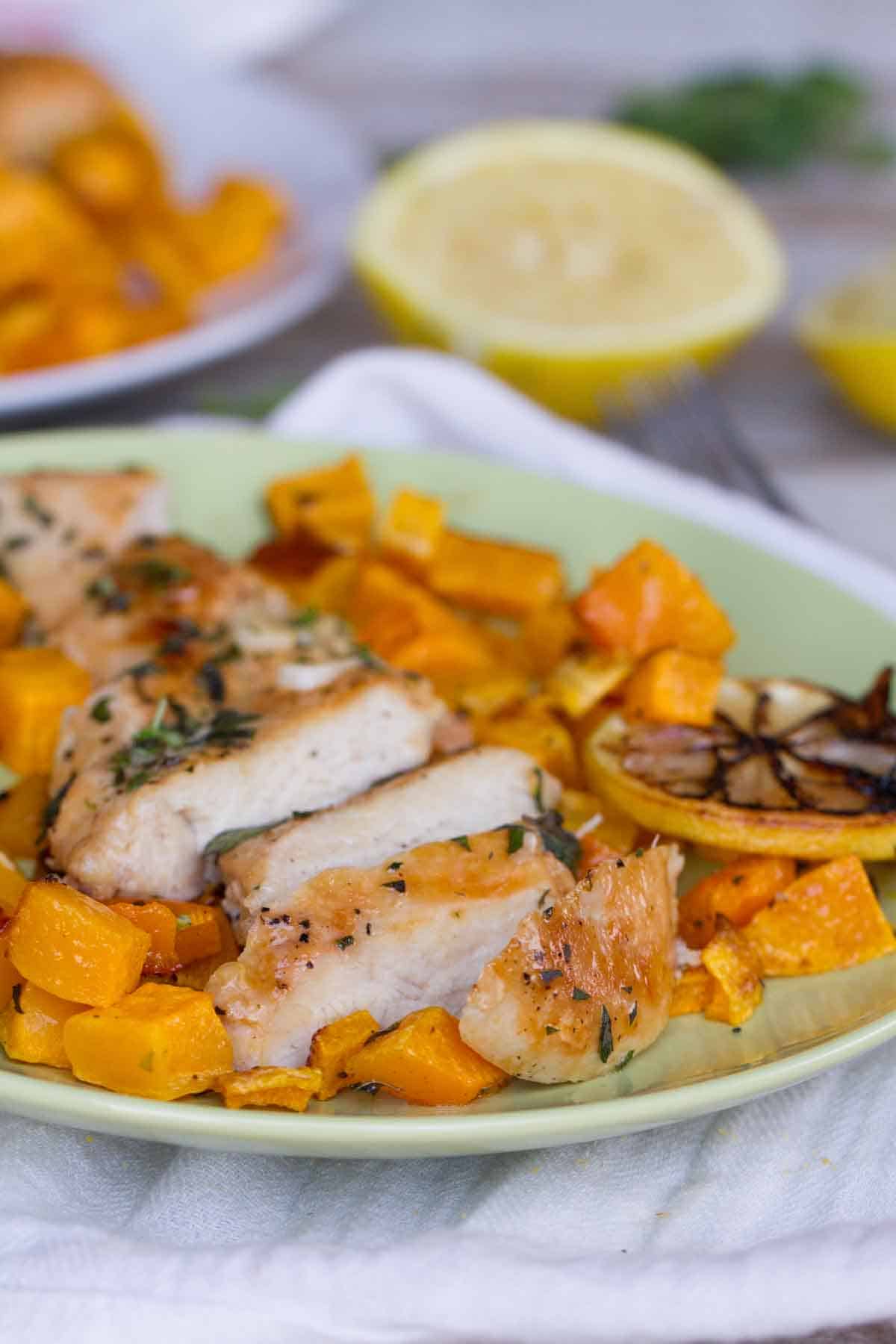 This Easy Lemon Chicken with Butternut Squash is your answer for that day after Thanksgiving dinner. Or the once you get rid of all of that leftover turkey dinner. Or really, that random Tuesday night when you need something that is easy with only a few ingredients dinner. This dinner will only set you back 6 ingredients and only about 560 calories. It's definitely a meal you can feel good about.
For the chicken, I like to get 2 larger chicken breasts (about 12 oz each) and cut them in half, opening them into 2 thinner breast pieces. I find that it's easier to cook the chicken evenly this way, and the outside doesn't get tough before the center is cooked through. Or you can pound your chicken thinner, but I always think that is more of a pain.
I'm definitely planning on adding more meals like this Easy Lemon Chicken into my meal plan over the next month as Christmas treats start to show up. It is an easy – and very tasty! – way to keep things in check!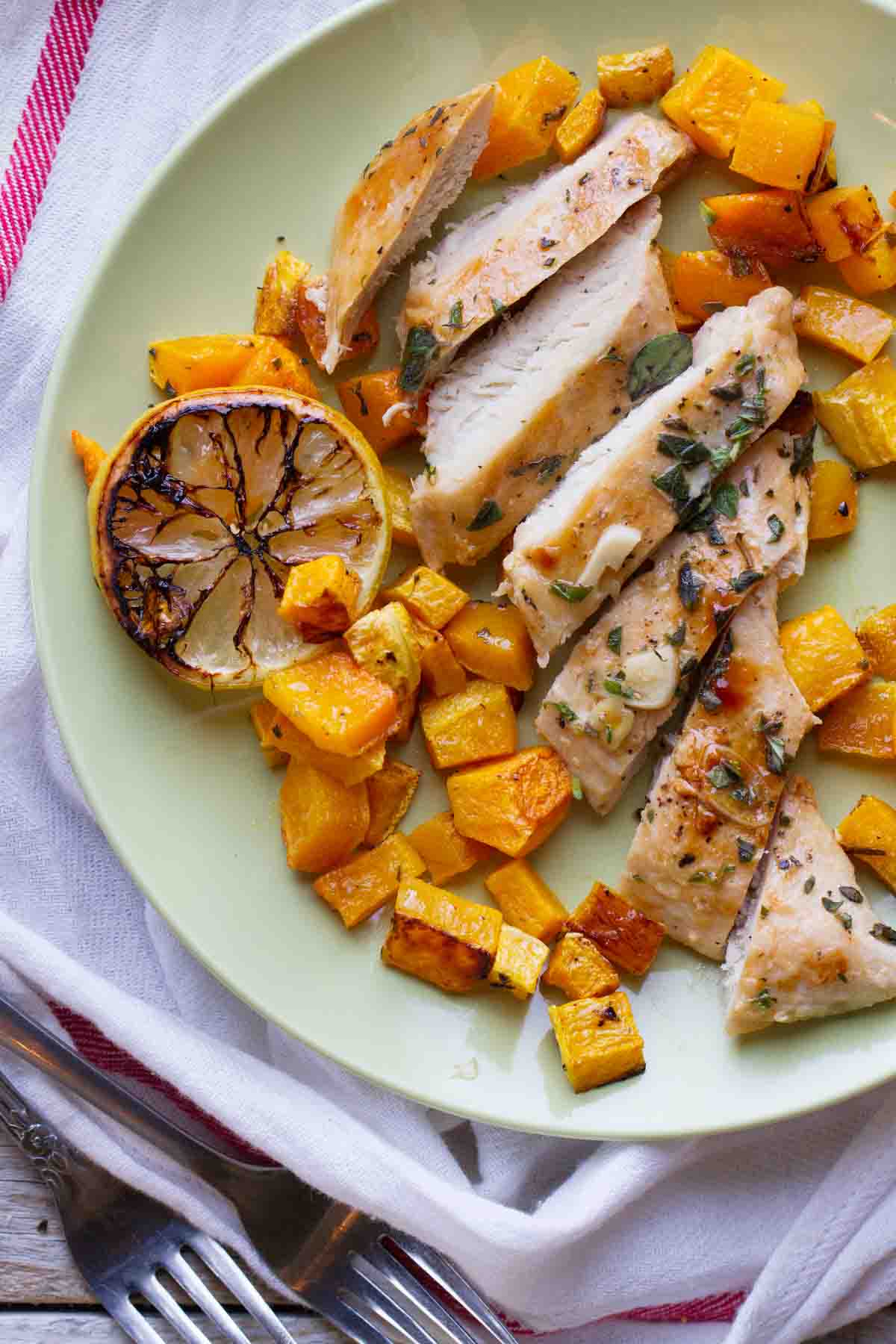 More Healthy Chicken Dinner Ideas:
Baked Chicken Parmesan
Fiesta Chicken Tacos with Mango and Jicama Salad
Honey Balsamic Drumsticks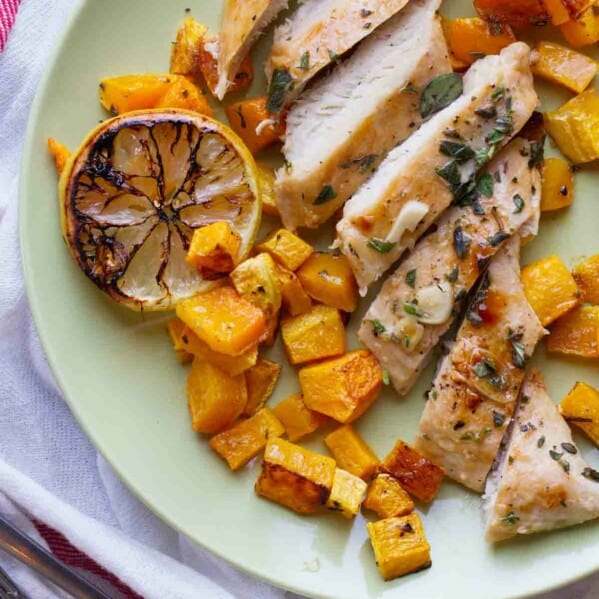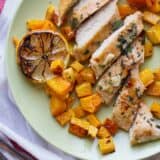 Easy Lemon Chicken with Butternut Squash
---
Author:
Prep Time: 15 minutes
Cook Time: 30 minutes
Total Time: 45 minutes
Yield: 4 servings 1x
Category: Main Dish
Method: Baked
Cuisine: American
Description
Simple and healthy, this Easy Lemon Chicken with Butternut Squash serves up roasted chicken breasts doused in lemon juice over roasted butternut squash.
---
Scale
Ingredients
1 3/4 to 2 lbs cubed, peeled butternut squash
2 lemons (1 sliced, 1 juiced)
1/4 cup extra virgin olive oil, divided
2 tablespoons fresh oregano, chopped, divided
4 (6 oz each) boneless, skinless chicken breasts*
3 cloves garlic, thinly sliced
---
Instructions
Preheat the oven to 450ºF. Place the squash in a large bowl and add the sliced lemon, 2 tablespoons of the olive oil, 1 tablespoon of the oregano, 1/2 teaspoon of salt and 1/4 teaspoon pepper. Stir to coat, then transfer to a rimmed baking sheet. Roast, undisturbed, until the squash is tender and browned on the edges, about 30 minutes.
Meanwhile, season both sides of the chicken with salt and pepper. Heat a large oven proof skillet over medium high heat. Add the remaining 2 tablespoons of olive oil, then add the chicken. Cook until the chicken is browned on one side, 3 to 5 minutes. Flip the chicken, then transfer the skillet to the oven. Roast until the chicken is cooked through, 5-8 minutes.
Return the skillet to the stove over medium heat. Add the garlic and cook for 1 minute. Add the lemon juice, then sprinkle the remaining 1 tablespoon of fresh oregano over the top. Cook, spooning the pan juices over the chicken, for about 1 minute. Serve the chicken with the roasted butternut squash and lemon. Drizzle the chicken with the pan juices.
Recipe Notes:
*I will usually take 2 larger chicken breasts and cut them open horizontally to make 4 thinner pieces. They cook a lot more evenly when they are thin.