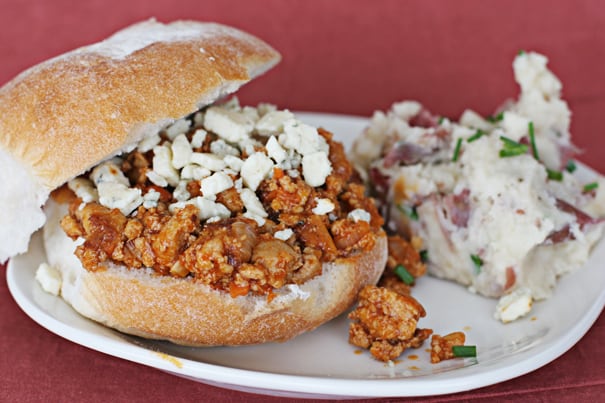 I think that sloppy joes are one of those foods that (most) everyone loves, but few are willing to admit it. Maybe it's because they are far from sophisticated or gourmet. Good thing I'm not really sophisticated or gourmet, because I'll gladly admit that I love sloppy joes!
Another thing I love are buffalo wings. So when I saw this recipe that combines sloppy joes and buffalo wings, I knew I had to try it. This isn't the first time I've tried a twist on the sloppy joe – and they all come from the woman we all either love or hate – Rachael Ray. And I have to say, this one is another winner!! And to go along side the joes are a twist on potato skins – but a little healthier. Both were delicious and made for a wonderful weeknight dinner.
Next time you are looking for something to please both kids and adults alike, give these a try!
Sloppy Buffalo Joes
A buffalo version of the sloppy joe.
Ingredients
2 tablespoons extra virgin olive oil
2 pounds ground chicken
1 carrot, peeled and chopped or grated
2 stalks celery, chopped
1 yellow onion, finely chopped
2 to 3 cloves garlic, finely chopped
salt and pepper
2 tablespoons red wine vinegar
2 tablespoons brown sugar
1 tablespoon Worcestershire sauce
¼ to ⅓ cup hot sauce (such as Frank's Red Hot)
1 cup tomato sauce
½ cup chicken stock
8 good quality burger rolls, split and toasted
1 cup blue cheese crumbles
Instructions
Heat the olive oil in a large skillet over medium-high heat. Add the meat and cook until browned. Add in carrots, celery, onions and garlic; season with salt and pepper. Cook 7 to 8 minutes more. In a small bowl, combine the vinegar, brown sugar, Worcestershire, hot sauce, tomato sauce and chicken stock. Pour into the pan and stir to combine all ingredients. Simmer for a few minutes until the mixture thickens up.
Pile filling on the prepared buns and top with blue cheese.
Mashed Potato Skins
A healthier version of potato skins
Ingredients
6 slices bacon
2 pounds small red potatoes, halved
1 cup buttermilk
salt and pepper
¼ cup fresh chives, chopped
½ cup extra-sharp cheddar cheese
Instructions
Preheat the oven to 350F.
Arrange the bacon on a wire rack on top of a sheet pan and bake until crisp, about 12 to 15 mintues. Cool and chop.
Put potatoes in a medium sauce pan and cover with water. Bring the water to a boil and season with salt. Cook until tender, about15 mintues.
Drain and mash potatoes with the buttermilk. Season to taste with salt and pepper. Stir in the chives, chedder and bacon.