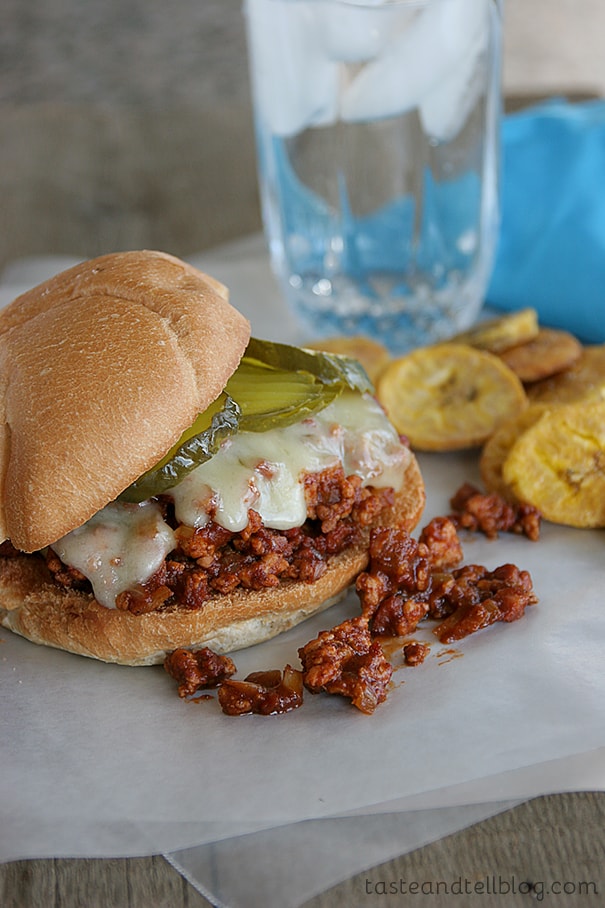 One of my favorite parts of doing these Saturdays with Rachael Ray posts has been seeing the recipes that have been linked up. As much of a Rachael Ray lover that I am, I am still introduced to recipes that you all have made that I somehow missed. It's not like my list of Rachael Ray recipes isn't long enough, but you all help me to add even more to it! This recipe, which I'm still surprised that I missed in the magazine the first time through, was actually linked up by two different people at different times. I'm a lover of sloppy joes, and I've made several of Rachael Ray's versions in the past. And I also love Cuban sandwiches. So when you combine the two – of course I wanted to try this one!! And what's not to love about this recipe? Chorizo and ground pork are combined with spices, lime juice and a bit of tomato sauce, and then the sandwiches are topped with melty Swiss cheese. And don't forget the pickles. The pickles are an important and necessary part of these sandwiches!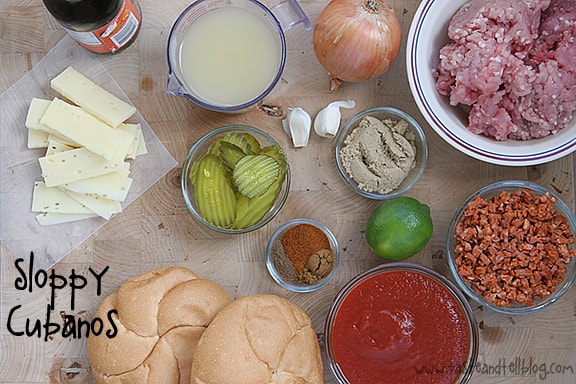 And just as a side note, I also made some plantain chips to eat with this sandwich – wanting to keep with the whole Cuban theme. It was my first time preparing and eating plantains, and I was definitely a fan! I used this Martha Stewart method, and I'd definitely make them again! In fact, I'm looking forward to working with them again!!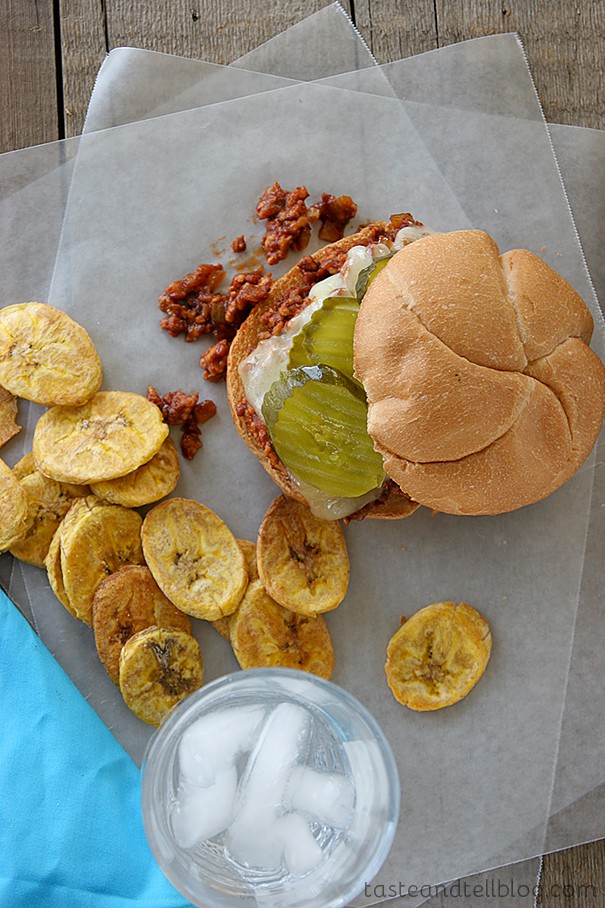 Sloppy Cubanos
---
Prep Time: 10 minutes
Cook Time: 20 minutes
Total Time: 30 minutes
Yield: 4 servings 1x
Description
The sloppy joe gets a Cuban makeover with this twist on the original!
---
Scale
Ingredients
1 tablespoon extra virgin olive oil
1/4 to 1/3 pound chorizo, casings removed, finely chopped (about 1 cup)
1 pound ground pork
1 onion, finely chopped
2 cloves garlic, minced
2 teaspoons paprika
2 teaspoons ground coriander
1 teaspoon allspice
salt and pepper
2 tablespoons brown sugar
1 tablespoon Worcestershire sauce
grated peel and juice from one lime
1 cup chicken broth
One (8-oz) can tomato sauce
4 rolls, split
4 slices deli cheese
3 to 4 large pickles, chopped
---
Instructions
Heat the olive oil in a large skillet over medium-high heat. Add the chorizo and cook until browned, about 2 mintues. Add the pork and cook until browned, 3 to 4 minutes. Stir in teh onion, garlic, paprika, coriander, and allspice. Season with salt and pepper. Cook for 5 minutes. Add in the brown sugar, Worcestershire sauce, lime peel and juice and stir well. Add in the broth and tomato sauce and simmer for a few minutes, until thickened.
Lightly toast the buns under the broiler. Divide the meat mixture between the rolls and place a slice of cheese on each. Broil until the cheese melts, about 30 seconds. Top each with pickles and the bun top and serve.
——————————
recipe from Every Day with Rachael Ray August 2007
—————–
Try these other sloppy joe renditions:
Tango Joes from Taste and Tell
Buffalo Sloppy Joes from Dainty Chef
Bombay Sloppy Joes from Meal Planning 101
Turkey Sloppy Joe Sliders from Bev Cooks
Hula Joes from Taste and Tell
—————–