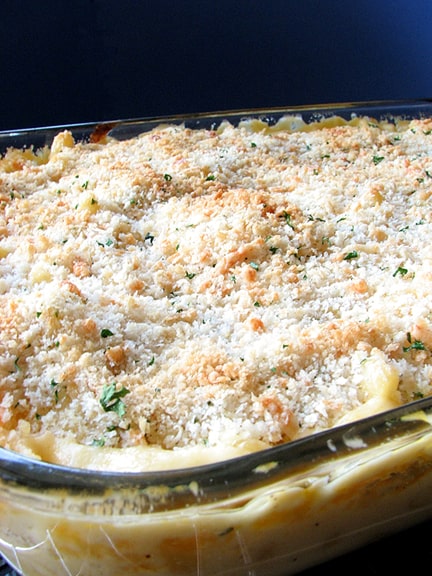 It seems like for the last few days, someone has always been two steps ahead of my cooking. The tamale pie on Friday, and then the Sunday Mac and Cheese. Every third Sunday, my family gets together for dinner. My sister that was in charge called me up on Friday, and asked if I could bring a side dish. I really had to think. I don't make side dishes very often. Main dishes – yes, desserts – yes, but a side dish??? I started thinking – I didn't want to bring a vegetable because she was grilling some veggies. Another sister was bringing a salad, so that was out. And then the funniest thing popped into my head – Mac and Cheese. I only say this is funny because I am not a big Mac and Cheese lover. In fact, my only exposure is to the boxed stuff, which I don't like, and have only had once or twice in my life. I have never had homemade Mac and Cheese, much less made it myself. But for some strange reason, it sounded good. I looked online for a bit and came up with an idea of what I wanted to do. Then Saturday morning rolls around, I am watching the Food Network, and lo and behold – Ina Garten makes Mac and Cheese on the Barefoot Contessa. Her version looked so wonderful, I decided to go off of hers instead of the recipe I had chosen. I would definitely make this again – although I do have to warn that this is not a "figure friendly" (as Rachael Ray would say) meal. Lots of cheese, milk, etc, but it sure was tasty!!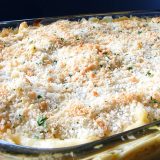 Mac and Cheese
---
Scale
Ingredients
For the pasta:
salt
1 lb elbow macaroni or cavatappi
2 c half & half
2 c whole milk
6 T butter
1/2 c all-purpose flour
8 oz Gruyere, grated
16 oz sharp cheddar, grated
1/2 t ground pepper
1/2 t ground nutmeg
For the Topping
1 c Panko breadcrumbs
1/2 c grated Parmesan cheese
2 T chopped parsley
---
Instructions
Preheat oven to 375F.
Bring a large pot of water to a boil. Generously salt, add the macaroni or cavatappi, and cook according to package directions.
Heat the milk and half & half in a small saucepan, but don't boil it. Melt butter in a large saucepan and add the flour. Cook over low heat for 2 minutes, stirring with a whisk. While whisking, add the hot milk and cook for a minute or two more, until thickened and smooth. Off the heat, add the Gruyere, Cheddar, 1 T salt, pepper and nutmeg. Add the cooked pasta and stir well. Pour into a 3-quart baking dish.
Combine the topping ingredients. Sprinkle over top of pasta and cheese. Bake for 30-35 minutes, until cheese is bubbly and the topping is browned.