Sloppy Joes go Hawaiian! These Hula Joes are made with ground pork, bacon, pineapple and a sweet and savory sauce that will transport you to the tropics.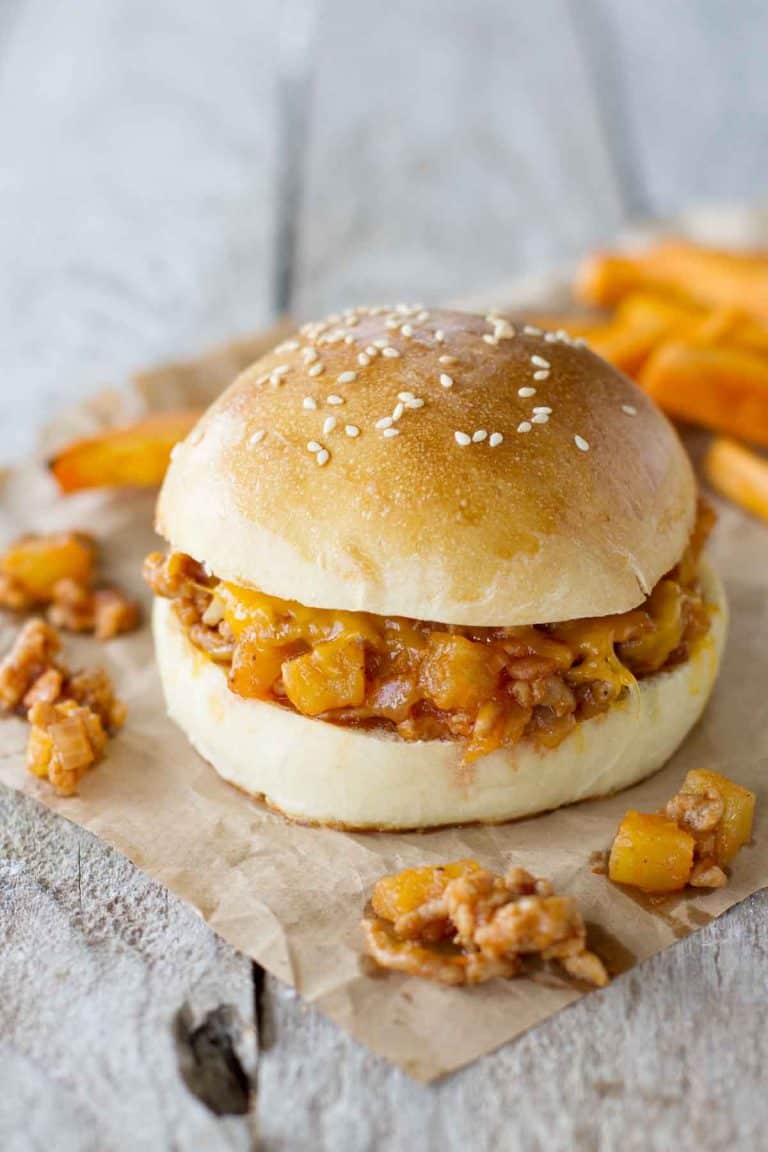 It seems like this time of year, everything is go-go-go. Especially this week before Christmas, with everyone rushing with their last minute purchases and get togethers. So not surprisingly, dinner often gets put on the back-burner, and I think we tend to hit the drive thru more often. But really, why settle for the drive thru when you can have dinner on the table in less than 30 minutes??
OK, so I totally realize that I sound like an advertisement for 30-Minute Meals right there. But at the same time, we all know that I am a fan. Actually, ever since I stopped working, I've been able to catch Rachael Ray's daytime talk show, which is where I actually got this recipe.
I love Rachael Ray because most of her recipes are not rocket science. She seems to take regular, every day recipes and put a spin on them, like this version of a sloppy joe. In fact, I know she has quite a few different sloppy joes versions – like the Tango Joes that I have made and posted about before. This recipe is on of those spins – taking a sloppy joe and giving it a Hawaiian spin, turning it into these Hula Joes.
I usually have a hard time with ground pork because I don't think it has much flavor, but these were actually quite flavorful. My husband loved them, and deemed them worthy to make again. Throw in some oven baked fries, and you have a quick, easy dinner that is something a little different!
More Sloppy Joes You'll Love:
Sloppy Joe Recipe
Buffalo Sloppy Joes
Enchilada Sloppy Joe Recipe
Chicken Sloppy Joes
Tex-Mex Sloppy Joses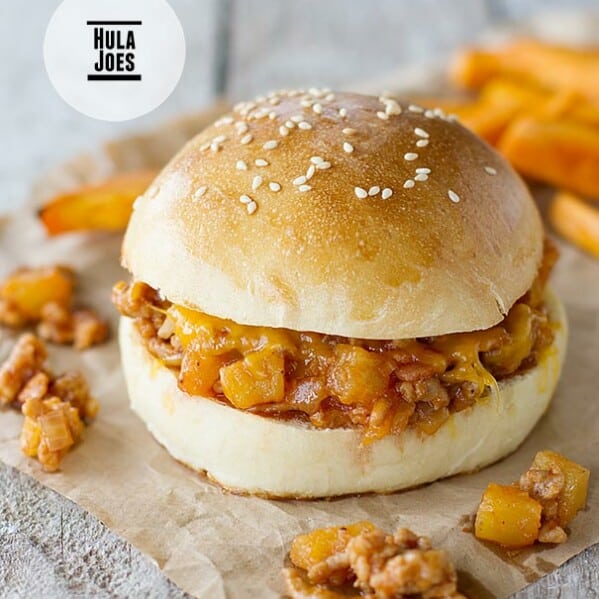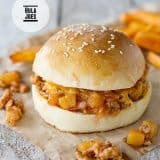 Hula Joes
---
Author:
Prep Time: 10 mins
Cook Time: 20 mins
Total Time: 30 mins
Yield: 4 servings 1x
Description
Sloppy Joes go Hawaiian! These Hula Joes are made with ground pork, bacon, pineapple and a sweet and savory sauce that will transport you to the tropics.
---
Scale
Ingredients
1/4 lb bacon, diced
1 1/2 lbs ground pork
1 sweet onion, finely chopped
2 cloves garlic, minced
1 can (8 oz) tomato sauce
3 tablespoons brown sugar
3 tablespoons red wine vinegar
1 tablespoon Worcestershire sauce
1 cup chopped pineapple
salt and pepper
1 cup shredded Cheddar cheese
---
Instructions
Heat a large skillet over medium-high heat. Add the bacon and cook until crisp. Remove to a paper towel lined plate with a slotted spoon.
Return the pan with the bacon grease to the heat. Add the pork and cook, breaking it up with a wooden spoon, until it is browned and cooked through, about 10 minutes. Add the onion and garlic and continue to cook until soft, another 5 minutes.
While the pork and onions are cooking, combine the tomato sauce, brown sugar, red wine vinegar and Worcestershire sauce in a bowl. Once the onions are cooked, pour the mixture into the pan with the pork and onions and cook until it reaches your desired consistency. Stir in the pineapple and the bacon. Season to taste with salt and pepper.
Split the hamburger buns open and toast them in a toaster or under the broiler.
To serve, place the bun bottom on a plate and place a scoop of the Hula Joe mixture on top. Sprinkle with 1/4 cup of the cheese and top with the bun top.