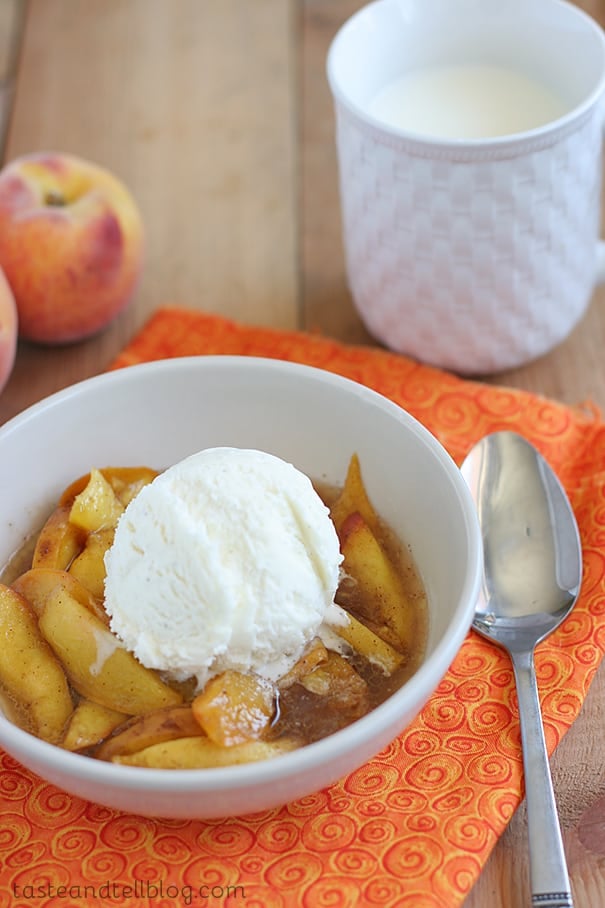 One thing about having a theme week is that I never know if that month's Cookbook of the Month will have a recipe in it that will coordinate with the theme.  Seeing that I'm all about peaches this week (with a few bonus posts thrown in!) I went on a search through this month's cookbook – More Make it Fast, Cook it Slow – looking for a recipe with peaches.  There was one.  Brandy Spiked Peaches.  And since I don't drink, I didn't think that would be a recipe that I'd want to make.  So I did the next best thing – I looked for a recipe I could either add peaches into or adapt into a peach dish.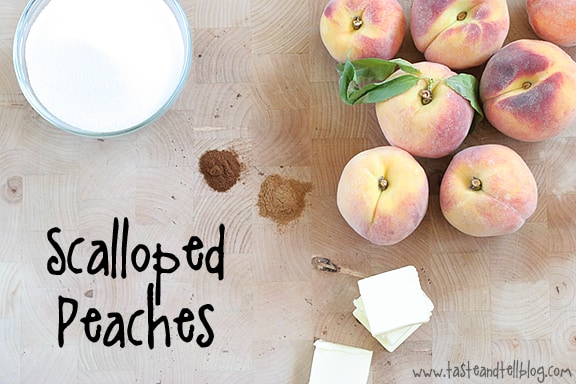 This recipe was originally for Scalloped Apples.  To be honest, I didn't know if or how well it would work out with peaches.  Peaches are much softer than apples, and I wasn't sure they'd hold up to slow cooking.  But it seemed like my best bet, and I made sure that I'd have time to try something else if this one didn't work out.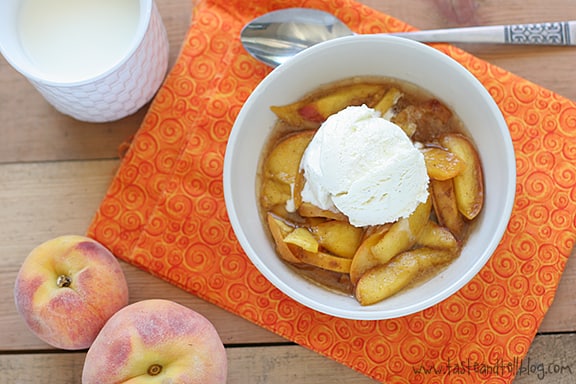 The house smelled amazing as the slow cooker heated up, and scents of cinnamon and cloves wafted through the house.  The apple recipe cooks the apples for 4 to 5 hours on low, but since I knew the peaches wouldn't hold up for that long, I checked them at about an hour and a half.  I dipped my spoon into the slow cooker and took a bite of the warm, syrup-y peaches, and immediately fell in love.  I know this recipe was really written for apples, but I'm telling you – this recipe was made for peaches.  The only thing that made this recipe better was the scoop of cold ice cream on top of the warm peaches.  The ice cream would melt and make the peach syrup nice and creamy, and I escaped my crazy day into a moment of peaches and cream bliss.  This is definitley a recipe worth trying – and a great way to finish off Peach Week!
Recipe Rating:  9.25 out of 10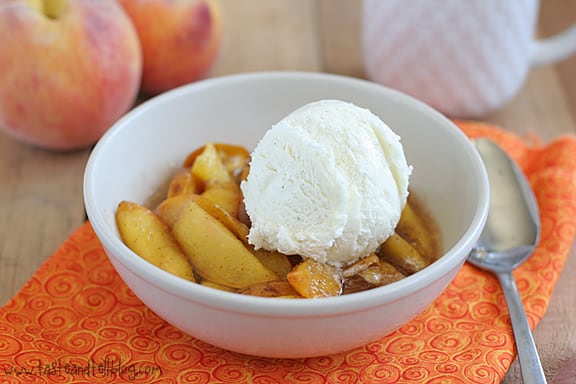 Scalloped Peaches
adapted from More Make it Fast, Cook it Slow
serves 8
8 peaches, sliced
1 cup sugar
1/2 teaspoon ground cinnamon
1/2 teaspoon ground cloves
1/4 cup butter, sliced
vanilla ice cream, for serving
In the bowl of a 4 quart slow cooker, combine the peaches, sugar, cinnamon, cloves and butter. Toss lightly to combine. Cover and cook on low for 1 1/2 to 2 hours. Serve hot with a scoop of vanilla ice cream.
—————————
Here are some more great peach dessert ideas:
Peaches and Cream Ice Pops from Technicolor Kitchen
Blackberry Peach Galette from Cookie and Kate
Brown Sugar-Cinnamon Peach Pie from Pink Parsley