Love coconut shrimp but don't want to go to the hassle of frying? Try these Baked Coconut Shrimp that are served with a delicious Basil Peach Sauce.
I love a good sweet and savory recipe! If you love the combo, you also need to try these Spicy Shrimp Bowls or this Monte Cristo Sandwich.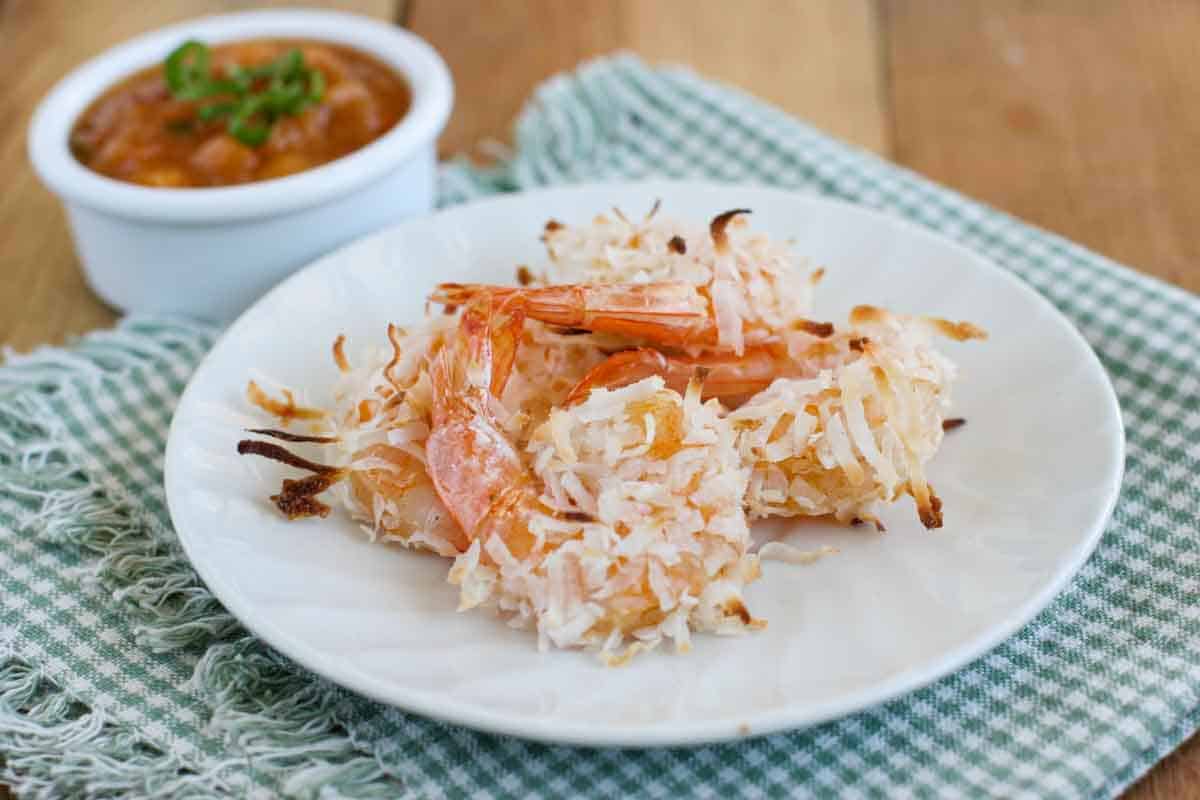 This Baked Coconut Shrimp recipe was one that popped into my mind first when I thought of savory meals with peaches.
I love coconut shrimp, but the only kind I've ever had is the fried kind. And not that I don't like the fried kind – because I really do – but not only is this version much better for you, but it seems like a lot of people are afraid of frying. So it's much easier, as well!!
This was such a simple recipe that has tons of flavor. And I totally would have thrown some chopped jalapeno into the peach sauce if my husband wasn't such a jalapeno hater. But I think it would have been awesome!
And a bonus is that this sauce sets up decently in the fridge, so if you have any leftover, it makes great jam for a pb&j the next day!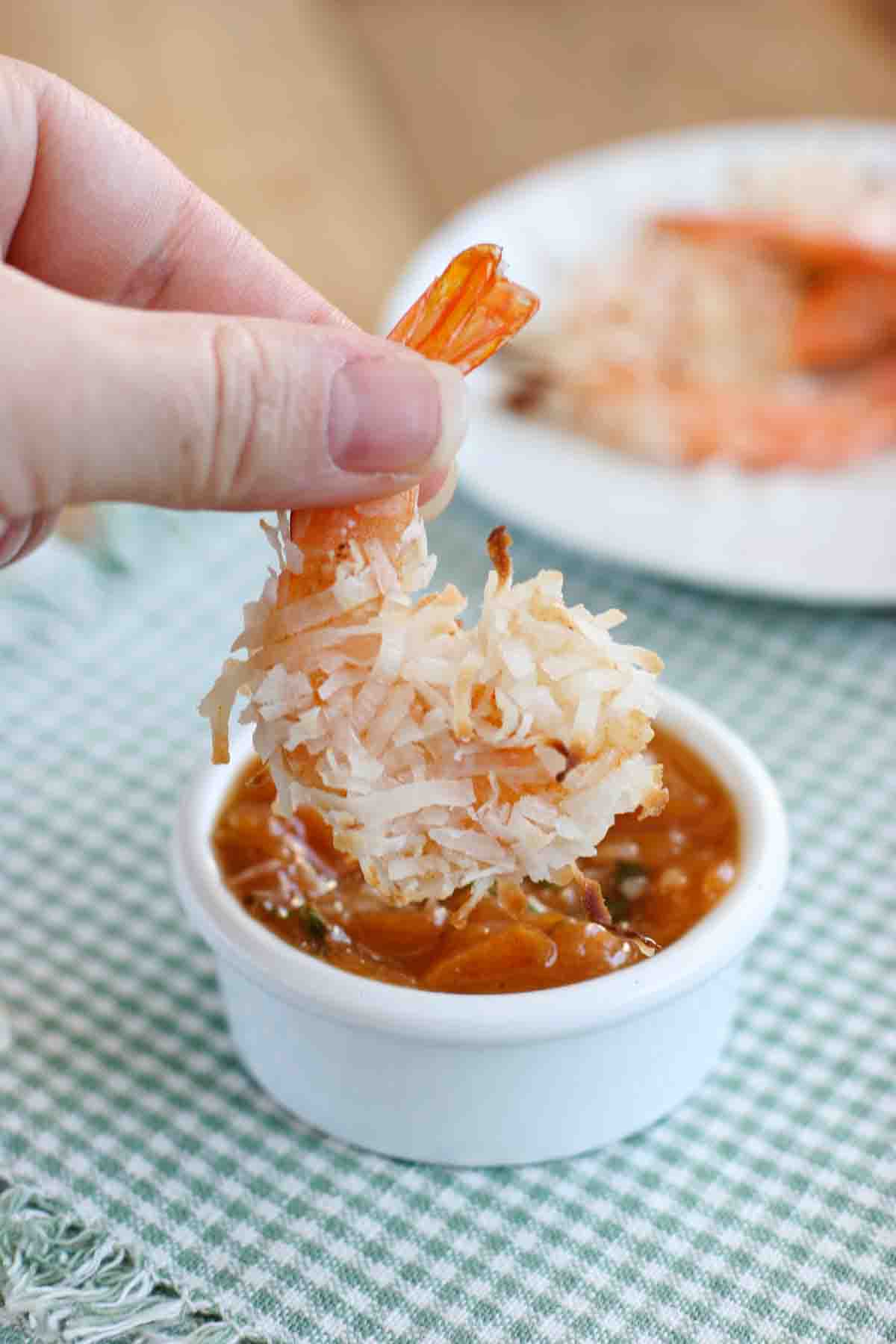 More Shrimp Recipes
Shrimp Caesar Salad with Spicy Croutons
Shrimp Po Boy with Pineapple Slaw
Spicy Shrimp Bowls
Skillet Shrimp Fajitas
Creamy Shrimp and Tomato Pasta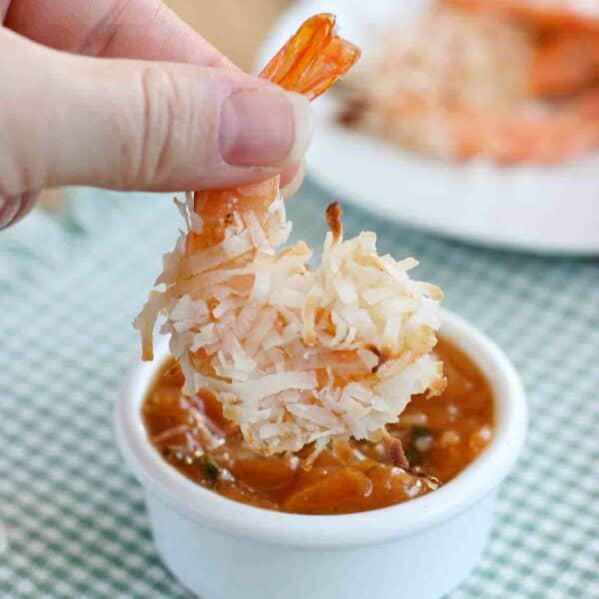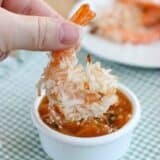 Baked Coconut Shrimp with Basil Peach Sauce
---
Author:
Prep Time: 15 minutes
Cook Time: 25 minutes
Total Time: 40 minutes
Yield: 4 servings 1x
Category: Main Dish
Method: Baked
Cuisine: American
Description
Love coconut shrimp but don't want to go to the hassle of frying? Try these Baked Coconut Shrimp that are served with a delicious Basil Peach Sauce.
---
Scale
Ingredients
For the Shrimp:
1 lb shrimp, peeled and deveined with tails left on
1/3 cup cornstarch
1 teaspoon salt
1/4 teaspoon paprika
1/8 teaspoon cayenne pepper
2 egg whites
1 cup coconut*
For the Basil Peach Sauce
2 cups diced peaches
2 tablespoons butter
2 tablespoons brown sugar
1/2–1 tablespoon fresh chopped basil
---
Instructions
Start the sauce:
In a medium saucepan, combine the peaches, butter and brown sugar. Cook until the butter has melted and the peaches start to break down. Use a potato masher to mash the peaches. Cook the sauce over medium heat until slightly thickened, 10 to 15 minutes.
Once thickened, remove from heat and stir in basil. If you want a stronger basil flavor, use 1 tablespoon, but if you want the basil flavor more muted, only use 1/2 tablespoon.
While the sauce is cooking, make the shrimp:
Preheat the oven to 400F. Place a baking rack on top of a baking sheet and set aside.
In a shallow bowl, combine the cornstarch, salt, paprika and cayenne. Put the egg whites in another shallow bowl. Place the coconut in a third shallow bowl. Holding a shrimp by the tail, dip it in the cornstarch mixture and coat the shrimp. Tap off any excess. Dip into the egg white, then into the coconut. Use your fingers to press the coconut into the shrimp. Place on the prepared baking sheet. Repeat with the remaining shrimp.
Bake in the preheated oven until slightly browned, about 15 to 20 minutes, flipping over once. Serve with the basil-peach sauce.
Recipe Notes:
*I used sweetened coconut, but you could use unsweetened coconut if you want less of the sweetness.
This should feed 4 as a main dish, or 6-8 as an appetizer.
Keywords: baked coconut shrimp