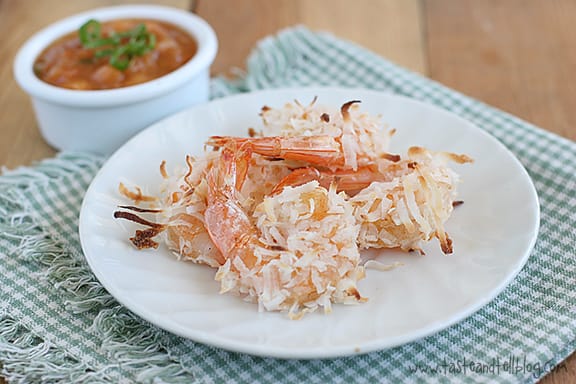 So, I totally didn't plan this. It's kind of funny, because when I decided that I wanted to do Peach Week, I started writing down all sorts of ideas in my trusty notebook. The list was getting longer and longer, and I knew I had to narrow things down because I only had 6 days to work with. So one by one, things got scratched off, until I was left with 6 recipes. I started cooking. And then yesterday, I posted the Peach and Coconut Cobbler that I made. And then I went to type up today's recipe, and realized that I am using the peach/coconut combo again! It must be a craving I'm having right now!!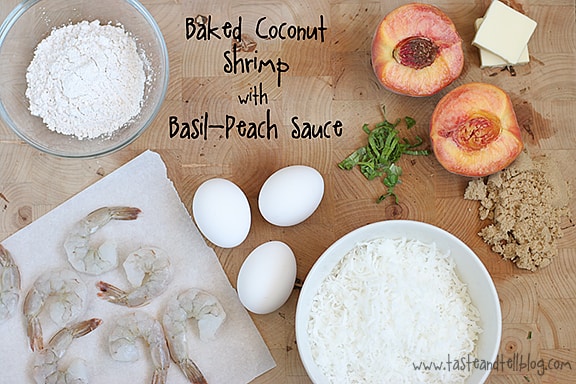 This recipe was one that popped into my mind first when I thought of savory meals with peaches. I love coconut shrimp, but the only kind I've ever had is the fried kind. And not that I don't like the fried kind – because I really do – but not only is this version much better for you, but it seems like a lot of people are afraid of frying. So it's much easier, as well!! This was such a simple recipe that has tons of flavor. And I totally would have thrown some chopped jalepeno into the peach sauce if my husband wasn't such a jalepeno hater. But I think it would have been awesome! And a bonus is that this sauce sets up decently in the fridge, so if you have any leftover, it makes great jam for a pb&j the next day!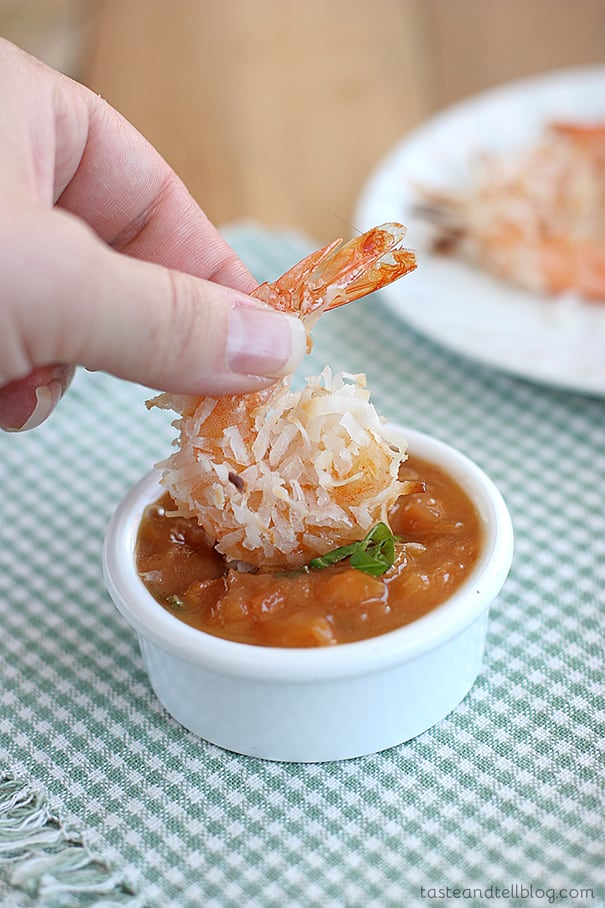 Baked Coconut Shrimp with Basil-Peach Sauce
serves 8 as an appetizer or 4 as a main dish
total time: 40 minutes
for the shrimp:
1 pound shrimp, peeled and deveined, tails left on
1/3 cup cornstarch
1 teaspoon salt
1/4 teaspoon paprika
1/8 teaspoon cayenne pepper
2 egg whites
1 cup coconut
for the sauce:
2 cups diced peaches
2 tablespoons butter
2 tablespoons brown sugar
1/2 – 1 tablespoon fresh chopped basil
Start the sauce:
In a medium saucepan, combine the peaches, butter and brown sugar. Cook until the butter has melted and the peaches start to break down. Use a potato masher to mash the peaches. Cook the sauce over medium heat until slightly thickened, 10 to 15 minutes.
Once thickened, remove from heat and stir in basil. If you want a stronger basil flavor, use 1 tablespoon, but if you want the basil flavor more muted, only use 1/2 tablespoon.
While the sauce is cooking, make the shrimp:
Preheat the oven to 400F. Place a baking rack on top of a baking sheet and set aside.
In a shallow bowl, combine the cornstarch, salt, paprika and cayenne. Put the egg whites in another shallow bowl. Place the coconut in a third shallow bowl. Holding a shrimp by the tail, dip it in the cornstarch mixture and coat the shrimp. Tap off any excess. Dip into the egg white, then into the coconut. Use your fingers to press the coconut into the shrimp. Place on the prepared baking sheet. Repeat with the remaining shrimp.
Bake in the preheated oven until slightly browned, about 15 to 20 minutes, flipping over once. Serve with the basil-peach sauce.
————————–
More peach and coconut love!:
Grilled Peaches with Ginger Coconut Caramel from Post Punk Kitchen
Peach Cobbler Coconut Pancakes from The Healthy Foodie
Peach and Toasted Coconut Donuts from The Edible Perspective