Peach cobbler is a summer staple, and this Coconut Peach Cobbler recipe takes a traditional peach cobbler and gives it a delicious coconut twist.


Originally posted August 10, 2011. Photos and post updated August 2014.
The Utah peaches are still going strong. Thank goodness. Because I feel like I haven't taken proper advantage of them this year, which is a shame, because if you are a regular reader, you'll already know that I think that Utah has pretty much the best peaches. Ever.
I've enjoyed my fair share this year straight from my hand, but as far as actually cooking or baking with them, I've pretty much failed. But just a couple of days ago, after looking at some gorgeous peaches sitting on my counter, I had a craving for peach cobbler. And this peach cobbler recipe is the first one that popped into my head.

 
 


 
 
Since I am not one to ignore my cravings, I checked the pantry to make sure I had all the ingredients I needed on hand, and decided to make this peach cobbler recipe, even though I was knee deep in other recipes that I was trying to finish up. It was a crazy busy day in the kitchen, but totally worth it since this was my reward.
I originally posted this recipe over at the Cafe Zupas website a few years ago. But after making it again, and falling in love with it all over again, I just knew that I had to share it here with all of you.
 
 


 
 
This recipe takes a traditional peach cobbler recipe and gives it a coconut twist. Almond extract is my secret ingredient for fruit cobblers, and combining the peach with the almond and then the coconut – it is magic.
You can eat this cold or room temperature, but my favorite is to eat it when it's warm with a scoop of vanilla ice cream. When the ice cream melts into the cobbler, it gives it a whole new layer of flavor with the creamy vanilla.
This is definitely a peach cobbler recipe that you want to try before summer is over!
 
 

Like what you see here? Make sure you are following Taste and Tell for more great recipes and ideas!!

Facebook ** Pinterest ** Twitter ** Instagram ** Google+
or you can subscribe to my newsletter or Feedly or Bloglovin


Coconut Peach Cobbler Recipe
Peach cobbler is a summer staple, and this Coconut Peach Cobbler recipe takes a traditional peach cobbler and gives it a delicious coconut twist.
Ingredients
Filling
1½ lbs peaches, pitted and sliced
7 tablespoons sugar
1 tablespoon flour
1½ teaspoons fresh lemon juice
½ teaspoon almond extract
½ teaspoon coconut extract
½ cup shredded sweetened coconut
Topping
¾ cup all purpose flour
¾ teaspoon baking powder
¼ teaspoon baking soda
¼ teaspoon salt
5 teaspoons sugar, divided
2 tablespoons cold butter, cut into small pieces
½ cup shredded sweetened coconut
½ - ¾ cup buttermilk
Instructions
Combine the peaches with the sugar, flour, lemon juice, almond extract, coconut extract and coconut in a 2 quart baking dish. Stir to coat, then let sit until the peaches have started to release their juices, about 30 minutes.
Preheat the oven to 400F.
In a bowl, sift together the flour, baking powder, baking soda, salt and 3 teaspoons of the sugar. Cut in the butter with a pastry cutter or a fork until it resembles coarse crumbs. Stir in the coconut. Add in ½ cup of the buttermilk and stir just until moistened - do not overmix. Add more buttermilk if the mixture is too dry.
Drop rounded tablespoons of the topping over the peaches. Sprinkle the remaining 2 teaspoons of sugar over the top.
Bake until the fruit is tender and the top is lightly browned, about 30 minutes. Serve warm or cold.
More Peach Flavors: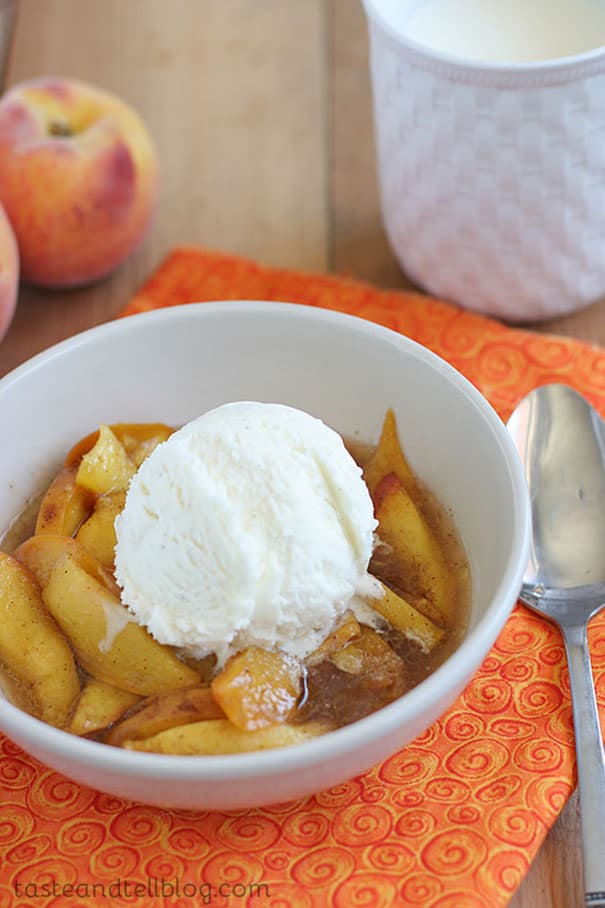 Around the Web:
Homemade Peach Blueberry Cobbler from Picky Palate
Rustic Strawberry Peach Tart from Sally's Baking Addiction
Blackberry Peach Crisp from Dessert Now, Dinner Later
Don't miss a thing! Follow me on Pinterest to see what I'm pinning!