Brussels spouts are covered in a creamy cheese sauce, then topped with Panko breadcrumbs, making this side dish decadent enough for a holiday.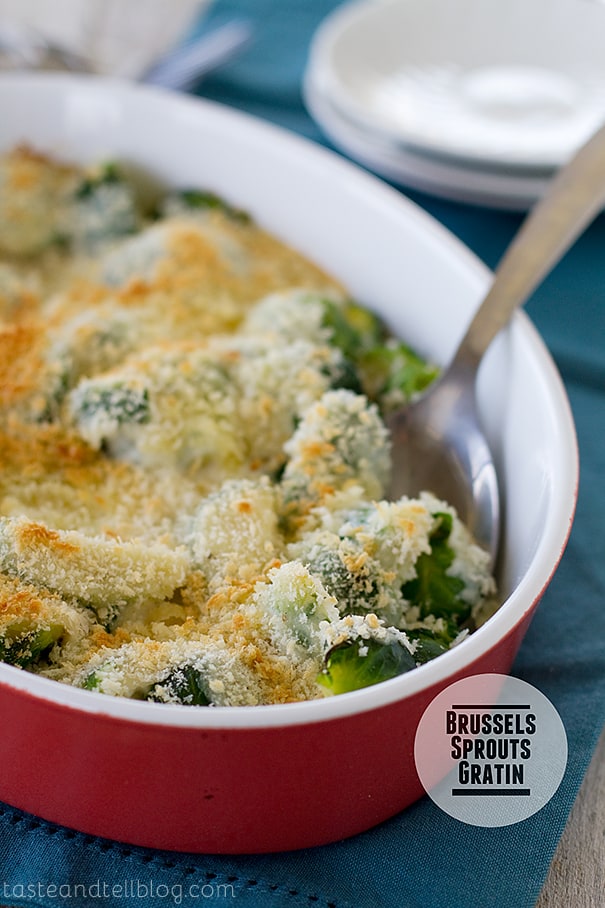 It is the season for giving thanks, and I have so much thanks to give.
Please forgive me if I get a little sappy today. But I am feeling very grateful, and feel like I really need to express my gratitude. For all of you.
It almost seems silly to say how much this little online space means to me. I never in a million years would have imagined what this has turned into. This job has so many up days and so many down days. There are the days where people complain and belittle and are just flat out mean. There are days that you doubt yourself and compare yourself to everyone else out there, thinking that your aren't good enough.
But then there are those days when you get a single comment from a reader. Someone who has made one of your recipes, and came back to rave about it and tell you how much they loved it. Those days are the days that make all of the hard days disappear. That make me remember just why I do this, and why I love it so much. I love that I can share something that I am passionate about and that I truly love with such a wide audience. And I'm so grateful that you all come back not only to read, but especially to make the recipes.
So thank you. Whether you are a first time visitor or someone that comes back time and time again, I am thankful for you all.
Another thing I'm grateful for? Wonderful readers who inspire me.
Not too long ago on my Facebook page, I asked what your favorite side dishes are for Thanksgiving. I always love reading through your answers when I ask questions over there. But there was one side dish that especially stood out to me – a Brussels Sprouts Gratin.
I love Brussels sprouts. I wasn't familiar with them as a child, but my husband introduced them to me shortly after we were married, and I have never turned back. But I had never had a Brussels sprouts gratin before, and I was intrigued.
After doing an online search, I found lots of different varieties. Some were simply coated in cream and topped with breadcrumbs, while others were covered in a cheese sauce. Since I was creating these with Thanksgiving in mind, I decided to take a decadent route and go all out. These Brussels sprouts are covered in a simple Parmesan cheese sauce, then sprinkled with Panko breadcrumbs and baked to perfection. And let me tell you, this side dish is definitely Thanksgiving worthy. So I hope your menu isn't set in stone so that you can add these!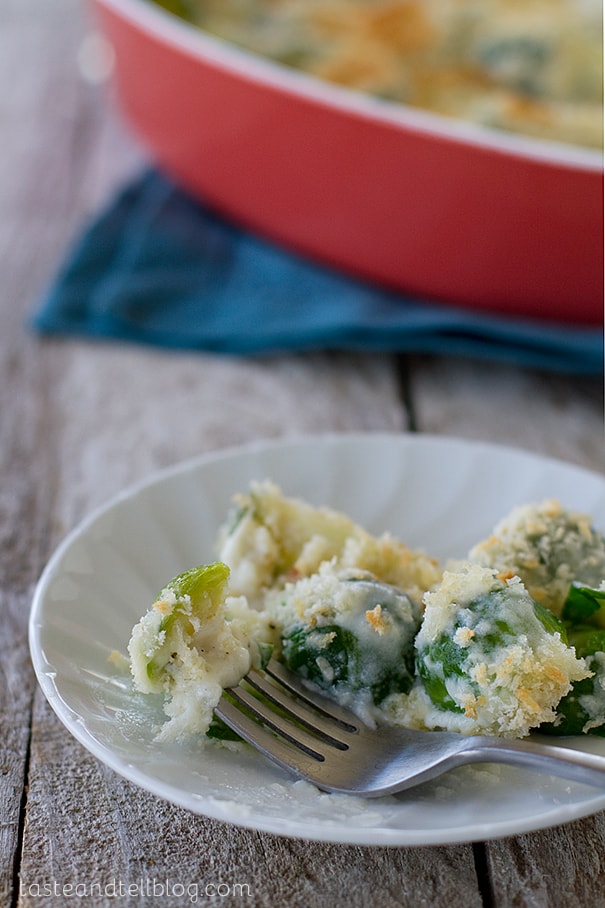 Brussels Sprouts Gratin
Brussels spouts are covered in a creamy cheese sauce, then topped with Panko breadcrumbs, making this side dish decadent enough for a holiday.
Ingredients
1½ lbs Brussels sprouts, cleaned
3 tablespoons butter, divided
2 tablespoons flour
1¼ cups milk
salt and pepper
freshly grated nutmeg
1 cup freshly grated Parmesan cheese
½ cup Panko breadcrumbs
Instructions
Bring a large pot of water to a boil. Prepare a bowl of ice water. Add the Brussels sprouts and boil until they start to get tender, 5-7 minutes. Drain and place the sprouts in the ice water to stop the cooking. Once cooled, drain and dry the sprouts. Cut the sprouts in half through the root, or into quarters if they are especially large.
Preheat the oven to 350F.
Put 2 tablespoons of butter in a skillet and melt over medium heat. Whisk in the flour and cook for a couple minutes. Slowly add the milk, whisking to avoid any lumps. Cook until thickened. Season to taste with salt, pepper and freshly grated nutmeg. Add the Parmesan cheese and stir until melted.
Place the Brussels sprouts in a 2-quart baking dish. Pour the sauce evenly over the sprouts. Sprinkle the breadcrumbs over the top. Cut the remaining 1 tablespoon of butter into small pieces and sprinkle over the top of the breadcrumbs.
Bake in the preheated oven until the sauce is hot and bubbly, about 20 minutes. Turn on the broiler and broil until the breadcrumbs are toasted, 1-2 minutes. Serve.
More Holiday Worthy Side Dishes: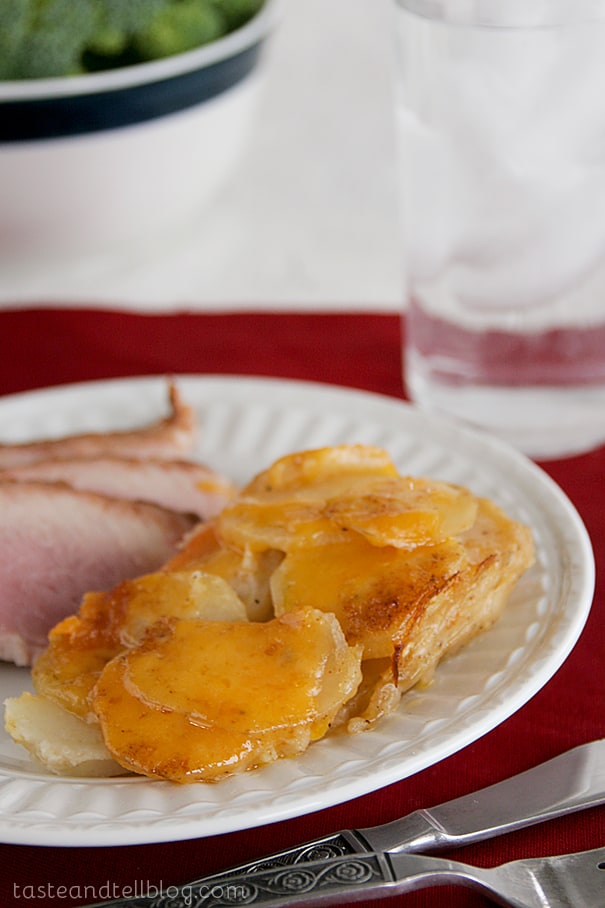 Pioneer Woman's Sweet Potatoes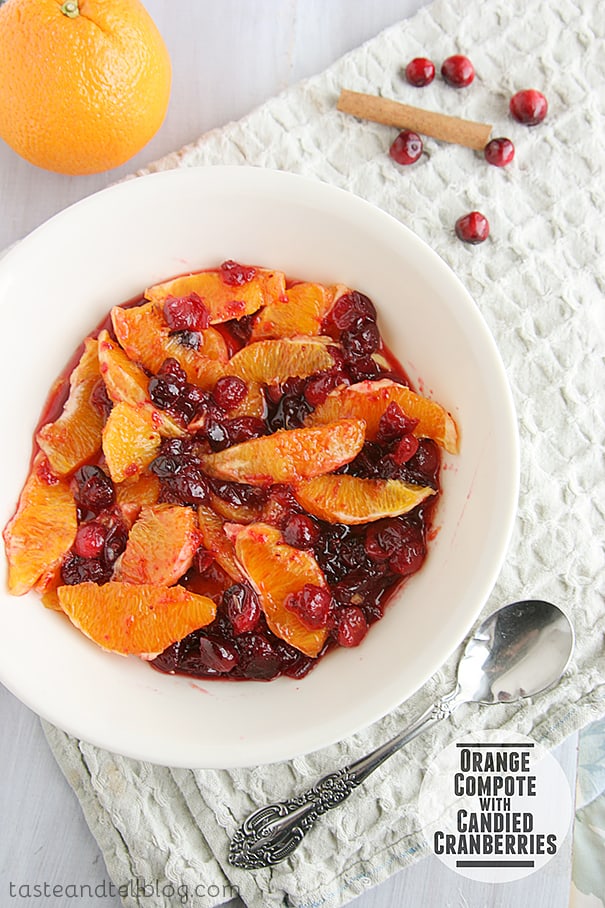 Orange Compote with Candied Cranberries
Around the Web:
Cheesy Scalloped Potato Gratin from The Comfort of Cooking
Maple Mustard Roasted Sweet Potatoes and Shallots from Rachel Cooks
Creamy Broccoli Hummus from The Girl Who Ate Everything