This Glazed Carrot Recipe has carrots that are cooked to tender in a sweet, buttery glaze.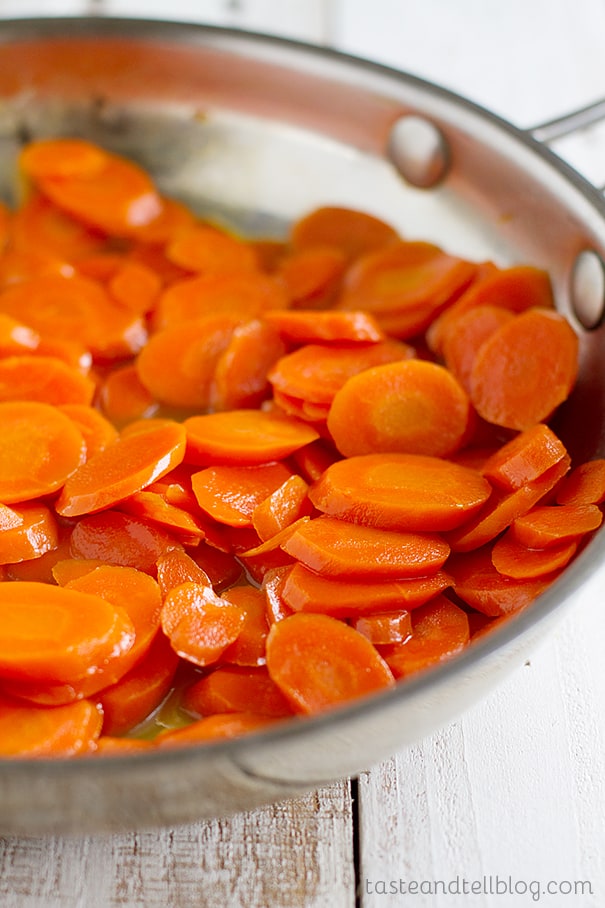 Photo Updated June 2014



I have to admit to you all – the end of this pregnancy is kind of kicking my butt.  I'm really struggling to keep things going instead of just climbing into bed and waiting for this baby to come!!  I've actually been doing really well at cooking, but photographing and the writing part have been hard to keep up with.  Luckily, I've been building a reserve of recipes so that once I have the baby, my blog will go on like normal, but in the meantime, I apologize if I'm short on words and if I haven't been around visiting other blogs much.
But – I will still be bringing you recipes!!  And this is glazed carrot recipe is one you HAVE to try.  I seriously could have eaten this whole batch of carrots myself.  So if you, or a loved one, suffers from not loving veggies, this is the perfect way to change that!!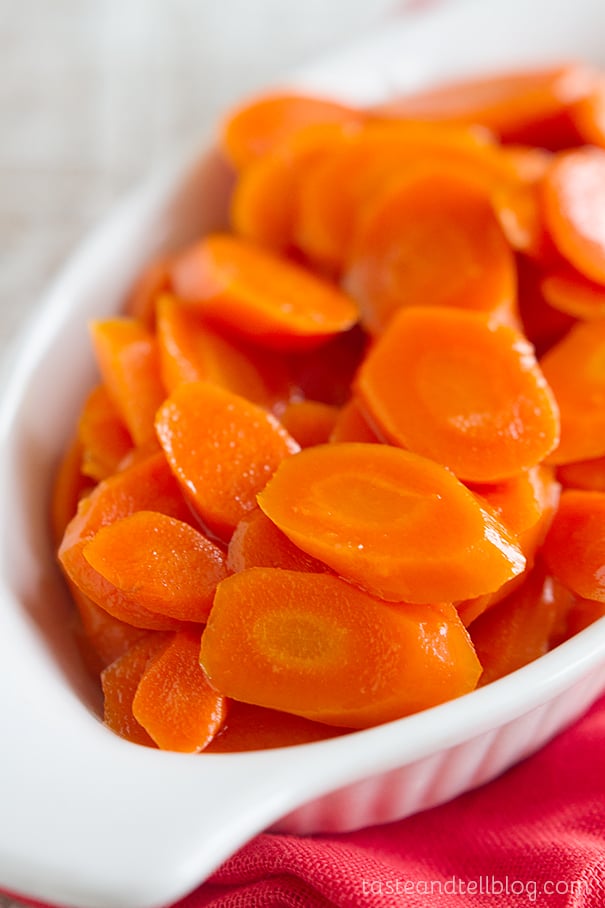 Like what you see here? Make sure you are following Taste and Tell for more great recipes and ideas!!

Facebook ** Pinterest ** Twitter ** Instagram ** Google+
or you can subscribe to my newsletter or Feedly or Bloglovin


Glazed Carrots
Carrots are cooked in a sweet and buttery glaze.
Ingredients
1 pound carrots, peeled
½ cup low-sodium chicken broth
3 tablespoons sugar
½ teaspoon salt
1 tablespoon unsalted butter, cut into 4 pieces
pepper
Instructions
Slice the carrots into ¼-inch slices on the bias. In a 12-inch skillet, combine the carrots, chicken broth, 1 tablespoon of the sugar and the salt. Cover the skillet and bring to a boil over medium-high heat. Reduce the heat to a simmer and let it cook until the carrots are almost tender, about 5 minutes.
Uncover the skillet and let the carrots cook until most of the liquid has evaporated, about another 2 minutes.
Stir in the butter and the remaining 2 tablespoons of sugar. Continue to cook and stir until the carrots are completely tender and covered in the glaze, about 2 minutes longer. Season with salt and pepper.