Forget the stuff that comes in a can – this recipe for creamed corn will have you begging for more!
This is really my favorite time of year when it comes to food.  It just doesn't get any better than cheap prices on local, fresh produce.  Living in Utah, it seems like there are only weeks to enjoy all the produce at it's finest because of the cold weather that comes in and (in my opinion) stays for too long.  But these few weeks in August where the peaches are ripe and the corn is sweet and the tomatoes are just perfect – these weeks are my favorite.
Last week, I had so much fun sharing all kinds of peach recipes.  And this week, I am moving onto corn.  Yes – I am bringing 6 great corn recipes to you this week!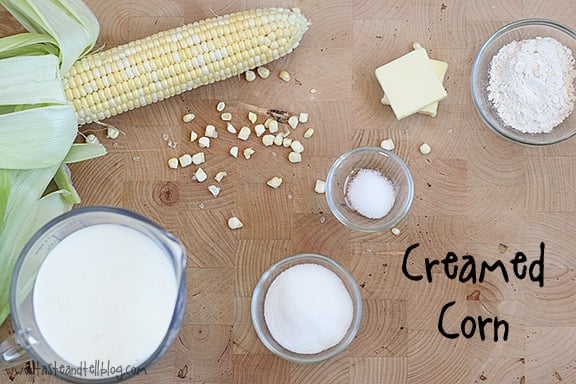 Up first is one of my new all-time favorite side dish recipes.  Yes, it's one of those recipes that takes a really healthy ingredient – corn – and turns it into something not so healthy by adding all kinds of other ingredients – mainly butter and cream.  But it is so good.  I made homemade creamed corn for the first time last year.  And I really liked it.  But then, at a family dinner, my sister brought along this corn.  I couldn't get enough of it.  And when she made it a second time, I begged her for the recipe.  Then she told me that I didn't need to beg her for it – I already had it in our latest family cookbook!  (And come to find out, it's also online!)  And now, this is definitely my go-to creamed corn recipe.
This recipe is the creamed corn recipe at Lawry's Steakhouse.  I've never been to a Lawry's before, but I now know they have the best creamed corn!  After studying many other creamed corn recipes online, I found out what makes this one different that all the rest.  One little ingredient – the flour.  With this recipe, you make a roux with butter and flour before adding in the cream, which makes a thicker cream base than most other recipes.  I can't believe what a difference that one ingredient makes.  And the beauty of this recipe is that you can use fresh or frozen corn. (I actually made mine with frozen, even though you see fresh corn in the background.  I didn't want to take the time to cut off all the kernels.  I know, talk about lazy!!)
So if you find yourself scrambling for a side dish to go along with dinner, this is one the whole family will love!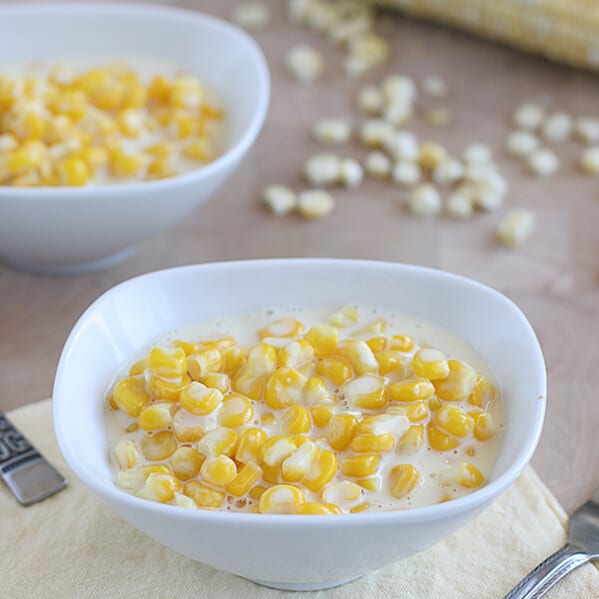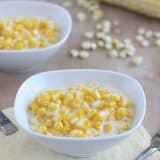 Creamed Corn
---
Prep Time: 5 minutes
Cook Time: 10 minutes
Total Time: 15 minutes
Yield: 6 servings 1x
Description
Forget the stuff that comes in a can – this recipe for creamed corn will have you begging for more!
---
Scale
Ingredients
1 1/2 tablespoons butter
1 1/2 tablespoons flour
1/2 teaspoon salt
1 1/2 cups cream
2 tablespoons sugar
3 cups fresh or frozen corn
---
Instructions
In a saucepan, melt the butter. Whisk in the flour and salt and cook for a couple minutes. Slowly whisk in the cream and cook, stirring constantly, until thickened. Add in the sugar and the corn and cook until heated through.
Optional (for au gratin): Preheat the broiler. Place the corn in a 9×13-inch baking dish. Sprinkle with 1/4 cup freshly grated Parmesan cheese. Place under broiler until browned.